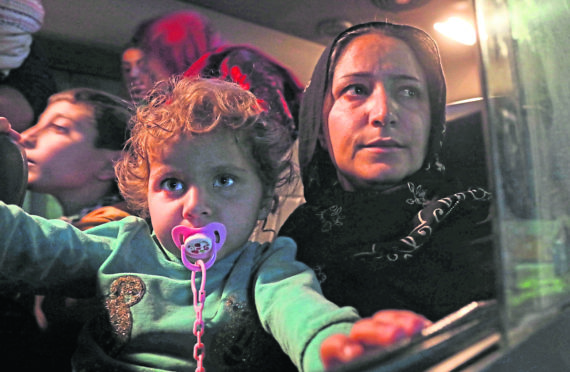 The Scottish Government has come under increased pressure to halt financial support to arms firms selling weapons to Turkey after 200 civilians were killed in Syria in just two months.
Their deaths, blamed on Turkey's attacks on Kurdish areas, prompted fresh criticism of Scottish Enterprise grants awarded to arms firms selling weapons to the Turks. A report by Airwars reveals children have been killed during a military operation by the Turks called Peace Spring which critics have called "ethnic cleansing".
The offensive by Turkey was launched in October 9, and followed a decision by Donald Trump to withdraw US forces from Syria where they were supporting Kurds fighting Islamic State.
Airwars, based at Goldsmiths, University of London, documents civilian deaths in Syria's war. Its latest report says that in one incident earlier this month, eight children aged between three and 15 were killed in an attack by Turkey on Tal Rifaat, in Aleppo.
In another incident documented by Airwars on October 21, Turkish forces allegedly committed a war crime. Airwars cited local media who reported that Turkish forces "committed a massacre against civilians in the village of Dadat" and buried their victims.
Turkey has used F16 fighter jets against the Kurds during Operation Peace Spring. We revealed last year that an arms firm with a factory in Edinburgh called Leonardo MW had produced laser targeting systems for these warplanes. The Italian multinational is the ninth largest arms firm in the world with profits of £440 million in 2018. It has received £13.8m from Scottish Enterprise since 2007. Leonardo has also sold attack helicopters to Turkey.
In total, arms firms with factories in Scotland who sell products to Turkey have been given nearly £15m of taxpayers' money by Scottish Enterprise.
BAE Systems has received £616,748 from Scottish Enterprise since 2007. The UK defence firm signed a £100m fighter jet deal with Turkey in 2017. BAE also produces components for the F16.
US arms firm Lockheed Martin has received £176,615 for "business improvement", "innovation" "marketing" and "organisational development".
Airwars said: "More than 200 civilians were locally reported killed in October as a result of Turkey's attack on Kurdish areas. The conflict began with Turkish forces launching air and artillery strikes on border towns."
Andrew Smith of Campaign Against Arms Trade said: "The Turkish bombardment has taken a deadly toll, and it is civilians that are paying the price. It is long past time for the Scottish Government to finally end its cosy relationship with arms manufacturers."
Green MSP Ross Greer said: "The Scottish Government, which talks a good game about respecting human rights, is handing public cash to the very arms dealers whose products are causing so much suffering to our Kurdish friends and millions of others."
Scottish Enterprise said: "The export of arms is the responsibility of the UK Government. We do not support the manufacture or export of munitions from Scotland. Our work involves helping companies diversify into non-military, civilian applications."
Lockheed Martin said it "fully complies with US government policy regarding defense sales to foreign governments, and all of our international defense-related sales are strictly regulated and require authorization."
BAE Systems said: "We are committed to ensuring that our people have the tools, training and technologies to help them reach their career potential.
"To do this we work with a number of organisations to support the continued investment in their futures by making improvements to our working environment and facilities that help deliver the next generation products and services that our customers deserve."
The Scottish Government said it "strongly opposes Turkey's actions in Syria and the effect this is having on Kurdish allies."
"The export of arms is the responsibility of the UK Government, and we expect them to properly police such exports and to properly investigate any concerns raised," it added.
"The Scottish Government does not provide funding for the manufacture of munitions – either directly or via Scottish Enterprise. The support provided is focused on helping firms to diversify and develop non-military applications for their technology and ensure Scotland continues to benefit from the thousands of jobs in the defence, aerospace and shipbuilding sectors."
Leonardo did not reply to requests for a comment.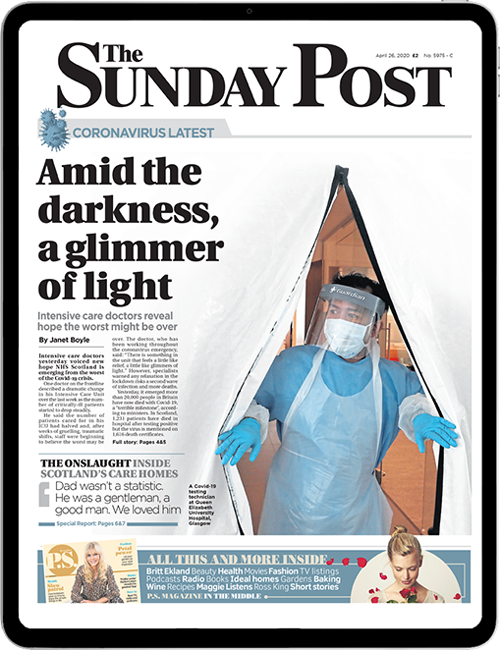 Enjoy the convenience of having The Sunday Post delivered as a digital ePaper straight to your smartphone, tablet or computer.
Subscribe for only £5.49 a month and enjoy all the benefits of the printed paper as a digital replica.
Subscribe