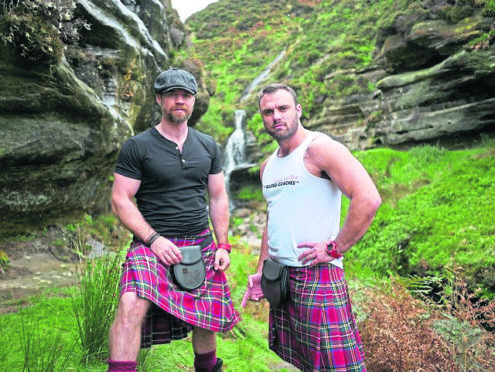 After a whirlwind festive season of celebration and indulgence, lofty fitness and exercise goals are usually top of our resolutions list come January.
But how many of us have vowed to hit the gym and splashed out on fitness passes and exercise gear only to sink back into our old lethargic ways just months later?
Scots fitness experts, The Kilted Coaches, say the secret is to start the new decade with easy fitness goals that will make a lasting impact on our health and wellbeing.
Perth-based personal trainers Stephen Clarke and Rab Shields are well known for their entertaining YouTube exercise videos of them running up mountains, doing push-ups in rivers and lifting boulders dressed in just kilts and trainers.
And while the pair don't expect all of us to work out in the wild, they tell P.S. that getting out in the fresh air will boost your workout, you're never too old to reach your fitness goals – and that getting fit is a marathon, not a sprint.
During 15 years as personal trainers, the childhood friends have helped thousands of clients achieve their fitness goals through tailored workouts, whether they're in their 20s or 70s.
"The long-term game plan is to live a healthy life, from today until the day you die," says Stephen. "Unfortunately, people see a three-month health kick as a way to get healthy.  The mentality is that, after three months, you'll just go back to normal and maintain your fitness but that isn't what happens in reality."
Rab adds: "Our key message is health and happiness: eat well, train well, but also relax well because stress can play nightmares on the body, mind and general wellbeing.
"We want to promote permanent lifestyle change as opposed to short boot camps, where people aim to get fit for a particular date. We are more about long-term change that's sustainable."
---
Age is no barrier
We had a client who was 69 when she started training and was 72 when she finished. Her main goal was to carry her own shopping bags from a taxi to her front door. We focused her training on her grip strength, shoulder stability and hips stability. One day she said she was so happy because, not only did she carry her bags, but her friend's as well. A lot of people say they are too old to get fit but it's about understanding what fitness means to you and being fit for what you want to do in life.
Make the time
Time is a big excuse when it comes to dodging exercise but, ultimately, you will fill your day regardless. It's about managing your time and incorporating good, healthy lifestyle choices. You make time for the people you want to make time for, and it's the same with your lifestyle. If you really want to make time to be healthier, prepare nice meals or get out for nice walks, you'll do it as long as you have the motivation.
Stay motivated
A lot of people start with the best intentions but then fall off the wagon and just accept defeat and give up. Our advice is to accept falling off the wagon as part of a natural cycle of change. When babies learn to walk, they don't give up after falling over a few times. They keep going until they master walking and then move onto the next challenge. Take a more relaxed approach to your fitness goals, so come February, March or whenever you start to fail, just accept that's part of your success. Get yourself back up, dust yourself off, set a new goal or address what went wrong and keep moving forward.
Get outdoors
Our joints are meant to move in multiple ways and the best place to do that is outdoors. Navigating different inclines and slopes on a hill walk requires a different and increased range of movement in your ankles, feet, knees and hips. That's great for your long-term health and will increase your joint mobility and stability. Also, the air is fresher so it's better for your endorphins and you'll get vitamin D, which is essential for good health. Being out in nature is more stimulating too. Many of our clients get bored on a treadmill but I've never heard someone say they got bored walking outdoors.
Take the pressure off
Most people put too much pressure on themselves starting out. They vow to go to the gym three days a week, change their diet and cut out takeaways. The best thing absolute beginners can do is cheat the system by committing to just doing something three times a week. It doesn't matter what that is, as long as it improves your fitness in some way. It could be sitting down and stretching for 10 minutes. Or put your trainers or walking boots on and go outside, and if you don't feel like doing a long walk, go once around the block. Or go a little further. Once you get into that mindset, start adding to it slowly so exercising is less of a chore.
Build it up
Once you do get into an exercise plan, make sure your exercise is regular, intense and progressive. For example, if you're walking, go at a fairly intense level for you and then increase your walk by a couple of minutes each time or gradually up your pace. It doesn't matter where you start, as long as you make some progression, whether it's an extra rep or extra minute or add a couple of miles to your weekly total. Start somewhere, progress and move forward.
Small steps, big changes
Another way to cheat the system is – if you're short on time or feeling a bit tired – it's ok to have a shorter blast at your workout and make your peace with it. You might only have a spare 15 minutes but think about what you can do in that time that gets you a decent workout. It's better than trying to do an hour-long routine when you've no energy and feeling rubbish. Give yourself permission to go easy now and again then go hard when you're feeling strong.
Don't obsess over weight loss
Weight loss is a very cool by-product of living a healthy lifestyle. If someone is overweight and they just adopt a healthy lifestyle, focus on the right nutrients and aim to be as fit, healthy and vibrant as possible, weight loss will happen regardless. It's the same advice for wanting to gain weight. Be active, healthy, get to bed on time, and eat as much nutrients as you can.
Be happy in yourself
Rather than thinking your main goal is losing weight, we encourage people to just be happy in themselves. Try to project forward to how you want to be once you've lost the weight. For example, you might think: 'I'll be a size 10, I'll be happier, have better posture, hold my head higher, have more energy, get to bed on time, and enjoy shopping for clothes. Once you have that visualisation, just be that person right now and the weight loss will follow as a by-product.
Be You but in HD
We tell people to 'Be yourself in HD'. That means celebrating your quirks and enjoying life. We believe in training hard, eating well but also having fun and allowing for life along the way. It's important to enjoy your lifestyle rather than making yourself miserable trying to achieve some unrealistic goal. For us, that means enjoying a few drams from time to time, occasionally while we're making a video. It's our way of saying, you can relax a little bit with this.
Are you working hard enough?
The best way to determine how hard you are working is to use the Rate of Perceived Exertion (RPE) scale.
This is a simple 1-10 gradient, with 10 being working out at maximum, where you
can't talk, your heart rate is very high and you're breathing heavily. You shouldn't be able to maintain this level for very long.
And at the other end of the scale, one is very easy and just above rest. So say you're out walking, you want to be hitting a 6/7 for you.
This will mean moderate breathing, raised body temperature, and your pulse raised but manageable.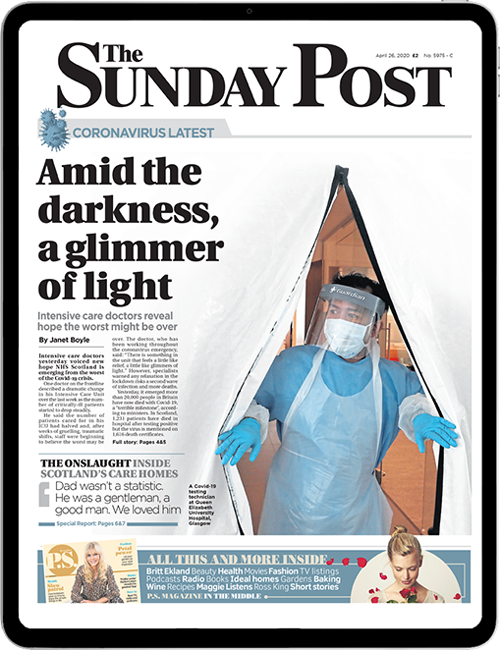 Enjoy the convenience of having The Sunday Post delivered as a digital ePaper straight to your smartphone, tablet or computer.
Subscribe for only £5.49 a month and enjoy all the benefits of the printed paper as a digital replica.
Subscribe