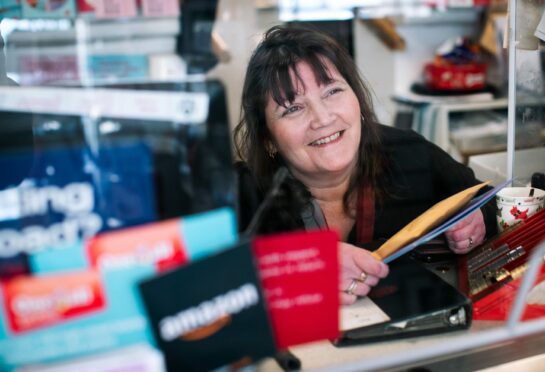 Scores of post offices could close across Scotland due to falling revenues and rising costs, sub-postmasters warn today.
Seven out of 10 sub-postmasters now earn below the minimum wage, according to their industry body, while many outlets depend on a second income stream.
Almost 40 post offices have closed in Scotland in the last two years and more than 90 in the last decade – approximately one in 16 outlets and the highest rate of closures across the UK – leaving communities without a vital service.
Only 1% of branches are owned by the Post Office, with the majority of the rest owned by sub-postmasters earning incomes from services including parcel processing and stamp sales.
Sub-postmasters say they face a triple hit from fewer people shopping in traditional high streets, more government services being available online, and rising energy bills which are expected to increase by an average £8,000 this year. Meanwhile, Post Office chief executive Nick Reed pocketed a £400,000 bonus in 2021-22 on top of his £415,000 salary.
Sub-postmasters believe they are being made to subsidise the Post Office for the massive compensation bill for victims of the Horizon IT scandal, now expected to exceed £1 billion.
More than 700 sub-postmasters were wrongly prosecuted for stealing after the Post Office installed the Horizon accounting system which repeatedly incorrectly showed money to be missing from branches across the UK.
Calum Greenhow, chief executive officer of the National Federation of Sub Postmasters said: "The government has turned its back on sub postmasters and it's death by a thousand cuts.
"Branches have suffered from the government diverting business like TV licences online, by-passing the income local post offices gained to help them stay viable.
In 2021 Spar convenience stores owner CJ Lang closed 31 of the post office counters in its Scottish shops.
That was followed by Morrisons' announcement that it would close some McColl stores hosting high-street post offices, citing unprofitability. But the federation says that dozens more small branches have also closed or face closure in a growing crisis which has attracted little attention.
Greenhow said: "The government needs to be realistic about the subsidy it provides the Post Office. In 2012 it was £210 million but currently it is £50m. That is given to keep 11,500 branches open. Some of these are only vans and one afternoon a week village halls.
"CJ Lang took a commercial decision to close its post offices and that effectively deprives many rural areas of valuable branches. The impact on communities is considerable because local people are more likely to get in their cars and drive to towns and do most of their shopping there instead of spending money in their local shops.
"Sub-postmasters desperately want to have a dialogue with the government on the short, medium and long-term plans of our post offices. The recent impact of a postal strike has only added to the burden of running local branches. The longer they don't talk to us, the worse this will become."
Greenhow, who has a post office branch in West Linton, near Edinburgh, said that when he took over his branch in 1995 business and post office income was split 60/40 in favour of the post office.
He said: "Now it's 75/25 in favour of our adjoined grocery. There are six post offices closing every week in the UK and many sub-postmasters are only staying open because they are bearing the financial and emotional burden of providing a vital local service. This impacts on their health."
Tim McCormack, who sold his branch in Duns, in the Borders, to the Post Office in 2016, said: "One person in a tearoom will bring in more money than a queue of people in the post office. That's one customer buying coffee and scones."
The Post Office said: "This is the most challenging economic climate retailers have faced in decades and we fully recognise the pressures postmasters face to keep their branch open and serve their local community.
"Post Office increased remuneration rates in August to support postmasters, including a one-off lump sum to help with the difficult winter. We have also secured partnerships with Amazon, DPD and DHL Express to help increase footfall for our postmasters and have just announced a new trial partnership with Evri."
I do wonder how long we will be able to go on like this
Susan Craddock has worked in Largs post offices since she left school and believes they are a vital part of the community.
Now the sub-postmistress in the town's Gallowgate Square branch, where she and her husband also run a cafe, warns the service is in danger of being lost. Craddock, 50, who has MS, said: "As any sub-postmaster will tell you, we do much more than run a counter service.
"We are often the go-to place for people of all ages trying to pay bills, send parcels to loved ones and so much more. A cafe I run with my husband is subsiding my branch and without it we wouldn't be able to stay open. I wonder how long we can go on like this.
"Sub-postmasters are being paid paltry remuneration from the Post Office to pay for the massive compensation being made to victims of the Horizon scandal. Hard-working branches are taking the burden, both financially and emotionally. I have worked here with the Post Office most of my life and it would break my heart to be the one to close it."
Craddock says she is earning less than she did more than a decade ago, and often takes home less than the minimum wage.
In desperation, she last month wrote to Post Office chief executive Nick Read warning that she and other sub-postmasters and mistresses fear they cannot go on.
In her letter, she asked Read why, 10 years after major changes were introduced to post offices in order to make them sustainable in a changing market, she has found she is much worse off.
She told Read: "We are working ourselves into the ground. We can do no more. Why then am I earning far less than I did before the Network Transformation contract we agreed to?
"No pay rises for all those years, that's why! In fact decreases for some products!
"Our income is constantly eroded and I believe the Post Office is taking a massive proportion of the money that we generate, although we cannot find this out of course.
"I would like to retire but one look at my books would put anyone off for good."
She added: "I am not alone. You will find this in almost every postmaster you ask."
Craddock says the Post Office responded to her letter saying it had increased payments for services and added that it was paying to assist the Horizon IT inquiry.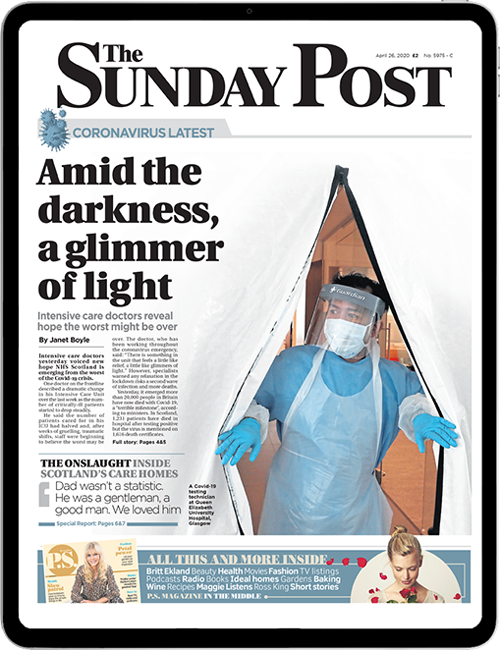 Enjoy the convenience of having The Sunday Post delivered as a digital ePaper straight to your smartphone, tablet or computer.
Subscribe for only £5.49 a month and enjoy all the benefits of the printed paper as a digital replica.
Subscribe