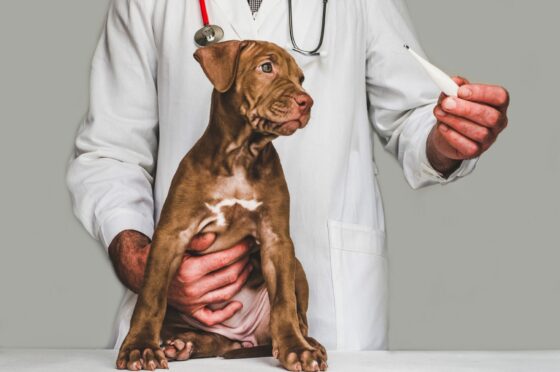 Gareth Steel has treated all manner of creatures in the past 20 years, from tiny stick insects to raging bulls. Yet, an emergency surgery on a pet cat was both his proudest moment and a stark example of the everyday hidden pressures facing vets.
When suddenly asked by a colleague to operate on a cat that was struggling to breathe, Steel had to perform a procedure he had never attempted before, with the life of a beloved pet, and its new litter of kittens, on the line.
"I'd never done thoracotomy surgery before so I had a textbook open while the cat was on the operating table and had one of the nurses flipping between pages while I performed the surgery, because this animal was going to die without it," he recalled.
"She'd inhaled a stone that had gone down to where her windpipe splits in two. I had to open up its chest wall and cut into its windpipe right above the heart. After 90 minutes, we eventually located and removed the stone. The cat recovered and its litter survived.
"I was incredibly nervous but proud that I rose to the challenge. All the same, you wouldn't expect an NHS surgeon to attempt a new procedure when the stakes were that high."
Despite his success under intense conditions, the cat's owner was unhappy with his £600 bill and offered to pay one quarter of it. According to Steel, who graduated in veterinary medicine from the University of Glasgow in 2003 and now works at a practice in Neath, Wales, many vets face this common and contentious issue.
"Money is very much the elephant in the room for veterinary medicine in the UK as people are used to free healthcare on point of use through the NHS, people don't have a frame of reference for what health care costs," added the 42-year-old from Stranraer.
"To sedate an animal and take a few x-rays could cost up to £350. People will think that's very expensive but may not realise that the x-ray machine cost £50,000, which we had to buy, maintain and safely regulate its use, including safety training. We would need to take 700 x-rays before we make any profit. That's why costs are incurred."
He points out that vets across the UK "face a moral conundrum of trying to offer the best care we can for the animal with limited resources and ultimately having to hand someone a bill for it." He believes this could place a greater strain on vets and their mental health as the cost of living crisis continues.
"If you took money out of my job, and all I had to do was be a good vet, it would remove 90% of the stress out of my life," Steel admitted. "I wouldn't need to have that conversation where someone says they can't afford our recommended treatment or drugs, what can we do instead? Finding ways to do our best with limited resources can be rewarding but very taxing." It is one of many realities laid bare in Steel's memoir, Never Work With Animals, released in paperback this Friday, which dissects his 20-year career to provide "the unfiltered truth about life as a vet". He explained: "The reality of what vets do isn't that well understood by the public so I wrote the book to help people empathise with us a little more and also make the case for a focus on animal rights."
Similar to Adam Kay's bestselling This Is Going To Hurt, that chronicles the daily challenges he faced as an NHS doctor, Steel's memoir charts the highs and lows of his life as a vet, sharing anecdotes and concerns about the profession.
This includes the toll the job can take on vets' mental wellbeing. Alarmingly, vets are three to four times more likely to die by suicide compared to the UK average, according to a landmark 2010 UK review of the prevalence of suicide in veterinary surgeons, backed up by a 2018 report by the US Centre for Disease Control.
"That statistic always surprises people but I've known maybe five or six vets who have taken their own lives during my career," said Steel.
"Psychologically, I'm pretty robust but undoubtedly have odd days when you think you really let someone down today, or you had to put an animal to sleep because the owner didn't have enough money or you couldn't do a highly-specialised surgery, but we can't be specialists in everything. I'm lucky I have other interests outside veterinary medicine that help a lot, like climbing trips to Alaska and the Himalayas, and going skydiving. It's very difficult to think about someone's cat while you're falling towards the ground at 100 miles an hour. If I hadn't taken the time out to do those things I would have struggled to stay in the profession."
Steel has worked across Ireland and Wales in a range of different areas, including large animal, emergency service and small animal practices. While he may joke, "I'm very much a jack of all trades, master of none," he also sees the necessity for vets to possess a wide knowledge and skillset as undervalued. Especially when small staff numbers mean vets can see a new animal with a different ailment every 15 minutes.
"If you went to hospital after a car crash, you'd be treated by potentially a large range of specialists and departments. There's an expectation that we deliver all of that in a small building with a handful of people," he explained.
"As vets, we need to deliver something like 15 or 20 human specialities in one person, albeit not to the same standard, but we often need to do be a general practitioner, general surgeon and everything else from ophthalmology to dermatology.
"Our scope of practice is massive and there's a lot of responsibility and self-induced pressure to deliver on that. The expectation from clients in what we can achieve has risen significantly too and that can be tough to meet."
Steel said the pressures on the country's veterinarians has increased since the pandemic. He added: "We had a perfect storm in terms of veterinary recruitment when we had the pandemic and Brexit happening concurrently. I have colleagues from Europe who travel back and forth, which was trickier during the pandemic and, even now, people are less reluctant to travel. In general, we have a shortage of vets in the UK and were somewhat reliant on drawing people from overseas which has become more difficult."
The cost of living crisis is also a growing concern for vets and pet owners. "With the cost of living crisis, people's finances are squeezed in all manner of ways and everyone has to prioritise, so it is going to be hard for some families to make decisions regarding their pets," Steel added. "Most vets have had to increase prices because, for example, our energy is not capped, so all our overheads have gone up and our staff are also dealing with the cost of living crisis.
"There are a lot more options in terms of treatments now but that can come at a cost and inequality. Say a dog was paralysed; someone with money and good pet insurance could afford £10,000 worth of spinal surgery whereas if someone only has £100, there's not much we can do for them. It's really grim to have to deliver that news."
Yet he stresses that ensuring pet owners can access affordable healthcare for their pets remains a priority. As well as making sure pets are vaccinated, neutered, and kept a healthy weight, he advised: "Avoid home remedies that can be ineffective and discuss costs with your vet. Often there are less expensive options, such as using an older, cheaper or generic drug that will do the same job as a newer, more expensive one. We can save people money by moving them on to other medications, or I often encourage people to ask us for a prescription to buy drugs online."
Facing distressed owners desperate to help their pets, which have become more and more like family members for many, can take a huge emotional toll, he admitted.
"People are having families older and I've seen young couples refer to themselves as pet parents and call their pet their fur baby," said Steel. "The significance of that animal in their life is huge, so that places extra pressure on us. "
In terms of animal welfare, Steel shares growing concerns of charities like the RSPCA that more animals are being abandoned, in part exacerbated by the cost of living crisis and the increase in people buying pets during lockdown but then struggling to look after them on their return to work.
"Many dog rescue centres are absolutely bursting at the seams because of people wanting to rehome dogs that they just don't have the time for or their lifestyle doesn't suit anymore, which is really horrible and predictable," he said. Steel also criticises the increased popularity of designer dog breeds and says mongrels are among the healthiest dogs.
"I'd discourage people from getting dogs like French Bulldogs, for example, that are lovely dogs but, unfortunately, terribly overbred and have all manner of problems and far more likely to have large vet bills," he warned.
"It's down to the breed standards and desired characteristics that organisations like The Kennel Club have to accept a lot of responsibility for. Ultimately, those characteristics can become more and more exaggerated over the years. As a result, many of these animals are chronically ill from birth and people have made them that way."
Despite the many hardships, Steel is also quick to profess his love for the job. "The job can be enormously challenging and difficult but the flipside is that it's enormously rewarding. The challenge of the job is what makes it satisfying. We have amazing days too."
Steel, who has a six-week-old baby, Sophie, with his wife Sian, a veterinary nurse, naturally sympathises with pet owners. He owns a cat called Loki and, in 2021, adopted a rescue dog, LJ, which the couple fell in love with while working with the charity WECare to treat abandoned street dogs in Sri Lanka.
"LJ is a Heinz 57, there's a just a bit of everything in there and she's as healthy as you possibly get. She is a member of our family now and it will be really difficult if and when she ever is ill. I certainly don't look forward to that," admitted Steel.
He hopes that highlighting the importance of animal welfare to children at a young age could improve the attitudes towards the issue.
"We need a fundamental shift in our attitudes towards animal rights. I think we should discuss animal welfare much more significantly in primary and secondary school education because, historically, we have massively underestimated the extent to which we have a real responsibility to animals to make sure they lead good lives."
Never Work With Animals by Gareth Steel is published by Harper Element on February 16
---
Academics launch investigation into why vets are four times more likely to die by suicide
A study into suicide prevention measures by Edinburgh University will seek to address the high incidence of veterinary suicides.
The research reflects concern for the mental welfare of vets as data suggests they are four times more likely to die by suicide than some professions.
Easy access to "workplace methods" that are essential to a vet's job to alleviate the suffering of animals and how this can be managed better is a key focus of the study, which will be published in April.
"Workplace access to means of suicide are an important factor in influencing elevated veterinary suicide rates, but while we understand some aspects of risk, there are gaps in knowledge about how we can practically make that safer," said the study's lead researcher, and Edinburgh-based vet, Dr Rosie Allister.
Allister also manages a helpline run by Vetlife, a charity that provides emotional, financial and mental health support to the veterinary community. She said there are multiple factors that affect vets' mental health and wellbeing, and that feelings of stress, anxiety and depression can be exacerbated by burnout from working long hours, staff shortages, compassion fatigue, isolation and increased expectation from pet owners.
"One in 14 people who call the helpline are suicidal. Vets tend to ask for help too late. Those who die by suicide are sometimes working right until the point of their death. They will just keep going until they can't keep going anymore," she said.
"The reasons why vets have died by suicide are complex. There's not one single factor. During the pandemic there was a huge rise in demand that vets face as more people – some studies suggest over three million – bought pets. Combined with the current staffing crisis in the profession, there's not enough people to do the job. This meant vets are under pressure around taking time off when ill as there's no one to provide cover.
"Vets are compassionate and will often sacrifice their own health for their clients and their animals, because they feel they can't let them down. The cost of living crisis can also have an impact as it's incredibly difficult watching clients who are going through a difficult time because they aren't able to afford to care for their animals."
The Vetlife helpline saw a spike in contacts during the 2020 pandemic, with 3,921 calls and emails, an increase from 3,117 the previous year. Last year, the number of vets seeking mental health support rose to 3,503 from 3,390 in 2021.
"Vetlife has a 24-hour helpline and we also have a professional mental health support service where we try and make sure that people can get access to the right help quickly," added Allister.
"Addressing things like the staffing crisis is really important, as is reducing workplace stresses, encouraging colleagues to support one another and making our workplaces safer."
Vetlife Helpline offers confidential support to the veterinary community 24 hours a day on 0303 040 2551 or at helpline.vetlife.org.uk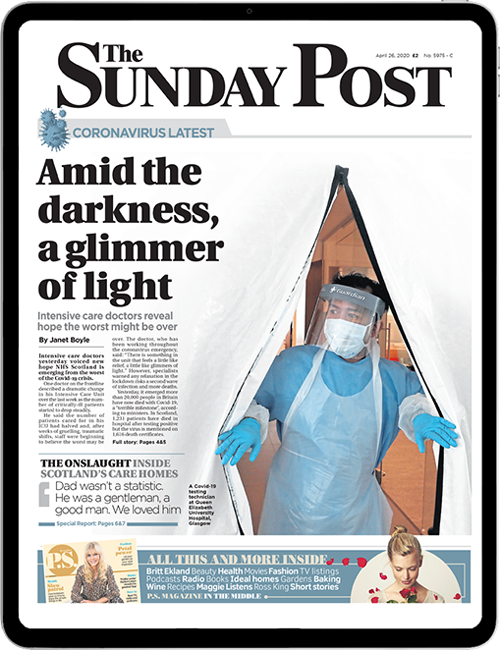 Enjoy the convenience of having The Sunday Post delivered as a digital ePaper straight to your smartphone, tablet or computer.
Subscribe for only £5.49 a month and enjoy all the benefits of the printed paper as a digital replica.
Subscribe