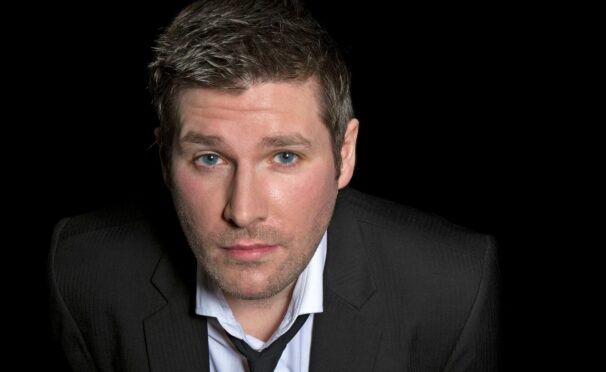 After 18 months of performing to a camera and a laptop, a return to the stage in front of a real, in-person audience has been a long time coming for Mark Nelson.
The comedian, who has spent lockdown championing the importance of stand-up with regular livestreamed shows, will once again be able to lock eyes with a crowd in his hometown later this month as part of the Dumfries and Galloway Arts Festival.
It'll be a welcome moment in a hugely uncertain time for his industry as venues closed their doors, some fearing for the last time.
"It was weird, our job just kind of ceased to exist overnight which was bizarre," he recalled. "It was hard to get your head round at the start, was that it? Was it ever going to come back? Will I have to find another form of work?
"A pandemic was such a brand new thing to everyone, nobody could give you answers and you couldn't find them yourself. We were all in the dark for so long, hoping rather than knowing that things would come back."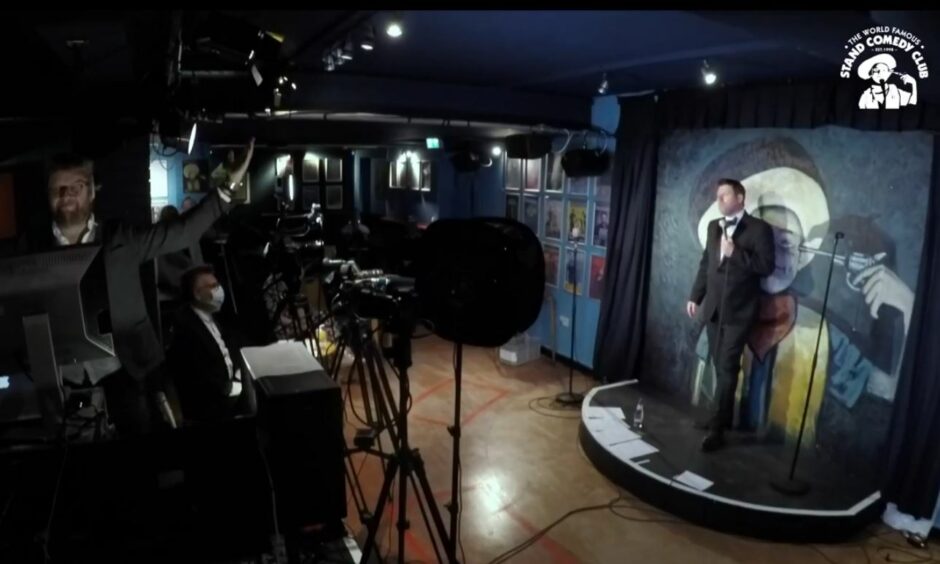 No live shows meant online platforms became a home for comedy as people scrambled for something to keep them upbeat and entertained throughout a strict lockdown.
Nelson hosted The Stand's Saturday night shows, with thousands tuning in to sets from some of the country's top comedians.
"We didn't think anyone would watch, but it seemed to really capture people and they were very excited and dedicated to watching it, and missing it when it was gone," he said.
"Entertainment was kind of the only thing that's kept people going. That's what annoyed me when, particularly around about then, the arts wasn't getting the recognition or respect from the government."
As the doors remained locked shut at grassroots venues across the country and big arenas turned into vaccination hubs, Nelson was vocal about the lack of support, particularly funding, that the sector was receiving.
He said: "I think there was a lack of understanding of how important it is. I think it takes the government to realise how much money it brings them in.
"Without the gigs you don't have people travelling into the city, using hotels, bars, restaurants. Entertainment and arts create such a huge money-making thing, it's vital.
"At a small level, it might not bring in money but that small level is required to get to something like The Hydro, which brings in the billions to the Scottish economy every year.
"For a comedy club like The Stand, to people that weren't used to local comedy clubs it might look like nothing special, but without that club then you wouldn't have had Michael McIntyre, Kevin Bridges, John Bishop, you wouldn't have the comedians you love going to see in a massive arena if they didn't have that building block to start with."
Now, with restrictions easing, performers can get back on stage and look forward to putting on shows not just to people logging in from home, but in the same room.
"It'll be nice," Nelson said. "With the live streams, once you got over the weirdness of doing them in your kitchen you still got a reaction but it's different.
"It's like having a conversation with somebody. I've found even talking to family over Zoom a lot weirder and a lot less comfortable than talking to them directly.
"People are a lot more reserved sitting in their own house, there isn't that group mentality that happens at any sort of gig. You find that people that go to a show that are more reluctant to relax, let go and enjoy themselves, will find themselves doing so because all the people around them are.
"If you'd said to people three years ago that gigs were going to happen and you'd never have to leave your house, only have to change your top half, wear what you want on the bottom half… folk would think it was absolutely perfect! It's not like that at all."
I have got an hour solo on the 16th July and I can't remember how to do them.

If anyone has any slots before then (particularly this weekend) give me a shout.

Cheers

— Mark Nelson (@marknelsoncomic) July 6, 2021
Until full houses are back on the cards, shows that have hybrid in-person and online audiences are likely to be the norm.
Nelson's show at the Dumfries and Galloway Arts Festival will have people in attendance at the Dumfries Theatre Royal, with others tuning in from home.
"It'll be the first time in over 16 months that I've actually done an hour long show so it's pretty exciting. I've got no idea how to do it anymore, but it'll be fine," he laughed.
"I grew up in Dumfries, my mum and dad still live there so they'll be coming to the show. I've not actually done that many gigs in Dumfries over the years, so this is by far and away the biggest one I've done there which is cool."
Nelson hailed the importance of the festival in celebrating the area's rich and diverse creative scene.
"Dumfries and Galloway as a whole region, a lot of people forget that it's part of Scotland, particularly when it come to bands playing there, any arts going there. I think it gets forgotten about quite a lot, and it doesn't deserve to be.
"It's always been able to attract people to the area so I think it's massively important that there's such a big festival. You have to commend the locals that are creating stuff to happen rather than just waiting for stuff to happen."
Looking further into the summer, Nelson also has the return of the Edinburgh Fringe to look forward to.
Plans have had to come together quickly, with venues springing into life to get things in place as soon as announcements were made about restrictions easing.
"How much it'll be like it normally is in August I don't know," Nelson said. "I'm doing four nights, which actually is very nice to think about as 20-odd nights can be a slog!
"With travel restrictions, I think it'll be nice to have a Fringe where people that live in Edinburgh are the majority of the audience, as opposed to almost being wary of being out the house because the place is just too rammed.
"It'll be nice for them to have the festival all to themselves for a change."
---
Mark Nelson, Theatre Royal, Dumfries and streaming online, July 16, Tickets and info here.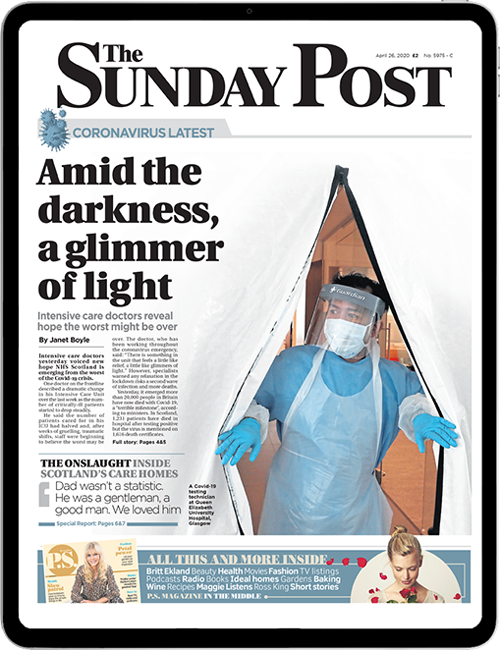 Enjoy the convenience of having The Sunday Post delivered as a digital ePaper straight to your smartphone, tablet or computer.
Subscribe for only £5.49 a month and enjoy all the benefits of the printed paper as a digital replica.
Subscribe