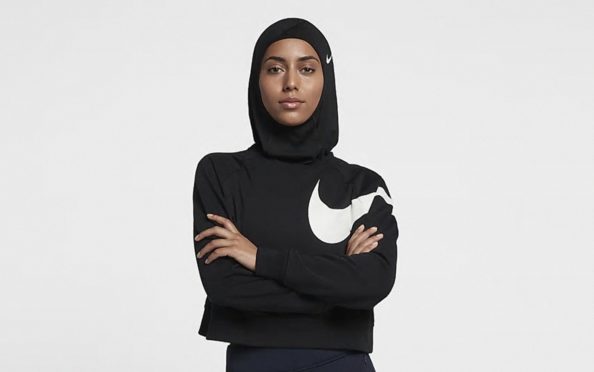 When I was at high school, so many of my classmates hated PE. I went to an all-girls school, and a lot of their dislike of sports was wrapped up in how they felt about their bodies and what we had to wear for the various activities.
The uniform consisted of a pair of really baggy grey shorts (much like Bridget Jones' BIG pants), a shapeless white Airtex top, and a swimsuit in black or navy, which was just plain ugly.
I've done a lot of work with women in sports over the years and in the past sportswear has often been a barrier for people taking part. So, when I read about how Nike's new Victory Swim Collection has revolutionised access to the pool for Muslim women, I realised just how far we've come from my own ill-fitting school-issue one-piece.
I read an article by writer Ayan Omar, who said the collection, which features a full-coverage swimsuit, as well as a swimwear hijab, tunic top and leggings, would have been a blessing to her 13-year-old self – a little girl who just wanted to swim but couldn't because the limited clothing options didn't allow it.
She described how when the burkini first came to shops, they were only available in tacky designs, the colours were far too bright, and she felt the suits only drew more attention rather than letting her simply blend in with the other swimmers. All she wanted was something functional and comfortable.
I think Nike's decision to create an inclusive swimwear line is fantastic, and it's evidence of how much more tolerant and inclusive our society has become.
In the past, large companies would probably say there was no market for hijab costumes or that it was too much hassle to cater for the minority. Now, we've taken great steps forward.
In general, sportswear for women has come such a long way over the years, too. These days it's more than just functional, it's fashionable. People of all ages are wearing sporty leggings, tops and outerwear for everyday use, not just to attend a Zumba, spin or gym session – and they're doing it because they look really cool and feel good. Designers have improved the fabrics they use, styles are much more flattering, and there's something to suit every body and activity.
I want Scotland to become a more active nation and for more people to enjoy sport, especially women.
So, if we can help them to feel great while they're running, swimming, at the gym, dancing, cycling or playing a sport, that's a giant first step in the attraction stakes.