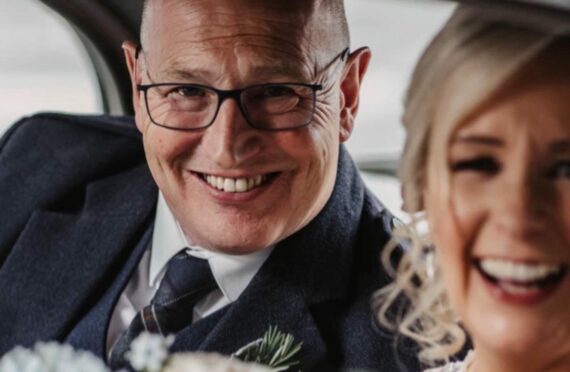 Couples are leaving it later to get married in Scotland with the big day coming after other milestone events like buying a home or having children, according to experts.
The most recent statistics from National Records of Scotland show that while there are now fewer weddings than in the mid 70s, brides are getting older, with more women choosing to marry later in life.
While Scotland recorded 41,171 brides and the same number of grooms in 1974, by 2019 that had fallen to only 26,225 women and 25,789 men. But the age at which women are tying the knot is increasing, with just 2,640 women over 40 marrying in 1974, compared with 8,243 in 2019. Of those, 2,381 were aged over 55.
Katie Bletcher, head of editorial at Your Scottish Wedding, said couples were now happy to leave exchanging vows until later in life – and being a more mature bride is definitely a growing trend.
"Gone are the days of people marrying straight out of school or university," said Bletcher. "The majority of couples we come across tend to be in their late 20s and their 30s and it's rare to see a couple in their early 20s. Looking through the couples whose weddings we're featuring in our upcoming September issue, most are in their 30s and we've also got a few newlyweds who said 'I do' in their 40s and 50s."
Bletcher said there were a number of factors responsible for the rise in "older" weddings, including cost. "One of the main reasons we've seen for marrying slightly later in life actually comes down to who is paying for the wedding," she said. "It's not as clear cut nowadays as one set of parents footing the entire bill and in recent years more and more couples either pay for their own wedding or, at least, contribute to it. In those cases, they may need extra time to save up for their big day.
"Also, many couples really want to treat themselves and their guests to a truly memorable experience with lots of added extras that wouldn't have been seen 30 years ago. If they want to bring in alpacas, fireworks and different food and drink stations, they'll need to extend their budget and potentially the amount of time they need to save.
"People are not so set on ticking off major life events in a particular order as they once were. It's no longer a case of marriage, house and then kids."
With this dog, I thee wed: Surge in couples bringing lockdown pets to their big day
Many partners, she said, were simply not in any hurry to tie the knot. "With so many couples choosing to live together before they marry, there's not such a rush to get to the wedding and things like travelling, getting a pet or buying your first home can factor higher on their list," said Bletcher.
"It's also important to note the impact Covid-19 has had on weddings. So many couples who were due to marry in 2020 had their plans put on hold and we're still seeing the affect within the industry.
"Couples who were forced to postpone their wedding, sometimes by over two years while they waited to see how things would play out, are then two years older by the time they say 'I do'.
"I love to see a couple in their 50s or older get married. They could have been together for decades, or they may have found one another after years of being single or in different relationships. It's always so lovely to see people getting a second chance at love and to see suppliers helping people celebrate their dream day, regardless of age or any other identifying factor."
Glasgow-based wedding photographer Gail McCarthy said many modern, mature brides and grooms met their match through dating apps. "I think it's down to more people meeting online who are maybe divorced or widowed and meeting new people and having a second marriage. For these people it tends to be a family affair as they often have children from previous relationships," said McCarthy.
Dating sites became even more popular during the pandemic when, with social distancing in place, bars closed and social events cancelled, on-screen was – for a while – the only means of meeting new people. Now, with countless apps specifically designed for the over 50s, meeting online is just as common for mature couples as it is among 20-somethings. It has opened up possibilities for people to re-enter the dating scene, often after a divorce or bereavement and, in turn, the chance of eventually re-marrying.
"I would say older brides are definitely more common now than they used to be," said McCarthy, who runs Gail Photography. "For people celebrating their first wedding, the average is late 20s, early 30s. But the formula has changed. This year I have a few brides who were meant to marry in 2020 who are now pregnant or have young children. I guess because, even though their wedding was delayed, they didn't want to wait to start a family. After all, it's been two years since they were supposed to marry now.
"I'm doing a wedding this year for a couple who were originally meant to marry in 2018, so it's four years on for them. It's a strange year this year as we're still catching up from Covid, as well as having the weddings that were booked for 2022.
"People are older, have scaled back and gone with a smaller affair and maybe used the money they've saved to put down on a house, and there have definitely been more children involved that have been born during the pandemic and are now part of the wedding."
Our day was 100% how we wanted it and, I guess, having the confidence to do that is about age
Humanist celebrant Mary Docherty married last year at the age of 50 and says being older was the icing on the cake for a perfect day.
"All that mattered was that everybody was in one room celebrating," she said. "It was just so personal to us and that made it special. We were a bit selfish with doing what we wanted instead of trying to please other people. And I guess the confidence to do that comes with age and life experience."
Docherty wed husband Jim at The Corinthian Club in Glasgow last August, five years after Jim proposed. They met when Docherty was working as an optometrist, a career she followed for 25 years before retraining as a celebrant during the pandemic.
The big day in August came a year late for the couple, who had been due to tie the knot in 2020. And the delay meant they were even more adamant about what they wanted.
"We changed venue and I changed my dress," said Docherty. "I wanted something different and that's true of everything in my life. And I knew what mattered and what didn't matter.
"We weren't bothered about favours and didn't have a cake. I didn't wear the traditional wedding gown I had picked because I felt I wanted to be 'me', so opted for something different.
"At the end of the day, we decided it was going to be 100% what we wanted and we wouldn't be influenced by other people."
The couple had a humanist ceremony – written by Docherty herself – and included their children and remembered her late mum and dad to ensure their wedding had a special meaning.
It was a second wedding for both the bride and groom and one thing they were certain about in advance was involving their children. From having her 14-year-old son Leo walk her down the aisle to Jim's sons Iain and Alasdair performing usher duties and having her three girls Molly, Olivia and Rosie as bridesmaids, it was a truly family affair.
Mum-of-four Docherty wore a dragonfly and hummingbird embroidered dress she found online.
"After having four kids, I don't have the flattest tummy, but I remember looking at myself in the mirror and thinking: 'I feel really beautiful' – and that was the first time in a long time I had felt that, not looking beautiful, but feeling beautiful."
The couple even shared a knickerbocker glory at The University Cafe to remember Docherty's parents who took her there when she was a child. The cafe has a special place in her heart as it's where she took her children, too.
"Being older, things have happened to us," she said. "We've had kids and lost loved ones. It definitely wasn't the same as our first weddings. In fact, it was a completely different experience. It was much more of a family affair.
"That's something I'm seeing as a celebrant. I haven't been doing it for long but couples are older and there are a lot of blended families. It's very rare these days to find a couple just out of university, who get married and then have children.
"I think we're in a time where anything goes really. There's never a time that you 'should' do things. It's now just all about when you're ready and it works for you."
More brides hitting the High Street for their big day gowns
It used to be the only place you would look for a wedding gown was a bridal shop but the High Street is fast becoming a favourite for savvy brides.
With so many retailers introducing off-the-peg bridal ranges at competitive prices, many women are cashing in on the trend in a bid to save on their gown.
Sunday Post fashion editor Wendy Rigg said: "Never has there been so much choice for ready-to-wear dresses for brides-to-be.
"From occasion-wear specialists like Coast, Monsoon and Phase Eight to the beautiful, beaded iridescent creations by Needle and Thread, vintage-inspired art deco style by Ghost, and gorgeous, maribou-trimmed gowns by designer brand Sleeper, every budget is catered for."
Brands like Ted Baker, Reformation, Whistles, Rixo, ASOS and Curvissa now have their own bridal ranges.
They come in all varieties including shorter and longer dresses, curve styles, strapless dresses and long-sleeve versions. H&M has even cleverly devised a blue suit for those who don't want to wear a dress.
With sustainability at the forefront of their minds, many brides are looking for a dress that they can feel stunning in, not just on their wedding day but beyond.
"What you get when you shop on the High Street, or online from those brands, is something which looks contemporary, yet you'll be able to wear it elsewhere afterwards," said Rigg.
"Brides, especially those who are older, no longer want to spend huge amounts of money on something they'll only wear once."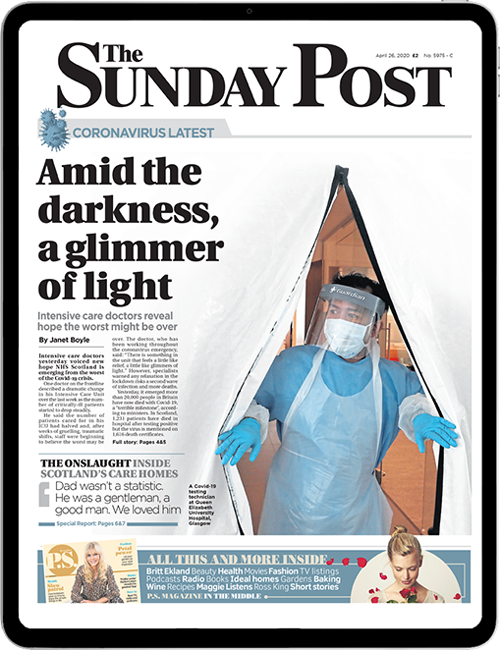 Enjoy the convenience of having The Sunday Post delivered as a digital ePaper straight to your smartphone, tablet or computer.
Subscribe for only £5.49 a month and enjoy all the benefits of the printed paper as a digital replica.
Subscribe