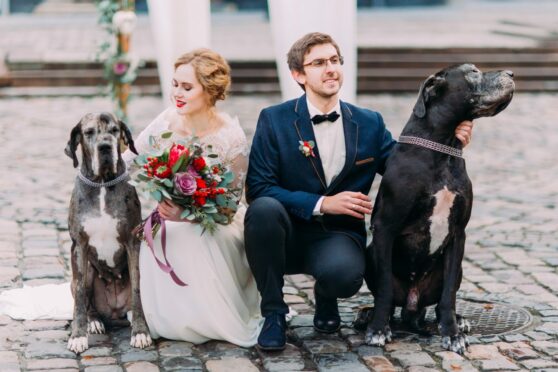 Something old, something new, something borrowed and something furry is the latest wedding trend as more and more dogs join their owners' big day.
Pet chaperones across the country have reported a surge in post-pandemic bookings with many accompanying a four-legged friend to a wedding every week and having to turn away requests.
Meanwhile, even high-end hotels are opening up their doors to animals, with pet-friendly wedding packages increasingly on offer. Patricia Hollinger set up Woofy Weddings, which specialises in grooming, looking after and even dressing pets during the wedding day, six years ago. She says she has never seen the industry so busy. "The trend is becoming very popular indeed," Hollinger said.
"So many couples have got themselves dogs during lockdown and then when it comes to their wedding they realise they need someone to take care of their dog but everyone they know and love is going to the wedding…that's where I come in.
"I'm not sure what proportion of wedding couples include their dogs in the UK as I haven't found any statistics but I know in the US it's about 45%. I have a feeling it may be even higher here."
Hollinger already has 25 ­bookings in the diary for 2022 – for dogs filling the roles of ringbearer, best dog, groomsman and bridesmaid. "It is the most fabulous thing to see dogs at weddings – both mingling with guests and in the photographs," she said. "I will never tire of it. The guests most definitely love it."
Self-confessed dog lover Hollinger says it's a trend that's definitely growing in the UK. "More and more venues are becoming dog-friendly," she said. "And there are now plenty of other doggy chaperones around. I have joined a Facebook group called Scotland's Wedding Day Dog Chaperones. We pass work on to each other when we get double bookings. It's been wonderful.
"The idea for pets as part of the big day is growing – and not just for dogs. I definitely think any type of animal can attend a wedding. I have seen cats, llamas and even snakes!"
Jemma Cox, owner of Hounds and Heritage, has been specialising in dogcare for weddings for five years and says demand is increasing all the time. "Wedding days are all about bringing loved ones together, whilst celebrating with the help of family and friends," she said. "For many, family extends outwards to their dogs, many of which have been with us every waking moment of our lives and have helped bring us through some of the hardest of times. So, it's only right they can be present and share in the day with us.
"The popularity of dogs at ­weddings increases every year as more people begin to realise they can have their dogs present, and they no longer need to panic about leaving them behind. Most venues are already open to having dogs present in some form or another, whether this is in the grounds of the venue, or in specific rooms, and, as the years go by, I do believe the scope for allowing dogs will increase."
She added: "Figuring out how the dogs can feature in the wedding day takes a lot of planning, something we are more than happy to help the bride and groom with. It can often be tricky to navigate, and the process entirely depends on how each dog copes with stress and their individual personalities. Some families choose to have their dogs present for the entire day, where others choose to have them present for photographs only.
"On the big day, my job entails exercising and grooming the dogs ahead of arriving at the venue, dressing in appropriate wedding attire, assisting with ceremonial and photographic duties, and helping with meeting and greeting guests.
"I have been lucky enough to be present for some truly wonderful and heart-warming moments. The dogs' reaction to their owners after not seeing them for a little while is special, but it's seeing the way the guests' faces light up, and the pure joy, the look of love the bride and groom give them once they finally get to say hello that really gets me.
"You can tell they adore each other, which makes being chosen to help couples on their special day nothing short of an honour. I got married recently and know that finding trustworthy and talented suppliers is a decision you don't take lightly, so when we are chosen to look after people's family members essentially, it is a special thing indeed."
The five-star Glasshouse in Edinburgh recently introduced dog-friendly weddings, allowing couples to celebrate their nuptials with their most precious furry companions.
The hotel's sales manager, Judy Rees, said: "We have received a few requests over the years for pets to be a part of the ceremony, but particularly after lockdown we have seen an increase.
"During Covid, with working from home, pet owners were home a lot more with their dogs. As a dog owner myself, I know animals are a huge part of the family. They truly give you unconditional love. Your wedding day is such a special day of your life, where families join to celebrate the moment. I understand why couples want to ensure they are included because they are considered to be an important member of the family."
Rees added: "We've had requests for other pets too, such as parrots. Having our large outdoor garden is a huge benefit for us. Over my years here at the hotel, we have had owls delivering the wedding rings and even had a wedding a few years ago with alpacas in the garden after the ceremony!"
What's it all about, Ralfie? Cockapoo puppy joins owners on happiest day
The Boyles married in September – and wouldn't have dreamt of a ceremony without cockapoo Ralfie in attendance.
Steph and Robert, who met 13 years ago, became engaged in December 2017 and planned their wedding for 2020 but, at the start of the pandemic, they decided to postpone the big day for a year.
In that year, they got a puppy. And when the big day did come along at the Loch Lomond Arms Hotel in Luss, there was no question that Ralfie would miss the big day.
"Our family dog passed away in 2019 and I knew we'd get a dog eventually as a couple, but due to our busy schedules we didn't feel it was fair," Steph said. "When Covid hit we found ourselves at home most of the time and I got a job closer to where we lived so we decided it was as good a time as any.
"Ralfie is a red cockapoo. He just turned one in March. He's the best decision we've ever made (maybe other than getting married!) He's such an integral part of our family.
"We knew we wanted him at the wedding. He's such a part of our lives now that it would've been weird not to have him with us. Plus we wanted some cute photos!
"But we didn't want a guest to have to be responsible for him for the weekend. I also knew it would be a long, overwhelming day to have him there for the full time and that's when we decided to get in some help."
The couple hired a dog chaperone to bring him to the wedding and help look after him before, during, and after the ceremony.
"Ralfie loved it!" Steph said. "He was quite overwhelmed by everyone though and he was only six months at the time so very young to be around all day. The guests loved seeing him! He got well and truly fussed over."
Robert added: "We knew Ralfie would make an appearance at our wedding but having a dog chaperone made it possible. At six months old he was too young to be there all weekend and his wellbeing was our priority.
"We met with her numerous times to make sure he was comfortable before we left him which was a huge weight off our minds. He's been back for days and overnights since the wedding – he absolutely loves it.
"One of the highlights of my day was walking Ralfie round to see our guests. He was a wee star!"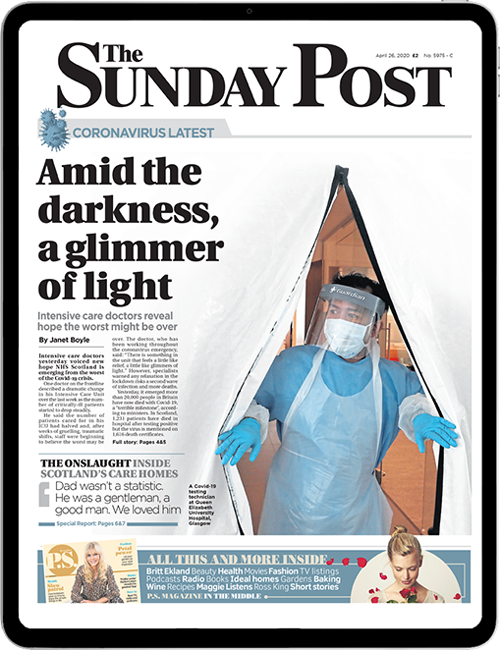 Enjoy the convenience of having The Sunday Post delivered as a digital ePaper straight to your smartphone, tablet or computer.
Subscribe for only £5.49 a month and enjoy all the benefits of the printed paper as a digital replica.
Subscribe