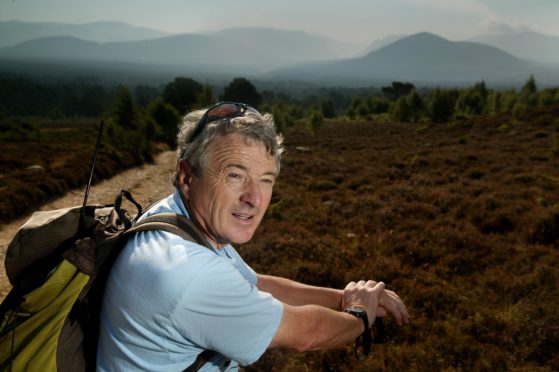 Advances in technology might make our lives easier but a mobile phone can be no match for Mother Nature.
When it comes to navigating Scotland's high country, veteran mountain rescue leader John Allen warns that a reliance on satellite technology can be a fatal error.
Over the past few years, rescue services in the Cairngorms and Braemar have issued stark warnings to the public, after an increasing number of walkers needed rescued because Google Maps led them astray on the high tops.
John, 77, said: "Nowadays, people are so much more reliant on smartphones for everything but it means more people are going into the hills without a map or compass. They think if they have a smartphone, they'll be safe.
"But even in the past few months there's been a lot of instances where people have got lost because their phone has ran out of battery, the weather's so bad they can't see the screen, or they've been led entirely off course because the map just isn't comprehensive enough.
"Navigating the Cairngorms using apps on phones is not safe. You need to go back to basics – learning how to navigate with a map and a compass."
However, smartphones can also be useful as a locator device – as long as they are switched on.
"In the past few years, SARLOC – Search and Rescue Lock – has been a useful way to locate lost walkers. But you need to have a working smartphone," said John.
"After someone phones the police or rescue team, they are sent a link that, when clicked, sends a GPS signal back to the rescue base that reveals their exact location. It saves a lot of time.
"People should switch their phone off when they are on the hills and just use it in an emergency. There was nothing worse than someone calling for help and then saying they had no battery left."
John retired from the Cairngorms Mountain Rescue Service in 2007.
During 35 years in the civilian service – 18 of which he spent as team leader – he was part of thousands of daring rescue missions to locate casualties lost in the vastness of the Cairngorm mountain range.
In the 10th anniversary edition of his book Cairngorm John: A Life in Mountain Rescue, he considers changes and challenges in mountain rescue and safety over the past decade.
One key concern, he says, is the effect of the privatisation of the UK search and rescue service, which was handed over to Bristow Group, an aviation firm, from the RAF in 2015.
"We originally worked with RAF pilots used to working in war zones who would always try a little bit harder on rescues.
"There were concerns when it was privatised that a company would naturally be more careful with a £25 million helicopter and not take as many risks. The coastguard didn't get the same amount of flying after that.
"There were initial complaints they would fly off after a walker was rescued and ordered not to come back to help the team clear the mountain like the RAF did. The team was then left to carry all their equipment for five hours back to base.
"This never affected the rescues but it did mean the team was more stretched as they had less recovery time."
John also believes the loss of Northern Constabulary based in Inverness due to the creation of a single police force in Scotland has led to a loss of regional know-how and delays in launching crucial search and rescue missions.
He said: "We had a strong local connection with Northern Constabulary in the Highlands. There's no doubt that when Police Scotland took over, that connection and local knowledge disappeared.
"There was a lack of co-ordination. I heard there were several times when they tried to send search and rescue controllers from Glasgow up to the Cairngorms to co-ordinate a rescue.
"They didn't have a clue and sometimes it led to the rescue team being deployed too late or sent to the wrong place. In those cases, local knowledge is invaluable."
For John, technology isn't always a match for nature. Sometimes experience and manpower is the only way to make sure a rescue goes ahead. "Drones can be useful for river searches where you need to search long stretches of inaccessible or difficult terrain. But when helicopters and drones can't fly because the weather is bad, and visibility is poor, it comes down to manpower and the ability of the rescue team – I call them foot soldiers – to get to that location, with or without equipment. It's very hard work."
As well as promoting mountain safety, John is keen to raise awareness of the Cairngorms Mountain Rescue Service, which is run entirely by volunteers.
When John wasn't saving lives in the mountains, he was working as a pharmacist in Kingussie.
"You'd get called out, do your job then get on with your day job. Sometimes I'd finish a rescue at 4am and be in the pharmacy at 9am."
Over three-and-a-half decades, John was part of some of the most difficult rescue missions in the Cairngorms. "After a long walk with heavy equipment in lousy weather, if you find someone badly injured or deceased, you basically just want to get them out of there," he said.
"There's no time to dwell on it because you have a long walk back if you can't get an airlift. Then you're straight back to the day job. You just get on with it.
"My advice to walkers is they should be prepared to turn back if the weather is bad. Don't push on and possibly get yourself into trouble. There's no shame in retreating."
Skilled, brave, unpaid: Hill heroes risk all yet remain an enigma
By Chris Bonnington
I have never had to be rescued but have had quite a few close calls over the years.
It has made me very aware of how all of us climbers and walkers might well need the help of a Mountain Rescue Team and, indeed, may owe our lives to their skill, stamina and courage.
Although frequently in the news, Mountain Rescue Teams are not well understood. Surprisingly, few people know the rescuers are unpaid or that they achieve, to put it in John Allen's words, "the most professional standards possible within an amateur ethos".
Why, then, do they require such large sums to function, and where does the money come from? Likewise their relationships with other, full-time, emergency services are not well understood.
Few, even among mountain enthusiasts, know they act on behalf of the police and that it is the team leaders who co-ordinate all aspects, including the use of helicopters.
One of the least understood groups to go to the hills, the mountain rescuers are an enigma to the general public, who all too often label them simply as heroes.
No dedicated rescuer feels this way. Nor do they see the casualties, as the public too often does, as feckless and foolish.
John Allen does much to explain the motivations of both, the trials the rescuers put themselves through to come to the assistance of others, and the crafts and science developed through their work over the past half-century.
Often the rescuers are required to meet and work with people during the worst experience of their life, experience that will alter their futures utterly.
Sometimes they have to deal with people in what will be the last few hours of their lives.
Relationships are developed, grief is shared and, sometimes, long friendships are established.