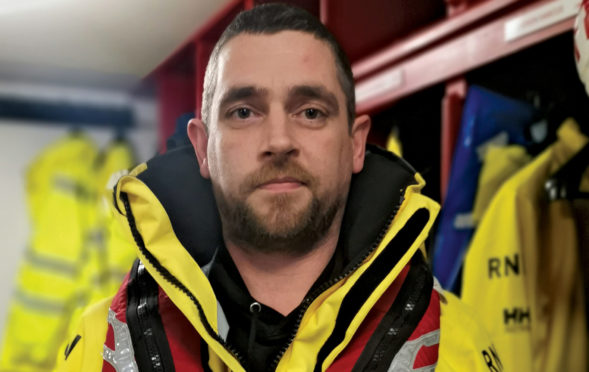 As the dark, icy waters of the North Sea surged across the deck of the foundering Ocean Way, lifeboatman Darren Harcus realised both his rescue mission, and the ship's fate, had reached the point of no return.
Standing on the stricken fishing vessel, 23 miles off the Shetland coast, the RNLI Lerwick volunteer watched as his colleagues on board the Michael & Jane Vernon lifeboat sped back toward him after being buffeted away from the 24m-long steel trawler.
With only seconds to act and knowing the lifeboat would never reach them in time, Darren yelled at his crewmates to abandon ship as the Ocean Way shuddered and sank beneath their feet.
But that was only half of the story. "When I joined the RNLI as a volunteer, never in a million years did I imagine I'd be going out on a shout to rescue the vessel that I worked on," said Darren, 39, who had been on the Ocean Way crew for five years. "It's one of the hardest rescues I've been part of. Nothing has come close."
Dramatic footage of the Ocean Way crew being pulled from the water as their ship sank on March 3, 2017, was beamed worldwide as headlines praised the courage and quick-thinking of the The Royal National Lifeboat Institution (RNLI) team.
Now, Darren has recalled the daring rescue in a new book Surviving The Storms, published this week to raise funds for the RNLI.
Originally from Westray in Orkney, but based in Shetland since 2013, he had worked in the fishing industry for two decades.
"Working in this industry, a boat going down is your worst nightmare. You never think it will happen to you," he added
"It's tough, looking back, because that's one of the best jobs I've ever had and it was my friends' livelihood going down… but boats can be replaced. I knew the crew intimately. I've known Paul Moodie for 30 years and he was due to be best man at my wedding in five months' time! It just doesn't bear thinking about how bad it could've been."
Away from the crashing and swirling of the swell, I could see five figures bobbing in front of me. My stomach lurched, one of them was drifting to the lifeboat's bow, while another was dangerously close to its propellers…
Incredibly, all five crew members, including the Ocean Way's skipper, Steven Hughson, were rescued and returned safely to shore.
But the sight of the Skerries-owned Ocean Way descending into the North Sea depths, caused by an breach in its hull, was "haunting" for Darren.
"I don't like to be idle, so I was back at sea four days after the event. We were out fishing at Rockall and hit really bad weather.
"Every time I heard a bang when the trawl doors came up against the side of the boat, I twitched a bit! It was a good few weeks before I felt comfortable again but I grew more confident the longer I was at sea."
The RNLI was a natural fit for the brave seafarer, who joined the charity full-time as a coxswain at his RNLI Lerwick base two years ago.
But social-distancing has meant Darren and team are unable to get out on the water except for emergency rescues.
"While the boats are lying idle we can't go out on training exercises as we need a minimum of four crew and can't maintain social-distancing," he said. "We're usually out at least once a week so there is a risk of skill fade. It's frustrating but we understand the reasoning behind it."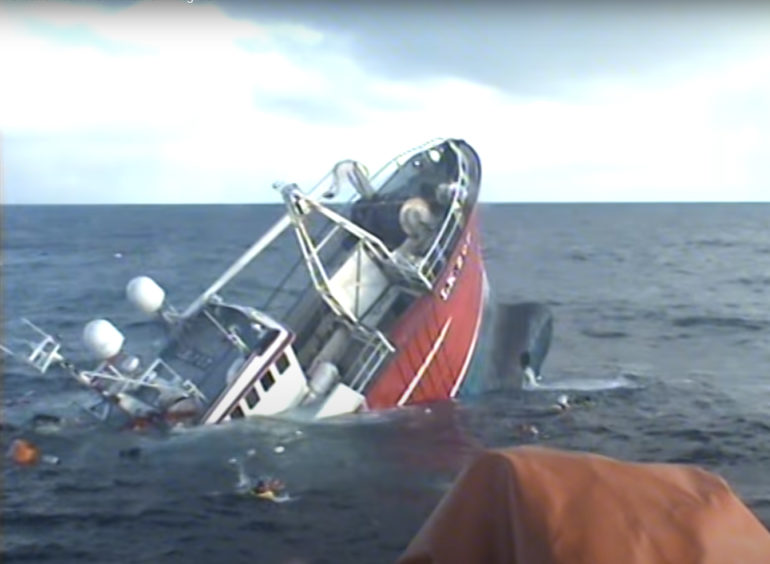 Luckily, the Lerwick lifeboat team has not had to mobilise since lockdown measures were imposed in March.
But it has been a different story on the mainland. On May 29, when Phase One of the Scottish Government's easing of lockdown came into effect, the North Berwick volunteer lifeboat crew had three call-outs including stricken paddle-boarders and kayakers.
"Living on an island, most people here are sea-savvy so we don't have the same concerns as our colleagues on the mainland," added Darren.
"Our numbers are down this year purely because the pleasure crafts haven't been allowed to go to sea until this weekend.
"It will be interesting to see what happens in the coming months."
Darren hopes the book will raise vital funds, adding: "Without donations, the RNLI would probably fold within six months."
Published on Thursday, Surviving The Storms recounts incredible rescues from RNLI lifeboat crews through the years.
The charity provides a 24-hour search and rescue service around the lives at sea around the UK coasts and waterways from volunteer crews in 238 lifeboat stations, including 46 across Scotland.
As well as raising money to help save more lives at sea, RNLI chief executive Mark Dowie hopes the accounts of remarkable rescues will bring readers a little "hope and warmth after stormy times" of coronavirus.
"Surviving the Storms is a wonderful account of selflessness and bravery although there is no book big enough to do justice to every RNLI rescue and rescuer," said Mark.
"They've helped so many people survive the storms and I'm proud of every one of them."
The survivor
There was nothing we could do, so I just leapt into the sea
Three years on, Paul Moodie still can't believe how quickly a normal fishing trip turned into a near-fatal disaster.
"To begin with, we didn't think it was that bad and we would make it back to harbour.
"But then we started taking on water too quickly for the pumps to keep up," said the fisherman of 20 years.
"Everything happened so quickly. It was quite a shock.
"There was nothing we could do. It was a good shout that the lifeboat was there to help.
"Seeing the lifeboat crew eased some of the panic we were feeling. It was a relief to know the RNLI and coastguard helicopter where there.
He added: "It was very reassuring to see Darren. We grew up together on Orkney and had worked together on and off for years. Him knowing us and the boat so well saved valuable time."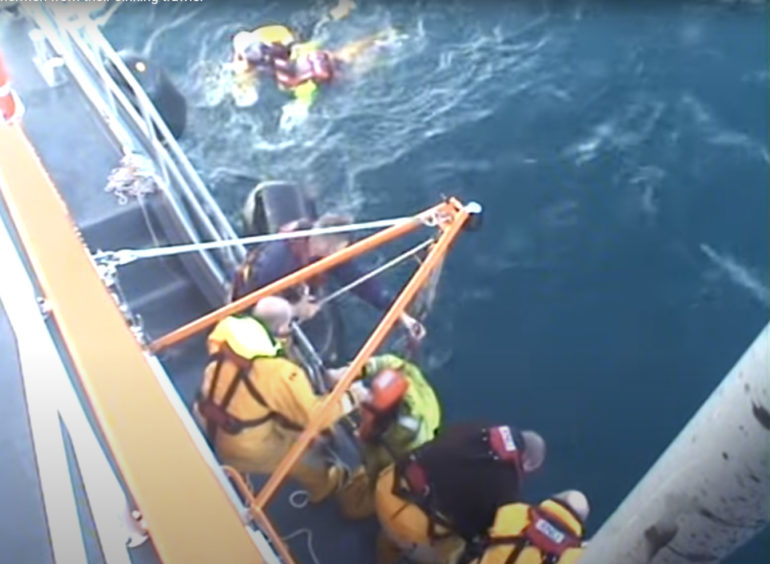 Paul, 35, recalls the moment every fisherman dreads – the call to abandon ship.
"I remember waiting for the lifeboat to come alongside us and realising there wouldn't be time.
"By that point it was getting pretty scary to be honest.
"I heard Darren yell 'Jump!' so I just leapt into the sea without thinking. I was the first in the water. Luckily, I'm a strong swimmer.
"I try not to think about it, to be honest. I took a few weeks off but figured I might never go back to the sea if I didn't get back out there as quickly as possible."
Paul is now back on Orkney working on the Keila trawler but plans to return to Shetland once Skerries, the company that owned the Ocean Way, completes its new boat in the coming months.
He hopes the public will continue to support the charity he owes his life to.
"It's very important to support the RNLI. The lifeboat crews are amazing. They risk their lives to save others," Paul added.
"I really appreciate what they did for us.
"Without the RNLI, there would be a lot more lives lost at sea."
---
The rescuer
Within minutes of reaching the stricken Ocean Way, Darren Harcus realised it was sinking. After telling the crew to prepare to abandon ship, the men jumped…
For a few seconds there was darkness and swirling confusion, to a soundtrack of the muffled rumbling of the boat being pulled down under behind me. Then I floated upwards and broke back through the surface of the water, gulping in huge mouthfuls of air.
Scanning the water, I could see everyone starting to resurface, disperse and begin swimming at different angles towards the lifeboat.
I steadied myself and looked around. Were any of the crew struggling? Did they need my help?
I could see something towards the bow, and the deputy coxswain, Tommy Goudie, was pointing in that direction, too. It was the skipper.
He was about 15 metres away, thrashing his arms desperately, the creaking boat looming ominously in the background and a powerful swell dragging behind him.
He wasn't just struggling to swim. He was struggling to stay afloat.
Because he'd jumped in further along, he'd ended up closer to the boat, right under the flare of the bow.
Dangerously close to the suction that was dragging it down. It must have only been 6°C in the water. The temperature could easily have caused cold-water shock, and he'd be tiring quickly. All this on top of the fact that I knew he wasn't a strong swimmer.
If I didn't get to him, he'd be pulled down with his vessel. We'd probably never see him again. Alive at least.
Mustering all the energy I possessed, I made a beeline for him. I pumped my arms as fast as they would take me, watching for floating debris as I went.
As soon as I got to him, I hooked my feet under his armpits and tried to use my arms to swim away. Away from the Ocean Way. And over to the lifeboat.
My heart was racing. I could still feel the pull of the sinking vessel, tugging at us, and threatening to pull us under with it. But I kept swimming. Stroke after stroke, away from the boat, staying as calm as I could.
Eventually, I felt the pull weaken and I was able to drag us both clear of danger. Away from the crashing and swirling of the swell, I turned around to see what had become of the rest of the crew.
I could see five figures bobbing around in front of me, all nearing the lifeboat. But as I looked, my stomach lurched. I couldn't make out who each was, but a man was drifting towards the lifeboat's bow, while another was floating dangerously close to its propellers.
Thankfully, Alan held the boat's position expertly, while the lifeboat crew leapt into action. If they hadn't, we might have had a tragedy on our hands.
Shouting instructions, casting boat hooks out to pull them in and preparing the A-frame hoists on either side of the boat, they plucked the crew out of the water, one by one.
They were almost all on board when I finally reached the lifeboat with the skipper. I secured him in the A-frame and called for him to be pulled up.
'Hold on tight,' I said. 'OK,' he gasped, still breathless and exhausted by his ordeal.
The lifeboat crew cranked him up and hauled him on board. Once all of the crew were safe, John and I were hoisted up on the A-frame.
While my Ocean Way colleagues continued to watch the boat descend to its watery grave, I pressed on with my duties as RNLI crew. In 20 years of working at sea, I'd never seen a boat go down. Never.
And I never wanted to.
---
Surviving The Storms by The RNLI, HarperCollins, £14.99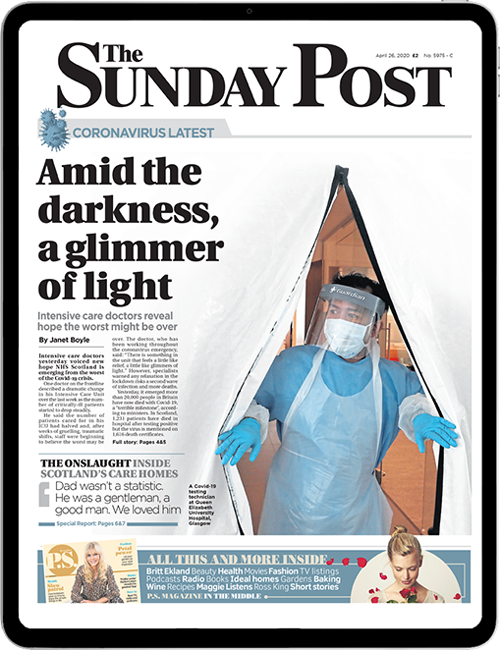 Enjoy the convenience of having The Sunday Post delivered as a digital ePaper straight to your smartphone, tablet or computer.
Subscribe for only £5.49 a month and enjoy all the benefits of the printed paper as a digital replica.
Subscribe