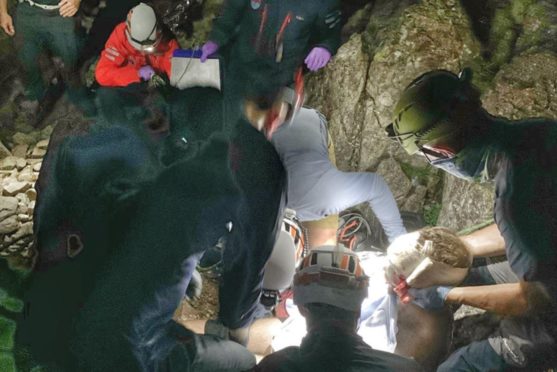 When Dan Oakaby plunged more than 80 feet while climbing in the Lake District, he crashed into ledges and rocks as he fell.
The impacts inflicted life-threatening injuries but slowed his fall and, probably, ensured he was still alive when the rescue team reached him on Langdale Pikes.
What happened in the hours, days and weeks to come is a remarkable story of bravery and skill, of volunteer rescuers and medical professionals firstly saving his life and then rebuilding and repairing his shattered body.
After a treacherous night-time rescue on a dark hillside when a volunteer doctor put Dan into a coma and gave urgent lifesaving treatment, he was flown 150 miles to Glasgow's Queen Elizabeth University Hospital for world-class care at the hands of the team there.
After a month in hospital he was able to return home – on a plane capable of flying at low altitude to protect his damaged lungs – and is on the road to a full recovery.
Here, Dan and the people who saved him tell their extraordinary story of calamity, rescue, recovery and hope.
---
THE CLIMBER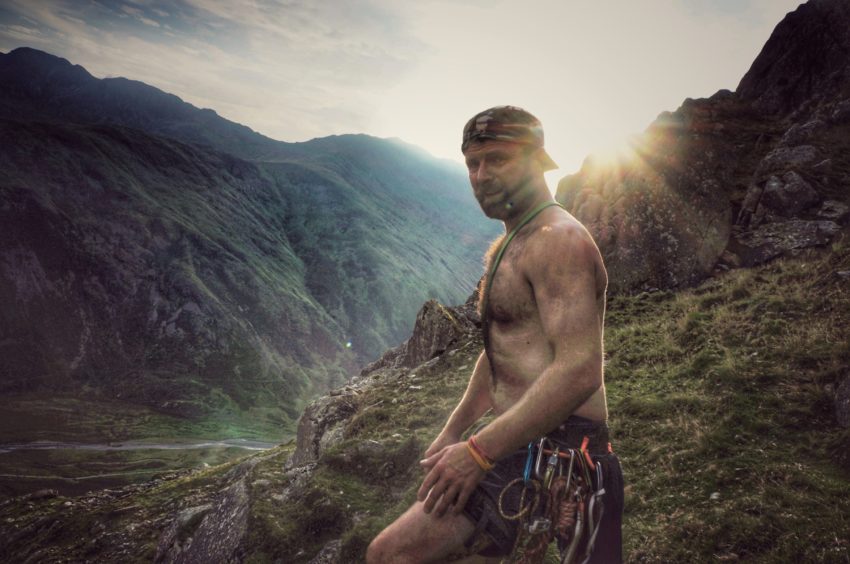 The last thing Dan Oakaby remembers is hammering a metal spike into a rock as he climbed in Langdale Pikes in the Lake District.
What happened next was to rewrite the textbook of survival from major trauma. Car diagnostic technician Dan, an avid rock climber and BMX rider was on the second day of a climbing and camping weekend with pals on 15 and 16 August last year when he crashed 82 feet down a mountainside. Striking boulders as he fell, he seriously injured his head, chest, lungs and arms and even his heart.
The third of his metal piton spikes had given away despite being carefully hammered into the rock face.
Dan, 37, from Exeter, said: "I fell down the mountainside, hitting my head, face and rest of my body on boulders during the 82 feet fall to the gully below.
"The three friends I was with dialled 999 and a full-scale rescue was mounted.
"I had survived but was so badly injured I would have died if I had not been operated on the mountainside and put into a coma.
"Even with life-saving surgery, I had two cardiac arrests on the route up to Glasgow on the helicopter.
"It was only thanks to the doctor on the rescue team and a paramedic on board that I am here today.
"At the hospital I was kept in the coma for two weeks and ICU kept me alive as lung, facial and orthopaedic surgeons repaired by battered body.
"The doctors and my family worried that I would recover with serious life-changing injuries but I wanted to survive as best as I could and worked through rehabilitation.
"Doctors told me that it was only because I was very fit from mountain climbing and my love of BMX biking that I managed to survive.
"I reckon my BMX safety helmet saved me from catastrophic brain damage.
"A rescue team of around 40 people helped me live that day – mostly volunteers – and I will be forever grateful.
"Everyone has been stunned at how quickly I have recovered. I spent just four weeks in hospital and was back at work just 12 weeks after the accident."
---
THE RESCUE TEAM DOCTOR
Dr John Ferris, an NHS consultant in emergency, pre-hospital & retrieval medicine, and a volunteer with the medical response charity BASICS lead the medical team who treated Dan.
Dr Ferris, who worked previously in Dundee and Edinburgh, said: "Dan had some of the most severe injuries you will see in trauma medicine – certainly the top end of what we see.
"They included a brain injury, major facial fractures, both lungs had collapsed because of rib fractures and complex arm and wrist fractures.
"We had to put him into an induced coma on the mountainside and operate to drain blood and air which were filling his lungs".
"Our emergency equipment included a ventilator, and portable ultra-sound scanner which allowed us to see the damage inside his chest".
The team worked for three hours stabilising him for transfer to the QEUH by a coastguard rescue helicopter which had been called out from Prestwick.
"Three hours sounds long but the technical nature of the rescue and the extent of Dan's injuries necessitated this to keep him alive" Dr Ferris added.
"During that time we had to move him twice to secure a safe place for the helicopter to hover and hoist him up with an accompanying winch-paramedic.
"Patients are lifted in a metal stretcher".
"I followed and accompanied him to Glasgow monitoring and treating him throughout the 40 minute journey."
During the flight Dan twice went into cardiac arrest.
"In Glasgow the trauma team were waiting for us at the handover. Among them were some of my old colleagues whom I had worked with at the Scottish retrieval medicine team.
"I got updates of Dan's recovery and was both surprised and delighted that he had recovered so well.
"I have kept in touch with Dan's family who send regular updates and we hope to meet up in the summer."
---

THE MOUNTAIN RESCUER
Langsdale and Ambleside Mountain Rescue team leader Nick Owen said: "Everything I had learned in 32 years in mountain rescue was put into practice.
"Dan was seriously injured after falling onto boulders and striking-others on the way down.
"It was a cramped place for the team to work in and we were very mindful of his head and other injuries.
"While he wasn't too far from the road, say 10 to 15 minutes, it was difficult for the helicopter to retrieve him, and we had to move him twice, while badly injured, to allow the helicopter to get a safe position to hoist him up.
"This was done with ropes and team work, securing every step of the way and avoiding injuring him even further.
The team worked for three hours to stabilise Dan and then move him, as the light faded.
"As the helicopter hovered above we worked in a downdraft of 90 miles an hour.
"Watching him fly off we knew we had done our best and it was great news to hear that he had survived."
---
THE ICU CONSULTANT
Dr Chris Wright was on call with the trauma team at the Queen Elizabeth University Hospital the evening Dan arrived.
Dr Wright said: "Dan was incredibly lucky to be alive thanks to the work of Dr John Ferris and his team at the mountainside.
"He had head, facial, chest, rib, and wrist injuries and our two major concerns were his significant chest injuries and the potential for brain injury.
"At one point we were worried that one of his broken ribs had potentially damaged his heart. He had only got this far thanks to high calibre of care at the accident site and during transfer.
"I also think that his overall fitness through BMX biking and mountain climbing were considerable benefits to his ability to survive.
"The treatment by the team at the QEUH and collaboration with surgeons from the Golden Jubilee helped push him towards survival and rehabilitation.
"Facial fractures were plated and his eye repaired perfectly, with his sight kept intact.
"Cardiothoracic surgeons from the Golden Jubilee also came here to assess the damage to his chest and they operated to repair his ribs and to assess the impact on his lungs. "It reminded us all that the NHS was still very much open for business during a pandemic and that those badly injured by trauma could still get world class treatment.
"Dan is also hugely driven and his will to recover impressed everyone."
---
THE SURGEON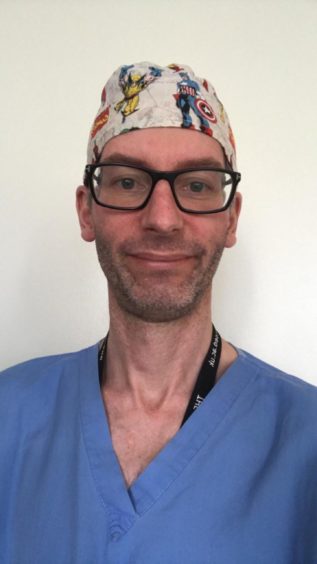 David Laraway, maxillofacial surgery trauma lead remembers how badly damaged Dan's face was when he arrived at resuscitation at the QEUH.
"The facial bones surrounding his left eye were badly fractured in the fall down mountain and
"He was so seriously ill with multiple injuries to major organs that I wondered if he would survive to under surgery to his face and eye.
"Then there was always the possibility that his eyelid would not heal perfectly because it is not an easy area to repair but it did, perfectly.
"Metal plates were used to repair his facial fractures and recovery was good, too.
"Everything about Dan's recovery continued to surprise us.
"He has this amazing will to survive and continually set goals for himself."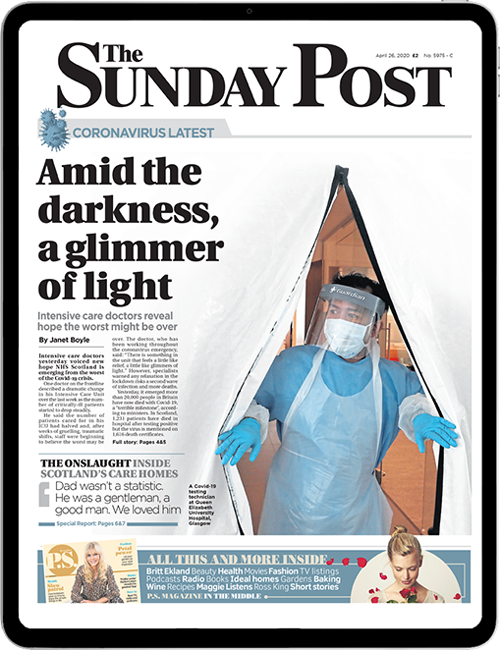 Enjoy the convenience of having The Sunday Post delivered as a digital ePaper straight to your smartphone, tablet or computer.
Subscribe for only £5.49 a month and enjoy all the benefits of the printed paper as a digital replica.
Subscribe