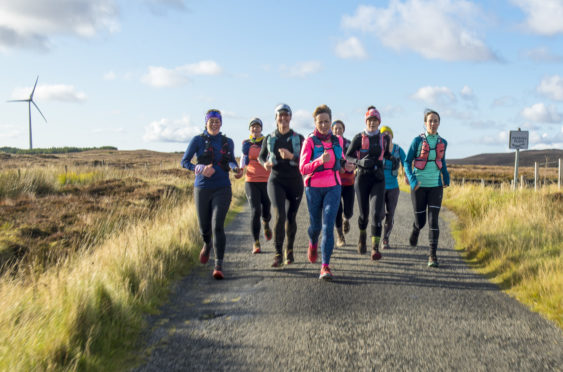 Six women have set a record time for an end-to-end run across the Outer Hebrides.
The intrepid athletes ran 156 miles from Vatersay to Lewis on the islands off the north-west coast.
They followed the route of the Hebridean Way, crossing 10 islands, six causeways and taking two ferries.
While guidebooks recommend people allow around 14 days to complete the route, the women finished it in just four days, seven hours and 28 minutes.
Allie Bailey, the group's leader, said: "It was an incredible adventure, although tough and brutal at times.
"It is one of the most beautiful places I have ever been to."
The idea for the endurance run came from event company, Rat Race Adventure Sports, which organises demanding "bucket list adventures".
Having piloted epic routes in places such as Namibia and Mongolia, Allie was chosen as the lead for the Hebridean project.
She insisted on a women-only group. Allie said: "Many women do not believe they are capable of doing endurance events.
"They are often put off by the perception that races are full of alpha males and very competitive.
"I wanted to encourage women who had not completed a multi-day run before to join me in the Hebrides to show them what they could achieve."
Nine women started the challenge on October 14 on Vatersay, the most southerly inhabited island in the Outer Hebrides.
They came from across the UK and included a Scot, Gillian McColl, of Crook of Devon, Perthshire.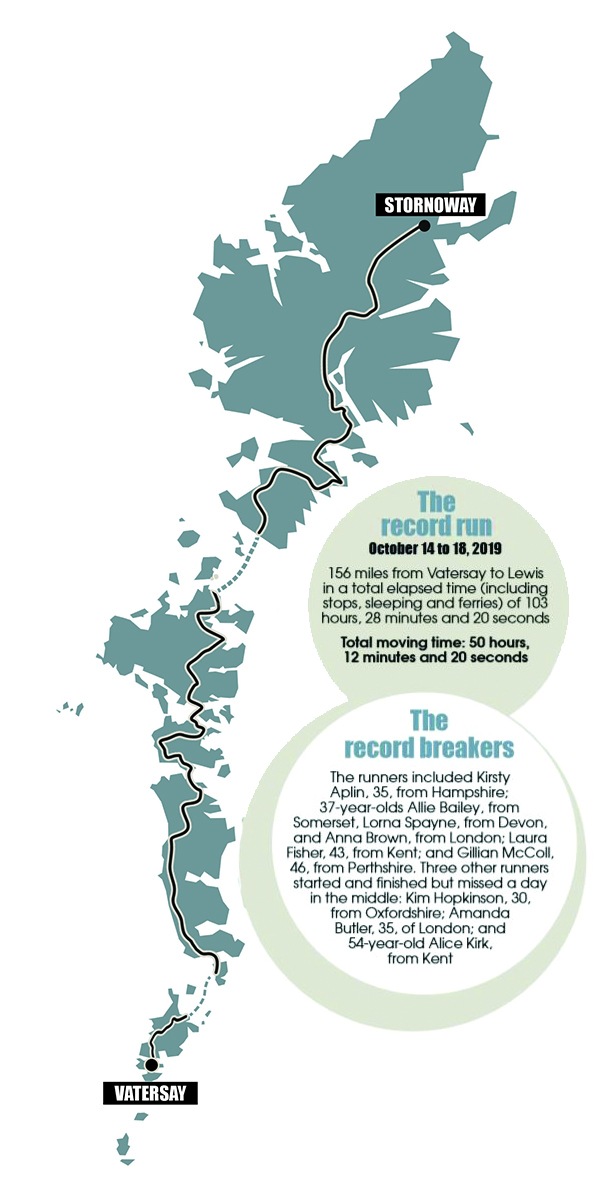 Six completed the full distance, finishing in Stornoway on Lewis, on October 19, while three runners missed a day each due to injuries. They ran across the islands of Vatersay, Barra, Eriskay, South Uist, Benbecula, Grimsay, North Uist, Berneray, Harris and Lewis.
Their total time of 103 hours, 28 minutes and 20 seconds is the fastest known for a group of female runners.
The women spent up to 14 hours on the Hebridean Way each day to cover an average daily distance of 32 miles. They ran through many hours of darkness, too, and slept for only four to five hours in bunkhouses and hostels.
The women were supported throughout the run by a small crew, who transported overnight equipment and supplies and assisted with navigation.
While the Hebridean weather is notoriously fickle, the women were fortunate to run in mostly sunny autumnal conditions.
But crosswinds on the low causeways between islands were often strong and cold – and night-time saw temperatures plummet to freezing.
Although there are waymarker posts on the route, they were not always easy to spot and a lack of directional arrows also caused confusion. In addition, two ferries were cancelled adding eight hours of delays. The wild landscape contributed to the challenges. Allie said: "This is not a well-trodden route and we had such a variety of terrain to tackle.
"There was a lot of peat and many deep bogs. We stepped up to our thighs in muddy holes.
"Thick heather, rocky and hilly trails, as well as long sandy beaches, required endurance and technical running skills.
"Running at night was also brutal at times and we slowed to just 2mph one evening."
For Gillian, 46, who is the mum of two young children, day four was the hardest. She said: "I felt so tired and weak on the Thursday as we left Tarbert on Harris. It was the accumulation of a lack of sleep, being on our feet for so long each day and eating trail food rather than meals. I had never run so far over so many days."
Yet despite the exhaustion, the women reported many highlights. Allie said: "The Outer Hebrides have every kind of landscape imaginable and it changes continuously.
"We saw amazing wildlife, impressive sunsets and sunrises and even when we had a bit of drizzle there was a rainbow to enjoy."
Gillian found her morning low was followed by a high. She said: "It's strange how you can feel so tired one moment and then so upbeat the next. Long-distance running is like that.
"On Thursday lunchtime, the three run who were injured came to support us and suddenly I was okay again. I went from my worst morning to my best afternoon after that."
The Outer Hebrides Tourism was delighted that the group chose their islands for the run and said: "It is a fantastic achievement and no mean feat."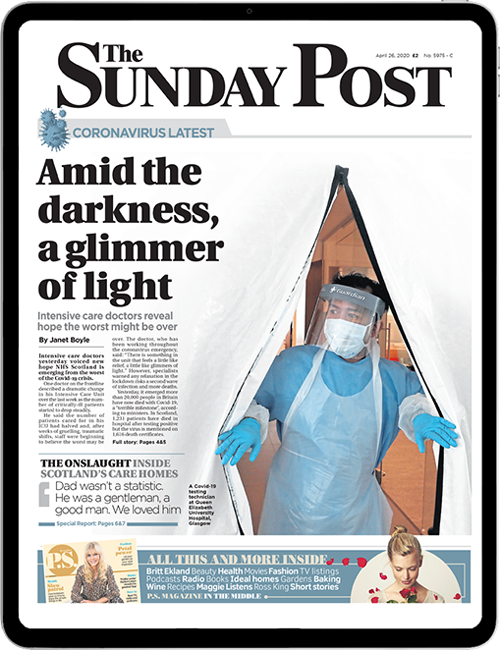 Enjoy the convenience of having The Sunday Post delivered as a digital ePaper straight to your smartphone, tablet or computer.
Subscribe for only £5.49 a month and enjoy all the benefits of the printed paper as a digital replica.
Subscribe