The First Minister led ­tributes to Sir Sean Connery yesterday after the death aged 90 of the man described as the world's greatest Scot and the definitive James Bond.
Nicola Sturgeon said she was "heartbroken to learn this morning of the passing of Sean Connery", adding: "Our nation today mourns one of her best-loved sons."
She added: "Sean was born into a working-class Edinburgh family and, through talent and sheer hard work, became a film icon and one of the world's most-accomplished actors. He will be remembered best as James Bond – for many, the classic 007 – but his roles were many and varied.
"Sean was a global legend but, first and foremost, he was a patriotic and proud Scot. His towering presence at the opening of the Scottish Parliament was a sign of his dedication to his country.
"It was a privilege to have known Sean. When I last spoke to him it was clear even then that his health was failing but the voice, the spirit and the passion that we all loved so well were still there. I will miss him. Scotland will miss him. The world will miss him."
Connery's son Jason said ­yesterday his father "had as many of his family who could be in the Bahamas around him" when he died overnight in Nassau. Connery had lived for many years on the Caribbean island, reportedly falling in love with it during filming there of the fourth Bond film, Thunderball.
Jason added: "We are ­working at understanding this huge event as it only happened so recently, even though my dad has been unwell for some time.
"A sad day for all who knew and loved my dad and a sad loss for all people around the world who enjoyed the wonderful gift he had as an actor."
Former first minister Alex Salmond, a close friend of Connery, said: "The world's greatest Scot, the last of the real Hollywood stars, the definitive Bond. Sean Connery was all of these things but much more. He was also a staunch patriot, a deep thinker and outstanding human being.
"I have had the rare privilege of being his friend for more than 30 years and enjoyed every single moment of his company and talk.
"His charity, the Scottish International Education Trust, has over the years supported thousands of youngsters with a helping hand in their education.
"His sense of irony and humour were legendary, as was his love of country. 'Scotland Forever' wasn't just tattooed on his forearm but was imprinted on his soul. He was a great and gentle man."
Former first ministers added their tributes yesterday. Jack McConnell said: "Sean Connery was a fantastic actor, great company in private and a terrific ambassador for Scotland. When we were promoting Scotland in the US, Sean Connery was our biggest asset and I always appreciated his willingness to help sell modern Scotland. I hope we can use the memory of his contribution following the American election this week to re-energise our promotion of Scotland abroad and attract the investment we so badly need in these difficult times."
Henry McLeish added: "Sean Connery was a giant in every sense of the word, a great Scot and a great patriot. I met him on many occasions including political discussions and remember in particular his important role in the Scottish referendum in 1997. He always carried Scotland with him, taking a great pride in his country. No-one can forget his great and varied acting career and for many of us, the majority of us, he remains the only James Bond."
---
---
Former prime minister Gordon Brown said on Twitter: "So sorry to see that Sean Connery has passed away. I enjoyed many conversations with him over the years. A great acting legacy endures."
Connery was famed for his love of Scotland as well as his acting career, which saw him become the first actor to play 007 on the big screen in Dr No in 1962.
He went on to play Bond in five further films. The family of the man who replaced him in the iconic role, Sir Roger Moore, who died in 2017 aged 89, said: "How infinitely sad to hear the news Sean Connery has passed away. He and Roger were friends for many decades and Roger always maintained Sean was the best ever James Bond."
Barbara Broccoli, daughter of original Bond producer Albert "Cubby" Broccoli, and Michael G Wilson, also a former Bond producer, said in a statement: "We are devastated by news of the passing of Sean Connery. He was and shall always be remembered as the original James Bond whose indelible entrance into cinema history began when he announced those unforgettable words: 'The name's Bond… James Bond.' He revolutionised the world with his gritty and witty portrayal of the sexy and charismatic secret agent. He is undoubtedly largely responsible for the success of the film series and we shall be forever grateful to him."
A tweet from Pinewood Studios, where the Bond movies are filmed, said: "We are extremely saddened to hear of the passing of the legendary Sean Connery. Memories of this outstanding actor and his unforgettable embodiment of superspy James Bond will forever be cherished at Pinewood."
Dame Shirley Bassey, who sung the themes to three Bond films, including Goldfinger and Diamonds are Forever, which both starred Connery, said yesterday: "He was a wonderful person, a true gentleman and we will be forever connected by Bond.
"When we were younger I used to cheer Sean on from the sidelines whilst he played football in his team, The Showbiz 11. Well, I will always be there to cheer you on Sean."
Welsh actress Catherine Zeta-Jones, who starred alongside Connery in the 1999 film Entrapment, said she would "cherish every moment" she had spent with him.
Alongside a picture of them together, she wrote on Instagram: "Farewell my friend. I love you Sean Connery with all my heart. Until we meet again, I will cherish every moment I shared with you."
Fellow Scottish actor Robert Carlyle yesterday shared a photo of himself with Connery on Twitter, writing: "One of my proudest moments – with the great man in 2008."
And the Midlothian football club he played for in the early-1950s also paid tribute.
Bonnyrigg Rose tweeted a photograph of a rainbow over their New Dundas Park ground and paid tribute to "probably our most famous footballer".
Culture Secretary Oliver Dowden added: "Saddened to hear of the passing of Sir Sean Connery – a true legend and British icon."
Colin Salmon, who played MI6 deputy chief of staff Charles Robinson in three Bond films, paid tribute to Connery on Twitter. He said: "Sean Connery had that dangerous quality that made you think twice. He set his own tempo in every role. RIP maestro."
Sir Michael Caine has paid tribute to Connery, calling him "a great star, brilliant actor and a wonderful friend". In a tweet he added: "The Man Who Would Be King was THE KING."
Arnold Schwarzenegger has paid tribute to Connery, saying: "Sean Connery was a legend, one of the greatest actors of all time.
"He provided endless ­entertainment for all of us & inspiration for me.
"I'm not just saying that because he was a bodybuilder who placed in the Mr Universe contest! He was an icon. My thoughts are with his family."
Connery retired from ­public life in 2011 after making his last film, The League of Extraordinary Gentlemen, in 2003, but stated during an interview in 2016 that he still followed Scottish news and sport, including "soccer, tennis and rugby" from his Bahamas home.
Connery's death, following a long illness, came just eight weeks after his 90th birthday on August 25.
The actor leaves wife Micheline and sons Jason and Stephane. Connery's publicist Nancy Seltzer said a "private ceremony" would be held for Connery followed by "a memorial yet to be planned once the virus has ended".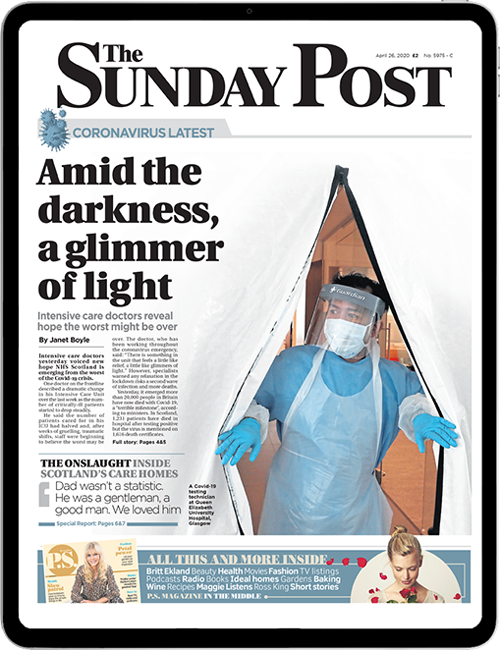 Enjoy the convenience of having The Sunday Post delivered as a digital ePaper straight to your smartphone, tablet or computer.
Subscribe for only £5.49 a month and enjoy all the benefits of the printed paper as a digital replica.
Subscribe