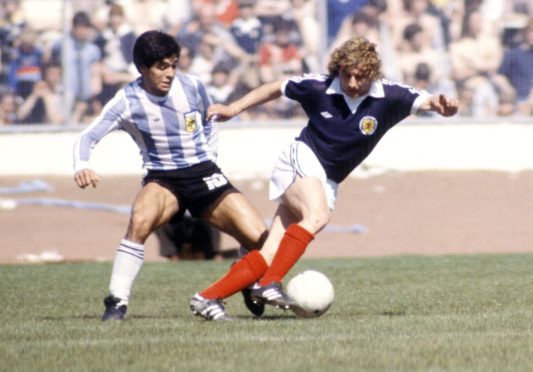 Diego Maradona was just 18 when I first set eyes on him.
It was at Hampden Park in June, 1979, in a friendly between Scotland and Argentina.
We lost 3-1 and Maradona scored their third goal, his first for his country.
To be honest, we were lucky to keep the score down to three.
But it wasn't his goal that I remember most from that encounter. No, it was a typically mazy run, and a cheeky effort that completely fooled our keeper, George Wood.
Maradona picked the ball up inside our half, and embarked on a charge up the pitch that involved surviving three or four serious assaults from my Scotland team-mates.
He was then almost at the by-line, and looked up to assess his options.
Big George must have been given the eyes by Diego, and dived out towards his six-yard line to stop what he guessed would be a cut-back.
But Diego had other ideas.
He made an audacious attempt to slip the ball between George and the post, and it nearly came off only to be denied by the woodwork.
It would have been one hell of a goal had he succeeded, and would have had the crowd of more than 60,000 even more in awe of him.
His supreme talent was obvious, and there is no doubt he became one of the greatest to have ever played the game – talented and brave.
Three years after that Hampden display, Maradona left his home country to come to Europe to play for Barcelona and Napoli.
He really lit up Serie A, and helped the Italian club win their first-ever top-flight title.
He ran riot when the opposition contained some of the toughest – and most-ruthless – defenders in the world.
He would regularly be taken out of the game with extreme force and, sometimes, brutality.
But the wee Argentinean could never be stopped. He was just too good.
I'd love to know how many games Maradona played when he wasn't 100% fit.
Given the treatment he was subjected to, he must have taken to the field many, many times feeling a niggle or twinge here and there.
And his genius wasn't just about scoring goals. It was also about the assists and his creativity, the way he lit up a team and raised the standards of those around him.
"Mac"-adona: We look back on The Sunday Post's original 1979 report of Diego Maradona's goal against Scotland
When news of his death was announced on Wednesday, another of the greatest-ever footballers – Pele – made a beautiful and genuine tribute.
"One day, I hope we can play together in the sky."
The tributes from some former England players in the past few days were also commendable.
Sure, there is still bitter disappointment from the Hand of God goal Maradona scored against them at the 1986 World Cup in Mexico.
Yes, it should never have stood.
That said, you cannot ignore the brilliance of his second goal in the same game. It was incredible, the work of a genius.
From inside his own half, he dribbled past four or five England players before slipping the ball behind Peter Shilton.
Peter Reid chased after him most of the way.
My goodness, even if Reidy had the use of a motor on the pitch that afternoon, he still wouldn't have been able to catch him!
Maradona led Argentina to the World Cup that year, and the memories of some of the goals he scored that summer – and in many other games – will never leave me.
Nor will the time I met him in the Anfield boardroom around a decade ago, when he was manager of Argentina and came to our place to watch a game.
Everybody was delighted to see him, and felt privileged to be in Maradona's company. People were asking for photographs with him, and some asked me to go in some with them. I was happy to.
But Scouse humour was never far away.
At one point, someone asked: "Right, is the superstar ready for the photo?. Quick as a flash, came the reply: "No, Kenny is busy just now."
The room burst into laughter. It was a lovely moment.
Diego, didn't have much English, but he smiled. He enjoyed a giggle.
No doubt, the tributes will continue to flow, and they are well-deserved. I've been fortunate to be able to give mine in this column.
He is one of my all-time favourite players, that is for sure.
And, before you ask, I'm not going to say who is the best between those all bracketed as the greatest-ever – Maradona, Pele, Ronaldo and Messi.
They are all wonderful footballers in their own right. Who is best can't be factual, it will only be an opinion.
What is beyond dispute, however, is that over the years we have all been lucky to watch these guys, whether that's been in the flesh or on the telly.
They have all lit up everybody's life at some stage.
Diego, I'm sure, would be happy with that.
May he rest in peace.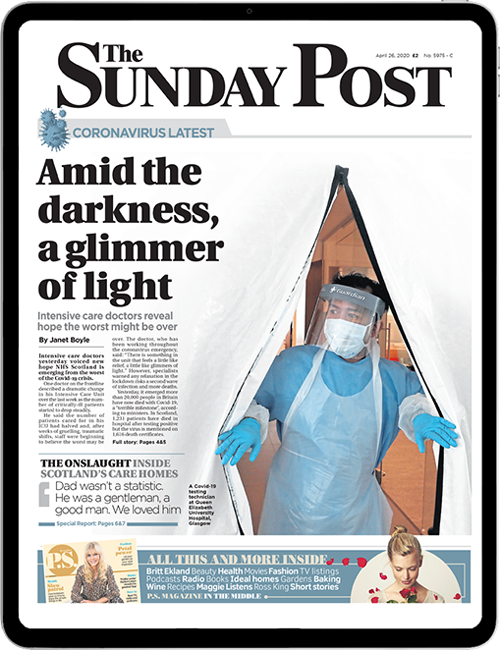 Enjoy the convenience of having The Sunday Post delivered as a digital ePaper straight to your smartphone, tablet or computer.
Subscribe for only £5.49 a month and enjoy all the benefits of the printed paper as a digital replica.
Subscribe