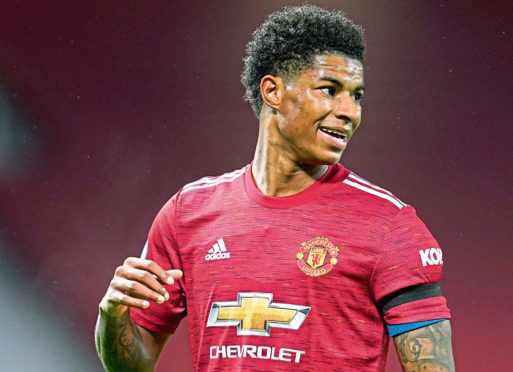 Sir Alex Ferguson is backing Manchester United star Marcus Rashford's campaign to feed hungry children with a massive donation.
Footballing legend Sir Alex pledged his support for the ­player's fight against child poverty as he spoke about his working-class upbringing in Glasgow's Govan.
He and his friend Sir Michael Moritz, the billionaire philanthropist, are pledging £2 million to "match-fund" donations to charity FareShare. It has helped Marcus Rashford with his successful push for free school meals in England during the summer holidays.
The charity works with farms, factories, restaurants and retailers to save more than 24,000 tonnes of fresh food from going to waste each year, delivering it to almost 11,000 school breakfast clubs, homeless shelters, older people's lunch clubs and domestic violence refuges that turn it into meals for hungry and vulnerable people around the UK.
Ferguson said: "You have to be shocked at the number of people who are in need of food. Marcus has opened the eyes of everyone in Britain. The work he's done has been fantastic. We're all so proud of him."
Rashford said he can remember the feeling of going hungry as a child when growing up in the Wythenshawe district of Manchester with his mother Melanie and four siblings. "I know what the feeling is like of going hungry and I don't want anyone else to experience it," he said.
In an interview with The Times to launch the £2m match-funding of the newspaper's appeal, Ferguson said his upbringing drove him to success. He said: "I'm proud of what I've achieved in my life. I'm proud of my sons and my grandchildren how they've progressed and developed. That all goes back to how I was brought up and the background I had."
Ferguson grew up in a tenement in Govan where there were nine families in a three-storey house with a zinc bath in the kitchen. He said: "You can't forget your upbringing because that's what's made me.
"I remember reading in a ­newspaper article, 'Alex Ferguson's done well despite coming from Govan'. It's because I came from Govan that I did well. But I think it's good to have a struggle. It's good to fight for something to get out of. People who came from these working-class areas of Glasgow had to work hard to get out of it."
1
Subscribe for only £5.49 a month and enjoy all the benefits of the printed paper as a digital replica.
Subscribe