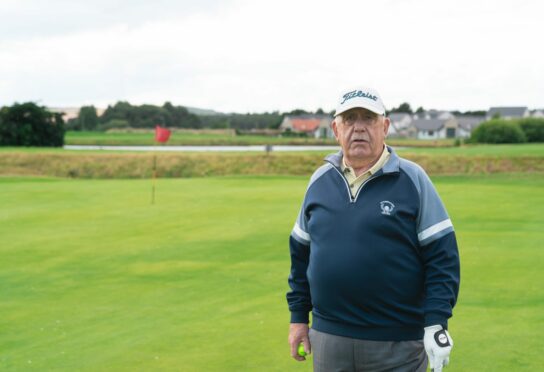 When Ally Reid started to lose his sight 23 years ago it seemed like his whole world had caved in.
Some Sunday Post online content is funded by outside parties. The revenue from this helps to sustain our independent news gathering. You will always know if you are reading paid-for material as it will be clearly labelled as "Partnership" on the site and on social media channels,

This can take two different forms.

"Presented by"

This means the content has been paid for and produced by the named advertiser.

"In partnership with"

This means the content has been paid for and approved by the named advertiser but written and edited by our own commercial content team.

---
The former military mechanic went blind in his left eye and only had peripheral vision in his right. Doctors told him he had suffered optic neuritis – damage to the optic nerve. But they were at a loss as to how it had happened, with their best guess being that a virus had attacked the nerve through his spinal column.
Ally, 74, felt lost and confused. His independence had been suddenly stripped away from him and with it his confidence.
Ally says: "I sat at home for six months feeling sorry for myself. I thought I was more or less finished. Someone actually said to me: 'Go and get a white stick and watch the roads.'."
Trip to bowling pointed way ahead
It was a desperate situation, but a meeting with a social worker gave him new hope.
Ally, who had been a keen golfer before his sight loss, says: "She said, 'You can't just be sitting around doing nothing.'. She took me to the bowling. There were people there who were completely blind. They'd set the ball off and end up 2ins from the jack. I thought, 'If they can do it, then maybe I can do golf.'."
Ally decided to get back to playing at his home course, Stonehaven, but he knew he couldn't do it alone. Unlike some golfers with sight loss, Ally can see the ball on the ground and line himself up, but he needs help to know where the ball finishes.
He says: "I realised I've got to get somebody to help. And that's the thing – when you ask people, they just say, 'What do you want us to do?'. I thought, 'Well I know the course because I've played Stonehaven for 20-odd years. I said, 'if I hit the ball can you just tell me where it's gone.' That's what they did."
A world of opportunity
Since then golf has opened a host of opportunities he never would have thought possible. Ally has played across the world in places such as Japan, Italy, Canada, Malaysia and the US.
He continues: "Japan is the best. They treat you so well. If somebody had said when I could see, 'We're going to go to Japan for a week to play golf,' I would have thought, 'No way'. But when you get there, they're absolutely beautiful people. Places like Malaysia as well. You think, 'These people would do anything for you'."
Ally has also represented The Rest of the World against The US and Canada on six occasions – his team holding a proud winning record of 5-1.
And the confidence he's gained from his golf has filtered down throughout his life. He adds: "When I went back to work, I had the confidence to say, 'I know I can do this.'."
Support network helps build confidence
Throughout this time, Ally has had vital support from Sight Scotland Veterans, which he says has helped him to adjust to his impaired vision.
He adds: "With sight loss, you lose your independence immediately and then you lose your confidence. You need to get them back. Confidence to me is the main thing.
"Unfortunately, there's not enough people who can understand how you feel when you're blind. With Sight Scotland Veterans, they understand what you actually need. If we could all appreciate that we could help somebody who is losing their sight, you're giving them a lease of life. They don't know how to ask or who to go to. We need organisations that understand what it's about."
Now Ally is himself dedicated to helping others with sight loss. He has seen the difference support can make and being able to talk to people who have gone through something similar.
Ally says: "We train people to stand up and speak to get their confidence growing. People who normally wouldn't say a word now end up speaking to people. It's rewarding. There was a young man who had some problems with confidence. We took him under our wing and now he plays for Scotland. It's changed his life."
Helping with sight loss since 1915
Sight Scotland Veterans, which was called Scottish War Blinded until 2020, was set up in 1915 to help people who lost their sight or sustained a visual impairment during National Service. It is for anyone who has served in the Armed Forces and has lost all or part of their sight – whatever the reason.
Sight Scotland Veterans uses the latest equipment and technology to improve the lives of veterans with sight loss. Yet not everyone who is entitled to help knows about the charity. The charity can assist with signposting, advice, adaptations at home and providing free equipment to help you live life more independently.
To find out more visit the Sight Scotland Veterans website.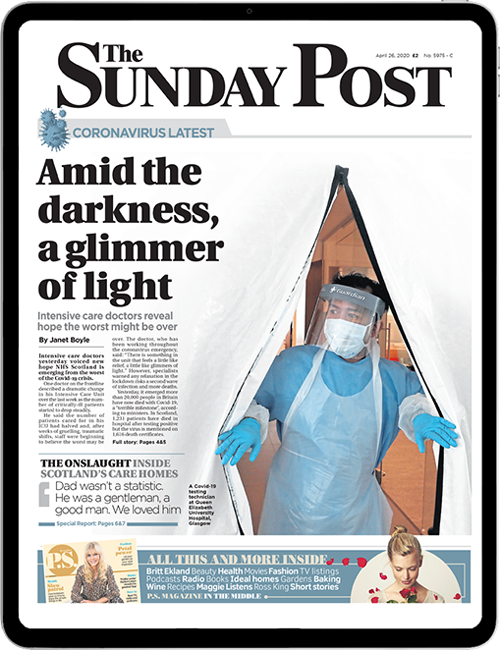 Enjoy the convenience of having The Sunday Post delivered as a digital ePaper straight to your smartphone, tablet or computer.
Subscribe for only £5.49 a month and enjoy all the benefits of the printed paper as a digital replica.
Subscribe