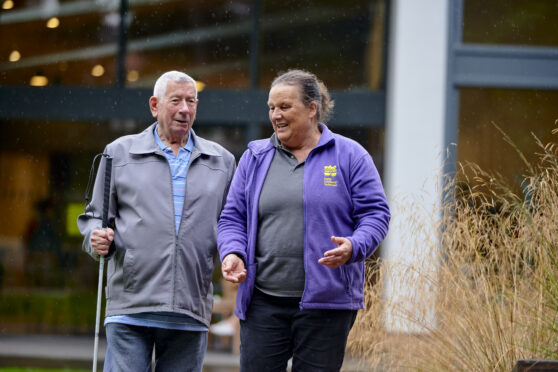 Sharon McAllister was a stay-at-home mum before going back into the classroom to study for the qualification that changed her life, and hundreds of others.
That was more than 20 years ago and today, at 64, Sharon is a mainstay of Sight Scotland Veterans as a rehabilitation officer, helping people with sight loss who have served in the Armed Forces to lead independent lives.
Some Sunday Post online content is funded by outside parties. The revenue from this helps to sustain our independent news gathering. You will always know if you are reading paid-for material as it will be clearly labelled as "Partnership" on the site and on social media channels,

This can take two different forms.

"Presented by"

This means the content has been paid for and produced by the named advertiser.

"In partnership with"

This means the content has been paid for and approved by the named advertiser but written and edited by our own commercial content team.

---
Working closely with veterans with sight loss is a career that she loves and, when the charity opened the Hawkhead Centre in Paisley in addition to the well-established Linburn Centre in Edinburgh, McAllister helped launch it.
She explained: "The centres offer veterans an environment they can attend daily and take part in activities such as bowling, woodwork and art.
"There is also the opportunity to work with the rehab team and find out about the low-vision equipment that may help with reading, writing and promoting independence for daily living skills."
Huge influence on those with sight loss
Over the years, the mum of three has had a huge influence on the lives of hundreds of people with vision loss, of all ages. She worked for the Royal Blind School, assisting young children with sight loss to learn routes in the school building to boost their independence. The mum also had a spell with a local sensory team in Paisley working in the local community before joining Sight Scotland Veterans.
"It is very interesting being a rehabilitation officer," said McAllister.
"I decided to join the outreach team. We travel around Scotland, demonstrating low-vision equipment to veterans in their homes.
"This is particularly useful for veterans who are unable to go to the centres and may benefit more from a one-to-one home visit. This allows the veteran time to explore which range of low-vision equipment may help with their sight-loss difficulties. It's all about giving them independent living skills. It is very rewarding to be able to do that but the most rewarding thing about this job is working with so many amazing people.
"It's humbling. I am there to work with our veterans and improve their skills – they tell me what they need. We want anything we do to fit into their life."
It is important to hear that veterans are able to continue living as independently as possible, having witnessed the challenges of loss of vision in her own family.
Inspired by son Michael who has vision loss
She explained: "My eldest son was born with a congenital condition that leaves him with very little vision and he has been registered with severe sight loss since his early years. Throughout his school years, Michael coped as well as possible with his remaining sight and attended Glasgow School of Art, where he graduated in fine art and sculpture."
Her son now works as a volunteer in the art room at Sight Scotland Veterans' Hawkhead Centre.
Reflecting on memorable experiences during her career, there is one that stands out.
McAllister recalled: "One of the veterans I was teaching long cane training to lived in sheltered housing. He used his long cane and support stick to negotiate his way across the road. He noticed the tactile crossing at Tesco as it wasn't marked properly, and he wanted to change that.
"So, we worked with him, and he led it. We took photos, contacted Tesco, and then got it changed. Not only did this veteran help himself but he also helped all the other local people with sight loss."
Help is available whenever you need it
It can often be difficult to come forward and ask for help, but it is always worth finding out what is on offer from Sight Scotland Veterans, and what the charity might be able to do for you.
McAllister advised: "Don't be afraid to ask if you are a veteran or have a family member who served in the Armed Forces. We can give you information, and let you know all about what Sight Scotland Veterans can do for you.
"Even if you don't want to engage with us at present, at least let us explain to you what we've got, and what we can do, and you can choose what you need and when."
---
If you, or someone in your family, have lost your sight or have partial sight and have served in the Armed Forces (at any time for however long), then contact Sight Scotland Veterans.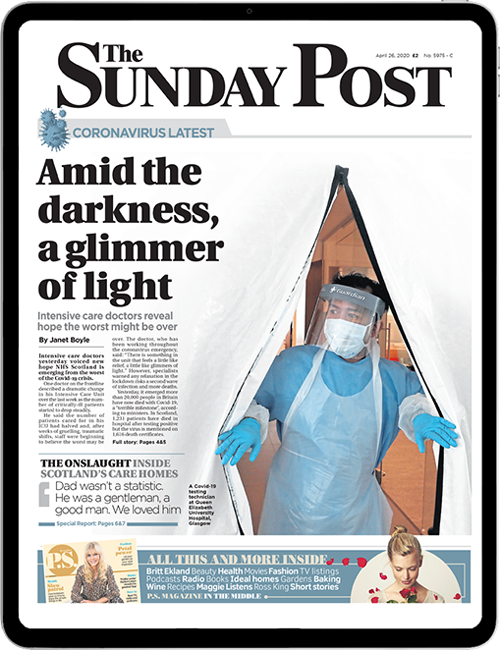 Enjoy the convenience of having The Sunday Post delivered as a digital ePaper straight to your smartphone, tablet or computer.
Subscribe for only £5.49 a month and enjoy all the benefits of the printed paper as a digital replica.
Subscribe