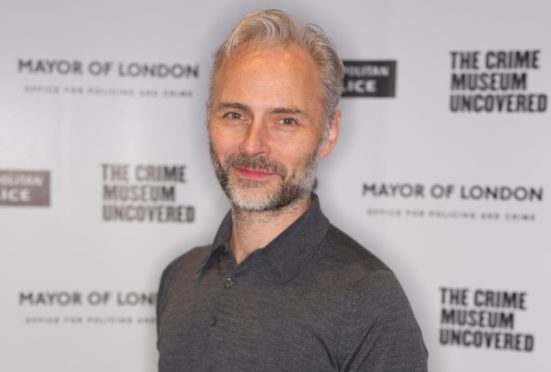 Mark Bonnar should have been filming a war movie. Instead, he's at home trying to be a teacher.
The coronavirus lockdown means the 51-year-old star of smash-hit comedy dramas Catastrophe and Guilt and his actor wife Lucy Gaskell are concentrating all their efforts on home-schooling their two kids.
But culture provides an escape at times of crisis, and that's why, as well as selecting his favourite box sets, films, books and music for P.S. readers to enjoy today, the Line Of Duty star has signed up to moves to bring theatre into homes around the country.
Along with the likes of Brian Cox, Alan Cumming, Lorraine McIntosh and Denise Mina, he is part of Scenes for Survival, the National Theatre of Scotland's online response to the crisis.
Mark said: "Art is really important in extreme times like these, not least because it reminds us we're not alone."
The Edinburgh-born actor admits to a newfound respect for teachers, given all he is juggling at home. "I always knew it was a hard job, I have no idea how they do it with a class of 30.
"It's only week two but it's fine so far. The kids are enjoying it, but how much of that is a novelty remains to be seen."
Critical of the handling of the crisis by UK Prime Minister Boris Johnson and US President Donald Trump, Mark nonetheless sees a few positives emerging amid the stresses of life in lockdown.
He said: "It's the weirdest time any of us have ever known. Technology is enabling a community spirit, people are really talking to each other, that forced isolation has bred the opposite on social media. It's just unfortunate that the two biggest buffoons are in charge of Britain and America in times of such great need."
When the crisis abates, Mark's fans can look forward to Operation Mincemeat, in which he stars alongside Kelly Macdonald and Colin Firth.
Based on Ben Macintyre's book of the same name, it tells of an audacious Second World War deception plot. Mark said: "It's a fantastic story and it will be a really great film."
But fans of BBC Scotland's darkly-comic Guilt, in which he starred with Jamie Sives, will have to wait to see what happens next to brothers Jake and Max.
Mark said: "Fingers crossed. Everything is on hold now."
The book I re-read again and again
The Hitchhiker's Guide To The Galaxy. I watched the TV series at a very formative age, 12 or so…It made an indelible impression on me. I read the first book when I worked for Edinburgh District Council libraries. It's different from the TV show, it's much richer.
I raced through all five of them and read them once every couple of years. Douglas Adams's sense of humour was unparalleled – daft and serious at the same time. He had a wonderful way of looking at the world.
My boxset binge
I watched The Wire when my wife Lucy was working away for a long period in 2007. I joked that The Wire became my wife. I was out of work for nine months and The Wire kept me company.
I worked through it in a very short space of time. It still stands as one of the most monumental TV experiences of my life. That and Chernobyl last year.
What I watch when I want to switch off
I love boxing but Lucy doesn't like it, so I watch it late at night on my phone, revisiting old fights on YouTube. There's a 2005 fight between Diego Corrales and José Luis Castillo which is one of the best fights I've ever seen between two warriors.
The comedian who makes me laugh endlessly
It's a three-way tie between Sir Billy Connolly, Stewart Lee and Frankie Boyle. They speak for themselves.
The poem that changed me
Dulci Et Decorum Est by Wilfred Owen. It made a huge impression on me in third or fourth year at school.
When you're that age and someone presents you with something that is so eviscerating, in plain, simple language, with such strong and powerful metaphors, any 14-year-old is going to think: "STOP WAR NOW…What are we doing to each other?" when they read that.
It was written 100 years ago but it remains one of the most incredible poems ever.
The band I'll always love
I have an eclectic taste in music so am going to cheat and pick five out of the bag – Public Enemy, Rage Against The Machine, Big Country, Blondie and Pixies.
The first single I bought
Iron Maiden's Run to The Hills from HMV in St James' Centre, Edinburgh. I was 13. I had only just started venturing out on my own at that time. I went to the shops and bought it after seeing the band on Top Of The Pops.
Their music was all theatricality, and in those early days I loved that. Iron Maiden were big on that, as were the likes of Kiss and AC/DC. Those were the bands I loved at the time.
The album I've played to death
Faith No More's The Real Thing. It's 30 years old and it's still one of the go-to albums for me. That album still rewards me now, and it's just what it makes me feel. It lights a blue touch paper inside me.
My musical hero
I don't really have one but I think anyone who can achieve longevity and still be relevant is worthy of a certain status. Chuck D, Dylan, Bowie, people who speak and play from the heart, and can metamorphosise and still be relevant.
The song lyric that speaks to me
I love Idles. They have a song called Samaritans, and there's a line that goes "The mask of masculinity is the mask, the mask that's wearing me." I think it speaks to every man. It's personal and specific but also societal. And that's why I love them.
My guilty pop pleasure
Adam and the Ants were one of my first loves. It's still good pop, but it has attitude and I like anything that does.
The greatest gig
Nirvana, 1991, in the Calton Studios in Edinburgh. It was after Nevermind had been released and they were just about to hit their peak.
The Calton Studios was maybe a maximum of 700, but there were so many more there. I was right down the front staring up Kurt Cobain's nose.
I was totally in love with that band, and got to see them in a really small venue packed to the gunnels. It was transcendent.
The one artist I'd love to bring back from the dead
Bill Hicks. As a comedian, he could string together all your misgivings about the present day and formulate it into a coherent rant to touch that blue touch paper within us.
The play that moved me
All My Sons, in the Cottesloe Theatre in 2000. It was directed by Howard Davies and starred Julie Walters, Jimmy Hazeldine and Ben Daniels. An incredible production of an incredible play. And I've never seen anyone do the things Julie Walters did on stage that night. I worked with Howard five times and I still feel his loss acutely. I owe him my career. One of my favourite all-time directors.
The museum that most inspires me
Chambers Street in Edinburgh was the first one I ever visited. It was such a beautiful building, full of amazing things. To encounter something as rich as that museum is in culture and history, and natural history, with the exhibits that is has…It really stays with you. It stays with you for years.
The greatest film scene
This is too hard so I've chosen two. The scene between Dennis Hopper and Christopher Walken in the caravan in True Romance. Two leviathans at the height of their game, and a great scene.
The other one is the scene around the table in Ridley Scott's Alien when John Hurt starts coughing, and eventually it comes out of him.
Especially when you know that nobody told the rest of the cast what was going to happen. All of that is real reaction. Such a great film.
The best living actor
Another hard question. I could say 10 or 20. Jack Nicholson, or Joaquin Phoenix, who is a force of nature. For Jack it's because of The Shining. It's hypnotic. I haven't seen Joker yet, but there's a Lynne Ramsay film, called You Were Never Really Here, which is remarkable and Joaquin Phoenix is amazing in it.
The cultural figure I'd most like to go for a drink with
Anyone right now. Lockdown sucks.
The ultimate dinner party guests
Laurel and Hardy, Bill Hicks and Kim Deal, the former Pixies bassist. She's a great musician and I think I would get on really well with her.
Mark Bonnar is part of the National Theatre of Scotland's Scenes for Survival project in response to Covid-19. Visit nationaltheatrescotland.com for more info.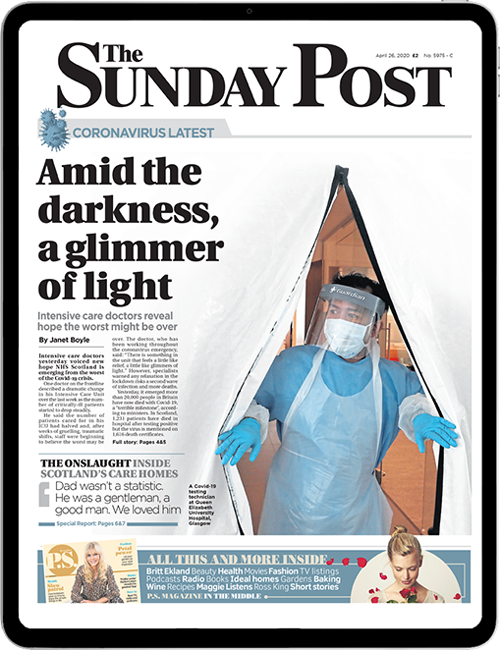 Enjoy the convenience of having The Sunday Post delivered as a digital ePaper straight to your smartphone, tablet or computer.
Subscribe for only £5.49 a month and enjoy all the benefits of the printed paper as a digital replica.
Subscribe