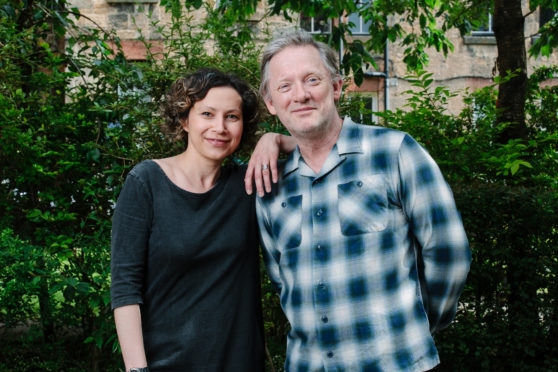 Historically, Glasgow is a city where, if there is no entertainment, the city will entertain itself.
So actor Douglas Henshall was only ­following tradition when he used the restrictions imposed by the coronavirus lockdown to revive a lost art of social ­history – back court theatre.
A new short film starring Douglas and Morven Christie as a husband and wife creaking under the strain of lockdown is all played out in the back court of his ­tenement flat. And the production bears the most authentic hallmark of all – an audience of windae-hingers.
The Renfrewshire-born actor, best known to TV audiences as moody detective inspector Jimmy Perez in BBC police drama Shetland, said: "We actually went around and leafleted the neighbours and invited them to watch. What we wanted to do was film this thing as if it was just two characters, but at the end what you hear is applause and the camera pans round to look at all the windows in the tenements, all the people watching theatre. The back green basically becomes the stage."
Such artistic adaptability has become the hallmark of the National Theatre of Scotland's Scenes for Survival project, with dozens of actors record- ing pieces in their homes to be shown on BBC Scotland and online.
It's the institution's response to the closure of theatres and the obliteration of shared creative experiences, accompanied by a survival fund to help sustain those who work in the arts whose work has disappeared overnight as venues closed around the world.
Douglas and Morven's piece was ­written by Douglas's playwright wife, Tena Stivicic. Entitled Wednesday, it is a comedy about a creative pair and their reaction to lockdown.
"I wanted to subvert that corona-platitude, 'at least I get to spend a lot of time with the family'," said Tena. "It's also about how creative couples, actors and writers cope in lockdown, with their massive egos and vanities."
Douglas added: "They're trying to work together but it ends up being an ­argument about who is taking the bins out and doing the shopping. It's really a story about two people stuck together too long and one of them starts fantasising about the other one dying."
Comedy aside, the piece points to one inescapable fact – that theatre and the arts in general are in trouble.
"National Theatre of Scotland wants to create a feeling that theatre is still there, still being made," said Douglas. "Theatre is so important. My old man was a ­commission-only salesman. He and I were the typical west of Scotland father and son, and that wasn't always the easiest thing in the world.
"I remember reading Death Of A Salesman and thinking, 'there are other people in the world who are like me'. I recognised myself in that play, and it made me understand my father better.That's what theatre has been to me, and I'm sure a lot of people have gone along to theatre and recognised themselves. It's not about the middle classes snoozing in their seats for a few hours.
"It was a place where working-class people go to entertain and be entertained. Without entertainment, music, books, TV and film, people would be going nuts during lockdown. And most people in film and TV trained in theatre."
Tena added: "For people who lost our work overnight and usually depend on some sort of dialogue with an audience, it was really a shocking situation to find yourself in. To have your whole environment annulled overnight.
"You really start to question who you are and what you're about. So, to do any piece of work that makes you feel like you still exist, and that there's someone at the other end who might get some joy or pleasure out of watching it, has been really very valuable."
So if the characters in their NTS short are a couple of creative types forced to lock down together, how has working life been for these creative types forced to lock down together?
"We work together pretty well," said Douglas. "I liked Tena's writing before I ever met her, so it was easy from that point of view. We've lived together for 14 years so we don't mess around with what we say to each other any more. We both tend to be pretty to the point. We enjoy each other's work, so that makes it easier." Tena and Douglas have a three-year-old daughter, Anja, and like many parents, the lack of routine during lockdown has proved tricky.
"However hard it has been for us, it's harder for her," said Douglas. "She's stuck in the house with us the whole time, and hasn't seen any pals. The minute one activity ends, there's this wee face looking up asking what we're doing next. From when she wakes up to when she goes to bed.
"As much as it's been full-on, it'll be hard when it changes, and my former self could not understand this. It's basically hanging around with someone who has a much healthier outlook on life than most adults do."
Becoming a dad in his 50s means Douglas has had to keep his energy up. He's spent time in lockdown on a turbo trainer in the house, as well as cycling outdoors. "I've maybe fallen off the edge a wee bit these past few months and developed a wee bit of a belly. But I do enjoy cycling.
"The only thing I wish I had was more energy. I'm 54 and I do my best, but there are times when I wish I was 10 years younger, because they are like wee Duracell bunnies. But I'd have been a terrible father in my 20s. I was a fairly, shall we say, outgoing character. I'd just not have had the patience for it. And the one thing I definitely have now is the patience for it."
If not for the pandemic, Douglas would have been filming the latest series of Shetland. All movie and TV filming schedules were cancelled weeks ago, with no word on when they will resume.
And as much as his latest offering is a comedy about people struggling under the strain of social isolation, the past 13 weeks have afforded the actor an insight he would ­otherwise never have had.
"I stopped smoking 10 months ago and the temptation to go outside for smoke has been difficult, but I've managed not to.
"Me, my wife and my ­daughter have existed well together as a wee triumvirate," he said. "It's nice to think your relationship is in pretty decent shape in order to survive that long together. And my wee girl has brought me terrific joy."
Visit nationaltheatrescotland.com/Wednesday to see Douglas Henshall and Morven Christie's short film, written by Tena Stivicic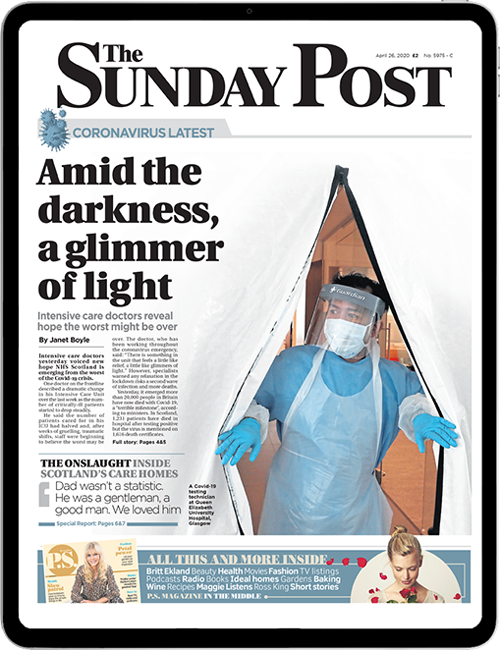 Enjoy the convenience of having The Sunday Post delivered as a digital ePaper straight to your smartphone, tablet or computer.
Subscribe for only £5.49 a month and enjoy all the benefits of the printed paper as a digital replica.
Subscribe