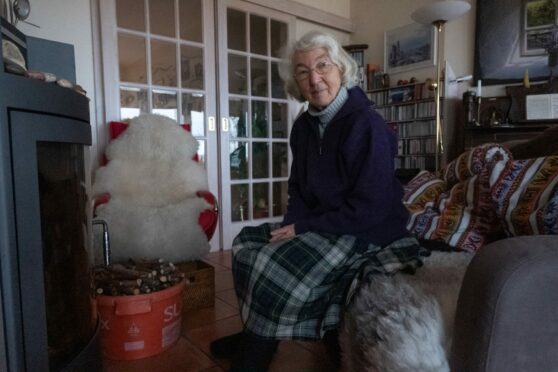 Six days after much of Shetland was plunged into darkness and freezing conditions by a freak snowstorm, engineers are still trying to fix the damage to the overhead lines.
Hundreds remain without power after a "perfect storm" of weather conditions caused power lines and telegraph poles to topple across the north and west of the islands on Monday.
In Sandness, the western tip of Shetland, the 160-strong population shrank as those who could went to stay with friends. Some had no option but to stick it out. In a draughty council house, the panel heaters stone cold, the thermometer hovered around six degrees. Breath rose in front of our faces.
"I just cannot get my feet warm," said Jackie Shin, sitting in her kitchen, small dogs yipping around her ankles. "Freezing cold toes. It's not good."
She relied on a sleeping bag and her little dogs for warmth. "I do have a hot water bottle but I'm using it for the elderly dog."
Jackie received regular text messages from network company SSEN, giving estimates of the reconnection date, but it kept changing. "They never say it'll take seven days, do they," she said. "It's always one day at a time."
But council workers were in touch with her daily, and neighbour Emma Boyce checked in, the two women pooling their food supplies: eggy bread, and sauteed potatoes yesterday.
Emma was up at the village hall, where a generator had finally brought light. The hall was chilly but welcoming, hot lentil soup on the go, extension leads spooled over the floor to charge the many phones.
She said the last four days had been very hard. "It's really, really cold. I have to stay in bed, it's too cold even to sit up, my hands go numb."
Ula Pawlak and her four girls were seated at trestle tables. "It's nice to come here," she said, helping her toddler with a spoon of soup. "They were very bored at home, no school, no friends, so they wanted to come and spend time with other people."
The darkness at home was hard with so many little ones, Ula added. One of the girls collided with a table corner the night before, getting a bruise, but candles and small children also don't mix well.
To reach people in the internet blackout, and with digital phones also not working, volunteers knocked on every door in Sandness. "They were coming out looking like the Michelin man, they had so many clothes on," said hall volunteer Alan Robertson.
Just down the road from the Sandness hall, pensioner Heike Kern was feeding dark clods of peat into her stove. Usually the house runs on a heat pump: hugely popular, being greener and more efficient – but once the power goes, completely useless. She was still adjusting to living alone since her husband Alfred died two months ago – and now had to cope with a week-long power cut.
"It's certainly a very different pace of life when you just have to care for the most necessary things," she remarked.
After the blizzard her washing line was coated with thick ice: "I could very well imagine how it would be on the electricity lines."
Heike felt that SSEN was doing its best. "When so many poles have come down it just takes time and many hands to repair them."
Yesterday, Mark Macdonald, head of region at SSEN Distribution, said: "With additional crews on Shetland to bolster our army of engineers, we continue to make excellent progress ahead of our forecasts, restoring power to 350 properties through the course of the day.
"Our teams will continue to work throughout the evening and will be back out at first light tomorrow to push on with the final restoration effort.
"Barring no unforeseen challenges, we're confident we can restore power to all remaining properties by Sunday afternoon.
Fifteen crews of engineers arrived by helicopter and overnight ferry during the week. On the high road between Aith and Bixter, the "Hydro boys" were setting out for the snowy hills. A pile of massive tree-trunk poles lay ready to replace those that snapped or were toppled by the weight of ice on Monday night.
"It's the most densely-packed damage I've seen," said one of the young engineers. "It has to be just the right conditions for the weight of ice to take it," his colleague added. "A perfect storm."
A few more days then, I asked, as they jumped into the van. One looked back, shaking his head. "It's not going to be a few days."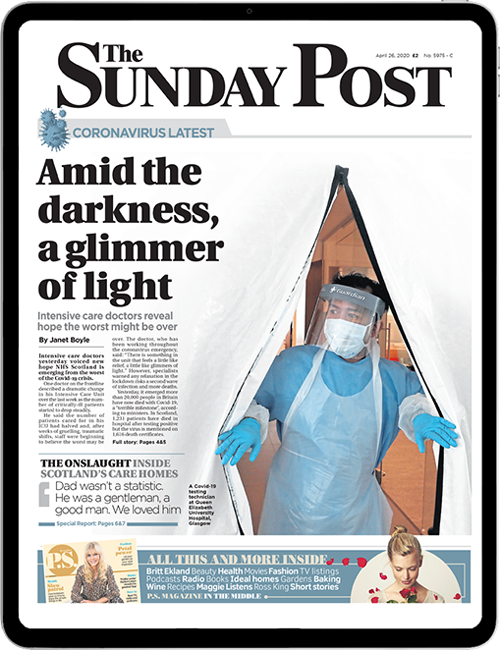 Enjoy the convenience of having The Sunday Post delivered as a digital ePaper straight to your smartphone, tablet or computer.
Subscribe for only £5.49 a month and enjoy all the benefits of the printed paper as a digital replica.
Subscribe