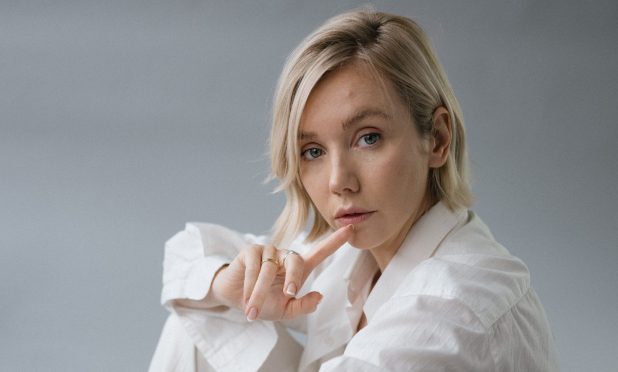 Nominated for two awards at the Scottish Baftas this evening, Lauren Lyle promises it will be a celebration no matter the outcome.
The Glasgow actress has grafted hard to enjoy a remarkable rise over recent years, headlined by her first leading role in Karen Pirie, the acclaimed St Andrews-set crime drama based on Val McDermid's novels.
Next year is set to be the 30-year-old star's biggest yet, with several leading roles in film and TV, including a second series of Karen Pirie, so now seems like a good time to pause and look back on her career so far.
"I moved to London at 19 and if I'd told myself then that I'd have my own TV show, had done one of the biggest shows in America (Outlander) and would be working all the time, I don't think I would have believed it," she smiled.
"I would have thought I'd needed to have done something terrible to have got here, but I just worked really hard. I'm working on a show called Toxic Town for Netflix, which has Rory Kinnear and Jodie Whittaker in it, and I asked both what their secret is. They said they didn't know, they just keep working, and they're testament to doing great work and not trying to be famous.
"Rory told me he always wanted to be known for being good, and I'm the same. I'm trying to pick good things and be in quality stuff, things that excite me and getting to work with good people.
"I came to London to audition for drama schools and came close but didn't get in. I think I'd only been to London once before as a kid but didn't remember it. I was so hungry for it, and being around other actors in this world was so thrilling and I knew this was what I wanted to do and the place to do it."
Taking the plunge
Lauren moved into a shared house with four people she hadn't previously met. She took on several jobs to pay the bills while trying to engineer a break, joining a theatre company and eager to learn.
"It was a risk but I put my head down and grafted hard," she said. "I think I've always had deluded confidence that I can do something. My mum is a school PE teacher and I was a gymnast and runner and I've always been competitive to win the race, but that's not helpful at times because there isn't a finishing line or right answer here; there's lots of different ways to do this, so I've had to put those feelings aside at times.
"I had a big agent for about a year before I got a job, and then two came within two or three weeks of each other – Outlander and Broke, with Sean Bean – and my life changed. I did my tax return for that year and realised I'd done about six jobs – dog walker, flyering, receptionist, in Zara's stock room for 18 months. Random stuff that I did for ages.
"It was bleak at times but I loved going to the theatre and seeing this life dangled in front of me. It was quite inspiring."
Karen Pirie
Lauren's recurring role as Marsali in Outlander was her break, while BBC thriller Vigil, where she played activist Jade, introduced her to a different audience. When Karen Pirie came along last year, she felt ready.
"I'm so proud to be part of the show. It was so well made, beautifully shot, and with a crew who were hungry to be there. It was my first lead and I had creative control around what she looked like and who she was," Lauren explained.
"The director, Gareth Bryn, writer Emer Kenny – who also executive produced – and myself were constantly in conversation. We all had such a brilliant time, and it was a story that meant something and said something of young women.
"It was about a young woman trying to solve a crime about another young woman, so Karen knew what it's like to be afraid to walk home alone at night, and how a young person can be underestimated in the workplace and how difficult it can be to prove themselves."
Based on Val McDermid's novel The Distant Echo – about the cold case investigation of a 19-year-old woman's death which is reopened and given to DS Karen Pirie after a podcast cast doubt on the original investigation – it was a Sunday night hit for ITV last year.
"Val has been complimentary and incredibly supportive of me," Lauren continued. "She had to sign off on me playing the character. I was worried if she would be happy with the Methil accent. She visited the set and I prepared myself, but she said I was very good.
"She messaged me on Twitter when the awards nominations were announced and congratulated me and said we would need to go for a drink. I'd love to have a drink with her – I'm sure she would have some great stories!"
Scottish Baftas
The drink will be flowing this evening at the Scottish Baftas in Glasgow where, in addition to Lauren's two nominations, Karen Pirie is also in the fiction director and scripted television categories.
"The show came out too late for the 2022 awards, but it's nice that we've since announced a second series. We have a big Karen Pirie table. My parents are coming – my dad has a new velvet jacket to go with his tartan troos – as is my boyfriend, who is South-African-Australian, but we've recently discovered he has lots of Scottish heritage, so he might wear a kilt, and my agent will be there, too.
"Everyone is dead excited and the whole team is there to celebrate."
Lauren's nomination in the Audience Award category sees her vying with Brian Cox, Lewis Capaldi, Tony Curran, Hamza Yassin and Meryl Williams.
"To be in a category with Brian, Lewis and the legend that is Meryl from The Traitors, I feel that's the only time in my life this will happen. I'm tempted to say to Brian that if he ever needs me to play his granddaughter or daughter, I'm here. Someone should cast us all as a family."
New projects
With a second series of Karen Pirie expected to start shooting early next year and a rumoured return for the final series of Outlander – "we may be talking, who knows" is all Lauren will say – 2024 will be another busy one for her.
She will follow up her first starring role in a movie, Mercy Falls, which was released earlier this month, with another two movies to be released next year – thriller Something In The Water and The Outrun, with Saoirse Ronan and Jack Lowden.
"We filmed Something In The Water in the Dominican Republic. It's like Bridesmaids but a thriller. The Outrun was filmed on Orkney. Saoirse and Jack saw me in Vigil and asked if I'd be part of this film, which is the first from their production company.
"I had to get the Orkney accent just right. At the first read-through, Amy Liptrot, the writer of the book it's based on, said it needed to be a bit less Shetland and a bit more Orkney, so I went away and made sure it was right.
"Everyone was so welcoming on Orkney. The beaches were ridiculous. I was stung by a weever fish, which apparently is an unusual thing to happen. My foot was on fire for a day.
"I've also been making Toxic Town, a new series for Netflix which is about the Corby poisonings, one of the UK's biggest environmental scandals, which no-one really knows about. It's about mothers in a David vs Goliath battle for justice, and I'm wearing lots of '90s and '00s power suits.
"As well as Jodie and Rory, it has people like Aimee Lou Wood from Sex Education, Joe Dempsie from Skins, Claudia Jessie from Bridgerton, Michael Socha from This Is England, and Robert Carlyle, who is the nicest man in the world."
Shooting in Scotland
Despite living in London, Lauren finds many of her jobs are being shot in Scotland, which she's happy to see.
"Nowhere looks like Scotland and a lot of productions are coming here for that reason," she added. "It's really cool to see it happening and it's a testament to the quality of workers you get here.
"Plus, it gives me a free trip home to see my family."
---
---
We like to help out new talent
At last year's Scottish Baftas, Dunkirk and The Gold actor Jack Lowden spoke glowingly about Lauren Lyle.
The pair have since become friends and colleagues, and Lauren is keen to support new talent coming through in Scotland just as Jack did with her.
Speaking about this evening's Scottish Baftas, Lauren said: "Me and Jack were talking about how great it is to get a lot of Scots in a room to congratulate each other, all these people doing well from this proud place, on international stages representing our country, heritage and culture, which we're so proud of.
"It's a great opportunity to shake everyone's hands and say 'aren't we an amazing team?'
"I want to know who the other young people are. We'd like to be able to speak to the younger Scottish actors and welcome them in. Jack did that with me – talking about me, being supportive and asking me to be part of his film. I don't know if we'd met at the point he spoke about me at the Scottish Baftas. I was very flattered.
"He and Saoirse have been really cool and supportive, and I hope to do the same at some point. With season two of Karen Pirie coming, I message its writer, Emer Kenny, and tell her to keep an eye out for this guy and this girl."
---
Scottish Baftas can be watched live on Bafta Scotland's YouTube channel from 5.30pm today, with a highlights programme on BBC Scotland at 10pm.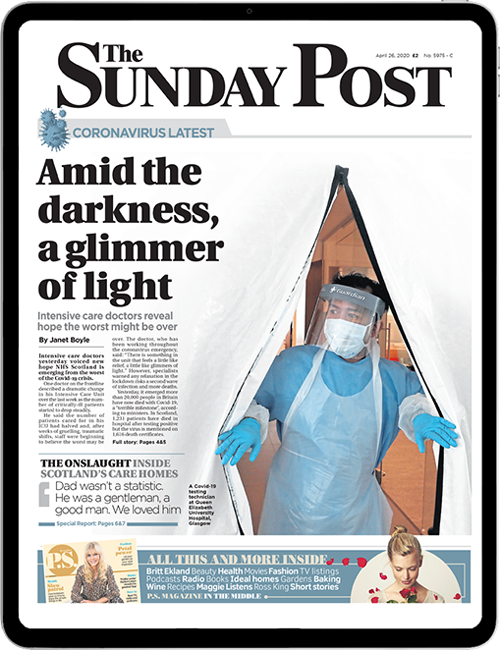 Enjoy the convenience of having The Sunday Post delivered as a digital ePaper straight to your smartphone, tablet or computer.
Subscribe for only £5.49 a month and enjoy all the benefits of the printed paper as a digital replica.
Subscribe