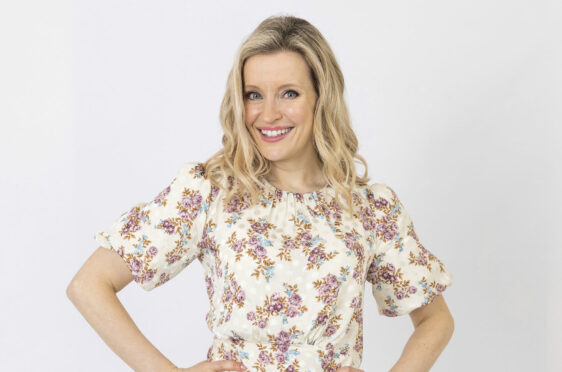 Sharon Young is calling from sun-drenched Morocco, where she is enjoying a delayed honeymoon.
The star of The Scotts married theatre director Pip Minnithorpe in March but the newlyweds have been so busy with work that it is only now, seven months later, that they have finally found an opportunity to jet off to sunnier climes.
Each morning, Young takes to the coral blue curving coastlines with her surfboard, ready to tackle the North African country's famous waves.
"I've been on many surf holidays and I refuse to admit defeat," she smiles. "At the beginning of each trip, I can't do it, and a fortnight later I'm catching good waves, but by the time I next go on holiday, I find I'm starting from scratch again.
"It's a good lesson in perseverance and you certainly can't take yourself too seriously."
Young knows all about perseverance. She was in her late 20s when she moved to London to chase her dream of being an actor and the first couple of years were tough, with no jobs coming her way. She questioned whether she had made the right decision.
However, work eventually began to trickle in, and by the time BBC comedy The Scotts became an instant hit a few years later, her decision had paid off.
"When I was at school in Helensburgh we had a drama department but there was only one teacher, who was wonderful, so there wasn't the capacity to do Standard Grade or Highers," Young adds. "I was also really into art and, when I was 17, I had offers from both Glasgow School of Art and Glasgow University, and I ended up choosing to do English Literature at Glasgow Uni.
"After I graduated, I became an event manager for promotional agencies because I wasn't sure what I wanted to do.
"I spent a year in Australia doing this work and a lot of the people I was working with were singers, dancers, musicians and actors, and I was fascinated by their jobs but it didn't occur to me I could do it because I felt it was too late.
"I've always been obsessive about Shakespeare, so I did some acting classes based on his works while I was over there, and then when I came back, I did three plays with Ramshorn Theatre and loved it so much that I decided to try for drama school and I got into the Royal Conservatoire of Scotland.
"I was 25 when I started, but there were another three women in my year who were 25, so I realised it wasn't that odd after all."
Young excelled at drama school, being awarded the Donald Dewar Arts Award in 2008, receiving a nomination for a Laurence Olivier bursary, and winning the Phil McCall Memorial Prize in 2009, her graduating year.
She worked on some professional theatre productions while she was still a student and had secured an agent before moving down to London after finishing her studies. "I had two years where it was quiet, and I mean so quiet that I wondered if this was going to be for me," she admits.
"I was in my late 20s and I questioned if I'd made a massive mistake but I also felt well equipped because of the professional development I had at the Royal Conservatoire.
"They tell you it's going to be hard, and as well as the famous actors who came in to talk to us, they also had actors who had gone on to do something else like becoming a playwright or who had gone through several years out of work before jobs started to come in.
"We were also assigned a mentor and during those times in London when it was scary and I felt like it would never happen, you could get in touch and they would explain that this was normal.
"I was working two jobs for a while and I kept taking classes to get better at things. You have to keep going and keep the faith. You might feel like it will never come, but you have to try not to think about it. Eventually, things picked up and small parts came in. The last few years have been fantastic, and The Scotts has been a really big part of that."
Written by and starring cult sketch show Burnistoun's Rab Florence and Iain Connell as two chalk-and-cheese brothers, The Scotts is a spoof fly-on-the-wall reality show about bickering family members constantly trying to outdo each other.
Originally one of three pilot comedy shows commissioned by BBC Scotland, The Scotts was given a full series and a second season was green lit quickly after the first episodes aired last year.
Young plays Laura, wife of Iain Connell's Henry. Initially, she is the outcast of the family, hated by her mother-in-law Moira, played by Barbara Rafferty, and her sisters-in-law Colette and Vonny, played by Louise Mccarthy and Shauna Macdonald.
"Laura is a bit of an outsider and often not included in the jokes, or she's the butt of the jokes. Things change for her in the new series and she's now running a cafe and starting to find out who she is outside of being a mother and wife. She's finding a role away from the family.
"I'd never done a pilot before and I have so many friends who had done them and then they weren't picked up for a full series, so when it was, it was so exciting.
"The cast ended up becoming a bit of a family in real life and everyone is such good friends now. I don't think I've ever laughed so much while I'm at work. The reality style of the show does add to the comedy, because not only are we playing out the scenes but we also do the in-studio pieces to camera where our characters say what they really think.
"I was familiar with The Comedy Unit, which makes the show, because I love Scot Squad and I watched Rab C Nesbitt as a child, and the Unit is behind both of those, so it's very exciting to be working with them.
"Getting the chance to work with Barbara Rafferty is special, too. I watched her in particular when I was young and thought she was amazing, and I thought I'd maybe get to meet her one day if I became an actress, so to actually get to work with her is great."
Young, who has also had roles in Shetland, Outlander, Crime, Flowers – opposite Oscar winner Olivia Colman – and The Replacement, has had a busy year. As well as getting married in St Andrews and making the new series of The Scotts, she spent time in Toronto where her husband was the associate director on the Harry Potter And The Cursed Child stage show, and she also filmed a British horror movie co-starring Joely Richardson. "Little Bone Lodge is a horror that was really fun to film," she continues.
"It's set in Scotland but we filmed in Kent. It's a fairly small part but it's a nice one. I also had a really small part in Tetris, starring Taron Egerton and Ben Miles, which is coming out soon. It was good to see how it all works on a production of that enormity."
Young is also part of the cast of short film, Groom, which is nominated for a Scottish Bafta at next Sunday's ceremony.
"It was also screened at the London Film Festival, so it was lovely to see it on the big screen," she says. "It was an all-female cast and a female writer-director, Leyla Josephine Coll-O'Reilly. It was her first film and she did incredibly well. It was great to be a part of it, and it explored some really interesting themes."
She adds: "A lot of work brings me back to Scotland these days. So much great stuff is going on there now, and the film and TV industry is changing and becoming bigger.
"There are more opportunities in Scotland now than there were when I moved to London in 2009, which is exciting."
And with that, she makes her way back to the waves, prepared to pick herself up and try again and again, until she succeeds.
Sharon and Iain's write stuff
Sharon Young says the pandemic offered her the chance to turn her hand to scriptwriting, working on a drama with her The Scotts co-star, Iain Connell.
The pair, who play husband and wife Laura and Henry in the BBC comedy, hope the story might be picked up by a production company after working on the script, which she describes as "much darker than The Scotts".
"We've written the first episode," said Young, who spent the early part of her childhood in St Andrews before moving west to Helensburgh. "Iain's based in Scotland and I'm in London, so it was mostly done on Zoom.
"He's helped me so much in so many ways with my writing. We have such different perspectives on writing and on life, so it's nice to see the same thing from two viewpoints.
"When we started working on it, it was at the tail-end of the pandemic, and it was a great creative outlet to have when things were quieter.
"The script is with a friend just now, who has kindly offered to look at it. I think it's pretty much there, so when we get it back we'll fine-tune it and hopefully somebody out there will like it enough to make it one day. It's much darker than The Scotts, definitely in the drama category, and it's been such good fun to work on."
---
The Scotts, BBC1 Scotland, Wednesday, 10.40pm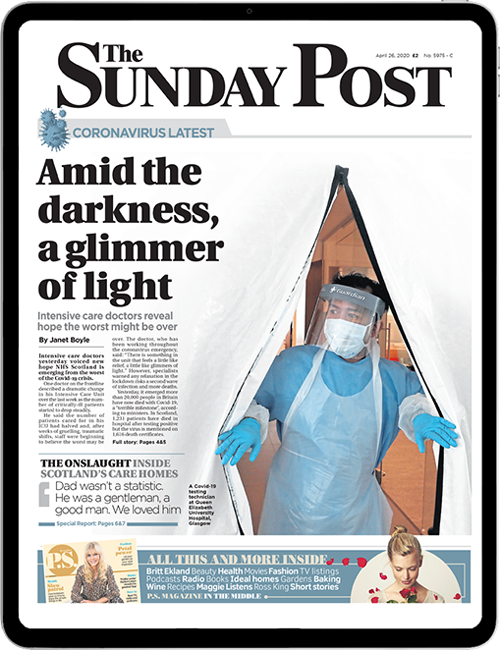 Enjoy the convenience of having The Sunday Post delivered as a digital ePaper straight to your smartphone, tablet or computer.
Subscribe for only £5.49 a month and enjoy all the benefits of the printed paper as a digital replica.
Subscribe