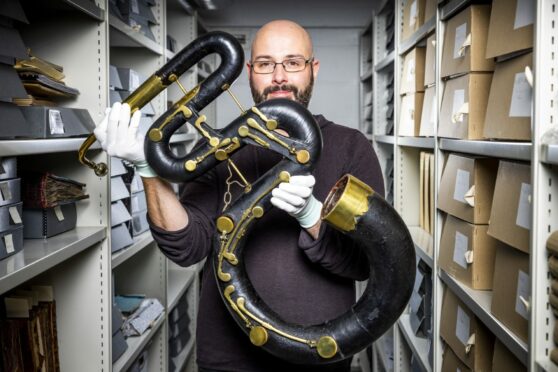 Its list of famous alumni across the worlds of art and entertainment is almost as historic as the institution itself.
John Cairney, Bill Paterson, Karen Cargill, Patrick Doyle, Maureen Beattie, Jack Lowden, James McAvoy, Elaine C Smith, Ruby Wax, Svetlina Stoyanova, David Tennant and Ncuti Gatwa are just a few of the graduates of the Royal Conservatoire of Scotland.
Founded in 1847, on Wednesday a celebration will be held at the Scottish Parliament to mark the school's 175th anniversary. We were allowed to delve into the archives in Glasgow as Stuart Harris-Logan, the Conservatoire's keeper of archives and collections, invited The Sunday Post for a browse through almost two centuries of dramatic twists and turns.
With every flip of a box lid the unremarkable-looking room quickly reveals itself to be a treasure trove.
Glancing out to the glorious sixth-floor views over the Forth and Clyde Canal and the city beyond, Harris-Logan explains why The Whisky Bond – a former warehouse for Highland Distilleries and now repurposed for the arts community – is the perfect location for archives that are individually worth somewhere between eye-wateringly expensive and priceless.
"It's bombproof and doesn't have sprinklers, which is a good thing, as I've seen what water damage looks like," says the expert archivist.
A former ballet dancer, Harris-Logan was working in the library of Glasgow University when a similar position came up at the Royal Conservatoire of Scotland in 2009 and, after joining, he was tasked with looking through the numerous cupboards and external store rooms to formulate whether there were enough items for an archive, which had been long talked-about among the institution's upper management.
He said: "I was finding things all over, like an autographed score by Paul Hindemith down the back of a filing cabinet. No one had been taking a curating eye to things; items were randomly shoved and stored."
Originally based in the Conservatoire's main building on Renfrew Street, Harris-Logan's discoveries meant the archives quickly needed their own premises.
He said: "We moved here nearly 10 years ago. It's all my fault, is how I'd describe it. I have a brilliant volunteer who is here two days a month but thereafter the sorting, cataloguing and arranging is down to me. It has exponentially grown. Six years after we founded, we were the busiest conservatoire archive in the UK and have been ever since. It speaks of the unity of the collections for both specialists and members of the public who want to come in and see Jimmy Logan's scripts or Erik Chisholm's unperformed opera."
With more than one million items – and with at least 70 boxes still to be opened, not to mention the external collections regularly being donated – a history rich in detail is being pieced together by Harris-Logan, who has also written a book to mark the Conservatoire's landmark anniversary.
"A group of men met at Steel's Coffee House on Argyle Street on January 18, 1847. At that time, coffee houses were hotbeds of intellectual thought and activity, and on this day they were there to discuss the founding of an athenaeum," he explained. "There were already athenaeums in places like Manchester, London and Liverpool – private members' clubs.
"For Glasgow, the price of an annual subscription was the equivalent of £30 today, so it wasn't expensive. It was supposed to be for all. That included women, who were admitted as members from day one, which wasn't normal elsewhere.
"In fact, the Conservatoire has a number of UK firsts – like the first woman to be appointed a professor, the first drama school with a broadcast-specification TV studio, the first purpose-built opera school, and the first conservatoire to have its own degree-awarding powers.
"We are also the only conservatoire in the UK to teach every performing arts specialism. In London, it was so expensive and you required two nominations to be given a membership. It was an old boys' network, which Glasgow never was."
Based at the Assembly Rooms, the Glasgow Athenaeum was forced to move in the 1880s when the general post office was expanding its premises. The arch from the front door lives on, now in place at the west entrance of Glasgow Green, while part of the wall can be found a stone's throw from the park, in The Briggait.
The Athenaeum moved to St George's Place (now Nelson Mandela Place) and to the building now occupied by the Hard Rock Café, before moving to its current premises 35 years ago.
There were name changes along the way and for many years it was known as the Royal Scottish Academy of Music and Drama before it took its current moniker in 2011.
Harris-Logan added: "Creating an archive from scratch is a rare thing to be able to do. It's an incredible privilege."
History of art
Charles Dickens' signature
"Dickens presided over the opening soiree of the Glasgow Athenaeum on December 28, 1847, with the event held at the City Halls. He gave the opening address, which I think was quite racy for its day, where he talked of women finding husbands in the library. He signed the visitors' book, which I found in a dented metal box at the bottom of a big pile of boxes in a cupboard where the cleaners kept their materials. Nobody knew the book existed."
The Marriage of Figaro's score
"We have a full set of handwritten music for Mozart's The Marriage Of Figaro. We have no idea why. It was stuck in the back of the library and had probably been there for 100 years. It's extremely rare and is being researched at the moment. We can't discount that it was handwritten by Mozart – the paper and ink and style is the right age so it's from his lifetime. It might have been by a copyist whom Mozart employed. It might disagree with the published edition and if this one is earlier then it will be more accurate. Differences creep in when music is handwritten – a note off here or there can make a huge difference, so it needs to be looked at."
Hurdy-Gurdy
"We have about 500 instruments in the collection, many of which are rare or extinct. The oldest is a set of tuned musical glasses from around 1750. We have a trombone made by Adolphe Sax, the inventor of the saxophone. It's one of only three known in the world, and it's in a register higher than a trombone would usually be. We have a serpent, which is a wooden instrument that's the grandfather of the tuba. And this, which is a hurdy-gurdy. This model would be from around the 1790s. It has a rosewood and maple back. Rosewood is an endangered species that can no longer be traded. There is also mother of pearl and ebony. It would be extremely expensive to make. There are pegs for strings and the strings would go into the box. There are keys, forerunning the accordion, and a crank handle to resonate the strings."
Emma Ritter-Bondy's diary
"The diary of Emma Ritter-Bondy tells the story of an astonishing woman. Born in Austria, she was appointed the professor of piano in 1891, the year after the Athenaeum became a music school. She was the first woman to be appointed a professor in the UK by some margin – it was previously thought to be Edith Morley at the University of Reading in 1908. Ritter-Bondy was the widow of artist Franz Ritter and the mother of two children."
Henry Irving's menu
"The actor was the first to be knighted for services to drama. He was in town so we threw him a dinner. Bram Stoker was Irving's secretary and business manager, so he was there, as was Buffalo Bill, who was in town doing his Wild West show at Alexandra Park.
He came walking along Alexandra Parade and down Duke Street with his Sioux Indians in tow. It's a moment that is much talked about. There is also a theory that Stoker took a lot of inspiration from Glasgow, such as one of the characters being named Renfield, after Renfield Street. I don't know about that but the inspiration for Dracula himself was Irving, a big, looming, scary character. The menu included things like mock turtle soup and some of the students put on a performance for him."
The Jimmy Logan collection
"He left his collection to us when he died in 2001. We also have the archives of his sister, Annie Ross, the jazz singer, which includes a letter from Barack Obama congratulating her on being given Jazz Masters recognition.
"Jimmy was the nephew of Broadway star Ella Logan, who was the second Scot to make it big in America after Harry Lauder, so we have a lot of Harry and Ella's material here as well, as part of Jimmy's collection. Jimmy's big red book from This Is Your Life gives away a TV secret. People always wondered what was inside it. Well, the answer is nothing. It's blank and was filled afterwards with photos taken on the night. His is signed by Eamonn Andrews, the show's presenter at the time."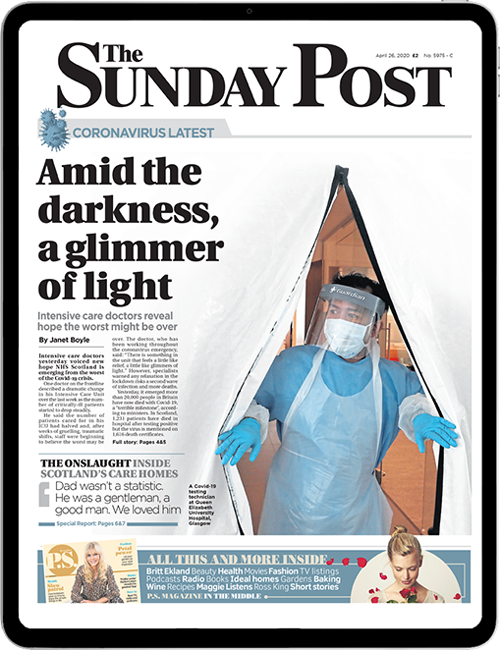 Enjoy the convenience of having The Sunday Post delivered as a digital ePaper straight to your smartphone, tablet or computer.
Subscribe for only £5.49 a month and enjoy all the benefits of the printed paper as a digital replica.
Subscribe