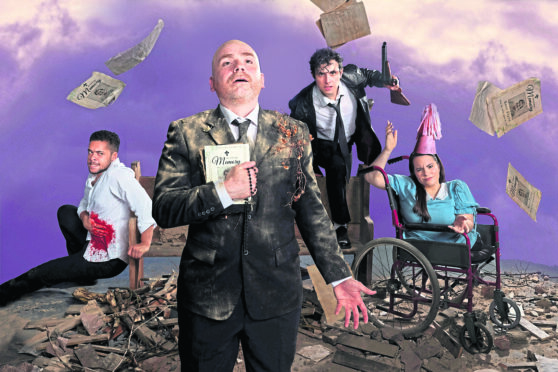 He might be best known for making Scots laugh on TV but his next role is straight on stage and Rab Florence says he won't even need to act.
One of the creators and stars of TV sketch show Burnistoun is about to star in the National Theatre of Scotland's Orphans, a stage version of the 1998 movie, written and directed by Peter Mullan.
The film, a darkly comic classic charting four siblings on the tumultuous night before their mother's funeral, is returning as a musical and, relishing the prospect, Florence says it'll be one of the biggest challenges of his three decades as a performer.
The 45-year-old actor says his main concern will be keeping his emotions in check, adding: "It's all there in the script and I am an orphan. This is my easy way into this because the character is grieving for his mum, seeking answers, lost and adrift. I can do that easy, night after night, no problem.
"In fact, the biggest thing that's been worrying me is how I do this without bursting out greetin' because although the show is funny, it's also really sad. It's emotional stuff and that's been a wee bit of a worry for me.
"You can rehearse it and rehearse it but I just know that one of those nights I'm going to think about my own ma. That's been in my head. And when it's not me singing about my ma, it's other people in the cast singing about wanting their mammy.
"It'll be really funny and a great night out but I think if you come to see the show and you've lost your ma, you'll get a good greet."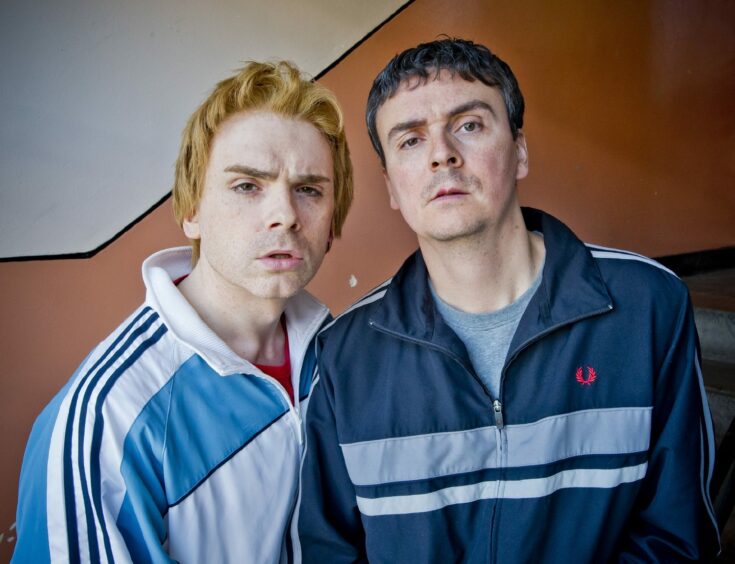 Rab will perform alongside Scot Squad star Louise McCarthy, well known as a stage actor chiefly for her part as one half of brash Glesga duo The Dolls, and Paul McCole, from TV's Limmy's Show and acclaimed STV comedy drama High Times.
Rehearsals begin this month, with the show touring Scotland after opening night at Greenock's Beacon Arts Centre. Florence said: "The show is brilliant. Anybody who has seen the film knows how good the story is. Nothing has been taken out. It's very much Orphans as it is in the film and it has been adapted really well."
He is Thomas Flynn, the eldest, uptight and self-righteous brother, memorably played by Gary Lewis in the film. Florence said: "Playing Gary's character Thomas is a lot of pressure because he gives an amazing performance in the film. I won't be watching it again though, so I don't stress myself out. I don't want to mimic what he does, I need to just do it myself.
"It's a new experience for me doing theatre stuff, a completely new experience. With live comedy, people are rude to each other. People are more likely to say: 'That's rubbish, you're rotten'. Whereas with theatre, everybody's so nice and super-supportive. It'll be like six weeks of therapy for me being in rehearsals."
The music in the stage production of Orphans will come from Roddy Hart and Tommy Reilly, the songwriting partnership whose work on Scottish indie flick Anna And The Apocalypse led to them working on the reboot of US cartoon Animaniacs, for which they won an Emmy.
Florence said: "The songs are brilliant, too. Roddy and Tommy are so good. A musical lives or dies by its songs. I've heard the songs and we have absolutely nothing to worry about." Not only has he listened to the songs, he has to sing them too which is new ground for the writer and performer who lives in Helensburgh with his wife and children.
He cut his teeth as a performer in Glasgow youth theatre group Toonspeak in the '80s and '90s, getting early TV work as a writer for Chewin' The Fat and The Karen Dunbar Show. He then landed his own series, Burnistoun, with co-creator and long-time collaborator Iain Connell, with whom he also writes for and appears in reality TV spoof, The Scotts. But despite his storied career in entertainment, Orphans represents a fresh challenge.
He said: "I'm singing some of the songs. I have a big solo in the first half and a few more sprinkled through it. I'll be kept busy there.
"The auditions were awkward. I had to sing on Zoom to a backing track. I was thinking that day, 'If this is no good, then I won't be doing this.' But I wouldn't be in it if I couldn't sing.
"I've no idea how to look after my voice and all that stuff but they really look after you, so I'll learn all that. The challenge will be getting people into the theatre because of what's been happening for the past two years but I think people will really love it."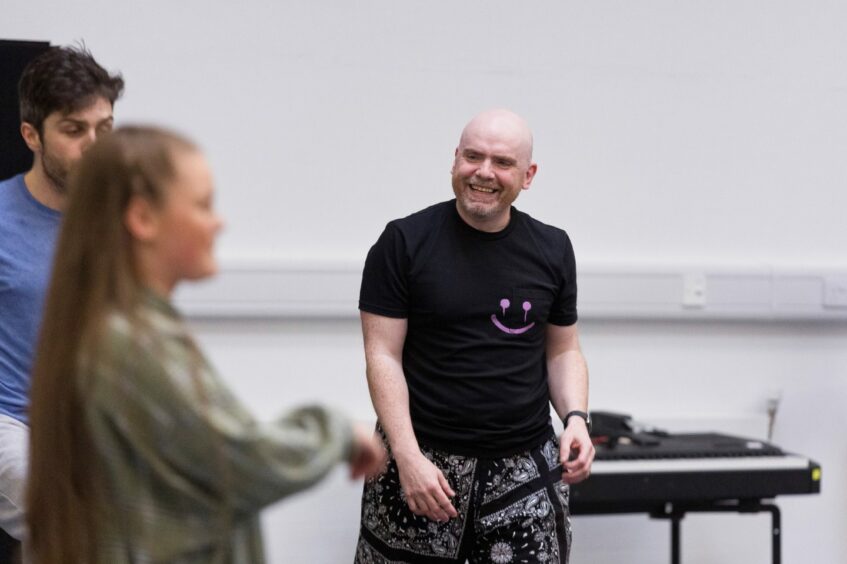 While he wasn't immune to the impact of the pandemic on the arts, he was kept busy writing The Scotts and ended 2021 as one of the co-presenters of the surprise reboot of fondly remembered '90s gaming series GamesMaster, with Sir Trevor MacDonald taking on the omniscient role originally played by Sir Patrick Moore.
And the turn of the year saw him team up with Still Game's Greg Hemphill for Hogmanay sketch show Queen Of The New Year.
The pair wrote the sketches and made cameo appearances with Hemphill directing.
There were roles for well-known comedy faces such as Rab C Nesbitt's Barbara Rafferty and Gregory's Girl star John Gordon Sinclair, and Florence hopes the show will become an annual affair. He said: "By the time we got the scripts together I was on easy street. Greg had the job of directing it.
"Going forward, I'd hope Queen Of The New Year would be the thing when we had people like Barbara Rafferty or John Gordon Sinclair but also new people coming through.
"Normally young, new talent get their slot on the telly when not many people are seeing them. So it's nice to have them got their chance when a lot of people are watching."
She ain't heavy, she's my mother: The movie that inspired the play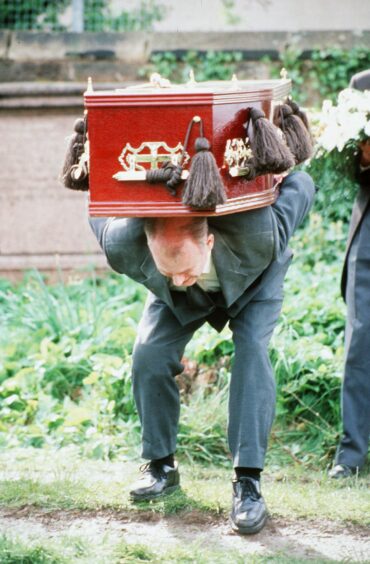 "She ain't heavy, she's my mother." Thomas Flynn's classic line as delivered by actor Gary Lewis as he struggles to carry his mum's coffin single-handedly sums up how Orphans managed to combine loss and laughter.
Routinely described as darkly comic, Peter Mullan, who wrote and directed the movie, said it wasn't autobiographical but his emotional response to his mother's death is reflected in all four Flynn siblings, three brothers and their sister.
Filmed in Glasgow's Southside where he grew up, Mullan, one of Britain's most acclaimed actors with a string of credits on both sides of the Atlantic, said: " The various routes that the characters take were variations on how I felt after my mother died.
"There are moments where you want to wallow in self-pity, there are moments where you want to scream at the moon, there's moments that defy rationale, when the world seems to be more insane than you are. I just liked the idea, on a very simple level, over the course of a night, you could take these people on these different journeys."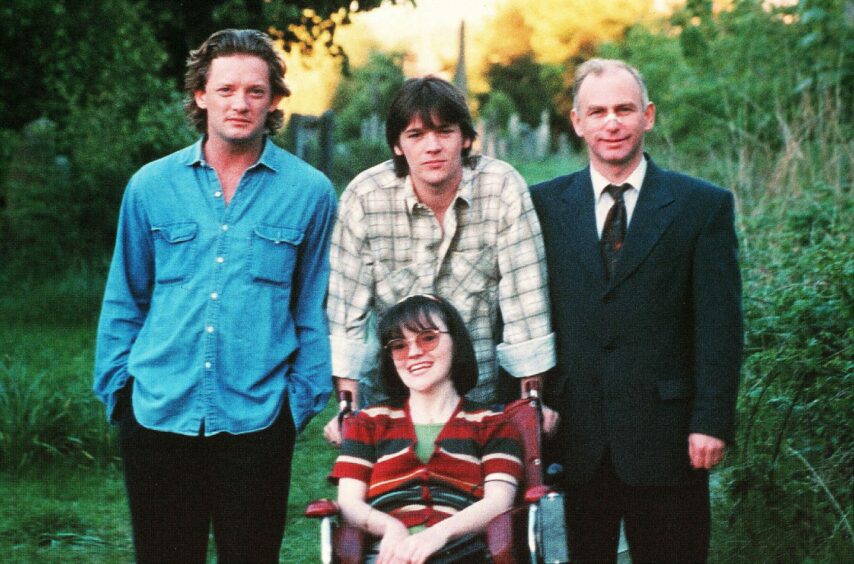 The award-winning film tells of the long, dark night before they bury their mother as they each struggle to come to terms with their loss. It had audiences snorting with laughter as they dabbed their eyes.
It features many actors who would become household names in Scotland including Douglas Henshall, who played Michael, and Stephen McCole, as his brother John, who were recently reunited in TV's Shetland, as well as Rosemarie Stevenson as their sister Sheila, and Lewis, who played the eldest brother.
---
Orphans, Beacon Arts Centre, Greenock, April 1-2; then SEC Glasgow, 6-9; King's Theatre, Edinburgh, 12-16; and Eden Court, Inverness, 26-30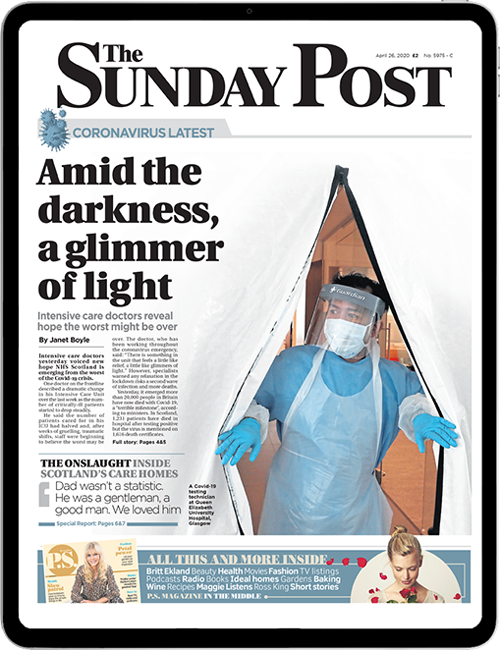 Enjoy the convenience of having The Sunday Post delivered as a digital ePaper straight to your smartphone, tablet or computer.
Subscribe for only £5.49 a month and enjoy all the benefits of the printed paper as a digital replica.
Subscribe