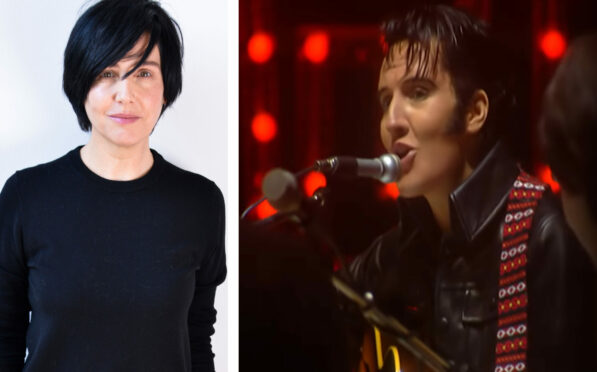 Sideburned, quiffed, clad in black leather and lip-curling to perfection, Sharleen Spiteri's Elvis was as good as it gets.
The iconic 2001 video for her band's hit, Inner Smile, was no kitschy pastiche of The King, however, but a heartfelt tribute from one of his biggest fans. And, as an acclaimed biopic hits the big screen, the Texas singer looks back on her on-screen salute to Presley and reveals she had spent a lifetime rehearsing.
"The director of Inner Smile, Vaughan Arnell, said, 'How do you fancy playing Elvis?'" she recalls. "I looked at him and said, 'I was born to play Elvis'. I'm not kidding. I told him that I've been playing Elvis since I was four years old.
"I used to put shampoo in my hair to style it into the quiff and then I would do all the leg movements. When I was a kid I would go between playing Elvis or a cowboy. Ironically, I ended up in a band called Texas and I keep singing Elvis songs. That sums up how I developed at a young age."
The video was inspired by Presley's spectacular '68 Comeback Special with Spiteri clad in a Tom Ford-designed black leather jumpsuit in front of giant lights spelling out Texas rather than Elvis.
"Everybody was laughing at me because for the entire day I didn't come out of character, I spoke to everyone as if I was him," says Spiteri. "And the funny thing was I didn't need that much in the way of prosthetics. They gave me a stronger chin, like his, and made my forehead a bit bigger. But the middle is all my face.
"I was in my absolute element that day. I literally walked on set like him, moved like him, sat down like him. In my head I was Elvis.
"It's funny, it was quite a shock to a few different people. Some people said to me they weren't sure how they felt about it. Which I just loved. The amount of women who commented on it! I thought, you know what? I'm going to just become a guy!
"And a lot of guys were saying, 'no, this is a bit too much for me…' I was quite happy about it. It made people think about all that gender stuff, which is great."
She might have played Elvis Presley for a day but she's a fan for life. "He was bringing black music to a white audience, and basically completely changing the world," says Spiteri. "He brought gospel and the roots music where he was from in America to elsewhere, to the whole world.
"Simply, the songs were great. They were unbelievable and some of the greatest songs ever written, but then again he had some of the greatest songwriters ever working for him. It's always about the songs. Any music icon is an icon because they have great songs. There's the other stuff with Elvis but he was all about the music from the day he started."
Yet it wasn't the music that first triggered the 54-year-old Glaswegian's lifelong obsession: "It actually started with the movies for me – the songs and the dancing; he was just cool and so handsome and always so well dressed. I really liked how he was nice to women. He was a gentleman, which is what I liked.
"Jailhouse Rock is probably my favourite because of how he looked. I wore the Levi's Type 1 jacket and the striped T-shirt back in the day like him. He has always influenced me fashion-wise."
Elvis: How The King came back, in black leather, to reclaim his crown
For Spiteri, the iconic Elvis moment came during the '68 Comeback Special. Early in the show Presley and his band sit in a circle, surrounded by the audience, playing stripped-back versions of songs, including the Jimmy Reed blues shuffle Baby What You Want Me To Do.
"He's singing, 'We're goin' up, we're goin' down, we're goin' up, down down up…' and the girls are going crazy for him.
"I just love the way he can play with an audience like that. He's having fun and the band are in their element and he's the same because he's with his band. That was so important to him, to have his band and his entourage, it was so important to the music he made.
"To me, when I shut my eyes and think of him, I think of that moment."
As an Elvis fan, Spiteri will watch the Baz Luhrmann biopic – which stars Tom Hanks as the singer's long-time manager, Colonel Tom Parker – but thinks the Elvis story transcends a single movie.
"There's so much to tell. I think I'd have done three different movies," she adds. "There are so many big parts of Elvis's life to be told, and each part is so influential.
"Starting out, breaking into music, meeting the Colonel. The next movie would be Elvis as we first knew him, making music and movies, finishing with the '68 Special. Then the third movie would be Elvis in Vegas and all that went on there, and finally his death."
Go to a live Texas show these days and perhaps unsurprisingly it finishes with an Elvis cover. "We still do Suspicious Minds, it's a song we've done for years," says Spiteri, whose band's other hits include I Don't Want A Lover and Say What You Want. "For me that's one of the great songs in music. Think about it as a live track: you've got that amazing guitar riff that plays throughout which is totally recognisable before Elvis has even opened his mouth. Immediately you're like, 'yep!' and off it goes. Immediately you're in a moment and a mood. Your heart beats faster and you can feel the blood pumping in your veins.
"The melody is amazing and it builds into pandemonium where you just want to go crazy and that happens even when we play it.
"With Elvis, he could bring the song down. The breakdown is him doing that softly spoken bit and you're in the palm of his hand. It's a rollercoaster."
As for the iconic leather Tom Ford suit, Spiteri still has one of the two made.
"I've still got one of the suits, the other was auctioned for charity and made a lot of money," she adds. "I don't put the suit on any more, I don't have to! I can become The King in my head any time I like."
---
Texas will be playing Fringe By The Sea on Saturday, August 6. Visit fringebythesea.com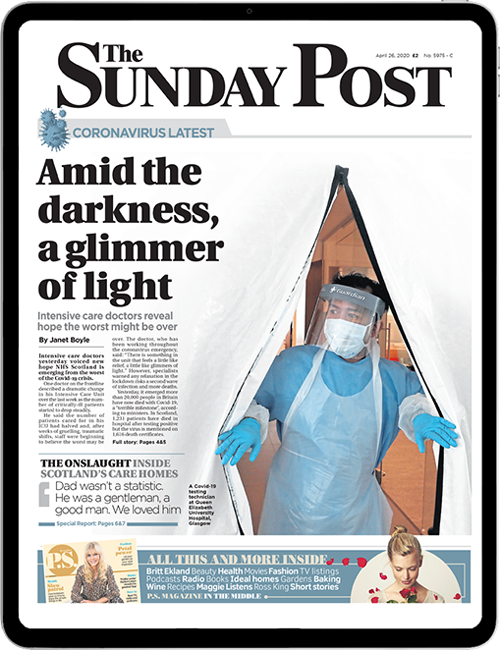 Enjoy the convenience of having The Sunday Post delivered as a digital ePaper straight to your smartphone, tablet or computer.
Subscribe for only £5.49 a month and enjoy all the benefits of the printed paper as a digital replica.
Subscribe