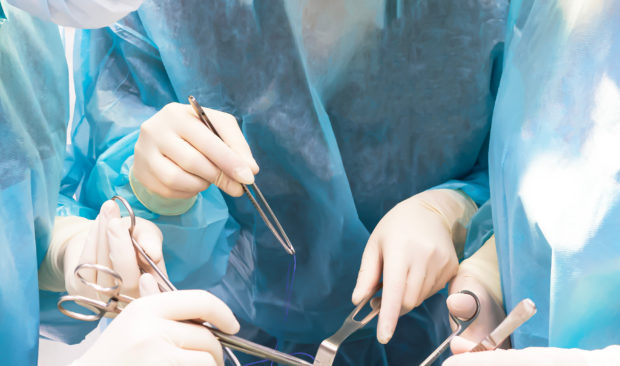 Women are dying of major internal bleeds because crucial research is carried out on men, leading surgeons reveal.
Screening to detect and operate on abdominal aortic aneurysms (AAAs) is not routinely offered to women, despite mounting evidence that those who have a family history of the condition and who smoke are at greater risk. When they do undergo surgery, women are twice as likely to die.
Those who are diagnosed accidentally through scans for other illnesses may see their surgery delayed – reducing survival chances – because guidelines for when to operate are based on the treatment of men.
The Sunday Post has highlighted a number of ways in which women experience health inequalities such as this. Last month major UK charities wrote to Women's Health Minister Maree Todd calling for the urgent appointment of a women's health champion to tackle these issues.
Two leading surgeons are driving a research programme to give women a fairer chance of surviving aneurysms through earlier detection and surgery. Fatalities have fallen hugely among men but rates are static for women.
Professor Janet Powell of Imperial College London said: "What doctors know of AAAs is based on research carried out on white men.
"Only when we fill this gap in the knowledge can we really assess how women fare in the longer term.
"Should we operate earlier in women and would this give better results? Hopefully research will give us those answers."
An AAA is a bulge in the main blood vessel that runs from the heart through the chest and tummy.
Aneurysm surgery is ideally performed electively, before the patient becomes dangerously ill. Five times as many men as women undergo the procedure but women make up a third of burst aneurysm cases, according to Powell.
Twice as many women are turned down for surgery because the aneurysm is too advanced by the time they are diagnosed.
They are often detected by chance in scans for other medical conditions.
In an article entitled Women's Lives At Stake, leading researcher and surgeon Anna Pouncey said: "Since 1990, there has been a rapid pan-European decline of mortality from abdominal aortic aneurysm for men. However, for women, mortality rates have changed little over time.
"We should not accept the tenet that treating women is more problematic, when we do not fully understand how women's aneurysms and healthcare needs differ from those of men. It is likely that solutions can be identified, which could potentially translate into better results for men, too."
Pouncey added that surgical equipment used to repair aneurysms had been developed for operating on men because most of the patients were male.
Women are more likely to emerge from surgery with injury to their arteries, kidneys, limb and bowels.
They are also more likely to be turned away by national screening programmes.
Men are checked for AAAs at age 65 in the UK. The National Institute for Health and Care Research said: "Aneurysm screening for men is clinically and cost effective.
"Despite the lower prevalence of aneurysm in women, rupture rates are higher than for men. Population screening in women cannot be justified on either a cost-effective or clinical basis."
Powell added: "There are clinical guidelines for when to carry out surgery and post-op recovery. When you apply that evidence to women they do badly compared to men.
"Women have twice the risk of dying. They have smaller blood vessels than men. An AAA with a diameter of 5.5cms for surgery in men might be wrong for women.
"We would like to find out if they should be operated on earlier in women."
Powell is working with Pouncey to get a new trial up and running for earlier treatment when AAAs are smaller in women. They are also trying to establish a best "core outcome set" for women. Powell added: "The value we set should be what the patient deems is their quality of life."
The Scottish Government said it followed UK guidelines on screening, but added: "Tackling health inequalities is a key priority for the Scottish Government and if there is emerging evidence of this then the national screening programme, the NHS and Scottish Government will take that into account."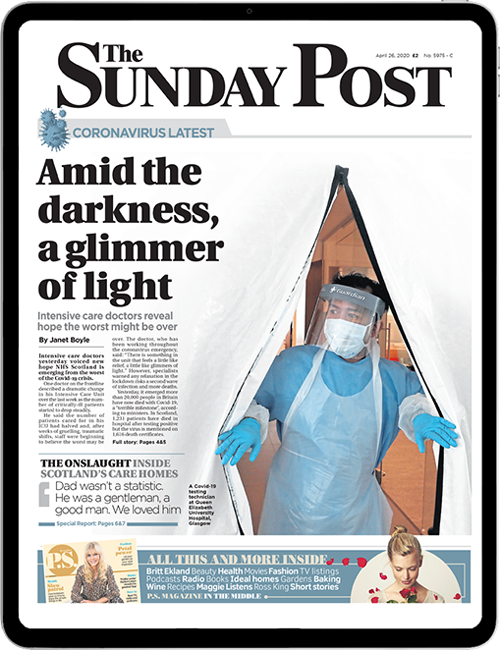 Enjoy the convenience of having The Sunday Post delivered as a digital ePaper straight to your smartphone, tablet or computer.
Subscribe for only £5.49 a month and enjoy all the benefits of the printed paper as a digital replica.
Subscribe