A leading psychiatrist has warned today's selfie culture is creating a dangerous obsession with cosmetic surgery among young people trying to emulate Photoshopped images.
And Jane Morris blames popular photography filters on social media platforms such as Instagram, Snapchat and Facebook for normalising impossible beauty standards.
The NHS consultant, who specialising in eating disorders, says more needs to be done to tackle the mental health epidemic which is fuelling the boom in non-surgical cosmetic treatments such as Botox and fillers.
"I get the feeling Instagram has now taken the place of weighing scales and mirrors, and all the other tricks that people used to use to try to police their own body image," explained Dr Morris, who is an eating disorders psychiatrist at the Royal College of Psychiatrists in Scotland.
"People used to do things like constantly gaze in the mirror, measure themselves, pinch an inch, and jump on the scales before and after going to the toilet. That hasn't actually stopped, but what has become much bigger is repeatedly posting selfies online.
"People spend ages trying to curate their selfies. They can start to completely lose perspective – that's what happens when you focus on any one part of your body. If you constantly look at artificial images and constantly obsess about particular features, then you actually paradoxically damage your sense of judgement."
---
---
The treatments
Britain's most common procedures are surging in popularity
Dermal fillers
Adding volume,filling out lines and reshaping, dermal fillers are injected into the face (usually the cheeks), jawline and lips. The plumping effect last between six and 18 months, depending on how much product is used. Most dermal fillers used in the UK contain a natural substance called hyaluronic acid. Costs can vary from £120 to several hundred pounds.
Botox wrinkle reduction
Administered via injection, Botox (botulinum toxin) relaxes the muscles in the face to smooth out lines and wrinkles, such as crow's feet and frown lines. It's not permanent and usually lasts around three or four months. Costs range from £100 to £350 per treatment. Botox is a prescription only medication, but treatments can be performed without a medical licence.
Non-surgical rhinoplasty
While surgical "nose jobs" remove tissue, non-surgical rhinoplasty involves injecting dermal filler into the nose to reshape and rebuild. It is often used to straighten out "bumps" in the nose profile. Prices start from £500, and results can last between one year and 18 months.
Semi-permanent make-up
Also known as micropigmentation, permanent make-up treatments include microblading on the eyebrows, lip contouring and permanent eyeliner, as well as adding "beauty spots" and freckles. Hypoallergenic pigments are inserted into the dermal layer of the skin with a needle, similar to the process of tattooing. Top-up treatments are required every 18 months to two years, and costs from £75 to £500.
---
---
With more than one billion users posting pictures of seemingly "perfect" bodies and faces, Instagram has come under fire for influencing a surge in demand for cosmetic treatments, such as Botox and lip and cheek fillers, which account for nine out of 10 beauty procedures in the UK, and make up an estimated £2.75bn-a-year industry.
The treatments, which can be completed in as little as 10 minutes, can currently be administered by beauty therapists and practitioners with no medical training. This lack of regulation often leads to unexpected consequences for the predominantly young women seeking out the "perfect pout" worn by the likes of reality TV star and make-up billionaire Kylie Jenner, who had her own lips injected with fillers at just 15.
Dr Kieren Bong, medical director of Essence Medical Cosmetic Clinic in Glasgow, believes the huge increase in popularity for treatments is due to a combination of social media, affordability and a lack of regulation in the market.
He said: "Twenty or 30 years ago, people wouldn't admit if they had cosmetic treatments done. Now, it has become far more acceptable, and we are seeing a trend for young people perceiving non-surgical facial aesthetics treatments as a part of self-grooming, not too dissimilar to getting a haircut, spray tan or massage.
"I'm definitely seeing a wider proportion of people trivialising what is a medical procedure. We regularly have people call the clinic looking for an appointment that day because they happen to be in town, and they sound very disappointed when we aren't able to see them."
He added: "People often pull up pictures of celebrities or social media influencers on their phone that they want us to replicate. They don't realise it's not as simple as me administering the filler and replicating that result. It's up to the clinicians to put that forward to the patient and, unfortunately, not every clinician is experienced or confident enough to do that."
As a result of growing concern for what has been described as a "wild west industry", last month the Scottish Government launched a public consultation to introduce new regulation in the market, with the intention of requiring non-healthcare professionals to carry a licence for performing cosmetic procedures.
Save Face, a national register of accredited practitioners who provide non-surgical cosmetic treatments, received more than 200 complaints from patients in Scotland regarding poorly administered anti-wrinkle injections and dermal fillers last year, and director Ashton Collins admits it has even received reports of patients having treatment performed in the back of cars.
"The treatments are so trivialised to the point that, especially amongst young women, they are not perceived as medical treatments that could go wrong," she explained.
"The biggest issues we see arise with mobile practitioners, who patients have found through social media. Our consumer report for 2017 to 2018 found 62% of people found their practitioner on social media, and their reason for booking was either they liked the before and after pictures they posted – which in most cases are not even their own – or that they have a cheap deal available. They often also market their treatments as celebrity packages, such as 'The Kim Kardashian'."
Edinburgh-based Dr Nestor Demosthenous, who wrote an open letter to Scottish Health Secretary Jeane Freeman, has said urgent action must be taken.
He said: "Patient safety and responsible, ethical practice are absolutely my biggest priorities, and it is profoundly upsetting, worrying and concerning to see so many vulnerable patients harmed, or at risk of harm, by those who are not appropriately trained to administer what we must remember are medications.
"I once again urge the government to act quickly and work with the Scottish aesthetics industry to ensure that each and every patient is safeguarded and can feel assured of effective treatment and aftercare."
However, Dr Morris believes to fully address the issues surrounding body image and obsession with cosmetic enhancement, the government must do more than simply regulate practitioners.
She explained: "Yes, we should be trying to regulate this industry. But in a way, it's closing the stable door when the horse has already bolted."
The Scottish Government said: "We are committed to patient safety and plan to introduce legislation this year which will mean people who are not healthcare professionals will need a licence to carry out cosmetic procedures such as dermal fillers or lip enhancements. Scotland is ahead of the rest of the UK in taking this decisive action.
"We urge anyone considering any kind of cosmetic surgery to visit the Healthcare Improvement Scotland website for regulated and approved providers."
---
"I'm almost ashamed I let it get that far, but I'm a vulnerable person as I have struggled with body issues"
Mandy Jones, 30, was a bodybuilding competitor when, in March 2016, she started to get lip filler procedures to enhance her pout.
But what started out as simple treatment that "everyone" in her social group was doing, soon turned into a self-confessed addiction.
Wendy, who is the founder of The Empowered Woman Project, in Glasgow, said: "At the time, around three years ago, I was training for body building competitions, which is a massively aesthetic-driven circle.
"Everyone was working on their bodies and getting work done, and I felt like I was the only person who didn't have lip fillers.
"Initially, my lips were quite subtle and I was happy with how they looked. I had maybe half a millilitre injected, spread between two lips, which cost £140. I knew that it would only last a few months, so I didn't think it was a big deal. It wasn't until after maybe a year and a half, and multiple procedures later, that I would say I had a problem.
"It's hard to say whether I was addicted, or whether I was just visiting a practitioner who was an enabler. I wasn't happy with the shape and I could see they were starting to become misshapen, but any time I went back to my practitioner she would say, 'We'll just fix it by putting more product in'. I think all she had in her eyes were pound signs.
"I was reluctantly parting with cash, thinking to myself, 'Well, OK, I'll just get it done one more time'. But every six months I would just go again and again. When I look back at photos from late 2017 my lips are just huge, they aren't even, there's no natural shape, and they're just filled with product. The filler was almost in pockets on either side of my lips, especially at the top, and they were really lumpy and bumpy.
"The issue with practitioners is they can control what they share on social media. If a finished result doesn't like good, they just don't post it – it's like it never happened. If another client does have a good result, they'll post that instead. It's very filtered in an already massively filtered world.
"I was really aware of the way they looked and I didn't like my lips, but I was stuck in this weird place where I was being told by my practitioner that they looked great, and she just kept giving me more.
"I'm almost ashamed I let it get that far, but I think I'm a particularly vulnerable person because I have struggled with body issues. If a practitioner can get someone like me, who doesn't really know what their body looks like and is constantly seeking to change, it's easy money for them.
"When I started doing online videos for my body positivity project, there were a lot of trolls in the comments talking about my lips, and that really opened my eyes. It was validating because I realised I was right, and what the practitioner was telling me wasn't true. I went to a new practitioner who recommended I have the filler in my lips dissolved – the most painful thing I've ever experienced.
"I've gone back to just having one millilitre, and they are sculpted into a natural shape. I'm not sure I could go back to just natural lips – I've become so used to seeing myself looking a certain way that it's uncomfortable to see the real me.
"I dread to think how much I've spent. The treatment ended up being around £160 a time, and I was probably going every six months. But, there was also one point in 2017 when I went for fillers two times in the space of two weeks.
"I don't know if I'll ever stop getting things done in my face because I'm so caught up in looking a certain way – and not even in a way I've always been particularly happy with."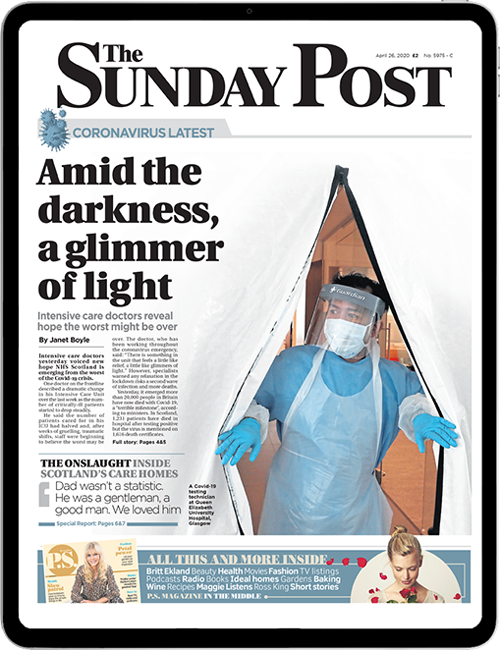 Enjoy the convenience of having The Sunday Post delivered as a digital ePaper straight to your smartphone, tablet or computer.
Subscribe for only £5.49 a month and enjoy all the benefits of the printed paper as a digital replica.
Subscribe