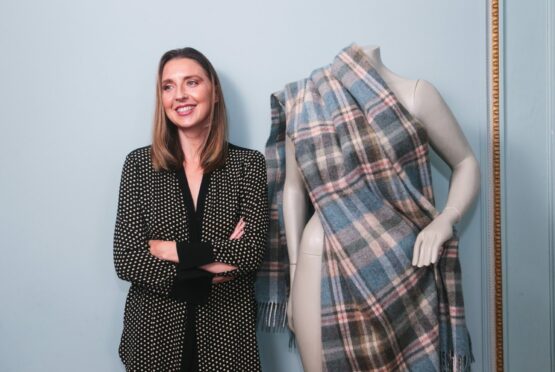 From the effortlessly-stylish Parisienne in her bouclé coat clutching a skinny cigarette to Cher and Dionne tartan-twinning in Clueless, the threads of fashion spool back to Scotland.
Now, I can't reveal the mysteries of tomorrow, but, like Stevie Wonder said, I know that the rosebuds will bloom in early May. This triggers a floral explosion from runway to high street each season that sees us all wearing florals in some capacity come spring.
You may think that makes me a fashion clairvoyant, however my knowledge comes from something a little more strategic and a lot less psychic.
It's all about trends. You've heard of them, probably bought into some and have certainly scoffed at several; but, often, there is a Caledonian connection and our country's influence on global fashion trends will be felt season after season and here's why.
From punk to preppy, romance to royalty, gothic to grunge, these are trends I continually saw getting regurgitated each season across the land.
And it was here that I began spotting the pattern leading back to Scotland. But let me break down two of my favourites; romance and gothic.
Our biggest stronghold has to be over romance. Nothing show us this clearer than Outlander. What's more romantic than castles, kilts and luscious rolling scenery?
Researchers at Glasgow Caledonian University studied the Outlander effect on 25 of the show's locations across Scotland and saw a 45% rise in visitors to the sites over four years, which they say is "well in excess" of increases experienced at other Scottish attractions.
And what of the legions of fans who can't get here? Well, they settle in to watch the show wrapped in wool blankets and cashmere socks, with a whisky cocktail in hand.
When a new season streams, we see a surge in sales across America and Europe for such items. It's not lost on me that the spike coincides with the buzz of a new season streaming online.
In my opinion, the biggest impact Scotland has had on romance as a trend sits inside the bridal market. Formal Highland wear has been used in wedding ceremonies for centuries. Often, people come to me asking which tartan their surname belongs to.
The answer is never simple since there are many variations under any given name. Even more beautiful, there's a tradition of creating brand new tartans when two families come together.
That's one of the reasons you find so many differing patterns sharing the same surname.
I may be showing my soppy side, but I think that's ludicrously romantic. Through working with DC Dalgliesh, Scotland specialist artisans tartan mill, I have seen first-hand the enormous presence Scotland has on the global wedding market.
We have shipped wedding kilts to more than 120 countries around the globe and we are just one of several Scottish tartan mills, which blows my mind.
Then there's the romantic trend which stole my heart, dubbed "the cashmere wedding". Think rustic outdoor settings and blankets over chairs to keep guests warm. Butter-soft cashmere stoles over silky bridesmaid dresses.
Flowers sprayed everywhere, colours popping with tartan. Special weave cashmere kilts teamed with chunky cable knits. It looks authentically homemade but oozes luxury with every tactile touch.
What's not to love? Incidentally, Grace Kelly was a colossal cashmere fan. More than that, she was a loyal Pringle of Scotland customer too.
It's the link between the New Romantics of the late 1970s and early 1980s and the Romanticism movement between 1800 and 1850 that tickles me most.
While Sir Walter Scott was aggressively wooing royalty and the Enlightenment swept the globe, parallels between people wanting intellectual escapism rapidly spilled into the physical.
With a wave of new art, music, inventions and literature, came the want to own a slice of it, as a reaction to the harshness of the Industrial Revolution, much like the New Romantic movement being born in the UK out of the decline in industry and unrest caused by strikes bringing the country to a standstill.
The need for escapism exploded. Clothing and make-up became theatrical and bold in both eras.
Tartan was back with a bang after being made illegal during the 1745 rebellion, with people wanting to weave difficult colourways to flaunt their wealth. Red was the shade du jour as it was the hardest colour to create and the most expensive dye to produce.
As I conjure thoughts of gigantic, ostentatious portraits of 200-year-old figures, my mind whips to a visual of David Bowie clad in tartan, suited with freshly-dyed ginger hair that looks like it's fizzing.
Images of him then are like a mash-up of iconic Scottish women: Mary, Queen of Scots, with a slice of Tilda Swinton and a serving of Annie Lennox sporting a citric acid pixie cut. Perfection.
But just like a wave, the movement that started out with pure romantic intentions came crashing down.
The Victorians swept away the vulgar excesses of the generation before them, adopting a more prudent way of life. Similarly, The Smiths and Nirvana took a sledgehammer to the excesses of Boy George and Duran Duran, in their peacocking silk plaids.
And although the movement was set adrift, tartan still wound up on the back of Kurt Cobain, ushering in the era of grunge and the joy of an oversized checked shirt, much like Queen Victoria claiming tartan as her own to create the Balmoral effect.
Romantic, gothic and so, so stylish: The designer who pulled all of the threads together
Typical Gothic fashion includes dyed black hair, dark lips and noir clothing in lace and velvets. Styles are often borrowed from punk, Victorian and Elizabethan trends.
The Scottish weather feeds into this gloomy style aesthetic. When I moved to Edinburgh as a teenager I discovered the haar. An eerie mist that rolls in off the Forth at the docks in Leith leaving its mark across all corners of the city. When it happens, you are instantly transported to the Edinburgh of Arthur Conan Doyle and Robert Louis Stevenson.
It's easy to see the impact the city had on our cultural forefathers spawning Sherlock Holmes and Dr Jekyll and Mr Hyde. However, there is one woman who trumps all this, the mother of modern horror: Ms Mary Shelley.
At the age of 14, Shelley was sent to live with the Baxter family on the outskirts of Dundee. In the 1831 introduction to a revised edition of Frankenstein, she speaks fondly of her days by the River Tay: "It was beneath the trees of the grounds belonging to our house, or on the bleak sides of the woodless mountains near, that my true compositions, the airy flights of my imagination, were born and fostered."
Parts of Frankenstein are set in Fife, Edinburgh and Orkney. In Fiona Sampson's book, In Search Of Mary Shelley: The Girl Who Wrote Frankenstein, she writes about Mary's time in Scotland and how her husband, Percy Bysshe Shelley, would describe her wearing bold tartan dresses in London to stand out from the crowd.
For me, Alexander McQueen exemplifies our link between fashion and literature in the Gothic movement. Lee McQueen's love affair with Scotland was most visual in his 1995 collection. The inspiration for the show was based around his perception of England's rape of Scotland.
The dark Gothic undertones looked like he had Shelley as his ghost writer. But I will forever think of Lee dressed in formal Highland wear standing beside Sarah Jessica Parker, both wrapped in McQueen plaid at the foot of the steps of the Met Gala in 2006.
The haunting beauty of the tartan, combined with black lace and taupe tulle, was a masterclass in Gothic dressing. Long live McQueen.
How Scotland Dressed the World, by Lynne Coleman will published on October 15 by Luath Press
---
Stripey, black and red all over: Why Menace is style icon
The red and black stripes have become a symbol of youthful rebellion so it's little wonder the followers of outlier tribes punk and grunge borrowed Dennis The Menace's look.
Now the magical origins of his jumper has been revealed in The Epic Yarn of Awesomeness, a comic strip published to celebrate the comic character's 70th birthday.
Dennis reveals that his sweater once belonged to his great, great, one-hundred-more greats grandfather and was knitted by the ancestor's Gran, a friendly witch.
Using spider wool infused with red and black magic potions, she knitted the jumper with her wands to create an awesomely powerful – if slightly itchy – garment.
The red and black stripes have since been adopted by music icons such as Sex Pistols drummer Paul Cook and Nirvana frontman Kurt Cobain who, in turn, inspired a fashion collection by Marc Jacobs.
Fashion historian Lynne Coleman tells the story of how Cobain came to own a Dennis-inspired sweater in her new book How Scotland Dressed The World.
She says: "In the summer of 1992 Nirvana played at The King's Hall in Belfast. That night a local lad called Chris Black went to the gig wearing a Dennis the Menace jumper. Courtney Love clocked it and began bartering to buy it, wanting to gift it to Kurt. Reluctantly, Chris parted with the sweater for £35.
"From there the musician was pictured in Dennis the Menace's pullover a plethora of times. The symbology of Cobain cocooned inside Dennis's attire is not lost on me.
"What that character represents, a lost little boy adored by the world but impacts his loved ones on a daily basis with naughty self-indulgent behaviour, is a poetic microcosm.
"By the time winter rolled round that year a young Marc Jacobs sent a collection down the runway showing bias cut tartan skirts teamed with cute cartoon T-shirts finished with loose shirts and knitted beanies that looked like Scotland-the-chic.
"Fashion writers condemned it, stating he'd raided Seattle's thrift stores. However Jacobs had tapped into the zeitgeist of Kurt Cobain and Courtney Love, thus catapulting the subculture to the forefront of style."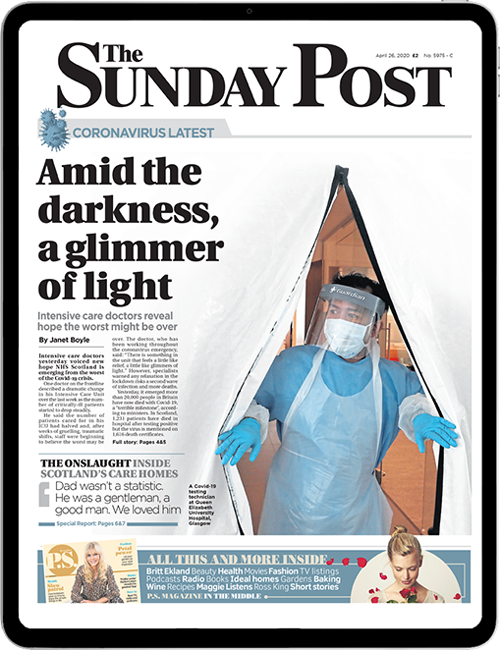 Enjoy the convenience of having The Sunday Post delivered as a digital ePaper straight to your smartphone, tablet or computer.
Subscribe for only £5.49 a month and enjoy all the benefits of the printed paper as a digital replica.
Subscribe