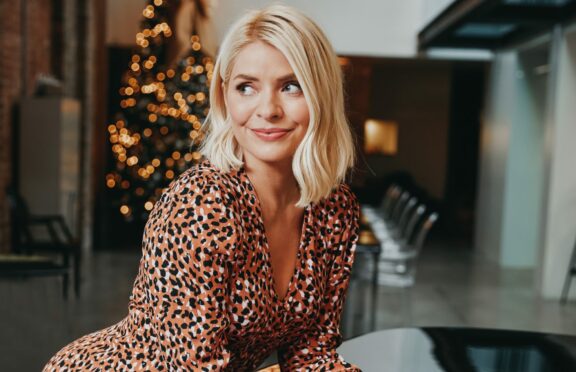 Restrictions permitting, it's that time of year when we would normally try to beg, steal or borrow the perfect party dress.
Well, this year, more of us will be borrowing as more and more fashion followers choose to hire, not buy.
They call it circular fashion, as clothes get cycled again and again, with experts crediting a move away from fast fashion and its impact on the environment with, in Scotland alone, 330,000 tonnes of clothes going to landfill every year.
Marks & Spencer are the among the retailers getting on board after making a range of womenswear available to hire ahead of the festive party season.
The trend is supported by celebrities such as Holly Willoughby, Laura Whitmore and Stacey Dooley, who hire dresses worth thousands of pounds from online firms, before returning them to the rental library for other fashion conscious women to loan. The prime minister's wife Carrie Johnson emerged as a pioneer of the trend when she rented her £2,870 Christos Costarellos wedding dress from the My Wardrobe HQ site, which was promptly deluged by inquiries about hiring clothes and accessories from the world's top designers.
M&S says the trial will enable the retailer to better understand shoppers' changing habits in a world where customers are increasingly thinking about the sustainability of their purchases.
Dresses from the vintage designer X Ghost collaboration, up to a value of £300, will be available under a trial with fire firm Hirestreet, along with jumpers, coats and trousers, from four to 30 days, with prices starting at £13.99.
M&S says it hopes the venture will support its customers' increasing interest in circular fashion, a concept that means every part of the lifespan of a garment is cyclical. David Bates, M&S regional manager for Scotland West, said: "We're delighted to be trialling our first clothing rental opportunity in Scotland in partnership with Hirestreet.
"Clothing rental is a growing trend, yet we know so far a lot of the focus for this market has been London-based, so we're excited to be offering this to our customers far and wide."
Circular fashion starts with design of a piece and how much longevity and timelessness it has, then on to the materials and whether or not they are sustainable, before the making of the item – is its production fair and ethical?; are workers and animals rights being upheld? Once the piece has become tired, it should be repaired or redesigned, then – rather than being binned – rented, swapped or sold as second-hand. All this means less will be bought and less will be left ruining our planet.
Environmental charity Hubbub conducted a survey as part of their campaign urging people not to buy new party outfits for the festivities and instead to wear what they already have, swap or rent. The Scottish stats revealed 22% were planning to wear clothes they already owned for the Christmas party season.
One in eight respondents said they usually buy at least one new outfit for events over the festivities – and 12% said they are planning to buy something new to wear this December.
When it came to considering the impact on the environment, 8% said they were planning to buy something second-hand, and just 3% said they were considering renting or hiring a dress.
Lynn Wilson, founder of Circular Economy Wardrobe, however, said only time will tell if initiatives to rent clothes will work for Scottish customers.
"The problem with fast fashion is that a lot of it is dumped in the bin," she said. "The cost of clothes going to landfill in Scotland is about £14 million.
"Clothing rental is a step forward in getting this figure down, but, if they can buy a dress on the high street for the same price, rental really needs to have an incentive. Maybe knocking the VAT off could make it more attractive.
"We also need to make these services more accessible, and make it more carbon neutral as 90% of clothing is bought on the internet and ordering hire dresses online which are travelling back and forward across the country – even if hired – isn't good for the planet."
Wilson says hire schemes give us opportunities, but the burning question is are they the right opportunities?
"I'm not sure we have fully understood what renting can do for us yet and I'm not convinced we have worked out the best routes for fashion rental," she said.
"We don't know yet how it works out from a consumer perspective. Just because you hire a dress, does that mean it will replace a purchase? Or will you still buy two Christmas party dresses anyway?
"The psyche of society is that we shouldn't be seen twice on Instagram in the same outfit.
"I was a teen in the '80s and we were so creative. It was all about DIY fashion. But now, you can buy a dress for the same price as a Big Mac.
"It's fast fashion, fast life, fast future. Our lives are moving so fast we don't have time to absorb them."
---
A third of the average family wardrobe is never worn
Lynn Wilson is a consultant and designer who advises on circular economy business models.
If, like me, you've started thinking about what you're going to wear for those festive gatherings you may have hit a problem. You find last year's outfit is a bit too tight, it's lost its shape, become discoloured or you cannot remember why you bought it in the first place. I inherited a love of sparkly polyester tops from my gran, and generally don't need an excuse to wear one. Not one to want to blend in with the décor, the festive season is a time when blending in with the Christmas tree feels OK.
"But everything is not OK in the world of clothing and sparkly polyester tops, just like plastic bags and bottles are not OK any more, after all, they are all made of the same stuff – petroleum.
"As a by-product of the oil industry, polyester, like plastic, has been around since 1941. And it contributes to 60% of global clothing manufactured. The accessibility of the raw material makes it perfect for producing Christmas jumpers and occasional wear, at the right price, at a time when, like our waistlines, our budget is really squeezed.
"So, what's not to like about a versatile fibre, that makes fun festive clothing accessible? For a start, they are responsible for 10% of global carbon emissions that contribute to air pollution and climate change, impacting some of the poorest countries, who are the main clothing manufacturers.
"Then there is the disposability factor. It is estimated that three out five garments are binned every year.
"As our life cycle takes us from babies to adults, our clothing needs change, and sometimes rapidly, meaning some items are only worn a few times before we grow out of them. According to charity Waste & Resources Action Programme, 30% of the average family wardrobe is never worn. This is not only a waste of resources, but as clothing is generally unlikely to increase in value, we also have a depreciating collection of clothes enticing moths and taking up space in our homes.
"We've all had a tough year, and deserve a bit of sparkle to see out the old and bring in the new. But it simply can't come at the expense of the planet.
"So it's great to see a high street giant like M&S want to help us and the planet this festive season by providing a clothing rental service. At the end of your Christmas party season, your outfit can be returned to M&S, freshly laundered, using chemical-free processes, ready for someone else to experience the fun of renting instead of the burden of owning, storing, and disposing of clothes.
"We all have the power to say no to waste and to be a shining example this Christmas."
---
Buying a dress you only wear once or twice is crazy
Laura McKinnon, who runs dress hire shop Laura's Dresses on the south side of Glasgow, says she's delighted the high street is adopting the model she first set up a decade ago.
"In my granny's day it was all about make do and mend. There was a little black dress for special celebrations and it was worn for each one," she said.
"Over the years however we have become a throw away culture which is sad and most definitely not good for the environment.
"Buying a dress you will only wear once is crazy and makes no sense. It will hang in your wardrobe gathering dust and taking up space. You wouldn't buy a pair of shoes, or a jacket to wear once, so why a dress?
"The fact Carrie Johnson, Boris Johnson's wife, hired her wedding dress raised the profile of hiring expensive dresses and brought about a surge in people wanting to hire. Covid then arrived and everything stopped. No events so nobody needed to hire a dress. Life came to a standstill. Thankfully, things have improved on the pandemic front and with it a resurgence in events and people requiring dresses.
"On the whole people are more aware of the impact on the environment and of recycling items, including dresses. I have seen a marked increase in people contacting me to hire for reasons other than saving money.
"The same dress can be hired several times for various events. I can make minor alterations so the dress can be adapted for different clients. My dresses are cleaned using environmentally-friendly products rather than dry cleaners using specialist chemicals that may not be as kind to the planet.
"Once an item is no longer hireable, I sell, recycle parts that can be reused such as beading and fabric or I donate the dress to a charity shop to ensure its sustainability and life expectancy."
---
I love the idea outfits can be worn again and again
Silvia Ciferri has hired many dresses for occasions from family communions to black tie dinners. The 54-year-old, of Gourock, Inverclyde, said she hasn't borrowed a dress since before the pandemic, but loved doing it before Covid hit.
"I hired the first dress for my niece's communion in Italy," the interior designer said. "It was going to be really hot and I needed a nice elegant dress that would be comfortable in the hot weather.
"But I knew it never gets that hot in Scotland so I would probably not get much of an opportunity to wear it here.
"And that would just be a waste of money, and a waste of a nice dress, so I looked into hiring one instead."
After that, hire shops became her go-to for glitzy events.
"It's fantastic. I get to feel elegant and sophisticated in a nice, expensive dress, but one that isn't going to make me bankrupt," she said.
"And I get something unique. There is no risk that I will turn up in the same dress as someone else who bought one on the high street.
"I love the idea that it is cutting down on waste and the clothes can be worn again and again.
"People are definitely a lot more eco-conscious now than they were a few years ago and it doesn't take long to realise your wardrobe can be a big contribution if you buy too much and end up throwing it away when you are done with it."
---
There are hundreds of websites where you can hire a designer dress for a fraction of the cost. It's the future!
Sunday Post fashion editor Wendy Rigg believes lending clothes is the way forward.
"I hope lots of other people follow suit because, particularly around party season, people will buy a dress that they might only wear once or twice and it goes back into the cupboard or it goes in the bin.
"Of course if it's sequins or a fabric that can't be recycled, that's not good.
"You can hire a designer dress for a fraction of the price – and if you work out the cost per wear it's definitely worth it. There are hundreds of websites where you can rent designer dresses so there is plenty of choice."
Rigg added: "People are really coming round to the idea that it's good to wear something more than once – or to find alternatives to buying something you are only going to wear once.
"Post lockdown, we are becoming more aware of sustainable fashion – but because we didn't have many Christmas parties last year, the temptation is to go all out for each and every celebration this year.
"People want something different to wear to every event. Renting means they can have something elegant and expensive they otherwise couldn't afford – and a different outfit every time, as well as something nobody else will be wearing.
"It's the future. In Norway, they have libraries where you can borrow clothes.
"I'm sure that sort of model is the way forward for the rest of the world."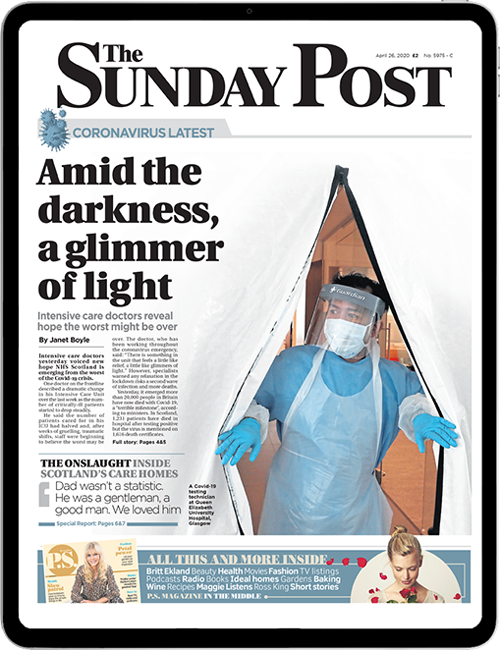 Enjoy the convenience of having The Sunday Post delivered as a digital ePaper straight to your smartphone, tablet or computer.
Subscribe for only £5.49 a month and enjoy all the benefits of the printed paper as a digital replica.
Subscribe