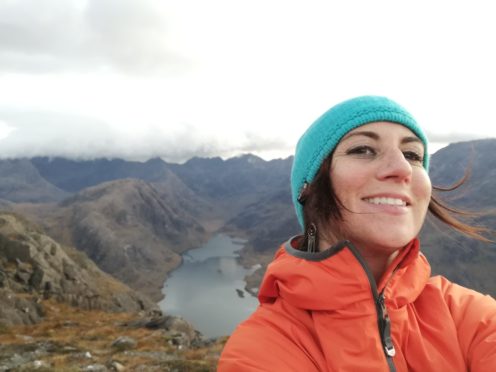 Standing above the clouds, gazing out over the spectacular landscape below, it's easy to forget all your cares, troubles and worries – and, for Sarah Jane Douglas, Scotland's mountains provided the perfect escape when she needed one most.
After enduring years of grief and sorrow after the sudden loss of her mum to cancer, in 2008 Sarah was at a crossroads in life. She could continue down a destructive path filled with unhealthy distractions from her pain, or she could do what her mum had always urged her – never give up.
So, donning a pair of her mum's walking boots, Sarah put one foot in front of the other and climbed Meall a' Bhuachaille in the Cairngorms, sparking a passion that would become her saving grace in times of troubles.
"When I went off on that very first hillwalk in the snow, I was running away from all my problems," explained Sarah, who lives in the village of Ardersier, on the Moray Firth.
"I was completely inexperienced. My own experience on the mountains and hills almost matched my lack of confidence in myself. I didn't know what I was doing, so I was completely absorbed in how I would get off of the mountain and stay alive.
"When you are out there, walking just completely absorbs your every thought, so there isn't any room in your mind to dwell upon the problems of everyday life. I think that's the amazing thing – regardless of the weather or the terrain, it's an absolute distraction from real life back home.
"You are concentrating on your route-finding, you're distracted by the scenery, and you're just taken right out of yourself."
Sarah quickly discovered traversing peaks and wading through mud was the best way to exercise her demons, and in the years since that first climb she has rekindled her love affair with the wild.
She said: "I had no particular plan in my mind at the very beginning – I just liked the escapism. I just liked getting away from home and troubles. The mountains seemed to expel the shadows, the grief and the sadness, and I just became a better version of myself. It's true to say, the more I climbed, and the more physically fit I became, the more mentally strong I became, too."
In the decade since, retracing climbs and walks she had enjoyed with her mother as a child and teenager, Sarah has completed every Munro in Scotland and, having kept journals and diaries throughout her life, the 47-year-old decided to turn her journeys into a memoir about finding strength and overcoming grief.
Although her writing simply started as a cathartic way for Sarah to document her life and pass stories on to her two sons, Marcus, 21, and Leon, 19, after being published, her book, Just Another Mountain, began to inspire countless readers to embrace their own difficult journeys, with the second paperback edition released later this month.
Sarah said: "Writing the story was a labour of love. I wasn't under any illusions about getting it published and I wasn't doing it for material gain. I was doing it for myself and then, ultimately, to pass on to my two boys because I didn't want them ever having to grow up wondering where they came from and feeling lost, as I had most of my life.
"My mother had always encouraged me to keep a diary from a very young age, and she actually said once, 'You never know, you might write a book'. And I ended up doing just that. Writing was like stepping back in time and embracing all those memories and experiences."
Three years ago Sarah was diagnosed with breast cancer, the same disease that took her mother in 1997. Once again she turned to the outdoors, proving the healing power of nature hadn't subsided.
She explained: "The mountains were my saving grace through all my treatment and chemotherapy. The consultant asked me if I had any questions after he'd given me the lowdown on the chemo, and I just said, 'Will I still be able to go running and I still be able to hillwalk?'. He cocked his head at me, as if to say, 'What on earth is she talking about?'
"I had my first chemotherapy session a couple of days later, self-injected for seven days, and then on the eighth day I got a DVD workout on the go. Then I thought, 'I'll just go up a small hill to see if I can do it'. It was hard and it was like dragging two dead horses – my legs were just so heavy and I did feel breathless – but I made it to the top.
"Next I revisited the first hill I wrote about in my book, Meall a' Bhuachaille in Glenmore, I managed a Munro after that, and I covered some new ground visiting Corbetts in Sutherland. I just felt so alive, and like I could achieve anything I wanted to – all I had to do is put my mind to it."
Today, on Mother's Day, thinking of her mum, Sarah says she'll take a walk and remember how listening to her advice kept her alive, and hopes more people will do the same.
"My story is a very human story," she said. "Grief is something all of us go through, but it's how you deal with the hardships that counts. I would encourage anybody to go outside and get walking."
---
"As two of the highest mountains in the UK, the route is challenging, but the views are worth the struggle"
If Sarah's journey has inspired you to get out on the hills, here are a few of the summits detailed in her memoir:
Meal A'Bhuachaille
(The Shepherd's Hill) Cairngorms
Reaching to 810 metres, the most popular route to the top starts at Loch Morlich, and is a good option for a first walk in the Cairngorms. Accessible and with paths you can follow to the top, you'll enjoy the stunning views in no time.
Beinn Alligin
(The Jewelled Hill), the Highlands
The easiest summit of the region's three famous Munros, Beinn Alligin lies to the north of Loch Torridon and, in good weather conditions, provides views across mountains, lochs and the coast. Experienced hillwalkers should manage the ascent in around seven hours.
The Fisherfield Six
Wester Ross, Ross-shire
The Fisherfield Forest is home to the most remote Munros in Scotland; Sgurr Ban, Mullach Coire Mhic Fhearchair, Beinn Tarsuinn, A' Mhaighdean, Ruadh Stac Mor, and Corbett Beinn a' Chlaidheimh. Walkers can start and finish at the Shenavall bothy, completing all summits over a few days.
Aonach Mor and Aonach Beag
(The Big Ridge and The Little Ridge), Glen Nevis, the Highlands
As two of the highest mountains in the UK, the route to both summits is rugged and challenging, even for regular climbers and walkers – but the views from the top are worth the struggle. The route can be dangerous is poor conditions, so don't attempt the walk without experience.
Meall Fuar-mhonaidh
(The Cold Rounded Hill), Loch Ness, the Highlands
This Graham (a Scottish mountain between 2,000 and 2,500 feet) is a distinctive part of Loch Ness' landscape. Well-marked paths lead walkers to the summit, and there are plenty of spots providing stunning views.
Just Another Mountain: A Memoir of Hope by Sarah Jane Douglas is published by Elliott & Thompson, £9.99, on Thursday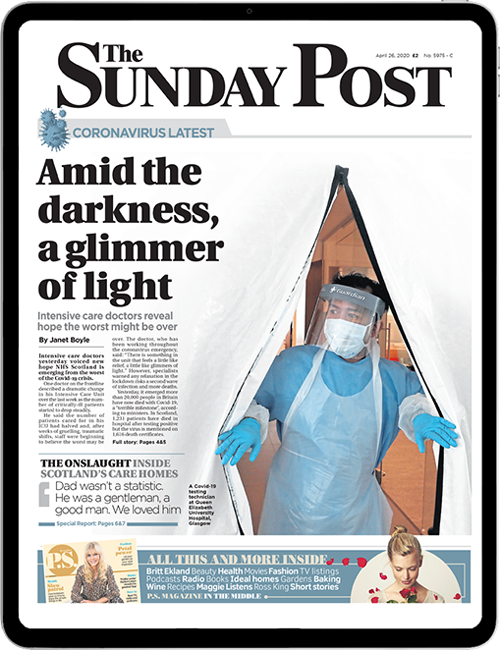 Enjoy the convenience of having The Sunday Post delivered as a digital ePaper straight to your smartphone, tablet or computer.
Subscribe for only £5.49 a month and enjoy all the benefits of the printed paper as a digital replica.
Subscribe