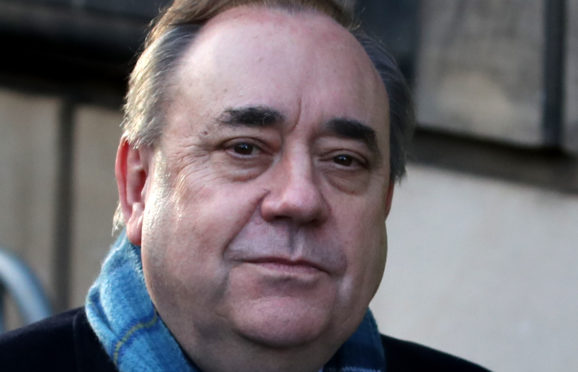 'He was very persistent. It was like wrestling with an octopus. There was always another hand' –  Alleged victim, Woman B
MONDAY
A civil servant told how Alex Salmond asked her to recreate a Jack Vettriano painting, featuring a woman wearing a skimpy Santa outfit kissing a man, moments before "wrestling" with her "like an octopus".
The woman, known as Woman B, said Salmond sexually assaulted her after a meeting at Bute House, in Edinburgh, in 2010.
Mr Salmond had just been advised not to send out a painting by the Scottish artist – called Ae Fond Kiss – as his Christmas card because it would be "deeply inappropriate".
Woman B said that, once they were alone, Mr Salmond said to her: "Let's recreate the pose on the Christmas card."
She said: "He grabbed my wrists and pulled me towards him. I was shocked.
"He was very persistent. It felt like I was sort of wrestling with an octopus; there was always another hand coming at my wrists."
TUESDAY
In four hours of evidence, Mr Salmond claimed some of the accusations against him were "deliberate fabrications for a political purpose".
A former Scottish Government official, Woman H, previously told the court of an alleged attempted rape in Bute House in June 2014.
She also said she had been sexually assaulted by Mr Salmond in May 2014.
Mr Salmond said no incidents took place during those months but there had been a consensual sexual encounter the previous year.
He added: "It shouldn't have happened but both of us agreed it would be put behind us."
Mr Salmond said Woman H had been one of his biggest cheerleaders until he failed to help her with a political project. He said her account of an alleged attempted rape was "not true" and she was not at Bute House on the night in question.
The 65-year-old also said he and a government official, Woman F, had engaged in a "sleepy cuddle", but he later apologised. He said: "I apologised. I was the First Minister. She was in my bedroom. We were tipsy. It shouldn't have happened."
Mr Salmond said one accuser had encouraged at least five other people to exaggerate or make claims against him. The senior Scottish Government official, Woman A, said he sexually assaulted her in Glasgow between June and July 2008.
Mr Salmond denied the claim and added: "Events are being reinterpreted and exaggerated out of all possible proportion."
WEDNESDAY
A businesswoman told jurors she does not recall seeing a complainer, who has accused Mr Salmond of trying to rape her, on the evening the alleged assault was said to have taken place.
The former Scottish Government official, known as Woman H, had said the incident, at Bute House, followed a dinner.
The defence witness, a company director, said she was at the dinner with Mr Salmond and another guest. Asked if Woman H had been there, she replied: "I absolutely have no recollection of seeing (her) on that night."
It was also heard the complainer sent a text saying it "would be great" to work with Mr Salmond again – a year after she alleges he attempted to rape her.
THURSDAY
Mr Salmond's former adviser told a jury he checked up on a woman who was left alone with the former First Minister.
Woman B, a civil servant, claimed he had grabbed and tried to kiss her after they had been discussing his official Christmas card.
Former special adviser Alexander Bell, 54, said he had cleared his throat or "made a noise" before entering the room but had seen "nothing unusual".
Civil servant Aileen Easton told the court she had "no concerns" about her staff working with Mr Salmond during that period.
Ms Easton said she was aware of Woman D showing the accused a photograph of herself in a bikini. Ms Easton said: "I certainly didn't think it was appropriate."
FRIDAY
The jury was addressed by Mr Salmond's lawyer, Gordon Jackson, QC. He said there was not enough evidence to prove him guilty .
He said: "There is something that does not smell right about the whole thing. This has gone far enough and gone on long enough. Too long maybe. It's time, I say to you quite bluntly, to bring it to an end."
The jury was sent out to consider its verdict and told to return tomorrow.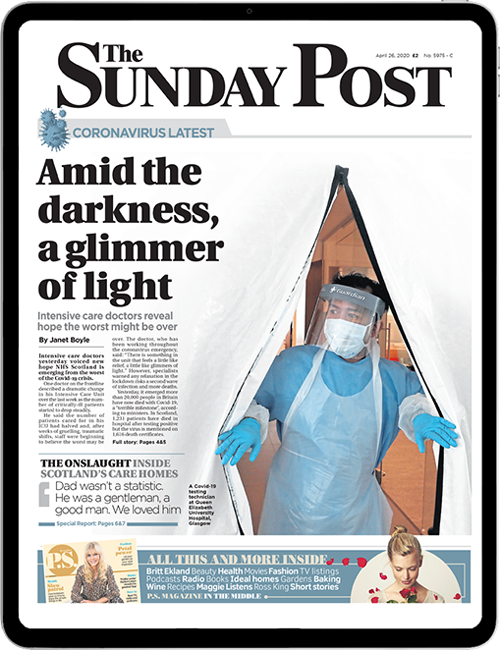 Enjoy the convenience of having The Sunday Post delivered as a digital ePaper straight to your smartphone, tablet or computer.
Subscribe for only £5.49 a month and enjoy all the benefits of the printed paper as a digital replica.
Subscribe