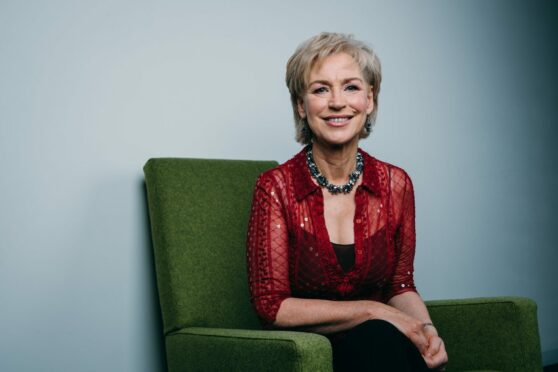 It is a precious moment. Sally Magnusson cuddles up to her long-awaited grandchildren for storytime and, at only two and 18 months, they are captivated. Storytelling – and music – are time-honoured traditions in the Magnusson household.
The BBC news presenter and author – the face of Reporting Scotland – was weaned on the Icelandic sagas translated into English by her father, the late journalist and TV presenter, Mastermind's Magnus Magnusson, and on the yarns of her working-class Rutherglen mother Mamie Baird-Magnusson, a pioneering newspaperwoman and star Sunday Post writer.
Mamie died in 2012 but the stories she told about her own grandmother, Annie McKechnie-Baird, her 1863 eviction from Mull, domestic servitude in Glasgow, and new-found love late in life are, in Magnusson's new novel, woven together with the earlier Highland Clearances of Ross-shire that left the women who resisted beaten and broken.
As she prepared for the launch of the book, Music In The Dark, followed by her appearance at Glasgow's Aye Write festival on May 21, Magnusson, 67, reflected on her own grandmotherhood and juggling commitments, confessing she feared she'd never be blessed with the grandchildren she longed for. "I was almost giving it up," she told The Sunday Post. "I thought that, with five children, somewhere along the line I ought to be getting a grandchild or two.
"Eventually it happened. I have a two-year-old, Wolfie, and Atli (an Icelandic name), 18 months. They are the joys of my life. Every cliché about grandparents you ever heard I subscribe to, including handing them over again. Both are boys. We haven't been very good at girls in our family. I managed one out of five."
Like other grannies Magnusson, who is married to Emmy and Bafta award-winning film-maker Norman Stone, helps with childcare. With one grandchild in London and the other close by her home north of Glasgow, she revealed: "I see him almost every day, which is lovely. I do a lot of looking after him but I don't have specific days for that because I am still working quite hard. I am not in retiring mode so it is adding to life's messy and busy variety."
Advancing years, it seems, hold few fears for the award-winning author and broadcaster. She embraces them. She would like other women to do the same. The new novel, her third – a lyrical tale infused with music and poetry – is testament to that.
Unfolding over a single night in the kitchen of a Rutherglen tenement and, through memory, spanning generations and an ocean, it is a searing and honest but hopeful exploration of female trauma and ageing; one that celebrates the freedoms and possibilities of later life.
In it, fictional Highland heroine Jamesina Ross starts out as an erudite young girl, able to parse a Latin sentence and decline a Latin noun, thanks to the mentoring of Reverend Gustavus Aird, based on the real-life Victorian Free Church minister who supported and campaigned for the beleaguered people of the Strathcarron townships of Glencalvie and Greenyards.
Facially disfigured from the police beatings of the Clearances, Jamesina, once a writer of Gaelic songs and poetry, later finds herself in the tenement, a menopausal washerwoman grieving the agonising loss of the children of her first abusive marriage and reflecting with her new, younger husband on her dashed dreams. "I thought I would make poems about being an inferior race in your own country. I thought I would make songs about women fighting back," she tells him in the novel.
Magnusson, who admits it's her most challenging yet, said: "I wanted to write a book that had an older woman as a protagonist who had been through a difficult life and suffered but was able to find renewed hope and purpose.
"I also wanted her to be going through the menopause and embarrassed about her body not being what it used to be. I wasn't making a huge deal about that but it is something that people are conscious of as they, nowadays, begin to date again and make a relationship later in life. It is different, you can't pretend it's the same way as it was in your 20s and 30s."
'Slowly then suddenly, like Atlantis surfacing, I can see it. I see it all': Writer Chris Dolan on drive to breath life into ghost villages of the Clearances
Reports of the "Massacre of the Rosses" and the Highland Clearances – which her husband years previously had tried, without success, to have made into a film – also came back to her.
Their stories "had been done beautifully by people like Neil Gunn and Iain Crichton Smith" but Magnusson added: "I had never read a Clearance story about the women's role in resisting the evictions. I thought, 'that's my story'. I wound it together with the story of Jamesina – my protagonist – and the subsequent story of my great-grandmother in Glasgow."
The author – mum to grown-up children Jamie, Siggy, Anna Lisa, Magnus and Ross, named in 1991 with a nod to the Rosses of Ross-shire – explained: "Strathcarron became the last great confrontation of the Highland Clearances before the Crofters' Wars of the 1880s.
"The details I use to describe what happened came mostly from the pamphlet, The Massacre Of The Rosses, written by Donald Ross, a campaigning journalist and lawyer at the time. He had been brought up in the area and, as I describe in the book, came up from Glasgow and was able to talk to the doctor and the women of the time and their families and get good eyewitness accounts of what happened."
Ross's account described how "police struck with all their force…not only when knocking down, but after the females were on the ground…They beat and kicked them while lying weltering in their own blood."
He reported 20 carried away "in blankets and litters" with "their heads cut and bruised, their limbs mangled, and their clothes clotted with blood."
Magnusson also travelled to Strathcarron, where she met Alastair McIntyre, the great-grandson of Clearance victim Grace Ross, who inspired the novel's Grace Graham.
She discovered how, until the end of her long life, brave Grace bore a deep dent in her temple from the head injuries she suffered, which she demonstrated by placing a coin in it. Including the detail in the novel, Magnusson recalled: "It's an extraordinary moment when you are in the place and know what happened there. I decided to keep Gustavus Aird's name in the book. He was a real-life hero."
And, although she never knew her great-grandmother, who died around 1930 when Magnusson's mother Mamie was a child, her stories survived. Evicted from a croft and "little black house" near Tobermory when she was 13, she and her sisters were sent on a boat to Glasgow to find work.
"Her mother went to the poor house and her father was dead," said Magnusson. "She found a job in a mansion as a servant and married my great-grandfather, a joiner (who was not like the character in the book).
"They had four boys. Her husband and three of her sons all died of TB, two of them as babies, and Archie – whose name I borrowed for the book – lived until his mid-teens after she tried to save him by moving to Rutherglen, the cleaner-aired settlement. Only my grandfather, John Baird, survived."
She described how her great-gran took in washing to make ends meet and in later life rented out part of her room-and-kitchen flat to a far-travelled younger man, a shoemaker, whom she later married.
"My mother, who came to know this step-grandfather as Papa, never forgot his description of working in a button factory in Newark, USA, or the shoes he made for them all," said the former Songs Of Praise presenter. "I enjoyed transmuting these ideas into the novel but they are all inspired by personal stories.
"Women, their feelings, their sufferings, their work, and contribution to history have all been under-recognised, under-documented, and under-celebrated. What I am trying to do in my own novel writing is bring them to the fore."
And her message to the mature women of today? "You can live again and live again in better ways," she said. "That is a more resilient and realistic hope for older age than thinking it's all about wearing purple. There is something about having lived and having the scars; bearing what you have lived through and not seeking to pretend that hasn't changed you and made you. But it can make you something else as well.
"Everybody brings something of the past into that present. In the book I wanted to say something about making a new present that is more complicated perhaps but that is good and strong and healthy and wise."
---
Music In The Dark is published by Two Roads, out May 11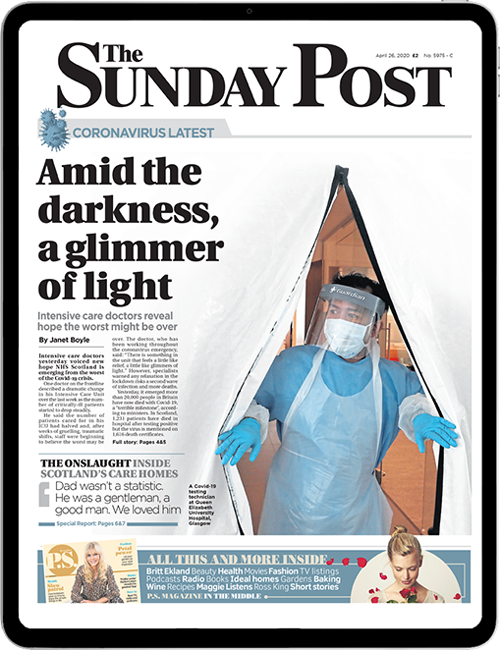 Enjoy the convenience of having The Sunday Post delivered as a digital ePaper straight to your smartphone, tablet or computer.
Subscribe for only £5.49 a month and enjoy all the benefits of the printed paper as a digital replica.
Subscribe