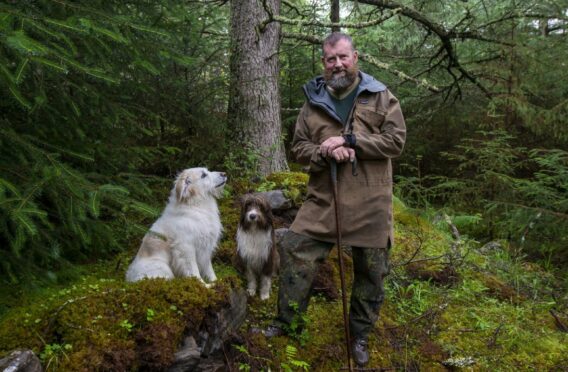 I've driven the Inverness to Ullapool road scores of times. Walked and cycled bits of it. I'd noticed the sign saying Inverlael. Meant nothing to me.
To a city boy's eyes, there's just a couple of fields, a few sheep. Basically rough, rolling moorland, old paths that lead to Munros like Beinn Dearg.
Then I walked the area with Duncan MacKenzie, deer stalker, gamekeeper and skilled storyteller, and a vanished world appeared before my eyes.
"See there," he says, beating back the ferns. "The ground rising on either side of us?" I nod, but I'm not sure I do see. "A few foundation stones are all that are left. We're walking down the main road that ran through Balblair, the biggest township north of Dingwall." Slowly, like Atlantis surfacing, I do begin to see.
He takes me up the hill a little and points out a hollow. "That's the mill – or one of them. The water comes down from up there, the wheel would have been here…" Duncan's like a human CGI programme. A moment ago, I was traipsing through simple heather and gorse, now slowly a whole town emerges. Houses, enclosures. The shielings above us, the road below to Loch Broom where the fishing boats went out to sea. I can almost hear the bustle, the voices, ghosts whose story has been long forgotten. Worse, erased.
Balblair is the tragic story of a Highland Clearance. But the past never really dies. Rigorous local historian he may be, but the sadness in Duncan's voice at what's been lost is clear. And there's anger in his keen eyes. He remembers as a 10 year old his father and grandfather telling him stories of Inverlael and Balblair – Duncan MacKenzie is a direct link with the living past. And he is determined to unearth it. Literally. That determination led eventually to a two-year community project by Ullapool Museum – Lost Inverlael: A'lorg Baile Bhlair. But Duncan had spent years before that on his hands and knees digging in the scrub, sorting stones, asking for and writing down memories, finding clues, putting the jigsaw back together.
An archaeological dig was undertaken by Ullapool Museum and Historic Environment Scotland in 2020, marking the 200th anniversary of the township being cleared. Duncan's hunches, and his family's stories, proved to be spot on.
And now there's the radio audio drama series and podcast Hidden In Plain Sight, a series of snapshots of the township's life, over nigh on a thousand years. Inverlael's story is much more than just its sad end.
That's where I came in. With the help of Duncan, the Ullapool Museum, outstanding historians such as professor Tom Devine and Dr Aonghas MacCoinnich, my job was to try and imagine the lives of ordinary folk and major players in a millennial saga.
Duncan takes me up to the shielings – pastures where young women and children went to look after cattle and livestock. Shieling culture spans centuries, an entire female-led culture, milking and making crowdie, and singing – there are hundreds of beautiful Gaelic shieling songs. So I dreamed up young Helen, dodging her work to compose her own love song for her heartthrob in the town below. It wasn't just dairy products they made up there. Duncan takes me further up the hill. He gets me to put my hand in a hole in the ground. I can feel a smooth hidden stone that's clearly been placed there – and my hand comes out covered in charcoal… this is where they made illicit whisky.
In the podcast we join Grizzel in the shieling, busy making Inverlael's uisge beatha. Distilling was often another female-led industry. Who knew? While we learn about the importance of whisky to Highland culture, Grizzel, sampling her own recipe, learns just how potent home brew can be.
Duncan points across the river. "See the river there? This side was all Munro land. On the other, MacKenzie of Kintail country," she says.
It wasn't all singing and ceilidhs. Duncan's found documents that show how bitter and protracted feuding was in the 1500s. The evidence also proves that there was a lot to fight for. One document catalogues 140 bowls of oats (about 12 tonnes) 30 tonnes of barley, 180 cattle… the list goes on and on. Including reports of numerous murders. For Duncan this is all evidence, not just how viciously the Munro and MacKenzie (Duncan's ancestors) clans fought, but more importantly, of how big the Inverlael community was, even that long ago. "We're looking at what may have been the site of a medieval city," Duncan tells me. "There could have been 1,000 people here and 86 buildings."
For Duncan, the podcast series Hidden in Plain Sight is important. "This story of Inverlael and Balblair is full of drama, so it needs to be told dramatically." With characters being played by David Hayman, Out of Doors' Mark Stephen, singer and poet Lisa MacDonald among others, and the backing of the Audio Content Fund, a thousand years of history is given new life. Not least its brutal end.
In March 1819, 56 families were forced to leave their homes. The following year, the last 21 families were driven out of the glen. Parish records were destroyed. We don't know the fate of so many people.
But, through the painstaking work over recent years, we can put some flesh on a few notable ghosts of the past. David Hayman gives a compelling performance as George Steuart MacKenzie, seventh baronet of Coul, the landlord responsible for the clearance. As writer, my job was to see the world from his point of view. Tom Devine is fascinating on how estates all over Scotland were failing badly.
George didn't think of himself as a villain but a reformer, a modern thinker. But it was his command that spelt the death of Balblair. Those young and strong enough managed to move elsewhere in Scotland or emigrate. But many were reduced to living in hovels on the far barren side of Loch Broom, living off seashells. "The old?" Duncan says. "They died."
Thomas Ross, the minister at Clachan church – still standing – is a conflicted man, torn between what he sees as his duty to God and the knowledge that in the morning his parishioners will be unceremoniously ousted from his parish. The Kirk's role in the Clearances is far from commendable, and played into the conflicts that led to the Great Disruption of 1843. Minister Ross makes his case for his history to be re-written. But, in the end, he did not argue for his flock's protection – indeed, he charged those poor souls who eked out a living across the loch on land he owned.
The men whose job it was to tell people to go, and threaten them with razing their houses if they did not, were Sheriff Officers. We create, from the information we have, one of them going about his dreadful business. He would have known some of these people. And he would know what might well befall them. But knock on their doors he did, evicting them family by family.
In Balblair's case, and across wider Inverlael, there is not as yet any suggestion of resistance. Rather it's a cruel and doleful departure. An entire community, 1,000 years of history, snubbed out and left to rot and – nearly – disappear forever.
Duncan says, walking back down to the busy A835: "We've only scratched the archaeological surface of Inverlael. There is so much more to tell, to discover and to deliver for this community."
It's the land of his forefathers. He, and so many others, are living proof of what Balblair was. They won't let it die.
It has a relevance, too, beyond its own borders. It's one particular story, but there are hundreds like it, across Scotland. Inverlael stands as witness to the terrible tragedy of the Clearances. Money and sheep taking precedence over the lives of people.
---
Hidden in Plain Sight will be on Highland community radio this month and the podcast is available tomorrow at hidden-in-plain-sight.captivate.fm
Chris Dolan is an award-winning writer. He lives in Glasgow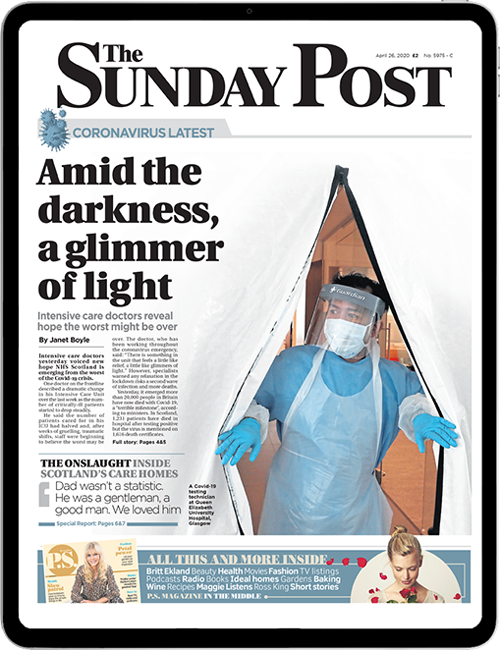 Enjoy the convenience of having The Sunday Post delivered as a digital ePaper straight to your smartphone, tablet or computer.
Subscribe for only £5.49 a month and enjoy all the benefits of the printed paper as a digital replica.
Subscribe