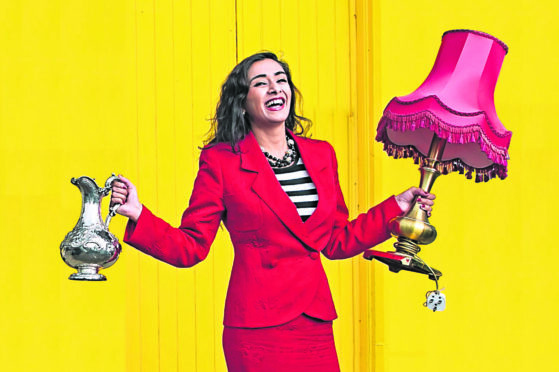 One of Roo Irvine's favourite parts of her new job as a host of daytime TV favourite Bargain Hunt is unpicking the stories behind the hidden gems unearthed by contestants.
But she has her own fascinating tale to tell about how she landed a dream TV career after quitting the rat race to run an antique shop in the village of Kilcreggan on the Clyde in Argyll and Bute.
It was through unfortunate circumstances that she and husband Mark took a leap of faith in becoming antique dealers.
In 2013, the couple both lost their fathers within the space of three weeks and they took a step back from their corporate jobs in marketing and sales to look after their widowed mothers.
Realising they didn't want to go back to their old careers, they turned to a habit they'd picked up furnishing their Victorian home – buying and selling antiques.
"It was a real turning point in our priorities and we walked away from it all," the 42-year-old said. "It's funny how literally in one day, you can change completely with what drives you and where you get your happiness from.
"We went to a couple of conferences to try and get back into things and I just felt it wasn't for me. We left everything behind and it seemed like that was a natural end to that chapter.
"You don't expect a new career to suddenly come out of nowhere, and I see it as the worst day of my life leading to this completely unexpected new shift in direction."
Irvine describes herself as an "old soul" with an enduring love of history, which is why she felt an instant connection to antiques.
With surplus to sell, they turned to eBay and that led to them setting up shop with a couple of shipping containers near their home.
Kilcreggan Antiques would become a waterfront shop and a popular spot with locals, helping the Irvines settle in.
"We started doing it to pay the bills and keep a roof over the head as an interim. We then opened the shop and it just grew from there," Irvine said.
"I'd seen my dad work hard for so many decades being a shop owner, 70-80 hours a week, providing for the family.
"Doing that myself for the first time was something that I never expected. Especially in Asian culture, as new generations come in, that's a world that people are moving away from, getting more into universities and careers.
"Because we had only just moved there, it was a great way to get to know people in a lovely, beautiful Scottish village where everyone knows your name.
"It's really just been so welcoming. You wave to everyone going by, it's almost like something out of Postman Pat!"
It was while behind the counter that TV would come calling. In 2015, when visiting the nearby Hill House in Helensburgh, Antiques Roadtrip's producers called the shop to see if they could arrange a visit for the show.
Irvine warned them it was just a little Aladdin's cave, but that's what they were looking for and suddenly her childhood notions of becoming a TV presenter were about to come to fruition.
She said: "I've done a lot of public speaking before, at conferences around the world. That's never fazed me. But this is a whole different thing.
"I guess when it came, my nerves just kind of disappeared, I felt like I flipped the switch. I just did it and I had the best day.
"They were here for about two or three hours and it was such a lovely hustle and bustle, a real insight into a completely different world. When they left and it all went quiet again, I said: 'Well, that's my five minutes'. It's funny how the story then unfolded."
Irvine clearly made an impression, and was invited back to join the team of experts, undergoing a year of screentests and studying.
On Bargain Hunt, she has just made the step from expert to presenter with her first episodes airing last month on the BBC.
"I'm unbelievably honoured, it's such a blessing," she said. "You come off a three-day shoot with a real spring in your step.
"I think of being the presenter as like the conductor in an orchestra. Everyone has their own musical talents, but you need to bring that all into harmony.
"If you love people, it's the perfect role because you're seeing, meeting and engaging with different people every day from all backgrounds. You almost can't call that work.
"When the director said that's a wrap on my first episode, I actually had tears in my eyes! I started crying out of happiness, because I'd had the best few days. I just couldn't stop the emotion – that's when you know you're giving your all.
"I will never ever forget that feeling, no matter if I'm lucky enough to be doing Bargain Hunt in five, 10 years' time, no matter what else life throws at me."
Natasha Raskin Sharp: 'Barack and Michelle would be great on Bargain Hunt. They would be hard to beat'
Roo's pet subject on Mastermind
Since becoming a regular on Antiques Road Trip and Bargain Hunt, other TV appearances have come Roo Irvine's way.
Now, she is to appear on Richard Osman's House Of Games, having already competed on celebrity editions of Pointless and Mastermind.
The animal lover, who recently welcomed a third "fur baby" to her family of Maine coon cats, answered questions on pedigree breeds, raising thousands for the Blue Cross animal welfare charity.
"I was thrown in at the deep end," she laughed. "My agent asked last summer if there were any game shows I wouldn't do. I said Mastermind as I grew up fearing it!
"It was the chair and the music – that and Doctor Who were the two things that terrified me as a kid.
"A couple of weeks later, I was asked to do it and I thought, when else am I going to get this chance? It's iconic and £3,000 went to charity."
I feared the #BlackChair as a child, yet here I am, being tested on my specialist subject- Pedigree Cat Breeds in that same chair! 😱 Face your fears they say! See how I fare on #Mastermind this Saturday, 6.30pm! The #BlackChair has a presence like no other- stuns the brain! 🤣🙈 pic.twitter.com/2uQPeVH9Fb

— Roo Irvine (@RooIrvine) April 15, 2022
While it was her general knowledge being put to test in the famous black chair, it's Irvine's grasp of antiques and collectables that led to her helming Bargain Hunt, watched by around two million viewers each episode.
"I always say you will never know everything because you're learning about the history of everything ever made," she said. "Every day you're discovering something. It's a fascinating field to be involved in. It's not just the objects but the stories that they tell, which I think can be where the value really lies.
"The rise of the daytime antique shows has broken down boundaries. It's not just the sort of tweed-wearing older generation that can speak about high-brow antiques. I have 10-year-olds come into the shop that are collecting militaria and coins.
"I think Bargain Hunt takes that knowledge and history and breaks it down into bite sized chunks and then just adds in lots of fun and laughter and really good relatability of the contestants. The people that take part could be your friend, it could be a neighbour or it could be the hairdresser down the road."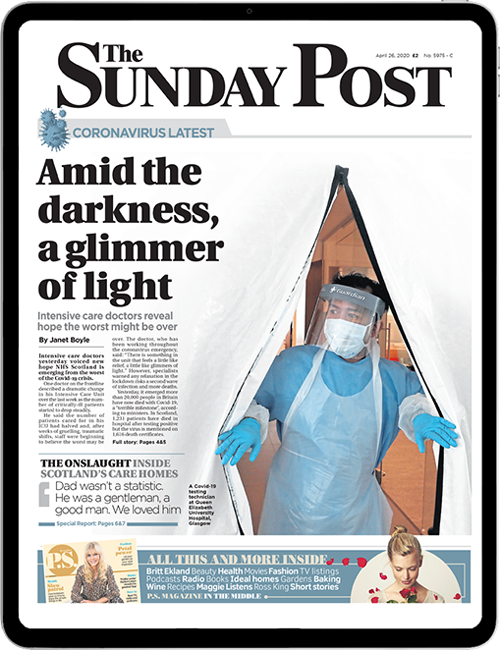 Enjoy the convenience of having The Sunday Post delivered as a digital ePaper straight to your smartphone, tablet or computer.
Subscribe for only £5.49 a month and enjoy all the benefits of the printed paper as a digital replica.
Subscribe