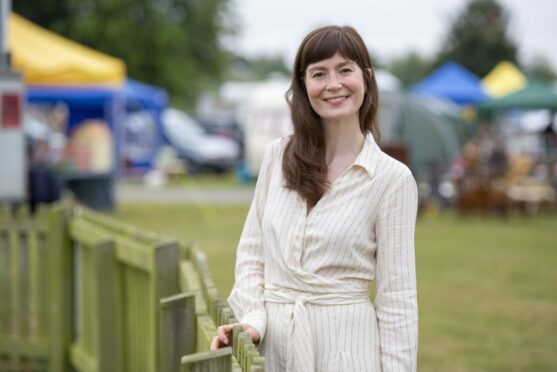 Every day, millions of people tune in at lunchtime to see Red take on Blue as two teams battle it out on Bargain Hunt.
But it was in a different battle between red and blue that the show's presenter, Natasha Raskin Sharp, found one of her most treasured possessions – a letter of reference from Barack Obama.
On a summer internship in 2007, she worked out of New Hampshire on the ultimately successful Democrat campaign to take back control of the White House.
She was fortunate enough to meet the history-making man himself, and wasn't shy in paperclipping his glowing words to her CV when she got home.
"When you're given that sort of resource, you can't waste it," she said. "I used it to get a job in a pub. Do you have any references? Well, does the leader of the free world count?
"I was only there for three months, and he came to Portsmouth, New Hampshire, when I happened to be there. I was so lucky, if you think of the number of states in America, and the number of campaign offices across the whole country which Barack Obama would have visited during that campaign.
"He was asked to sign letterheaded paper when he was there, and it happened to come through the printer with a very generic reference for me.
"I actually think Barack and Michelle would make fantastic Bargain Hunt contestants. They'd be hard to beat. I don't know if I'd put them up against the Bidens or go for a Republican opponent. They'd have to be the blue team, of course."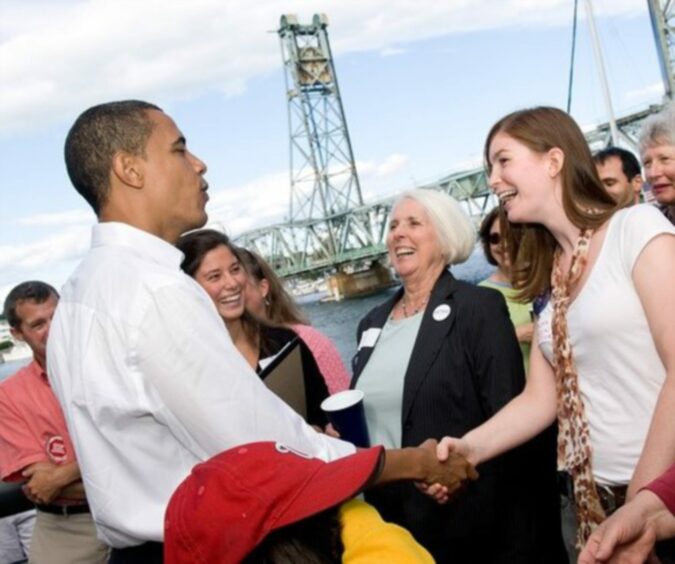 Nowadays Raskin Sharp's CV more than speaks for itself, helming Bargain Hunt, featuring on Antiques Road Trip and Flog It! and hosting a BBC Radio Scotland show on Thursday nights.
Born into a family of art lovers – her father is landscape artist Philip Raskin – she has a history of art degree from Glasgow University and is an auctioneer with a decade's worth of experience on the rostrum, founding her own online house, Exhibit Auctions, during the pandemic.
She made quite an impact on her Bargain Hunt debut as an expert guide to the contestants. Pitted against fellow Scot Paul Laidlaw, she managed to pull off an underdog win on her first attempt.
"It was bananas," she recalled. "I had seen Bargain Hunt a few times but I hadn't sat and watched 20 episodes in anticipation. I was really delighted to be asked and presumed that I would never be back again.
"I should have been even more nervous than I was, given Paul's reputation and his ability to make huge sums of money. Basically he was unrivalled, or certainly was at that point.
"I don't think that he was expecting much competition so we were all quite surprised when I came out on top! I don't remember that first batch being a winning streak but I certainly remember that one because I think crew, contestants, everyone said, 'Oh, wow!' If I remember correctly, it wasn't even an antique that helped us, it was a sort of late 20th Century plough. I think that was just a stroke of luck.
"Everybody was so lovely. The crew, a lot of whom I'm still working with now, were so welcoming and had a great ability to make me relax in front of the camera."
Bargain Hunt's Natasha Raskin Sharp on holding the first ever fine art auction at iconic Glasgow market The Barras
Raskin Sharp is now more than used to the camera, having been promoted in 2015 to a rotating presenter role.
"It took me a few years to properly relax," she admitted. "The fact that I even get called a daytime presenter is hilarious to me. I never for a second imagined or had the audacity to think that's what I would end up doing with my life.
"After trying out for the presenter role, I was completely astonished when the executive producer phoned me to say I'd been chosen. I was sitting in the back of a taxi and I could hardly hear because the traffic was so loud, saying, 'Are you serious? Are you for real?' I really was taken aback.
"I grabbed it with both hands because you never know when an opportunity like that is going to arise again. It's not the kind of thing you're going to turn down but it's also not the kind of thing you take lightly. It's a huge responsibility.  I continue to be so grateful for the vote of confidence.
"It's just a fun workplace, if you can call it that. And I really love being a part of it. I never come home from a Bargain Hunt shoot with anything other than a big smile on my face."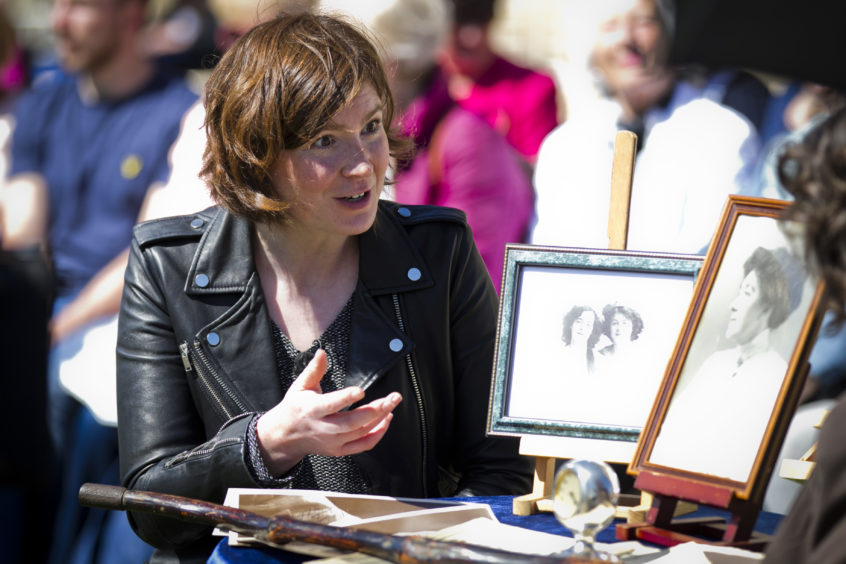 Raskin Sharp's success story is replicated across a growing number of factual programmes, such as The Repair Shop, with an increasing number of specialists in niche fields finding themselves elevated into TV stars.
"There are loads of people like me out there who just happen to have discovered that they are decent talking down a lens or speaking to somebody else on camera," Raskin Sharp said.
"We are all a bit of a strange breed but increasingly it's less and less strange, because people are plucked from all sorts of different walks of life in all sorts of different industries.
"You never know what kind of programme is going to be made next. If it happens to be one that revolves around your industry, you can be doing what I'm doing in 10 minutes time, so get ready!"
Raskin Sharp was honoured to be asked to write the foreword for the first Bargain Hunt book – a handbook on how to spot diamonds in the rough.
"You could ask 20 different viewers why they love the programme and you would receive 20 different answers," she said of the show, a fixture of the TV schedules since 2000. "It's like a lot of the game shows that we see on television, the idea that you can play at home, and then you can actually apply to do it for real.
"There are people who appear on the programme and you chat with them and they say they've been meaning to apply for 15 years. It's so lovely to think that a little bit of magic occurred one day when they watched an episode and they decided to finally apply.
"The idea that you can go and have your moment in your fleece is quite appealing. Plus, you do get to take it home.
"On some programmes you win a trophy. On some programmes you win a title. On Bargain Hunt, you go home with a lovely bit of kit!"
Just go for it: Presenter reveals how to become a real-life Bargain Hunter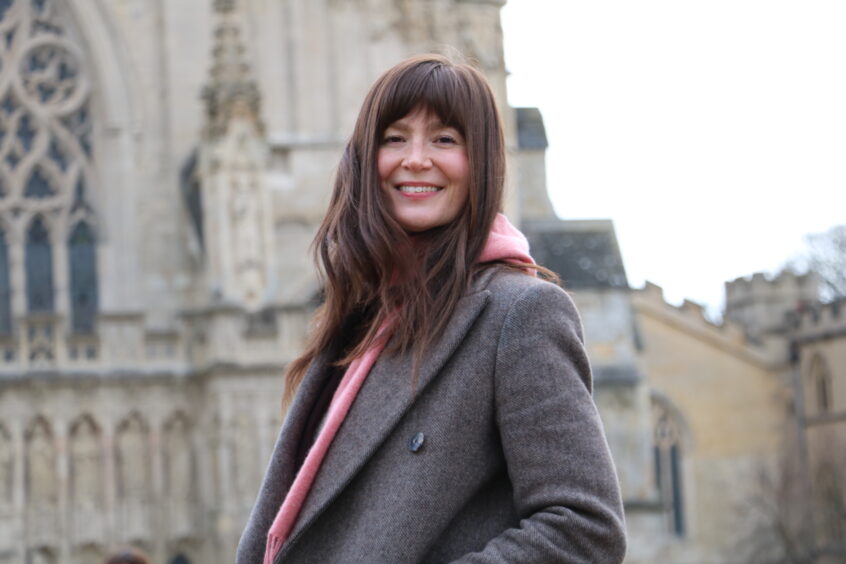 Natasha Raskin Sharp's advice for aspiring Bargain Hunters? Make a day out of it.
The arts and antiquities expert recommends heading to a town with plenty of antiques shops and taking in a selection of them before buying anything.
She said: "If you're just going in to make a regular purchase, something you might want for the house or a gift for the person who has everything, take note of the things you like, make a bit of a top five and make your final decision before parting with your cash.
"There's something quite fun about that. If you've got £40 set aside that you want to spend in an antiques shop, it's quite nice to really see what's out there and make sure you buy an item you're going to covet or if you're gifting it that the person will absolutely love.
"It's a lovely thing to do but any time I've done it with friends, no snap decisions are made. You really want to think about it. Contrary to that, some people turn up and buy an item within two minutes. There are different ways to play it.
"The majority of people who are popping along to an antique shop on a Sunday afternoon are not going to resell the item they purchase. If you're buying with resale in mind, then that involves quite a lot of research on current prices, trends, what sells well, what surprises auctioneers."
When out and about at fairs, or even while doing her shopping, Raskin Sharp often gets asked for advice from people interested in working in the field.
She said: "I always just say, jump right in with both feet, because it's such a great world to enter into. It provides so many different opportunities.
"You can start off at the shipping department and end up on the rostrum within a year. And there are very few industries in which you can make a leap like that. The auction world in general is one that opens doors."
She has also found that working in auctioneering is a "lovely lesson in letting go".
She said: "When you work in an auction house, you're only the custodian of the items in your care for a short period of time. If you're in charge of, like I was, the pictures department, you are given a beautiful painting, you fall in love with it, you catalogue it, you research it, you place the estimate, you hang it, you display it, you sell it to potential bidders at the viewing, and then if you're lucky enough to be an auctioneer as well, you can go on the rostrum and sell it.
"You've really seen that item go from A to Z from it crossing the threshold to the second the hammer goes down.
"If you fall in love with an item, nine times out of 10 in the world when you have the means and fall in love with something you buy it. But in this case, you're selling it to someone else."
Fascinating tales of everyday objects: Author on the winning formula that has kept viewers tuning in for two decades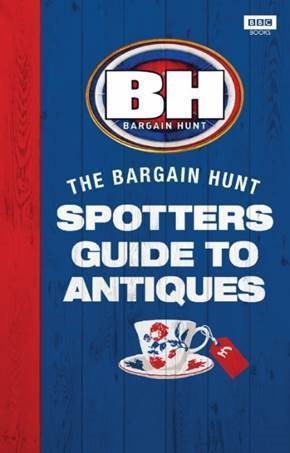 Drawing in around two million viewers per episode, Bargain Hunt has only grown in popularity since hitting our screens in 2000.
With more people looking to dive into the world of antiques in a bid to find hidden treasures, the first book tie-in will be released next month.
The Bargain Hunt Spotter's Guide To Antiques is packed with essential info from the experts, showing how to identify quality across a range of antiques.
From makers' marks and tell-tale historical styles to details in foils and finials, it is a one-stop guide to making good choices – and avoiding big losses. Author Karen Farrington said: "It's a handbook for viewers to assist them if they take their interest outside their lounge and into collectors' fairs."
In researching the book, she got to see the experts, including Ben Cooper, Catherine Southon and Danny Sebastian, at work first-hand.
"The thing that really impressed me when I went to watch a show being filmed was their expertise," she said. "Each fair or show that they visit to make their purchases has ranks and ranks of items.
"It doesn't matter which one you pick, the experts will know something of its history and worth. That's mind-blowing. They carry that around in their heads the whole time."
Farrington believes it's that expert knowledge, plus the fascinating tales behind some of the objects, that keeps viewers tuning in.
"It's so compelling, every show is so different in content. You feel enriched for having watched each episode," she said. "It really does feel as if it's pushing the boundaries of knowledge about everyday items.
"The experts have their varied fields of expertise but also very different personalities. You feel as if you get to know each of them by the way they present themselves to the audience and the contestants. It makes you feel like you'd want to go round an antiques fair with them."
Farrington particularly enjoys the social history elements of the show, including the mystery object segment where contestants try to guess what an item would have been used for.
"I find it fascinating that there are everyday objects that have fallen out of use and that are hard to identify," she said. "A good example of this was a glass that was very shallow and flat, that you could hold, which was in fact identified as a penny lick.
"Before the dangers of  tuberculosis were known, ice cream sellers would put a penny's worth of ice cream in and people would lick them and give those glasses back.
"We don't know how well they were washed, and out they went with the next lot of ice cream on!"
---
Bargain Hunt: The Spotter's Guide To Antiques, BBC Books, £16.99, will be published on Thursday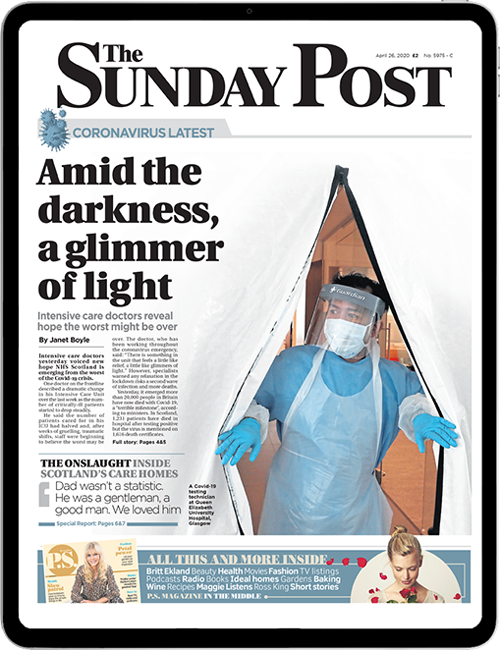 Enjoy the convenience of having The Sunday Post delivered as a digital ePaper straight to your smartphone, tablet or computer.
Subscribe for only £5.49 a month and enjoy all the benefits of the printed paper as a digital replica.
Subscribe