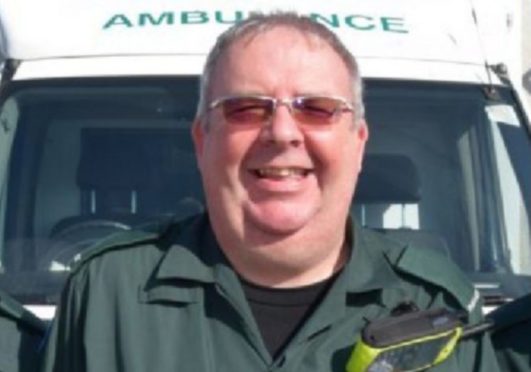 A paramedic whose death stopped Campbeltown in silence has been honoured in a new novel celebrating his hometown by a best-selling author who shares it.
People lined the streets of the Kintyre port for the funeral for Robert Black, 51, a husband, father, paramedic and musician, after his death from Covid in May.
Now crime writer Denzil Meyrick has dedicated a book celebrating the community to Mr Black, his friend since growing up in Campbeltown.
The novella A Large Measure of Snow, set in the 1960s, is a Para Handy-style tale celebrating the bygone boats and banter of the busy fishing port.
Mr Black was well known and loved for his dedication to the Scottish Ambulance Service and to the local music scene. His death shocked the town where – to show respect and support of his widow Catherine and their grown-up children Lorna and Andrew – people lined the streets as his funeral cortege passed.
Denzil, 54, best-selling author of the DCI Daley detective series, grew up in Campbeltown – the inspiration for the town of Kinloch in his books – and knew Mr Black from childhood.
He said: "I watched and I wept buckets. Robert was very out­going and played in bands. He was a couple of years younger than me, but I knew him as a kid. As an adult, his late father Danny was a highly valued, senior member of staff in the Davaar Bar I once owned. I knew the family well.
"Robert was a man most ­people would have known. His death drew the community together. On the day of his funeral the whole town, no matter whether they were on the route of the cortege or not, stood outside, socially distanced, with their heads bowed. It was a phenomenal show of respect. I don't know anywhere else in the world that would happen these days. It was such a tragedy but so touching to see.
"Campbeltown means a great deal to me. The Kintyre Community Resilience Group, who also paid tribute to Robert, has been great in this crisis. It was formed by volunteers and without government aid. They had a food bank, and there was not one household in need on the whole of the Kintyre peninsula. It was an amazing feat and it just shows how the community spirit still does exist. They did it for themselves – from the elderly right through to children, every age was participating. It was a joy to witness.
"And it fitted with this book," said Denzil, who has family in London who have also fallen ill from the virus. "I hope the novella is a wee antidote, an escape for people who have been impacted."
Part of a new series, titled Tales From Kinloch, it is a surprising break from crime and one that travels back in time to visit some of the characters from the popular DCI Daley detective novels in their younger days, like fishing boat skipper Sandy Hoynes and his first mate Hamish.
Brimming with bonhomie, bristling with banter and laced with a healthy dose of fantasy – Denzil believes it has universal appeal and could be a beacon of light to pierce the pandemic-induced gloom.
Hollywood appears to agree. The author revealed: "There is already interest from a large Hollywood producer for A Large Measure of Snow, but I can't say more at this stage.
"I wanted to do something a wee bit different. We had a Sandy Hoynes short story before, and I said I would love to do something like that if we could put it in hardback as a Christmas package. The publisher agreed. And then the world fell apart – Covid happened."
Setting the book in 1967 gave the author a chance to relive his childhood in Campbeltown. He smiled: "My mum used to go shopping every day; this was before the days of the big shop. In the centre of Campbeltown there was a butcher, a baker, a candlestick maker, and she'd get her butcher meat, and her bread.
"Then we always used to walk round the harbour and pier to see what was going on. I remember those days – the smells, the boats and the sea. Back then, Campbeltown was a bustling wee harbour in a way it's not now since the demise of the fishing industry generally. It was great to be able to think back to that time. It was very nostalgic."
The man most at home with murder and mayhem is happy to have made a detour to the light side. He could not have known of its magnitude when he first mooted the move in March. But he admitted: "I'm glad we did it. It just felt right when I'd written it and it still feels right. Who needs another murder story right now?"
---
A Large Measure Of Snow, by Denzil Meyrick is out now from Polygon
1
Subscribe for only £5.49 a month and enjoy all the benefits of the printed paper as a digital replica.
Subscribe