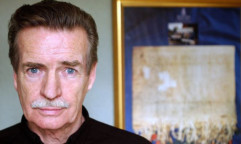 WE all love a good crime novel especially in Scotland.
Sales of the genre have rocketed in recent years and an ever-growing batch of home-grown authors is revelling in the murder, mystery and menace of it all.
In 2012, the first Bloody Scotland festival was held in Stirling, celebrating all things crime fiction.
Each year it has grown and this year is the biggest yet, as bestselling authors from around the world and the best Tartan Noir writers gather in the city for a star-studded weekend, September 11-13.
We spoke to 10 of the biggest names who will be appearing at the festival.
We found out about their writing inspirations and asked them to name their own favourite authors and the stories that scare even these seasoned purveyors of peril.
Val McDermid
Fife author of more than 30 novels, including the Tony Hill series.
Which book changed your life?
Robert Louis Stevenson's Treasure Island. It's a book that has everything great characters, thrilling adventure, an exotic setting and good writing. I'd love to be able to write something like that one day. Stevenson has such an astonishing range.
Scariest book you've read?
After I read Denise Mina's novel Resolution, I woke up screaming. I'm not sure why, although it's a dark and disturbing journey into some very uncomfortable places.
Christopher Brookmyre
Award-winning Glasgow author of Quite Ugly One Morning.
Scariest book you've read?
The Mermaid Singing by Val McDermid. She's one of the most terrifying writers when she puts her mind to it. There's no hiding place and she takes you where you don't want to go as a reader. There's an early scene where she describes a visit to a museum of torture in Italy and it sets the tone.
Who is your favourite author?
Iain Banks, especially because he was like a two-for-one thanks to his sci-fi novels. I found him very inspiring in my adolescent years and he continued to inspire me, whereas some authors can only do that for a little while.
Denise Mina
Author of the Paddy Meehan novels, filmed for the BBC as Field Of Blood.
Which book changed your life?
The Master And Margarita by Mikhail Bulgakov. I inadvertently went on a girls-gone-wild holiday, thinking we were going to look at Corfu churches, and a friend had brought this book. I didn't read much at the time, but spent the fortnight on the roof and got the best suntan of my life! I still re-read it and feel sick at the thought of warm peach juice on a hot day.
Which book inspired you to become an author?
Charles Dickens' A Tale Of Two Cities. The end was so exciting my heart was racing.
Ann Cleeves
Writer behind hit television series Vera and Shetland.
Which book changed your life?
Perhaps the one that taught me the emotional impact of fiction was the Oscar Wilde children's story, The Selfish Giant. My dad read it to me when I was very young and I cried my eyes out!
Which book inspired you to become an author?
I loved Golden Age detective fiction, particularly Dorothy Sayers and Margery Allingham. As an undergraduate I got a bit snooty about crime fiction but those were the books that turned me into a published writer, and now I'm hooked on the genre in all its forms.
William McIlvanney
Godfather of Tartan Noir with the Laidlaw series.
Which book changed your life?
It would have to be the Works of Shakespeare. Shakespeare made me appreciate what writing can do and how far it can help you understand your own experience. He teaches us how to live and tells you what it means to be human. I always say, if you had his works with you on a desert island, you could live a full life by proxy.
Which book inspired you to become an author?
When I was 17, I'd been writing a bit but things changed when I read William Saroyan. He described his style of writing as "the jump in the river". He has a way of writing about ordinary life that really started me writing more seriously.
Martina Cole
Sold 14 million books and had four adapted for TV.
Which book changed your life?
Graham Greene's Brighton Rock. I felt a terrible sadness for Pinky because I felt he must have had a lot of things go wrong to turn him into the man he became. I would love to have discussed his childhood with Greene.
Scariest book you've read?
Probably 1984 and what's scarier is a lot of what Orwell said is now part and parcel of everyday life! I'm a big horror reader and Stephen King's Pet Sematary put the fear of Christ up me when the cat came back! I was a big James Herbert fan too.
Linwood Barclay
Canadian bestseller was the Richard and Judy 2008 Summer Read winner with No Time For Goodbye.
Which book changed your life?
The Goodbye Look by Ross Macdonald. I found it on a twirling metal paperback rack at a grocery store in 1970, when I was 15. It was the first of his Lew Archer novels I'd read and it had a profound effect on me. Macdonald used the conventions of the mystery novel to tackle big ideas family dysfunction, corruption of wealth, environmentalism.
What's the scariest book you've read?
Stephen King's Pet Sematary. That book hits you right where you live. Still the scariest book I've read, and the scariest one he's ever written.
Craig Robertson
Former Sunday Post journalist whose first novel, Random, was shortlisted for the 2010 CWA New Blood Dagger.
Which book changed your life?
Kidnapped by Robert Louis Stevenson was the book that sold me on reading. I was swept up in it from the first page to the last. Like most kids, I was David Balfour, charging through the heather at the side of Allan Breck Stewart.
Who is your favourite author?
William McIlvanney has an uncanny talent for writing novels that are both gritty and poetic. He's documented 20th Century working class Scotland in a way no one else has come close to. He also kicked off modern Scottish crime writing and many of us are grateful for that.
Alanna Knight
Author of 60 books, recently awarded an MBE for services to literature.
Who inspired you to become an author?
Robert Louis Stevenson was my all-time inspiration and role model (and still is!) For crime, it would have to be Agatha Christie and Sherlock Holmes.
Scariest book you've read?
I tend to avoid scary books or films and have a rule never to read or watch horrors or thrillers late at night or sleep will be impossible. Exceptions are Linwood Barclay and anything by Stephen King, particularly Misery a must for any writer.
Peter May
Former Take The High Road writer and author of The Lewis Trilogy.
Which book inspired you to become an author?
My parents had a bookcase containing books with strange titles like The Case Of The
Black-Eyed Blonde and writers with weird names like Aldous Huxley and Lewis Grassic Gibbon. One day I started reading them and never looked back, and shortly after began writing to try to emulate them.
Scariest book you've read?
11/22/63, by Stephen King, had a huge impact on me. It explored the impossible conflicts of time travel and the consequences of trying to alter the past. It's a wonderfully evocative and thought-provoking book.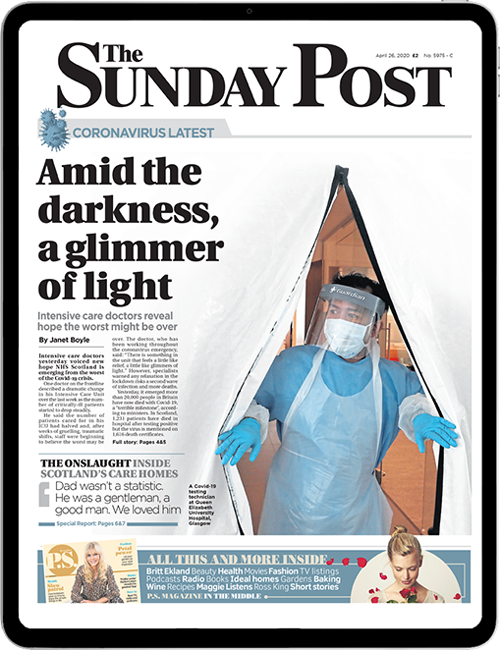 Enjoy the convenience of having The Sunday Post delivered as a digital ePaper straight to your smartphone, tablet or computer.
Subscribe for only £5.49 a month and enjoy all the benefits of the printed paper as a digital replica.
Subscribe