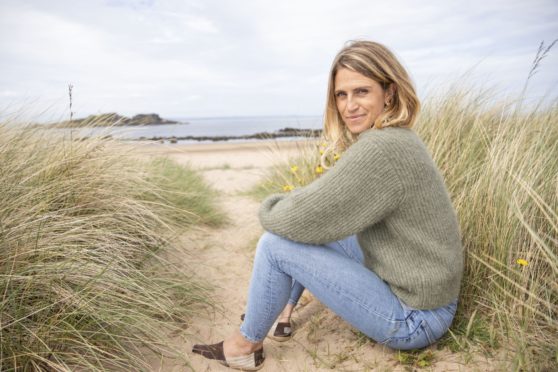 Best-selling children's author Abi Elphinstone accepts she doesn't do things by halves.
The writer – hailed by critics as a successor to CS Lewis – planned the first book in her series The Unmapped Chronicles as she lay pregnant in hospital for months with a condition that put at risk both her and her son Arlo, now three.
The fourth and latest in the series was written in the weeks after giving birth to her second son Flint, while at the same time juggling a mid-pandemic move from London back to her beloved native Scotland.
But, now safely ensconced in her new home on the southern shore of the Firth of Forth, the mum-of-two has at last found a sense of equilibrium in the surroundings that have inspired her fantasy novels.
From the window of her new home, she can watch the waves pound Fidra Lighthouse. The North Sea beyond is home to humpback whales, basking sharks and white-beaked dolphins.
Elphinstone – who describes the spectacular natural rock arch at Fidra Island as "a portal to another world" – tells P.S. what brought her to this point.
"I kicked off lockdown rather ambitiously by having a second baby," she reveals. "We were living in central London, near the A40, one of the most polluted roads. I have bad asthma, and my first son was born prematurely, so his lungs were not great at the beginning. One of the reasons we wanted to leave was clean air. Having grown up in Scotland I know how clean the air is here.
"I had my baby on April 3. It was smack-bang in the middle of when things were reaching peak levels. After giving birth, I think we were all worried there would simply be no doctors, or no one would want to touch us because of infection concerns. It was a very frightening.
"The fear of the unknown was the worst, but the midwives were lovely – so full of joy and positivity – and it was a lovely experience in the end. Everything went smoothly and we came home after a night or two."
She adds, laughing: "I was in hospital for four months with my first baby. With the second, there was a global pandemic. If we try for the third what will happen then? An apocalypse?"
Tragically, Elphinstone lost three babies before becoming pregnant with Arlo. She was admitted to hospital in the months before his birth after developing placenta previa, a condition that can claim the lives of both mother and baby. She also battled pneumonia and pleurisy.
The author, 36, whose husband Edo, works in finance, says: "When I was in hospital with Arlo for four months I decided to write a book and everyone said 'how can you concentrate?'. But in times of despair, or when the world around us seems to be going to pot because of Covid, if you can build something it is enormously empowering."
The need to write was equally important second time round. "The only time I had was at three in the morning when I was breastfeeding," she reveals. "Usually, at that time of night, you might put on Netflix, or scroll through your phone but I thought, 'how about if I re-harness and re-invent this time so it is creative'. It was an uplifting and powerful thing. Just using the notes section of my mobile phone, night by night I would write a couple more sentences."
In those first six months of little Flint's life, she wrote The Frost Goblin, a 10,000-word picture book for four to six-year-olds (out next year). Then, in September, she took to her desk to pen The Crackledawn Dragon, a novel for eight to 12-year-olds.
But juggling a nursing baby with work and a bored toddler in lockdown wasn't smooth sailing. She laughs: "There was one time when I was trying to make playdough with one hand for my toddler on Zoom with his nursery pals, while breastfeeding my newborn and trying to keep my boobs off camera."
The former World Book Day author wanted to write a book that would not only lift her young readers' spirits but also help them make sense of the unsettling events turning the world upside down.
She said: "I wrote in lockdown to lift my readers out of the pandemic gloom and doom and to make kids giggle. There are a lot of funny names in The Crackledawn Dragon, like the mermaid called Perpetual Faff, who is hopelessly disorganised, permanently flustered and constantly losing important things inside her 'guzzlebag', which swallows almost everything she puts inside. I feel like Perpetual Faff most days; leaving the house with two small kids is a military operation."
She continued: "It's an adventure in a sea kingdom filled with magical beasts that transports you to another place. But it is also a story about a young boy, Zeb, falling back in love with the world he thought he had given up on.
"I felt a little like that. It was easy to become unenamoured with the world, with the politicians running it, and to have a real feeling of despondency and fear. I wanted to write a story that said ultimately the world can be a frightening place, but it's a good place, and there is more joy and wonder than fear, and more good people than bad.
"A lot of it was written while I was looking out over the North Sea, where I knew there are humpback whales, white-beaked dolphin and basking sharks. I took all of these creatures and gave them a twist. So basking sharks became ghost sharks, the dolphins became multicoloured dolphins, and the humpbacked whales were silver whales.
"Watching the waves crash against Fidra lighthouse near Yellowcraig beach, is inspirational. Robert Louis Stevenson used to holiday here and based his map for Treasure Island on Fidra. It has an archway of rock and, through it, you can see the sky and the land beyond. I always think it is like a portal to another world. I want to write a book about that one day, but elements of it found their way into The Crackledawn Dragon."
One of five children, including a step brother, Elphinstone grew up near Edzell in Angus, where weekends were spent building dens in the woods and running wild across Highland glens. School was tricky for the dyslexia sufferer, but she went on to graduate with an English degree from Bristol University. She spent several years as an English teacher in Africa, Berkshire and London, where she met her husband, but Scotland was always home.
She said: "Life in East Lothian is great. I feel like I can be the mother I want to be and the writer I want to be, here in Scotland. Kids thrive on just simple space and good countryside air. I find it just a bit easier opening the garden door here and letting my kids out to burn off their energy. It is a very beautiful and easy place to live."
Elphinstone, who spent a snowy Christmas in Aberdeenshire with her in-laws – her husband and their boys all sporting kilts – admits the return has been the antidote to the pessimism sparked by the pandemic.
She explained: "The restorative power of the sea and the endless silencing snow in a winter that went on and on – it was so beautiful, the stillness and the quiet. I had never seen snow on the beach before."
She reveals her next book is one of the most exciting yet. But she's sworn to secrecy: "I can't say what it is – but I've been asked by publishers Penguin to write the sequel to one of the best-known children's books in the world. It has links with Scotland and is going to be such an honour to do."
She smiles: "I am a writer, first and foremost, because the wilds of Scotland made me one. Its moors, glens and rivers became the fictional worlds in my books.
"To return to Scotland fills me with excitement for the wonders my little boys might discover here and the inspiration for my own writing. Living alongside castle ruins, crashing waves and secret coves, is like living in an Enid Blyton novel; we're on the doorstep of adventure every single day."
---
The Crackledawn Dragon (The Unmapped Chronicles) by Abi Elphinstone is published by Simon and Schuster Children's UK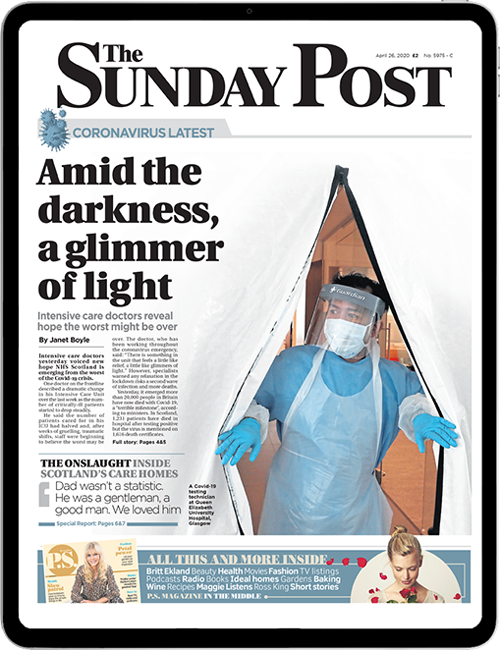 Enjoy the convenience of having The Sunday Post delivered as a digital ePaper straight to your smartphone, tablet or computer.
Subscribe for only £5.49 a month and enjoy all the benefits of the printed paper as a digital replica.
Subscribe