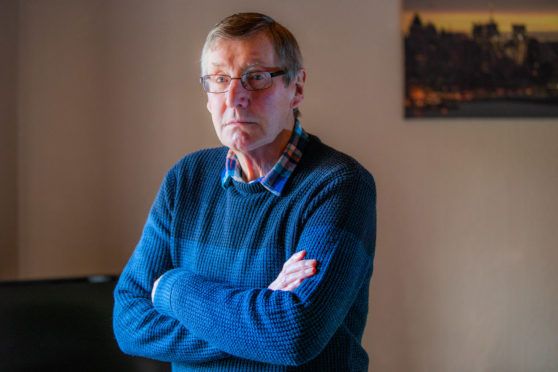 A distressed couple want to warn others after being conned out of £25,000 in a telephone banking scam.
Pensioner Brian Cox, from Luncarty, Perthshire, unwittingly transferred the cash to a crook after receiving what he thought was a genuine call from his bank.
The 71-year-old was duped out of the money after taking a call from a man whom he was convinced was from the Bank of Scotland.
"I was just two weeks out from having a triple heart bypass and I just wasn't thinking straight," said Brian. "The man said he was from our bank and told me that someone had used my debit card to take money from my account in a suspicious transaction.
"He was very convincing and advised that to stop this from happening again I should transfer my money into a new account which would still be under my name.
"Foolishly, I went ahead and moved £25,000 that my wife and I had in our account."
Brian contacted the bank and police immediately afterwards, realising what had happened – but by then the couple's money was gone.
"We were devastated as it was a big chunk of our life savings," he said.
Brian and his wife Patricia had become victims of an authorised push payment fraud (APP). This occurs when someone authorises a bank transfer into an account which they believe is controlled by a legitimate payee, but actually belongs to a fraudster.
The amount of money stolen by criminals through bank transfer scams rose by 40% last year and is running at more than £1m a day, according to official UK data.
But banks are not obliged to refund victims as they can claim the customer is responsible.
MPs have called on the UK Government and regulators to force banks to better protect customers from the risk of APP fraud, including through more effective data sharing within the industry.
They have also recommended that an existing voluntary code introduced by the banking industry last summer regarding reimbursement for APP fraud, is made mandatory for firms.
Brian and Patricia have been fighting since last September to be compensated for the loss.
Within minutes of Brian making the bogus transfer, the cash had been moved to an account in Yorkshire controlled by criminals. The Bank of Scotland was able to recover £5,000 and West Yorkshire Police worked with Police Scotland to rescue another £7,000 which the couple is waiting to have returned.
The couple will still be £13,000 out of pocket and Brian is "gutted" that his bank has declined to reimburse him any of the missing cash.
"They said that basically it was all my own fault," said Brian. "I have been a customer for more than 40 years and I feel that I have been let down."
The Bank of Scotland said it had a "great deal of sympathy" for Brian but no compensation would be forthcoming.
The company said: "We fully appreciate that this has been a very distressing and upsetting experience.
"We review each case individually and any decision to not refund a customer is never taken lightly.
"Sadly, in this case our customer did not take appropriate steps to verify that the cold-caller was genuine, and made payments to the fraudsters from within his own secure internet banking account.
"We also provided clear and relevant warnings about the risk of this being a scam, however he chose to proceed with the transactions. Once notified of the scam, we contacted the receiving bank to check if any of the money he lost could be reclaimed.
"We were able to recover a portion of the funds which we returned to our customer's account."
West Yorkshire Police confirmed an allegation of fraudulent activity was received in September last year. The force said: "The victim in the case is from Scotland but it is alleged the fraudulent activity took place in West Yorkshire.
"Officers from West Yorkshire Police and Police Scotland worked together to allow over £12,000 to be given back to the victim.
"Some of that money has already been returned to the victim and some of it is due to be returned.
"Inquiries remain ongoing into the incident and no arrests have currently been made."
Brian has now lodged a complaint with the Ombudsman in a bid to win compensation from the bank.
"I want to warn others, especially the elderly, to beware of speaking to anyone on the phone who says they are from their bank," he said.
"The whole experience has been sickening."