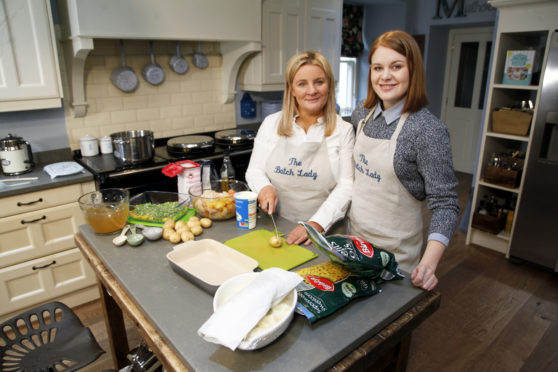 Every night, straight after the school run, Suzanne Mulholland's family sit down to a meal whipped straight from the freezer.
But Suzanne doesn't simply pop out to her nearest supermarket to stock up on chicken curry, spaghetti Bolognese, fish pie and sausage casserole ready meals – every one of the 60-plus dishes in her larder has been lovingly home-made.
Better known by her online persona, The Batch Lady, Suzanne films cooking tutorials for YouTube, Instagram and Facebook, and in less than three years has amassed almost 100,000 fans, who swear by her simple yet effective methods for preparing fresh, home-cooked meals in a hurry. Now, with many of us staying home in self-isolation during the coronavirus pandemic, Suzanne says her recipes can help more families use up ingredients they already have at home, avoiding panic buying while also stocking up for emergencies.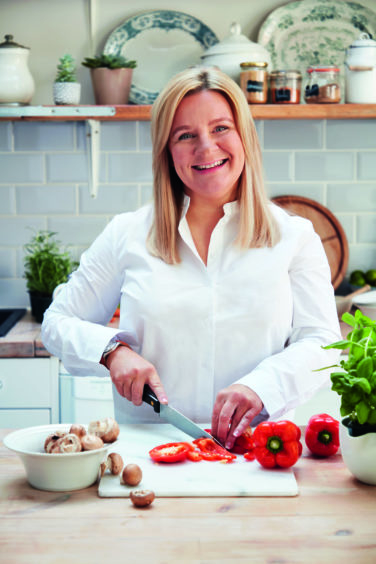 She said: "With a bit of forward planning before you head to the shops, you can get organised and buy products that will last in your store cupboard or in the freezer.
"Getting a few home-made meals in the freezer will also help if you end up having to self-isolate, and one-pot meals, with all the veg already added, can be a perfect way to feed everyone a good nutritious meal without worrying about all the small ingredients you would usually have had to go to the shops to buy."
Working from her kitchen in the Scottish Borders, Suzanne started vlogging as a way to share her time-saving skills with friends and family, but her "shop once, cook once, eat well all week" method soon turned into a full-time career.
"I've always cooked like this and time-management has always been the thing I'm passionate about," explained the 44-year-old, who lives with her family on their 3,000-acre farm.
"I have a degree in management studies from the University of Aberdeen, so I always loved looking at how you could do things in a smaller amount of time. When I stopped working to have my kids I felt a bit like it was Groundhog Day – I was doing the same stuff every single day, and it all took so much time.
"And even if you love cooking – I quite enjoy cooking, but I don't love it – when you have to do it every single night it can become so boring and monotonous. So, I decided to take my time management background and shove it into being a mummy, finding out how I could use those skills for running a household, cooking and cleaning, and looking after the kids.
"I would say I've been batch cooking for about 12 years now. At school, when I dropped the kids off, the other mums always kept asking if I would show them how I stayed so organised – like most people, at three o'clock in the afternoon they were always thinking about what they could cook for tea, and making a run to the local Co-op in a panic. Then a friend of mine, who had cancer, was raising some money for Breast Cancer Research so I offered to do a demonstration of my batch cooking for 20 mums. They came to my kitchen and I did a tutorial on how to cook 10 meals in an hour. When I was done they all said, 'You need to put this on YouTube and Facebook, we need this in our lives'.
"I started doing a video a week and it's just taken off from there. It's really grown arms and legs!"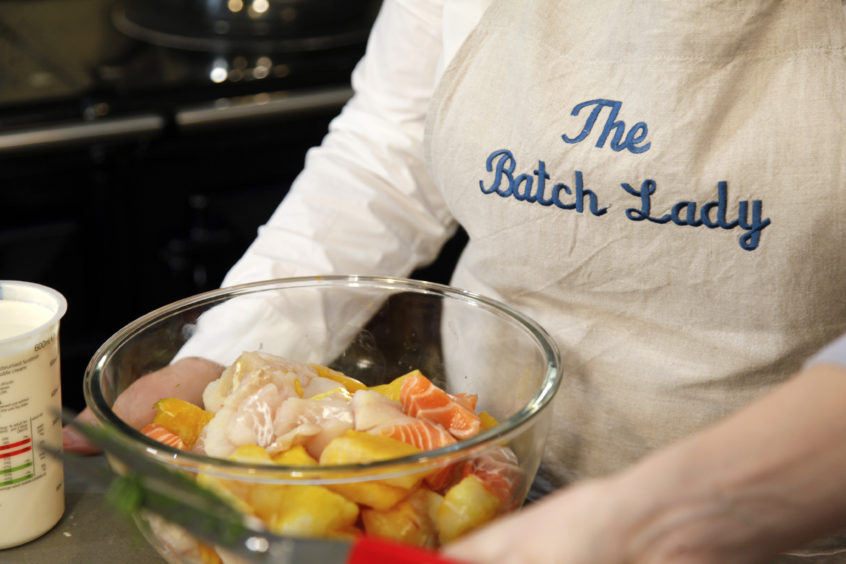 Suzanne posted her first video in 2017 and now, thousands of followers later, her first cookbook has come out in hardback, detailing how just one hour of batch cooking can produce a week's worth of food. Focused on time-saving tips, such as buying ready-chopped frozen vegetables, Suzanne says her advice can help everyone from families to singletons eat better, cutting down on food waste, and even saving a little money.
She said: "It's really just about fast, easy, simple cooking. That's all it is. And it's not always about making the whole recipe and then putting it in the freezer.
"With a lot of the dishes, you're just assembling the ingredients. So, for example, if you're cooking a stuffed chicken breast wrapped in bacon, you're putting that in the freezer raw because it's going to cook a lot better when you bring it out. It's about knowing how to store your food so you can cook for your family whenever you have time. Twice a month on a Sunday morning, I stay in my pyjamas, pop on Netflix, and batch enough for two weeks.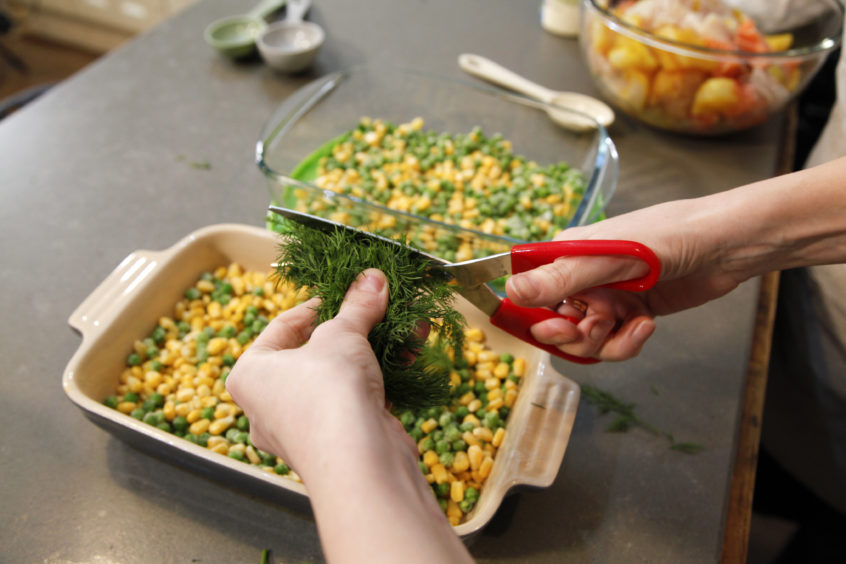 "I'm really all about time, but inevitably batch cooking also saves you a lot of money – and stress. What's more, you also save a massive amount of food waste. When you batch, you're thinking about your meals in advance and you're putting them in your freezer.
"Plus, most of my recipes use frozen vegetables, herbs and even things like chopped chillies and garlic. You just take out what you need, seal it up and pop the rest back in the freezer. It's a win-win."
Suzanne is having success in America with The Batch Lady cookbook launching there in May but can be sure her children – Jake, 13, and Zara, 11 – will keep her feet firmly on the ground.
She said: "When people ask the kids what I do for work they always say, 'Oh mum? She's a YouTuber'. I'm sure that must be quite cool but they are so unfazed. When I got the first copies of my book they said, 'That's great – what's for tea?'"
---
What I learned cooking with The Batch Lady
My granny was an avid batch cooker – of course, she didn't call it that, but she was.
Stuffed inside her chest freezer, spooned into recycled ice cream tubs and decade-old Tupperware, she had enough homemade soups, stews and casseroles to survive Armageddon. None of it was labelled, so visiting for tea was a bit like playing Russian roulette with your bowels, and we would often be forced to hover beside the stove as a massive cube of orange-brown ice slowly defrosted and bubbled over the heat.
So, it's fair to say I was a little sceptical about having a tutorial with The Batch Lady. But Suzanne quickly put my concerns to bed as we set about making two dishes in 30 minutes; fish pie with sweetcorn and peas, and fish chowder.
"Batch cooking used to be about making one huge big pot and then eating the same thing every night for ages," explained Suzanne, as she pulled bags of vegetables, potatoes and fish on to the counter.
"With my method, you can make 10 different meals using the same or similar ingredients. For example, if you're making fish pie, like we are, it's just as easy to make a fish chowder at the same time. Or you could make fishcakes and salmon and asparagus parcels together, too."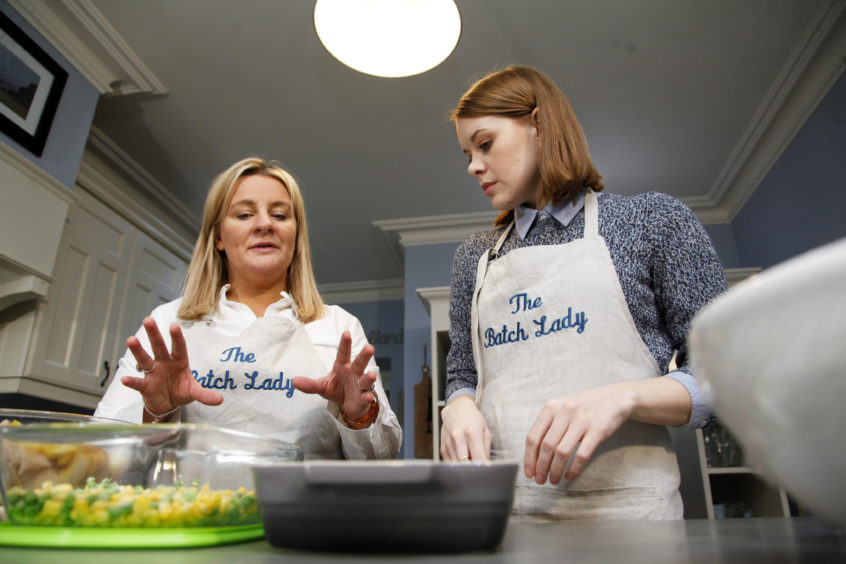 We start cooking at 2.30pm sharp, with Suzanne putting frozen chopped onions, flour and stock in a pan for the fish pie. While that simmers, I'm tasked with chopping new potatoes that we then add to the mix. Only 10 minutes have passed and already one dish is near completion. I'll admit I'm impressed.
Next we add a packet of fresh fish pie mix to the bottom of a freezer-to-oven dish, sprinkle with chopped dill ("Use scissors, it's much quicker!") and then top with double cream, milk and crème fraiche. Finished with crumble mash, that's it.
I'm getting into my stride by this point, and it's quite exciting every time Suzanne shouts out "12 minutes to go" or "Only five minutes now" with each step.
Now our pies are done, we add the final ingredients to the chowder; milk, cream, the fish pie mix and chopped dill. It's left to simmer and we get on with the dishes.
I check the clock and within just 24 minutes, we've made enough food to feed a small army, all packaged up into reusable food bags or Pyrex dishes, ready for the freezer.
And with that, off I went, arms full of food. I'm going to need a bigger freezer…
The Batch Lady: Shop Once. Cook Once. Eat Well All Week is published by Harper Collins.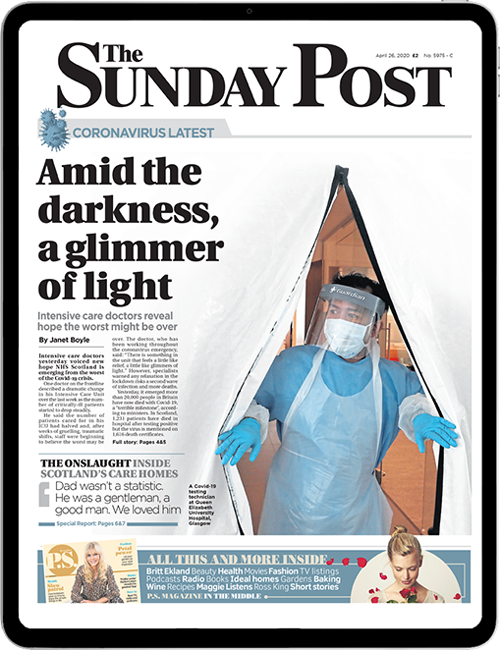 Enjoy the convenience of having The Sunday Post delivered as a digital ePaper straight to your smartphone, tablet or computer.
Subscribe for only £5.49 a month and enjoy all the benefits of the printed paper as a digital replica.
Subscribe