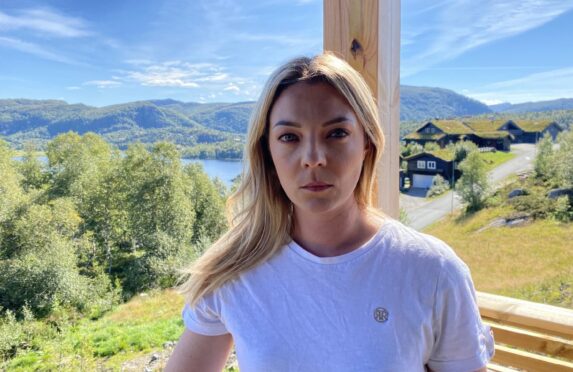 A police whistleblower who exposed a culture of misogyny and bullying in her station today breaks her silence to accuse senior officers of failing her.
Gemma MacRae accused Police Scotland of failing to tackle a systemic culture of sexism after a former colleague was convicted of sexually assaulting her almost five years after she reported him to bosses.
MacRae, 33, who had to quit the national force and now lives in Norway, waived her right to anonymity to detail her dismay and anger and accuse senior officers of failing to properly investigate complaints against a group of male colleagues at a station in Moray, which a number of female officers blamed for a "boys' club" workplace culture stained by sexism, bullying and misogyny.
It took three years for almost 20 allegations against officers stationed at Forres –  the so-called Moray Boys' Club – to be investigated before being dismissed by prosecutors.
Only one allegation – that constable Scott Gallop, 54, sexually assaulted MacRae – was taken to court and last week he was found guilty. He had been allowed to continue working for almost a year after being accused before leaving the force with his pension intact.
MacRae, a former constable, told The Sunday Post that senior officers failed to take her claims of bullying and abuse seriously and had betrayed her and every women officer on the force. She remains dismayed at being forced to give up her career, only months after finishing her probationary period.
MacRae said her experience made a "mockery of the public statements of condemnation of misogyny and bullying made by the chief constable and other senior officers," adding: "If graduating from Tulliallan in 2015 was the proudest day of my life, being forced to leave my dream job was the saddest.
"From the moment I found the courage to report what was happening, I became a target. No one in a position of authority wanted to know. They turned away. I was abandoned, betrayed."
Her account yesterday prompted other victims, lawyers, politicians and campaigners to join in demanding Police Scotland chief constable Iain Livingstone to order urgent and effective action to address misogyny and sexism in the national force, a failure already highlighted in a series of official reports and employment tribunals.
Wendy Chamberlain MP, deputy leader of the Liberal Democrats and a former Lothian and Borders officer, said: "It's a damning indictment of the culture of the service in Moray that a female officer has been left with so little faith in her former superiors. What message do these events send to other young women considering a career with the police?
"Gemma's brave decision to speak out needs to trigger some real soul-searching within the service and those dealing with misconduct. In the wake of the Sarah Everard murder I suggested a Royal Commission could help to expose and rectify serious issues with misogyny in the police. I want to be clear that this is not just an issue for the Met but for services across the UK."
MacRae, originally from Invergarry, was initially delighted to be stationed at Forres but within two years her dream posting had turned to nightmare when a live-in relationship with a fellow police officer fell apart amid allegations of domestic abuse. She was unprepared for male colleagues turning on her when she reported her partner, who was never charged and has since joined Kent police.
She said: "I was delighted to serve in Forres and I quickly fell for another officer and we moved in together.
"I truly felt part of the police family, we all socialised and got to know each other. It was wonderful until my relationship with my partner became unsustainable because of his behaviour. I had no option but to report what had been happening."
She claimed her partner had abused her and the matter was reported to two Chief Inspectors but as the weeks and months passed with no further contact and no action from senior officers, she struggled to cope.
She said: "I had no support and was horrified to realise what I'd reported quickly became common knowledge. Several senior officers who knew of the reports played football in the same team as my ex.
"That's when the bullying started. I was sent a funeral cross on one occasion and, on another, a senior officer mocked me for having taken time off because the strain was making me ill, tapping his head and asking if I was alright now, in a clear reference to whether I was mentally ill or not. It was distasteful and upsetting.
"The worst incident came when I was told to get into a police van very late at night as we were going on a job. The van stopped in the middle of an isolated forest at Roseisle. I was ordered out, only for the van to speed off and leave me, terrified and alone in pitch darkness, not knowing what was happening."
She was in the dark for almost half an hour before the van finally returned to pick her up, the men laughing and taunting her on the way back to the station. She said: "They had clearly decided to reach me a lesson for daring to report one of their friends. The incident itself was horrible enough, but it also made me realise how vulnerable I was.
"For the first time in my life, I felt I could no longer trust my colleagues. I no longer felt safe."
Gallop, who was almost twice her age, pretended to comfort her before touching her inappropriately on her bottom and elsewhere despite being told to stop.
MacRae said: "At first I thought he was just being kind. He knew I'd just suffered a traumatic break-up. I viewed him as a father figure as we had been partnered on jobs. I thought I could trust him when he started telling me about his own problems. When he began touching me inappropriately, I was horrified.
"I told him to stop and he quickly realised he'd overstepped. He apologised profusely, and insisted he was depressed and feeling suicidal. I felt sorry for him, so I didn't report it immediately, hoping he would get the message. But when he came to my home, ostensibly to check on how I was, the inappropriate touching continued. He'd send me sexually explicit messages which were disturbing. I had no choice but to make an official complaint."
Gallop sent her messages detailing sexual fantasises as well as proclamations of love. A complaint was lodged on February 7, 2018, but Gallop was allowed to continue working.
She said: "All through that time, I understand Gallop had been going out on jobs, dealing with the public, and nobody considered suspending him. Senior officers knew about the allegations I had made against Gallop. How could they think it was safe sending him out to other extremely vulnerable women such as victims of domestic abuse or sexual crimes?"
Seven months later, after she demanded to know why no action was being taken, professional standards officers finally contacted her. She said: "The first thing they said was that the case wouldn't be going anywhere. I was shocked. I had evidence, letters from Gallop apologising for his behaviour, detailing what he had done. I asked if they had interviewed Gallop, and they said they hadn't. As the months dragged on, and with no official action being taken against him, Gallop began stalking me, driving past my house at all hours. I felt like a sitting target, trapped and fearful."
As her nightmare continued and she went off sick with stress, Gallop was allowed to retire at the end of 2018 after almost 22 years' service. Meanwhile, her ex-partner transferred to Kent police where he is still a serving officer. No charges were brought against him.
It took the Police Investigations and Review Commissioner (Pirc) watchdog almost a year and a half to investigate her complaint which included domestic abuse allegations against her former partner, allegations of sexual assault by Gallop, and other instances of bullying and misogyny.
The incidents included a female officer in the late stages of pregnancy allegedly being locked in a first-floor room inside Forres police station, and having to flee via a fire escape. Another female constable also claimed she was placed in a state of fear and alarm by the same male colleagues.
Last year, The Post revealed how the Criminal Allegations Against Police Division of the Crown Office and Procurator Fiscal Service had decided all but one of the 18 accusations made by MacRae against five officers stationed at Forres – claims including assault, sexual assault, stalking, unlawful arrest, failure to investigate, entering false data, and vandalism – would not be prosecuted.
Prosecutors said the sexual assault allegation would proceed, but added: "The remaining allegations which were reported to us were fully considered.
"The view was reached that the conduct either did not meet the standard of criminal behaviour or that whilst it did meet the standard of criminal behaviour, there was insufficient evidence."
All the other officers who faced allegations of bullying and misogynistic behaviour have remained in post with no action taken against them.
Gallop was convicted at Elgin Sheriff Court on August 31 of one charge of sexual assault against MacRae. The Crown Office said: "Scott Gallop will be sentenced on September 29."
MacRae said: "It is lamentable to me that Gallop was the only one to face the consequences of his behaviour. Others who behaved appallingly are still serving officers, dealing with the public. It saddens me that I have lost the career I loved, and a female officer who supported me has suffered similar mistreatment and bullying.
"Despite all the rhetoric from the Chief Constable and his senior officers, nothing has changed. I never set out to become a whistleblower. I only spoke out after I finally felt I had no choice but to take matters further and reported everything."
Police Scotland said the force had fully assisted the investigation into all allegations made against officers. Chief Superintendent Catriona Henderson said: "We understand the courage it takes to report sexual assault and the additional challenges victims face when the offender is a police officer.
"Scott Gallop's conduct fell far below the high standards of professional behaviour the public rightly expects of a police officer. There is no legal basis to prevent an officer from resigning or retiring. Had Scott Gallop remained a serving officer, these circumstances would now be considered for the purposes of gross misconduct. I hope this conviction brings some measure of comfort to his victim."
---
Reaction: 'This shameful case highlights just how little has changed despite all of the reports and all of the promises'
A former officer's decision to break her silence to detail how she was driven out of her dream job as senior officers failed to tackle her claims of sexism, misogyny and bullying was commended yesterday.
Gemma MacRae's courage was applauded as other victims of police sexism along with politicians, campaigners and lawyers warned the time for promises of change from senior officers was over. They demanded urgent action by the Scottish Government to stop accused officers being allowed to transfer or retire and to ensure women officers' concerns are taken seriously to stop sexism and bullying.
Moi Ali, a former Scottish Police Authority board member and a campaigner for greater transparency in public life, said a damning report detailing sexism within Police Scotland by former Lord Advocate Elish Angiolini should have been a watershed moment.
She said: "This is a shameful case and one that highlights just how very little has changed despite these damning reports and the assurances of Chief Constable Iain Livingstone that this kind of behaviour will not be tolerated. It is deeply disturbing that an officer who had sexual assault allegations made against him was allowed to continue working with the public for almost a year, and then allowed to retire without facing censure from Police Scotland.
The current system in Scotland would also have allowed (former police constable Scott) Gallop to move seamlessly to another force.
"While officers in England and Wales face action and censure for any wrongdoing even after they retire, for some unknown reason this has not been adopted in Scotland. It is something the Scottish Government should be implementing without delay.
"The length of time this case has taken is also unacceptable, not only for the victim but also for the officer concerned. One of the deepest sadnesses is that yet again we see the career of a promising young female officer being lost because of misogyny and unacceptable behaviour. We simply cannot allow a culture of such behaviour to continue."
Former Assistant Chief Constable Angela Wilson, who has been outspoken against bullying and misogyny, said: "Victims of misogyny and bad behaviour must be reassured their allegations are properly dealt with, but I'm afraid this case highlights very little appears to have changed."
An industrial tribunal found former police officer turned whistleblower Karen Harper was victimised by Sergeant Doug Bell after she lodged a bullying claim against him. She said: "Chief Constable Iain Livingstone must answer why so many disturbing cases of bullying and misogyny are continuing to emerge despite all his extensive PR campaign insisting those behaviours will not be tolerated. The huge cost to the public in training officers only for them to feel they have no choice but to leave because of the culture they find themselves facing, is a disturbing indictment on what is truly going on in Police Scotland."
Harper, who had most of her case upheld by an employment tribunal against the single force, said: "We are continuing to see cases where the force almost protects the officers accused of wrongdoing, while those making complaints are victimised and silenced."
Scottish Conservative shadow community safety minister Russell Findlay, who will be raising the case in parliament, said: "Gemma MacRae deserves our respect for waging an arduous battle for justice. She is also due an apology from Police Scotland.
This is not just about seedy cover-ups, but a sinister culture that seeks to discredit and destroy those who are brave enough to speak out. It is now imperative for the SNP justice secretary to fix Scotland's broken system of police governance and complaints as a matter of urgency."
MacRae's lawyer, Stephen Smith of Livingstone Brown, said: "We have a number of cases involving female officers where Police Scotland has failed to follow its own procedures. It seems the situation is endemic. All involve cases of assault where Police Scotland appears reluctant to investigate."
MacRae will now pursue a claim for sex discrimination over the loss of her career.
---
Our national force says the right thing. It needs to do it
by Russell Findlay MSP 
Gemma MacRae could – and should – still be serving Scotland as a proud and capable police officer.
Instead, she has joined the growing list of women whose careers have been destroyed by a pernicious police culture coloured by sexism, misogyny, bullying, delay and cover-up.
Anyone reading MacRae's story today will be appalled and that will include the vast majority of good, professional officers putting themselves on the line every day
to protect us.
However, we should not be asked to listen to the usual excuses – that this was one bad apple, a rogue officer – because they are clearly claptrap.
A cabal of male officers in Moray were accused of bullying, intimidation and worse against female officers, civilians and members of the public.
Senior officers up to the rank of superintendent were first alerted to serious sexual allegations as far back as February 2018 and it remains reprehensible that those accusations were effectively placed, forgotten, in a bottom drawer while due process was abandoned and standard operating procedures ignored.
In fact, the only truly effective action taken by senior officers was to ensure MacRae, and the other courageous women who dared to raise the alarm, felt isolated, undermined and discredited.
I first became aware of what was happening in late 2019 while working as a producer at STV. Later, we discovered that Police Scotland had started an investigation into the source of our reports. Talk about misplaced priorities. Another female officer was wrongly suspected and, sadly but unsurprisingly given our revelations, became a target just like MacRae.
Today, every senior officer who failed to act when given the opportunity should hang their head in shame. They should also be held to account.
But as Police Scotland prepares to spend more time and money on PR campaigns explaining how it is tackling misogyny in the force and in society, MacRae will not be alone in thinking words have rarely been cheaper or more hollow.
After surviving a long, lonely and bruising battle for justice, she is owed a public apology but, more than that, she, like all of us, deserves to know the officers leading our national force will learn from this scandal and that effective action will be taken in its wake.
It has long been clear that the police can no longer be trusted to police themselves and for the sake of MacRae and all other victims, the justice secretary must ensure, our national force not only says the right thing but does the right thing.
Russell Findlay is Scottish Conservative shadow community safety minister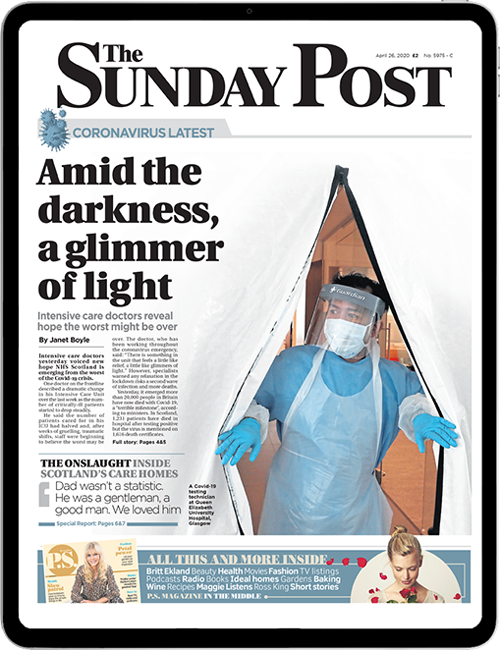 Enjoy the convenience of having The Sunday Post delivered as a digital ePaper straight to your smartphone, tablet or computer.
Subscribe for only £5.49 a month and enjoy all the benefits of the printed paper as a digital replica.
Subscribe