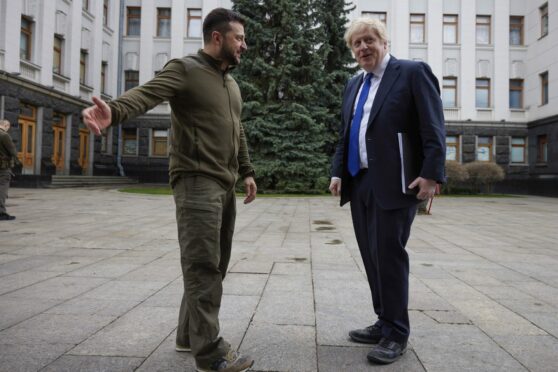 Boris Johnson offered unwavering support and £100 million of weapons to Ukraine yesterday as he met President Volodymyr Zelensky in a surprise visit to Kyiv.
The Prime Minister's visit ­followed a promise by Britain on Friday to supply Ukraine with Mastiff heavily armoured patrol vehicles as part of a package of military aid.
Following the meeting in Kyiv yesterday, Downing Street confirmed Britain would send 120 armoured vehicles and new anti-ship missile systems. The meeting only emerged ­yesterday afternoon when the Ukrainian embassy in London tweeted a picture of Zelensky and Johnson meeting face to face inside the Ukrainian parliament building with the curtains closed.
More than a dozen assassination attempts have been made on Zelensky's life by Russian-paid mercenaries since the start of the invasion. Following his meeting with the Ukrainian leader, Johnson said in a statement: "Ukraine has defied the odds and pushed back Russian forces from the gates of Kyiv, achieving the greatest feat of arms of the 21st Century.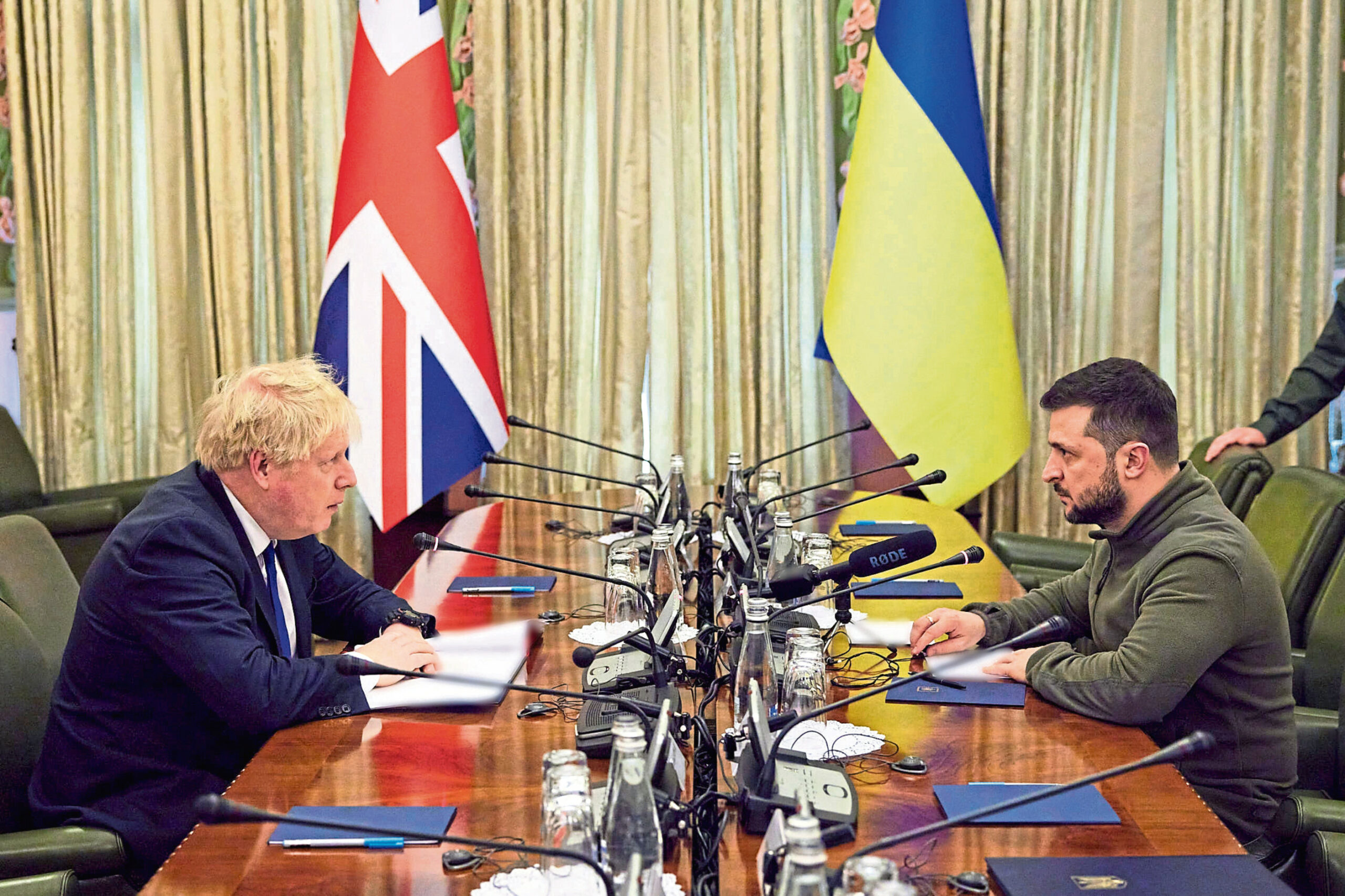 "It is because of President Zelensky's resolute leadership and the invincible heroism and courage of the Ukrainian people that Putin's monstrous aims are being thwarted.
"I made clear today that the United Kingdom stands unwaveringly with them in this ongoing fight, and we are in it for the long run.
"We are stepping up our own military and economic support and convening a global alliance to bring this tragedy to an end, and ensure Ukraine survives and thrives as a free and sovereign nation."
Zelensky said Johnson "is one of the most principled opponents of the Russian invasion, a leader in sanctions pressure on Russia and defence support of Ukraine". He added: "Welcome to Kyiv, my friend."
Defence Secretary Ben Wallace earlier announced Britain would send to Ukraine Mastiff patrol vehicles, which were used in Afghanistan to protect soldiers from Improvised Explosive Devices widely used by the Taliban.
Yesterday, Zelensky urged a tough global response to Russia after its forces fired a missile at a crowded train station in one of the worst atrocities of the war.
The missile killed at least 52 people, including five children and wounded dozens. They were trying to escape an ­imminent Russian attack.
Zelensky, in his nightly address to his country, said the strike on the Kramatorsk train station in eastern Ukraine amounted to another war crime for an ­international tribunal to consider.
He said: "We expect a firm, global response to this war crime. Like the massacre in Bucha, like many other Russian war crimes, the missile strike on Kramatorsk must be one of the charges at the tribunal, which is bound to happen.
UK Government continues to frustrate Ukrainian refugees attempting to reach country says Scots based charity
"All the efforts of the world will be aimed to establish every minute: who did what, who gave orders. Where did the rocket come from, who was carrying it, who gave the order and how the strike was co-­ordinated. Responsibility is inevitable."
An estimated 4,000 people were at the Kramatorsk train station trying to leave before fighting intensifies in the Donbas region.
Photographs taken after the attack showed bodies covered with ­tarpaulins and the remnants of a rocket painted with the words "for the children" in Russian.
Being linked to the Kramatorsk attack is a Russian general responsible for atrocities in Syria who has been put in charge of the invasion of Ukraine. General Alexander Dvornikov has been placed in charge of Russia's invasion after its forces failed to gain control of Kyiv.
Sir Roderic Lyne, British ­ambassador to Russia between 2000 and 2004, said that Vladimir Putin had strategically lost the war. He said: "They've appointed a new general with a pretty savage track record in Syria to try to at least gain some territory in Donetsk.
"So what we are facing is several more weeks of very heavy fighting in the south and east of Ukraine until some form of military stalemate is reached.
"Putin will try to claim to his own people that he has achieved what he has planned to achieve."
Civilian evacuations in the east of the country continued yesterday, with the governor of Luhansk, Serhiy Gaidai, urging people to flee immediately. He said: "They [the Russians] are amassing forces for an offensive and we see the number of shellings has increased."
According to the latest intelligence report from the Ministry of Defence, Russian operations continue to focus on the Donbas region, Mariupol and Mykolaiv, "supported by continued cruise missile launches into Ukraine by Russian naval forces".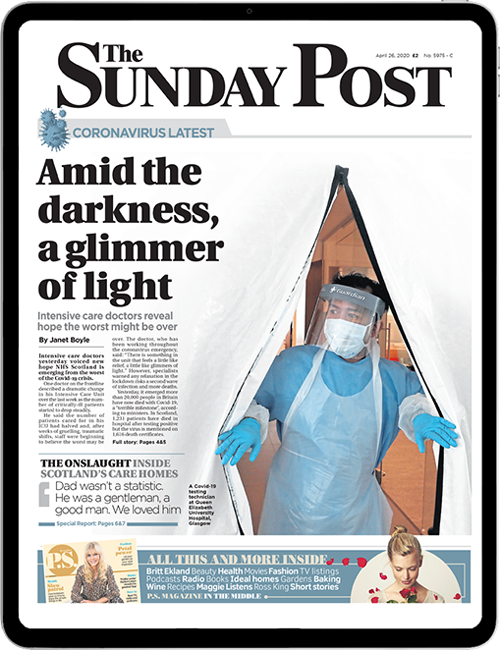 Enjoy the convenience of having The Sunday Post delivered as a digital ePaper straight to your smartphone, tablet or computer.
Subscribe for only £5.49 a month and enjoy all the benefits of the printed paper as a digital replica.
Subscribe