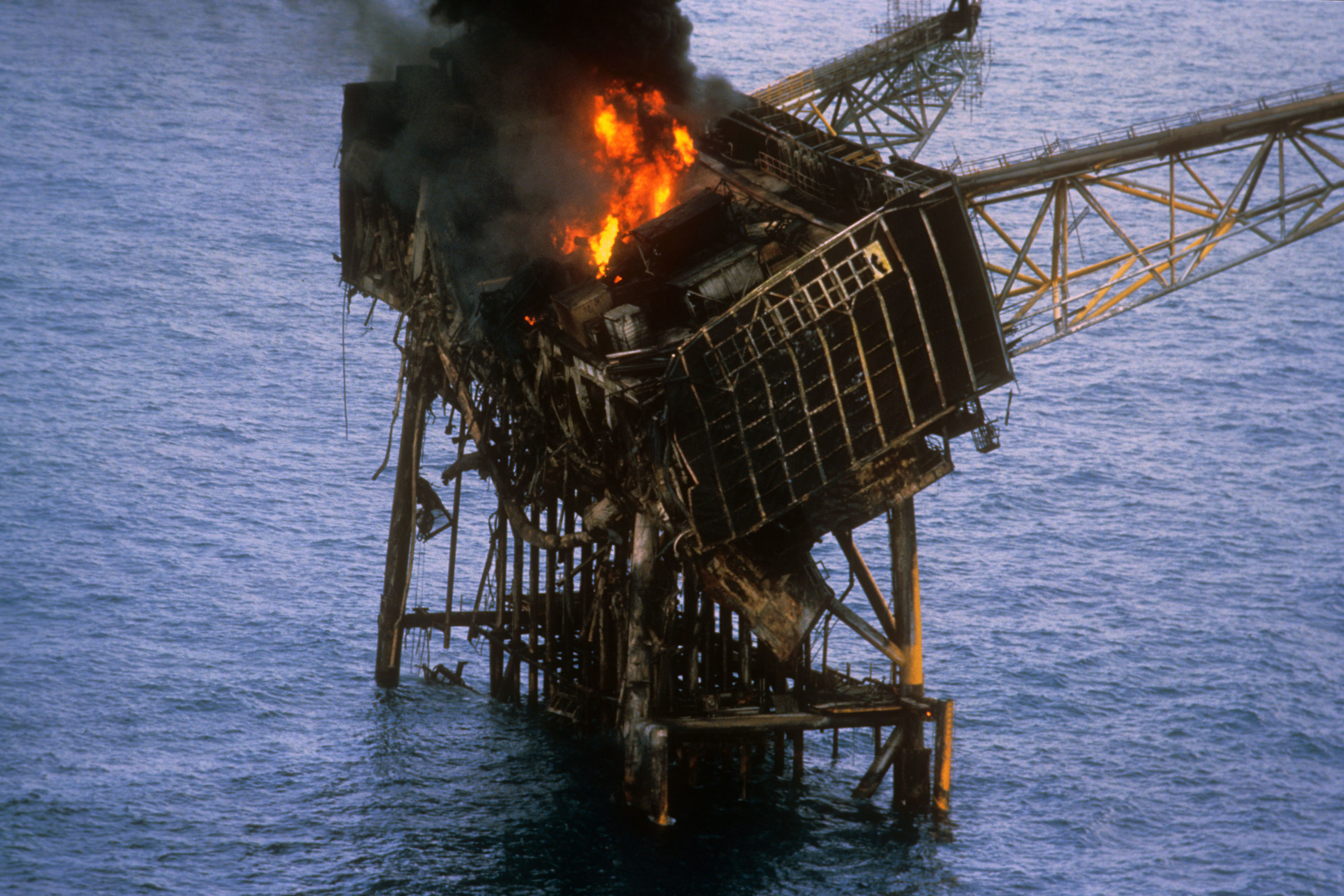 TODAY marks the 30th anniversary of the world's deadliest oil disaster.
On the night of July 6 1988, an explosion tore through the Piper Alpha oil platform, situated around 120 miles off Aberdeen in the North Sea.
Of the 228 men on board, 167 would not return home to their loves ones.
Reports in the aftermath of the tragedy described scenes of horror and despair.
Eyewitnesses described the desperate efforts of the workers on board in trying to escape the flames and smoke.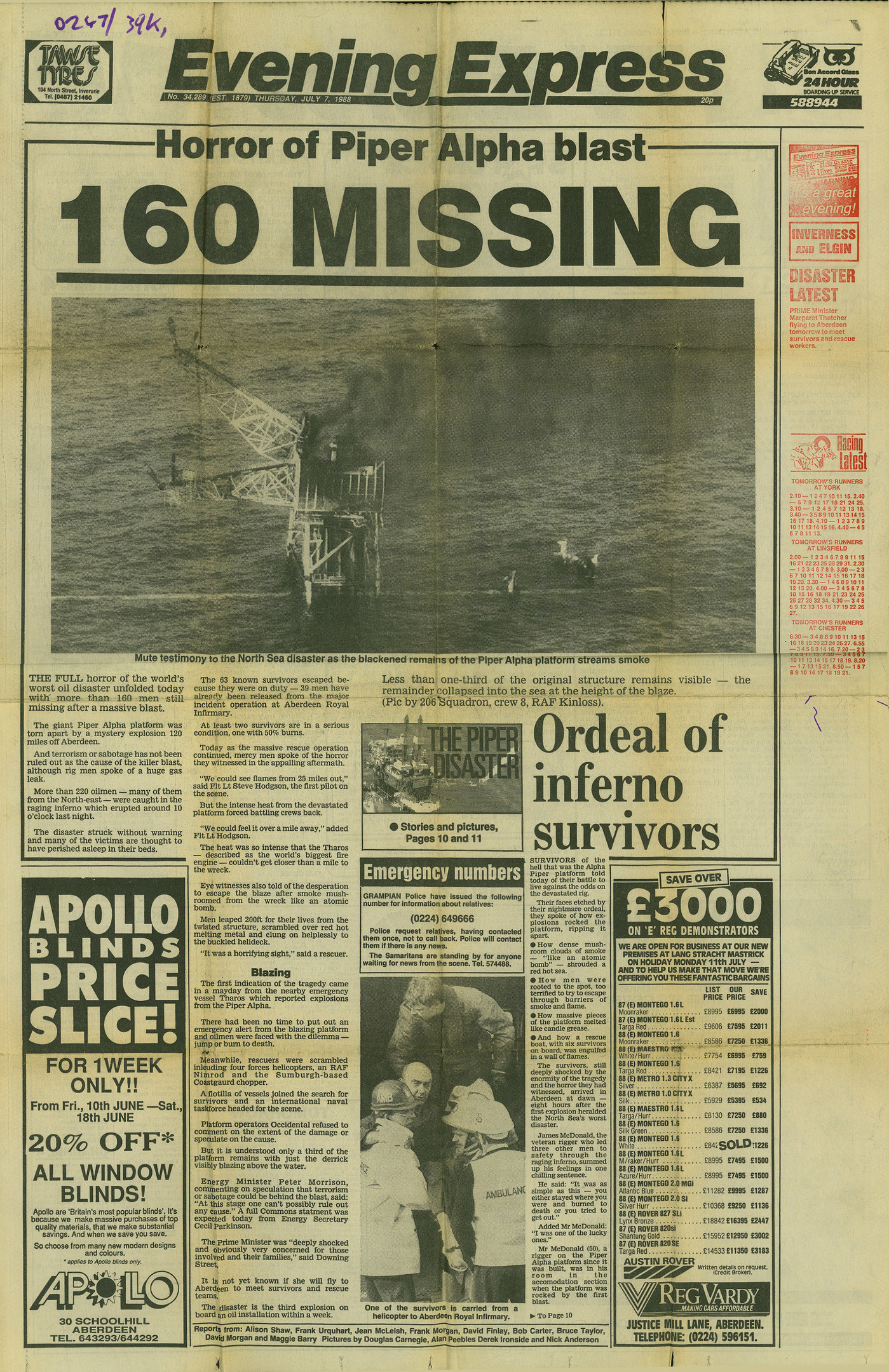 They were faced with a dilemma – jump and hope to survive the boiling hot water below or stay in the burning wreckage.
"It was a horrifying sight," one rescuer told our sister title the Evening Express in their July 7 edition.
One of the 61 survivors, Geoff Bollands, emerged from the platform alive after struggling with an injury, climbing down a rope and onto a rescue ship.
He told The Sunday Post last week: "We only got 50 yards away when there was this massive fireball. It was unbelievable.
"It was just 20 minutes after the first explosion at 10pm. If I hadn't have got off minutes before, I'd have been right in its path.
"There were lads where I'd been jumping off the side with their clothes on fire and others falling off the rope.
"For the next couple of hours I watched one explosion after another, then the platform split and the accommodation block fell into the sea.
"It was like watching a real-life disaster movie. You knew when it went into the sea that most of them had had it. It was tough."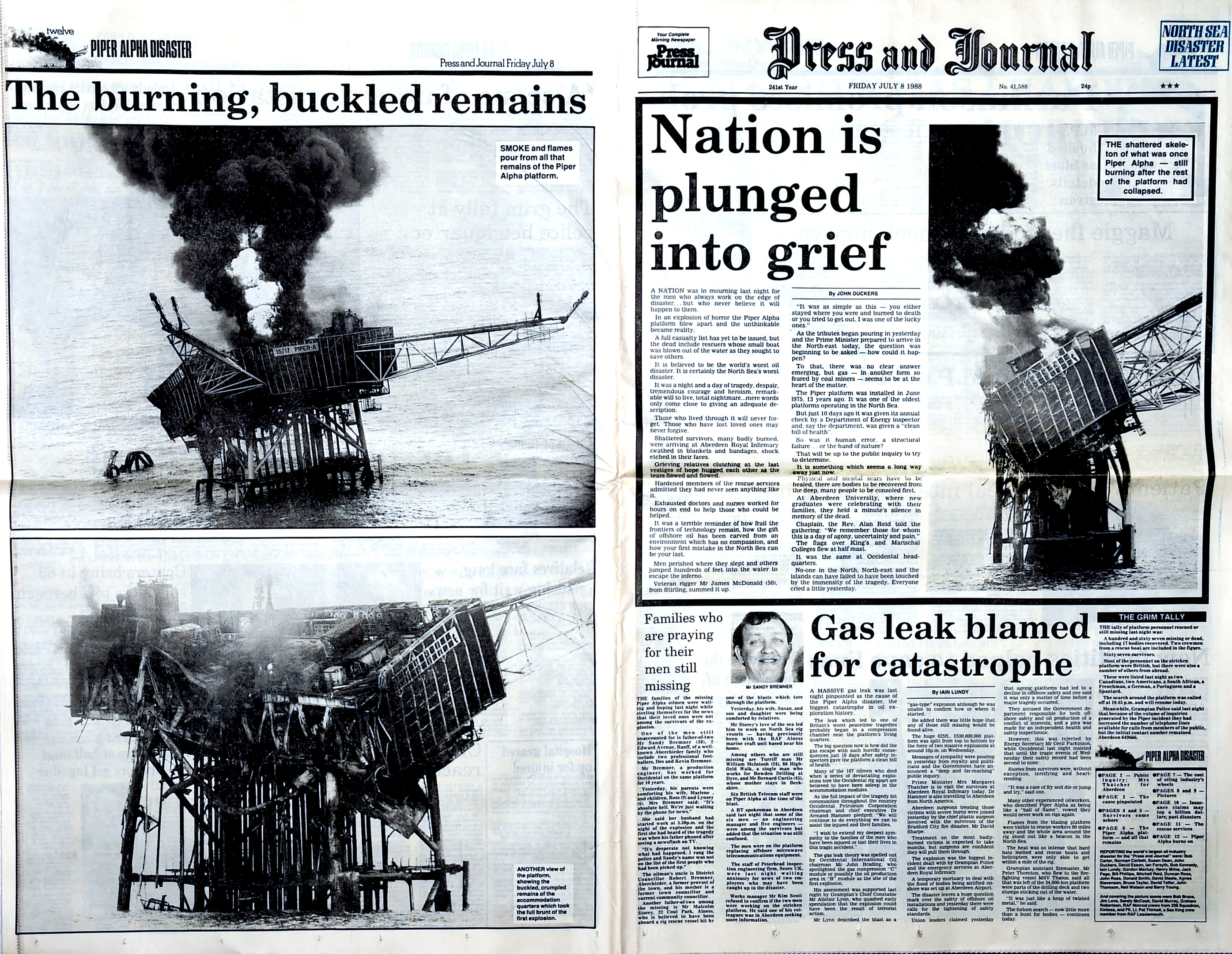 Rescue efforts were hampered by the intense heat coming from the burning platform, with a fire-fighting vessel initially unable to get closer than a mile away from the wreck.
The Press and Journal's Friday edition read: "It was a night and day of tragedy, despair, tremendous courage and heroism, remarkable will to live, total nightmare… mere words only come close to giving an adequate description."
It was later found that the blast had occurred when a gas leak ignited after faulty maintenance procedures on one of the platform's pipelines.
It tore apart the structure, with flames of over 300 feet bursting into the air.
The fires could be seen from 70 miles away, and took a full month to be extinguished.
The tragic events of that night would never be forgotten, and led to greater regulation of offshore procedures.
---
Read the full interview with Geoff Bollands:
Worker relives night 30 years ago that 167 people lost their lives when Piper Alpha oil rig exploded off Aberdeen
---
Remembering the victims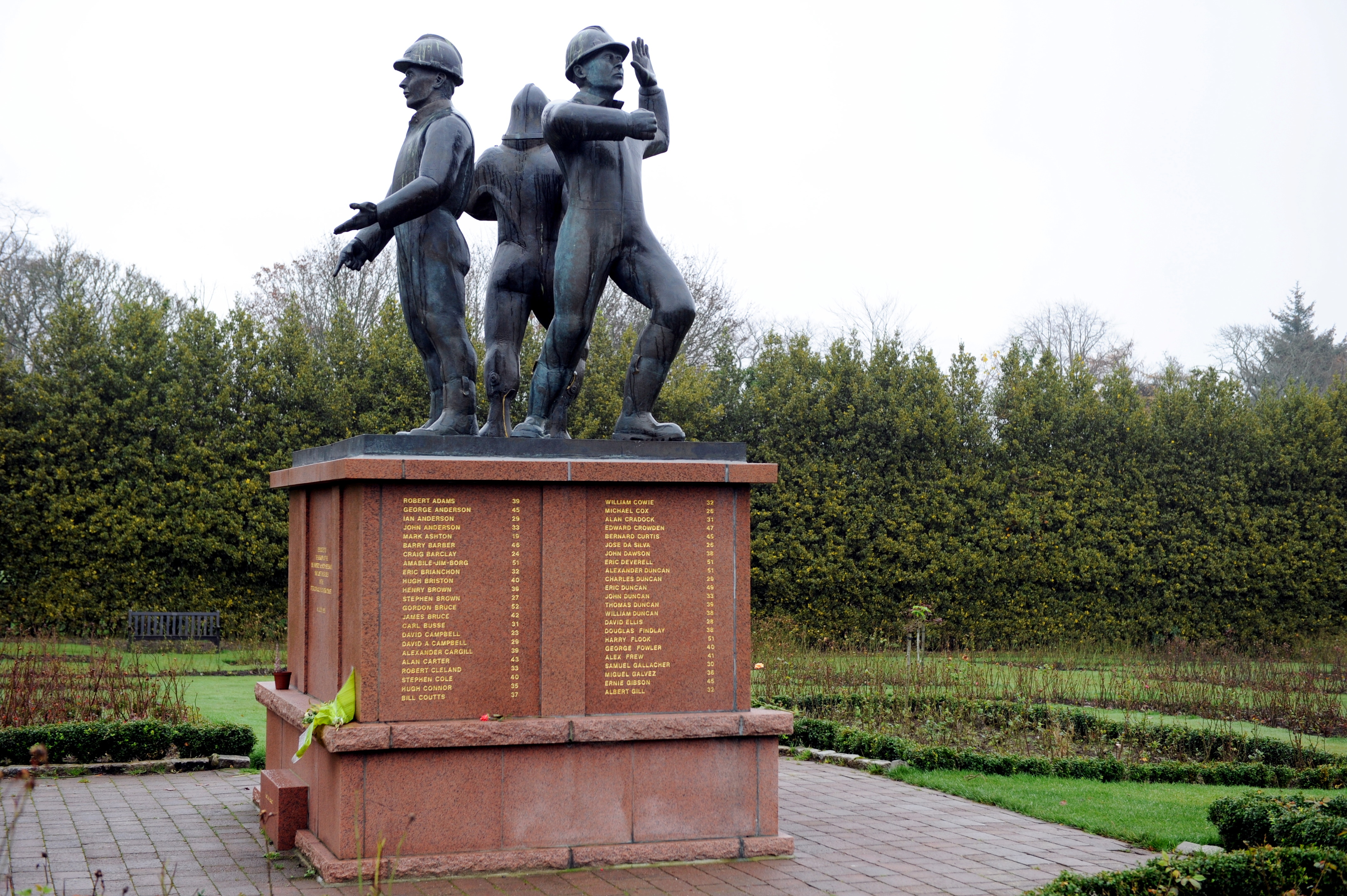 A service will take place tonight to remember the victims of the disaster.
Each of the names of the men who died that night will be read out at the event in the Piper Alpha Memorial Garden at Hazlehead Park, Aberdeen.
The Reverend Gordon Craig, chaplain to the UK offshore oil and gas industry, said: "Thirty years may seem a long time to some, but for those who lost a father, son, brother, husband, partner, friend or colleague, the tragedy is still very much part of their life.
"Our commemoration is an opportunity to gather together and remember those loved ones who never came home.
"By naming every person who tragically lost their life, the city and industry together can demonstrate that the loss of these men will not be forgotten.
"And that, may hopefully, bring a crumb of comfort to those whose loss is greatest."
Aberdeen Lord Provost Barney Crockett added: "It is hard to believe that three decades have passed since the Piper Alpha tragedy. The shocking events of that night 30 years ago are imprinted on the Aberdeen memory forever.
"We will never forget that 167 men died in the tragedy – dads, sons, brothers, uncles, nephews, partners, friends and colleagues who never returned home.
"The memorial garden and statue is a very special place for the people of Aberdeen, the wider oil and gas industry, and particularly for those whose lives have been affected by this tragedy."
---
Call for improved offshore safety on anniversary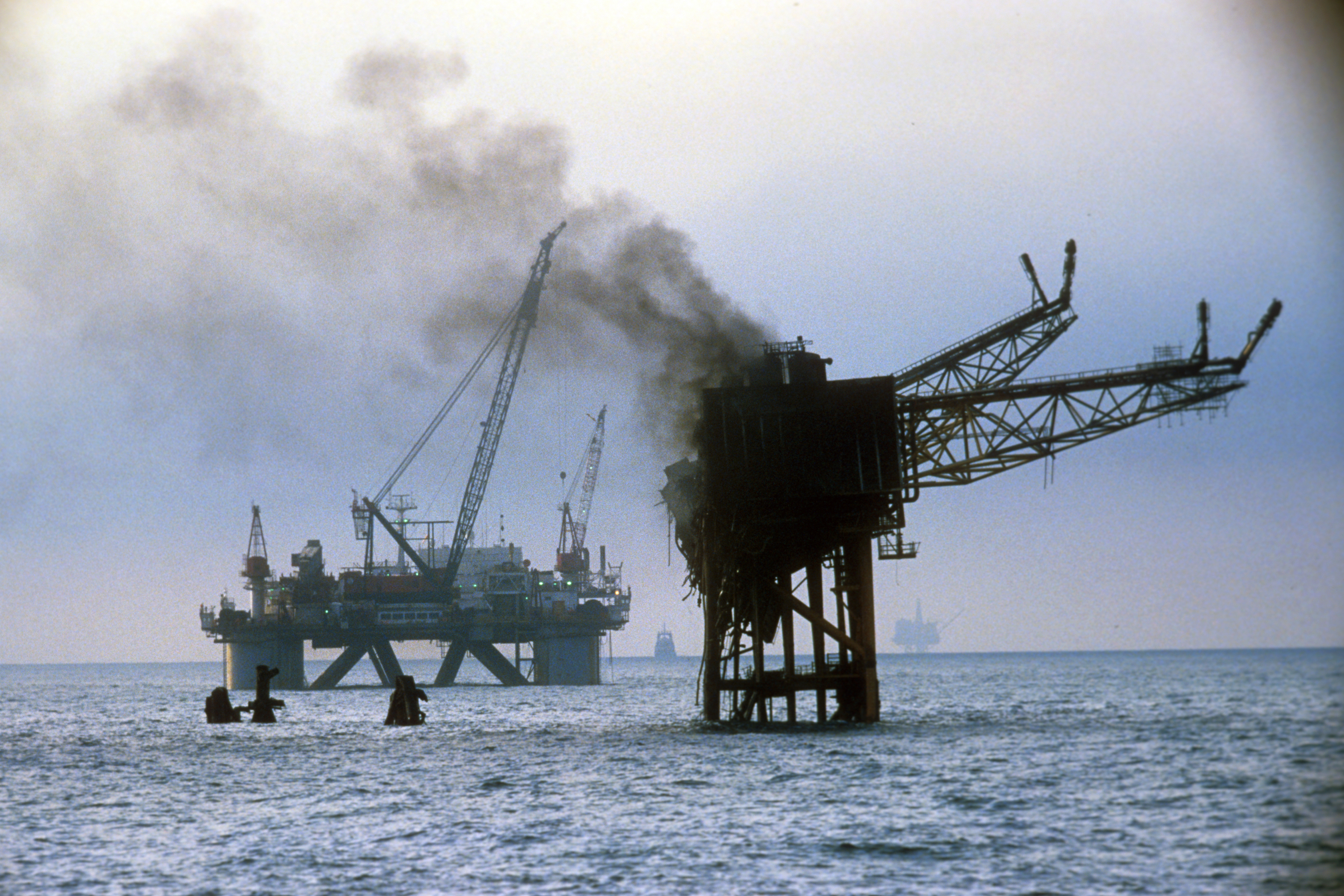 An offshore union has called for better protection for workers on the 30th anniversary of the Piper Alpha disaster.
The RMT said oil and gas employees have been under pressure since a downturn in the North Sea industry in 2014, and government and regulators must do more for their safety.
General secretary Mick Cash said: "Respecting the memory of the Piper Alpha victims should mean adopting the highest possible standards that put safety before profit.
"This would be consistent with the Cullen Report's objective of continuous improvement of the offshore safety culture.
"Regrettably, however, the business model that has developed in the North Sea, especially since the 2014 downturn, is putting unwelcome pressure on our members.
"Three weeks on and three weeks off shift pattern, a crisis of confidence in the safety of helicopter transport, ineffective regulations and the prospect of North Sea assets repeatedly changing hands before decommissioning by low-paid foreign staff is the industrial reality for today's offshore workers.
"Employers, government, regulators must do more for the safety of offshore workers. The consequences of complacency are unthinkable."
Mr Cash said the union offers its condolences and support to the families, loved ones and work mates of the 167 men who died in the "deeply traumatic incident" on July 6 1988.
The RMT said that since the collapse in the oil price in 2014, 160,000 jobs have been lost on installations and across the supply chain supporting the North Sea oil and gas industry.
Remaining staff have seen increased shift patterns imposed, pay cuts and the erosion of employment rights, according to the union.
---
The men who perished
Robert McIntosh ADAMS, rigger
George Alexander J ANDERSON, baker
Ian Geddes ANDERSON, dual service operator
John ANDERSON, catering manager
Mark David ASHTON, trainee technician/cleaner
Wilson Crawford A BAIN, valve technician
Barry Charles BARBER, diving consultant
Craig Alexander BARCLAY, welder
Alan BARR, Electrical technician
Brian Philip BATCHELOR, seaman
Amabile Alexander BORG, non-destructive tester
Hugh Wallace BRACKENRIDGE, roustabout
Alexander Ross Colvin BREMNER, production operator
Eric Roland Paul BRIANCHON, technician
Hugh BRISTON, scaffolder
Henry BROWN, welder
Stephen BROWN, assistant chef/baker
Gordon Craib BRUCE, helicopter landing officer
James BRUCE, logger
Carl William BUSSE, directional drilling supervisor
David CAMPBELL, cleaner
David Allen CAMPBELL, scaffolder
Alexander Watt CARGILL, electrician
Robert CARROLL, safety operator
Alan CARTER, lead production operator
Robert CLELAND, derrickman
Stephen Colin COLE, radio officer
Hugh CONNOR, instrument technician/lecturer
John Edward Sherry COOKE, Plater
John Thomas COOPER, Instrument Technician
William Nunn COUTTS, Chef
William John COWIE, Steward
Michael John COX, Scaffolder
Alan Irvin CRADDOCK, Drilling Supervisor
Edward John CROWDEN, Electrical Technician
Bernard CURTIS, Deputy Production Superintendent
Jose Hipolito DA SILVA, Steward
John Stephen DAWSON, Telecom Engineer
Eric DEVERELL, Production Clerk
Alexander DUNCAN, Steward
Charles Edward DUNCAN, Floorman
Eric DUNCAN, Drilling Materials Man
John DUNCAN, Engineer
Thomas Irvine DUNCAN, Roustabout
William David DUNCAN, Crane Operator
David Alan ELLIS, Steward
Douglas Newlands FINDLAY, Supervisor Mechanic
Harold Edward George FLOOK, Production Operator
George FOWLER, Electrical Technician
Alexander Park FREW, Plater
Samuel Queen GALLACHER, Pipe Fitter
Miguel GALVEZ-ESTEVEZ, Assistant Chef
Ernest GIBSON, Mud Engineer
Albert Stuart GILL, Roustabout
Ian GILLANDERS, Instrument Pipe Fitter
Kevin Barry GILLIGAN, Steward
Shaun GLENDINNING, Painter
John Edward Thomas GOLDTHORP, Motorman
Stephen Robert GOODWIN, Geologist
James Edward Gray GORDON, Floorman
David Lee GORMAN, Safety Operator
Kenneth GRAHAM, Mechanical Technician
Peter John GRANT, Production Operator
Cyril James GRAY, Safety Operator
Harold Eugene Joseph GREEN, Rigger
Michael John GROVES, Production Operator
John HACKETT, Electrical Technician
Ian HAY, Steward
Thomas Albert HAYES, Rigging Supervisor
James HEGGIE, Production Services Superintendent
David William HENDERSON, Lead Floorman
Philip Robert HOUSTON, Geologist
Duncan JENNINGS, Geologist
Jeffrey Grant JONES, Assistant Driller
Christopher KAVANAGH, Plater
William Howat KELLY, Electrical Technician
Ian KILLINGTON, Steward
John Brian KIRBY, Production Operator
Stuart Gordon Charles KNOX, Roustabout
Alexander Rodger LAING, Steward
Terence Michael LARGUE, Scaffolder
Graham LAWRIE, Roustabout
Findlay Wallace LEGGAT, Scaffolder
Brian LITHGOW, Photographic Technician
Robert Rodger LITTLEJOHN, Pipe Fitter
Martin George LONGSTAFFE, Logger
William Raymond MAHONEY, Steward
John Morrison MARTIN, Rigger
Sidney Ian McBOYLE, Motorman
Robert Borland McCALL, Chief Electrician
James McCULLOCH, HVAC Technician
Alistair James McDONALD, Mechanical Technician
Alexander McELWEE, Plater
Thomas O'Neil McEWAN, Electrical Chargehand
William George McGREGOR, Leading Steward
Frederick Thomas Summers McGURK, Rigger
William Hugh McINTOSH, Floorman
Gordon McKAY, Valve Technician
Charles Edward McLAUGHLIN, Electrician
Neil Stuart Ross McLEOD, Quality Assurance Inspector
Francis McPAKE, Steel Erector/Rigger
David Allison McWHINNIE, Production Operator
Dugald McLean McWILLIAMS, Welder
Carl MEARNS, Rigger
Derek Klement Michael MILLAR, Supervisor
Alan David MILLER, Industrial Chemist
Frank MILLER, Scaffolder
John Hector MOLLOY, Engineer
Leslie James MORRIS, Platform Superintendent
Bruce Alexander Ferguson MUNRO, Floorman
George Fagan MURRAY, Steward
James Cowie NIVEN, Roustabout
Graham Sim NOBLE, Materials Man
Michael O'SHEA, Electrician
Robert Rennie PEARSTON, Mechanic
Ian PIPER, Motorman
Wasyl POCHRYBNIAK, Lead Roustabout
Raymond Leslie PRICE, Production Operator
Neil PYMAN, Engineer
Terence Stephen QUINN, Service Engineer
William Wallace RAEBURN, Maintenance Controller
Donald REID, Chargehand Engineer
Robert Welsh REID, Roustabout
Gordon MacAlonan RENNIE, Process Operator
Robert Miller RICHARD, Production Operator
Alan RIDDOCH, Steward
Adrian Peter ROBERTS, Roughneck
Alexander James ROBERTSON, Lead Production Technician
Donald Nicholson ROBERTSON, Mechanical Technician
Gary ROSS, Roustabout
Michael Hector RYAN, Roustabout
Stanley SANGSTER, Foreman Scaffolder
James John Dearn SAVAGE, Electrical Technician
Michael Hugh Brodie SCORGIE, Lead Foreman
William Alexander SCORGIE, Pipe Fitter
John Francis SCOTT, Scaffolder
Colin Denis SEATON, Offshore Installation Manager
Robert Hendry SELBIE, Turbo Drill Engineer
Michael Jeffrey SERINK, Logger
Michael Bernard SHORT, Foreman Rigger
Richard Valentine SKINNER, Assistant Driller
William Hamilton SMITH, Maintenance Lead Hand
James SPEIRS, Mechanical Technician
Kenneth Stuart STEPHENSON, Rigger
Thomas Cunningham Boswell STIRLING, Cleaner
Malcolm John STOREY, Seaman
James Campbell STOTT, plumber
Jurgen Tilo STWERKA, research chemist
Stuart Douglas SUTHERLAND, student/cleaner
Terrence John SUTTON, mechanical fitter
Alexander Ronald TAYLOR, roustabout
Alistair Adam THOMPSON, telecom engineer
Robert Argo VERNON, production operator
John Edward WAKEFIELD, instrument technician
Michael Andrew WALKER, technician
Bryan Thomas WARD, rigger
Gareth Hopson WATKIN, offshore medical attendant
Francis John WATSON head chef
Alexander WHIBLEY, roustabout
Kevan Dennis WHITE, maintenance supervisor
Robert WHITELEY, roustabout
Graham Gill WHYTE, aerial rigger
James Gilbert WHYTE, aerial rigger
Alan WICKS, safety supervisor
Paul Charles Ferguson WILLIAMSON, floorman
David WISER, survey technician
John Richard WOODCOCK, technical clerk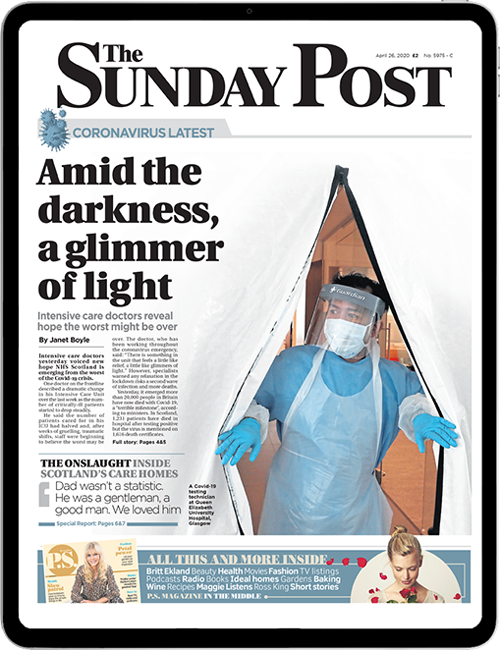 Enjoy the convenience of having The Sunday Post delivered as a digital ePaper straight to your smartphone, tablet or computer.
Subscribe for only £5.49 a month and enjoy all the benefits of the printed paper as a digital replica.
Subscribe