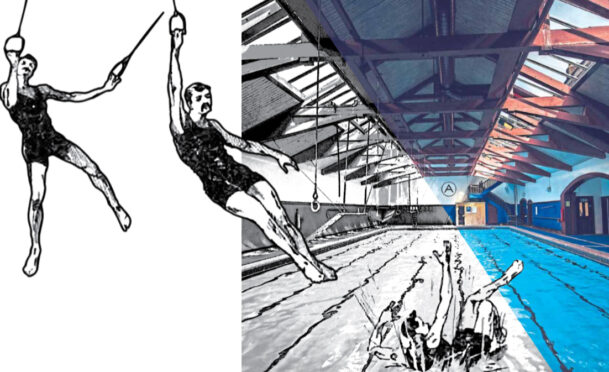 From a Battle of Britain ace to an Olympian who swam against Tarzan, from a groundbreaking nurse on the frontline of war to a groundbreaking author on the frontline of literary conflict.
The membership list of one of the world's most historic swimming pools is astonishing but, as Arlington Baths Club prepares to celebrate 150 years, so is its history.
Owned by members and run not-for-profit, the community pool is the oldest of its kind in the world after swimmers first made a splash there on August 1, 1871.
Over the last century and a half, some extraordinary people have swum in the pool, sweated in the Turkish room, or played cards and billiards in the A-listed Victorian building designed by John Burnet that houses Arlington Baths in Glasgow's West End.
"It's a community, a slice of life that reflects the varied inhabitants of Park Circus, Garnethill, Woodlands and Great Western Road," said Arlington Baths Club chairman Gordon McDougall.
"When it was set up for the merchant class who were moving to the newly fashionable West End, it was unique in Glasgow.
"There were other baths where you could steam and wash but they didn't have a swimming pool. Swimming in Victorian times was popular as it was cheap – people swam outdoors in rivers, lochs and the sea."
Its founding was hailed as a great boon with the only other swimming pools available near Glasgow Green and in Helensburgh.
The building cost £2,500 to construct and annual membership was 30 shillings. Men, women and children could be members but males and females were strictly segregated, in keeping with propriety.
Prominent members included Archibald McKellar, the Second World War fighter pilot who took part in the Battle of Britain.
He joined the club aged 18 in 1930 and six years later was awarded his flying licence and joined the RAF.
When war broke out in 1939, he was a Spitfire fighter and shot down the first German aircraft in British skies. He was promoted to Flight Lieutenant in command of No 605 Hurricane Squadron.
McKellar became one of "The Few" – the airmen who fought in the Battle of Britain. They were celebrated in a famous speech by Prime Minister Winston Churchill who said: "Never in the field of human conflict was so much owed by so many to so few."
McKellar was awarded the Distinguished Flying Cross twice. He was killed in combat when his Hurricane crashed in Kent on November 1, 1940, the day after the end of the Battle of Britain and was posthumously awarded the Distinguished Service Order.
He had shot down 21 enemy aircraft, including five Messerschmitt Bf 109 fighters in one day in October 1940, becoming one of the airmen designated an "ace in a day".
The Kelvingrove Art Gallery and Museum has an exhibition room dedicated to him.
The famous club's female members also did their bit for king and country. Ethel Perry was a volunteer in frontline hospitals during the First World War.
She worked with the Scottish Women's Hospital in Antwerp, Belgium, which came under heavy German bombardment.
She was decorated and when the Second World War broke out, Ethel, by then in her 60s, volunteered as an air raid warden.
Ellinor Agnes Christison was another member who served her country. When she volunteered to join the Army during the Second World War, her domestic science profession took Ellinor to North Africa and Italy catering for the Navy, Army and Air Force Institutes, for which she was made an MBE in 1945.
Other distinguished members include Olympian John S Thomson, who swam for Great Britain at the 1924 Games in Paris.
Among the other competitors were Harold Abrahams and Eric Liddell, whose stories inspired the 1981 movie Chariots Of Fire.
The Scottish champion competed against Johnny Weissmuller, who later became a film star in the role of Tarzan. The American won, setting new Olympic records in the 100 metres and the 400 metres freestyle.
Beat writer, poet and provocateur, Alexander Trocchi, author of Young Adam – made into a 2003 film starring Ewan McGregor – was a member as a child.
He led the cultural underground movement during the 1960s and 1970s and had a public clash with literary giant Hugh MacDiarmid, who called him "cosmopolitan scum". Trocchi's novel Cain's Book was confiscated due to obscenity charges in 1963.
Trocchi wrote about his childhood swims in his autobiography: "Frightstruck to the trapeze in the Arlington I swung high over backgreens where my brother Alfie, with blood streaming from his nose, fended off four ragged urchins with curses and blows."
In 1975 Rudolf Nureyev, one of the world's greatest ballet dancers, visited to get a massage and spent some time in the Turkish suite, recovering from his performances at the Edinburgh International Festival.
The massage bench is still in place, as is the striking Turkish bath with its mosaics and stained glass.
Other past members include Glasgow Boys painter George Henry; actor Bransby Williams, successful in panto when he joined in 1907; Captian Bernard Alexander Leslie, the actor manager of the Empire Theatre who joined in 1941; George Whitelaw, a Punch cartoonist in the 1920s; Scottish Orchestra conductor before the First World War, Emil Mlynars; shipping company owner and Arlington founding member William Sloan; and late 19th Century Scottish Poor Law reformer Robert Peel Lamond.
Today, the building retains much of its character. It was modelled on the baths built by the Moors in the Alhambra, in Granada, Spain, and was so admired that when the bath club in London's Dover Street was built in 1894 the Glasgow swimming pool was cited as inspiration.
As well as the vaulted Turkish bath, there is the 21-metre skylit Victorian pool, its walls originally painted green, with ferns hanging from the ceiling beams to replicate the experience of swimming in a verdant pond in a leafy glade – to this day, the pool is referred to as "the pond".
The original changing cubicles by the side of the pool were on wheels, to mimic seaside bathing huts and further recreate the outdoors indoors.
"The wheeled cubicles have gone – we are looking at bringing them back – but other period features remain, giving the Arlington its unique character," said McDougall.
"There are the travelling rings and trapeze over the pool, where you can practise your circus skills, and we still have the original surround spray showers, slipper baths and hot tubs, which we fill with hot soapy water so the kids can warm up after a swim, and a peculiar item called a sitz bath that puzzled us at first.
"We found out it was for Victorians with ailments of the nether regions – they would sit and soak in it.
"Over the years, the Arlington has adapted to modern tastes – the billiards room is now used for events and instead of a card room we have a gym but the Turkish bath is always popular, and we still have the wooden slatted table where Nureyev had his massage.
"It's a friendly, informal club and members are aware that their annual fees are helping conserve part of Glasgow's living history and ensuring the Arlington will still be here in another 150 years."
The baths are holding talks and tours to celebrate. arlingtonbaths.co.uk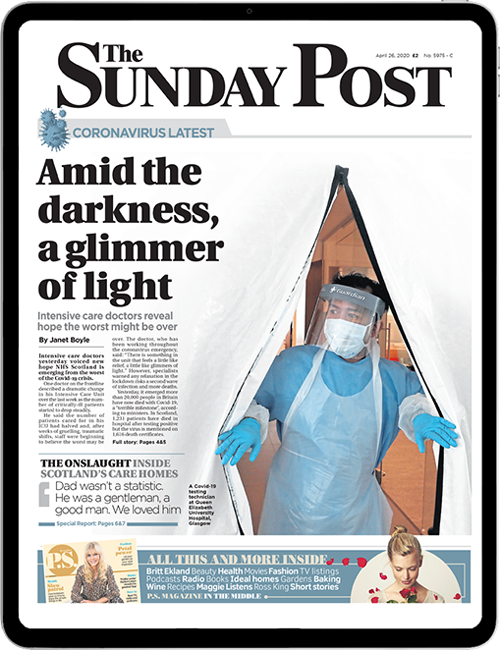 Enjoy the convenience of having The Sunday Post delivered as a digital ePaper straight to your smartphone, tablet or computer.
Subscribe for only £5.49 a month and enjoy all the benefits of the printed paper as a digital replica.
Subscribe