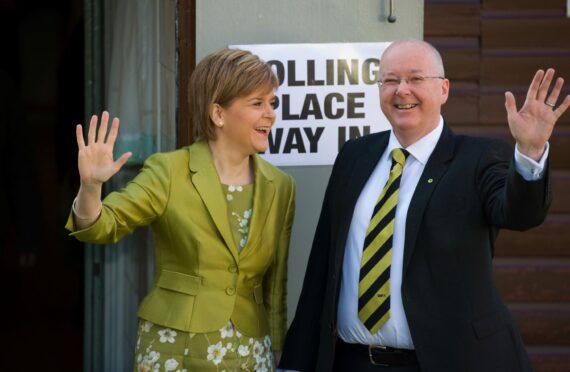 Kate Forbes promised an independent audit of the SNP's finances and membership yesterday after the sudden resignation of its chief executive plunged the party into crisis.
The finance secretary spoke out after Peter Murrell, who is married to First Minister Nicola Sturgeon, stood down after reporters were lied to about the party's membership. He announced his immediate resignation hours after the party's press chief had resigned blaming officials for misleading media briefings.
Murrell resigned as his position came under increasing pressure, with some members of the party's national executive committee warning he would face a vote of no confidence if he did not go.
Yesterday, Forbes, one of three MSPs running to replace Sturgeon as party leader and first minister, promised to restore trust if she wins.
In an open letter to SNP members, whose votes will decide the leadership contest, she also promised a "more democratic party which empowers its members to truly set the direction of travel and inform policies" if elected, along with "a refreshed team to meet the challenges of opposition parties".
She urged the members who have not yet voted – possibly "scunnered by the stories" – to back change: "Together, we can rebuild a party run for its members and a government run for the people we serve."
Forbes was parachuted in as finance secretary in 2020 and delivered a budget hours after the sudden resignation of Derek Mackay after he sent inappropriate messages to a teenage boy on social media.
I have written an open letter to SNP members, specifically to those who haven't yet voted in the leadership contest. Don't lose your chance to vote for change. #Forbes4FM pic.twitter.com/Lq0qJ8WMob

— Kate Forbes MSP (@_KateForbes) March 18, 2023
In her letter to members, Forbes wrote: "A few years ago, scandal rocked the SNP and I was asked to step up and deliver the budget with only a few hours' notice. I did it, for my party and for the people of this country. That is the mark of who I am. I will not shy away from difficult times. Instead I find the solution and give it my all."
Murrell's sudden resignation yesterday has deepened concern around an acrimonious leadership contest which has exposed deep splits in a party previously famed for its common front and lack of public disagreement.
He was the third senior party figure to announce their departure in three days. Sturgeon's former chief of staff Liz Lloyd announced she would go when the first minister stands down, soon after it emerged she was helping the campaign for Humza Yousaf, the health minister running for the leadership as the "continuity candidate".
Communications chief Murray Foote announced his resignation on Friday after journalists were misled. He had publicly rubbished a Sunday Mail story last month suggesting membership figures had dropped 30,000 but the report was entirely accurate.
Resigning, Foote said there were "serious issues" with statements he had issued in "good faith" on behalf of party headquarters.
Yesterday, Murrell, who had been chief executive for 24 years, took responsibility for the denial of the reports and said he was resigning because his future had become "a distraction from the campaign".
He said: "While there was no intent to mislead, I accept that this has been the outcome. I have therefore decided to confirm my intention to step down as chief executive with immediate effect."
Under pressure from the candidates, the party had finally revealed 72,186 members are entitled to vote in the leadership election after membership fell by 50,000 since 2019. In a statement, it attempted to justify categorically denying accurate reports that 30,000 members had been lost in three months.
The party has been repeatedly been accused of an alleged lack of transparency but said it had been "asked a specific question about loss of members as a direct result of the Gender Recognition Reform Bill and IndyRef2.
"The answer given was intended to make clear that these two reasons had not been the cause of significant numbers of members leaving."
Critics dismissed the party's justification for misleading journalists as the same dissembling that has prompted previous criticism.
Arriving at the couple's home in Lanarkshire yesterday, Sturgeon told Sky News that her husband was right to announce his resignation: "He had intended to step down when there was a new leader but I think he was right to make that announcement today.
"Peter has been a key part of the electoral success we have achieved in recent years and I know there will be a recognition of that across the party."
SNP president and former government minister Michael Russell will oversee the operation of the SNP's headquarters on an interim basis until a new chief executive is appointed.
Critics have questioned whether it is appropriate to have a couple as chief executive and leader and Murrell's role came under further scrutiny during parliamentary hearings into the harassment inquiry around former first minister Alex Salmond.
He was accused of giving contradictory evidence to a Holyrood committee investigating the Scottish Government's botched handling of allegations against Salmond.
Meanwhile, Police Scotland are investigating what happened to £600,000 which was donated to the SNP for independence campaigning. Murrell also loaned the party £107,620 in 2021 to "assist with cash flow" after that year's Holyrood election campaign.
The same year, an alleged lack of transparency around the party's finances prompted treasurer Douglas Chapman, the SNP MP for Dunfermline and West Fife, to resign.
Yesterday, he said action should have been taken against Murrell when concerns were first raised: "He withheld vital financial information, making my task impossible. For me, that should have been gross misconduct or at the very least a suspension from duties while a full investigation took place.
"Murrell was thought to be 'untouchable' and we're now all paying a heavy price with the party's reputation taking a huge hit."
SNP leadership candidate Ash Regan said the party will recover if it returns to its roots but, she said, Murrell should have stood down when Sturgeon was elected SNP leader in 2014.
She said: "Eight years ago was the point where it was unacceptable to have the husband of the party leader as the chief executive."
Yousaf, who was thought to be in the lead may now suffer because of his ties to the party's establishment, said: "With less than 10 days to go in this leadership contest, it is vital we all focus on the policies and vision we have for the party, movement and country."
---
Political power couple
For years, they were Scotland's political power couple, a formidable duo at the very apex of their party.
Today, Nicola Sturgeon, SNP leader and first minister, is going and her husband Peter Murrell, the party's chief executive, is gone.
His sudden, pressured resignation has earned Murrell the headlines he strove to avoid during his years at the helm of the SNP.
Glasgow University graduate Murrell, 58, who had been party chief executive since 1999, was responsible for the day-to-day running of the SNP, at one point
the second-largest party in the UK. He resigned with immediate effect yesterday after journalists were misled over the party's membership numbers.
Meanwhile, police continue to investigate how the party spent £600,000 donated by members to fund a referendum. Murrell has also not explained why he lent the SNP £107,000 while the first minister said it was his money and suggested it is no one's business but his.
Last week, SNP leadership candidate Ash Regan complained about a lack of transparency at SNP headquarters.
Regan said: "There are a lot of rumours. I don't know if any of these rumours are substantive or not. If I become the leader, I'll be going in there and I'll be getting to the bottom of this."
Police Scotland launched an investigation in July 2021 into nearly £600,000 raised by the SNP for a referendum campaign in a 2017 online crowdfunder. It is believed the probe may also look at the £107,620 loan to the party from Murrell to help with cash flow problems in June 2021. The loan was not reportedly declared to the Electoral Commission at the time, resulting in breaches of election finance rules.
The issue of trust has been raised previously. In January 2021, The Post revealed Alex Salmond had challenged the accuracy of sworn evidence given by Murrell to a Holyrood committee.
The former first minister's lawyers wrote to MSPs raising "serious concerns about the veracity" of his evidence to MSPs investigating how the Scottish Government handled harassment complaints against Salmond.
In her resignation speech last month, Sturgeon paid tribute to her husband and described him as "her rock".
After she announced her resignation last month, her sister Gillian revealed how leading the country through the pandemic had taken a toll on Sturgeon and claimed she would have struggled to cope with the pandemic without her husband.
"He has been Nicola's rock. He always has been," she said.
However, concerns over the couple's dominance over the SNP party machine were first raised nearly a decade ago. When she became leader in 2014, Sturgeon was forced to deny she and her husband would have too much power.
Salmond told her it was unwise for her husband to be chief executive. Some commentators suggest the row was said to be the first sign of his successor distancing from her political mentor.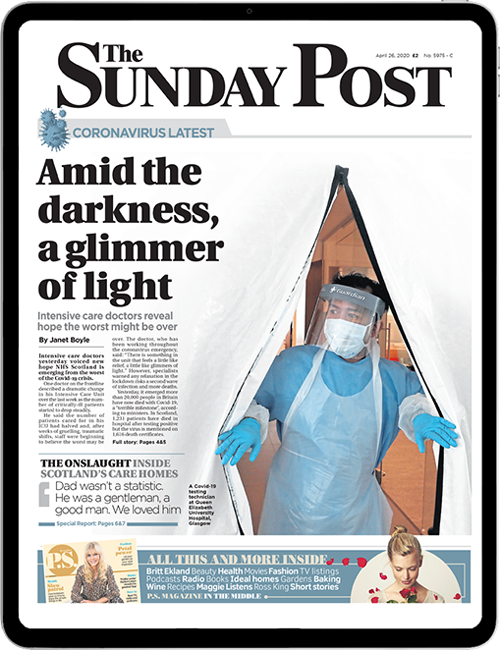 Enjoy the convenience of having The Sunday Post delivered as a digital ePaper straight to your smartphone, tablet or computer.
Subscribe for only £5.49 a month and enjoy all the benefits of the printed paper as a digital replica.
Subscribe