TWO men have beaten incredible odds to become the first Scottish same-sex couple to be expectant dads by groundbreaking IVF treatment – and they are having twins.
Ryan Walker and Chris Watson are expecting the patter of tiny feet within the next six weeks after a Scots surrogate mother stepped in to help them realise their dream of becoming fathers.
Incredibly, the surrogate mum is also in a same-sex relationship and decided to help after she had a child using a donor.
"We are absolutely thrilled to have not just one baby coming but two," Ryan, 32, told The Sunday Post last night. "It feels like we have won the Lottery."
The engaged couple, from Falkirk, were turned down by several IVF clinics in Scotland for the cutting-edge fertility treatment because they are in a gay relationship.
They were eventually taken on by the GCRM clinic in Glasgow and, after two heart-breaking failed attempts at becoming dads, they were given the happy news in January that the surrogate mother was having a boy and a girl.
"It was disappointing that in this day and age some clinics declined us for treatment because we are a same-sex couple," Chris, 28, said. "But we have always wanted to have a family and it has all come good in the end. It is a bonus we are now expecting a boy and a girl."
The surrogate mum, who asked to remain anonymous, said: "I am forever grateful to the sperm donor who helped me make a family, so I wanted to give something back.
"When I met Ryan and Chris we all clicked straight away.
"I quickly realised they were the couple I really wanted to help.
"They will be fantastic daddies. I know that we'll all have a special family friendship for life." Ryan and Chris faced a daunting uphill battle in their bid to start a family:
Five years ago, Ryan was diagnosed with cancer and had sperm frozen because the chemotherapy treatment would leave him infertile.
His mother, Veronica, battled cancer at the same time but sadly passed away.
A female friend who first agreed to be a surrogate decided not to go ahead two months into the IVF process, while a second surrogate also took cold feet and pulled out.
But their luck changed. And no money is changing hands – their current surrogate is doing it out of the goodness of her own heart, because she thinks they'll make great dads.
The procedure was carried out by leading fertility expert Dr Marco Gaudoin, medical director at GCRM.
Frozen eggs from an anonymous Scottish donor were fertilised with frozen sperm from one of the dads.
The eggs were then transferred to the surrogate. "I believe this is the first time a same-sex male couple in Scotland will be having not just one but two babies using this technique," Dr Gaudoin said.
"It was a legally complex situation as well as being medically challenging."
For Ryan, a finance associate, it has been a particularly emotional journey.
In 2012 he was diagnosed with Hodgkin lymphoma and was advised to have sperm frozen if he was ever thinking of starting a family.
At the same time, his mother was fighting ovarian cancer.
"Mum may have died but I know she has still been with me every step of the way," said Ryan.
"She knew I wanted a family some day and we wanted her to be with us when we tried for a child.
"When the eggs were being transferred to our surrogate mum at the end of January she held my mother's wedding ring in her hand and pressed it to her tummy.
"Now we are having twins so I feel my mum is still very much with us."
Chris proposed to Ryan, whom he met in 2013 after his recovery from chemotherapy, in December 2014 during a helicopter trip in New York.
"We were flying over the Statue of Liberty when he suddenly produced an engagement ring," said Ryan.
"I could hardly say no." The couple fostered a toddler two years ago and the excited youngster can't wait to meet the new arrivals.
After discovering twins were on their way the couple moved to a bigger house, where a nursery has already been completed.
"As soon as we heard there were two heartbeats we knew we would need a place with a few more rooms," Chris said. "And when we found out we are having a boy and a girl we decided against traditional blue and pink and have decorated their room in neutral colours.
"We already have twin buggies and Moses baskets and the babies have been kitted out with wardrobes full of clothes. We have also had these amazing crocheted blankets made by friends. Our friends and family are buzzing about it.
"We have become good friends with the surrogate mum. She wanted to help us out because we are in a same-sex relationship and Ryan and I will both be at the birth. We can't wait."
Riikka Kirk, surrogacy coordinator at GCRM, said: "Chris and Ryan are a lovely couple and it is fantastic they are expecting twins after the tears when two previous attempts didn't work out. We try to do the very best for people, regardless of their sexual orientation.
"They are well grounded guys who will make very good parents. It is nice to be able to share their joy."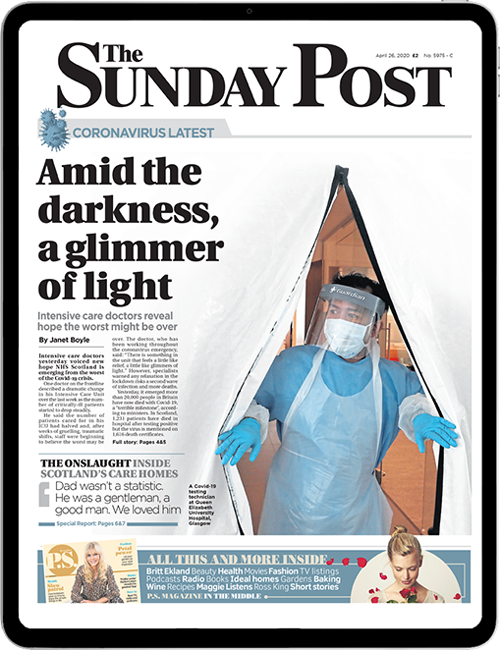 Enjoy the convenience of having The Sunday Post delivered as a digital ePaper straight to your smartphone, tablet or computer.
Subscribe for only £5.49 a month and enjoy all the benefits of the printed paper as a digital replica.
Subscribe