With her biological clock ticking and no partner, Katriona Harding realised if she wanted to have a baby, she'd have to go it alone.
So she did and, now mum to two-year-old Fergus, she says her only regret is she didn't do it sooner. "I'm 43 and dealing with a toddler on my own and I'm knackered but it's brilliant," she said. "I wouldn't change it for the world, except do it when I was a little younger."
After her marriage broke down and a few serious relationships that ended, at 35, Harding found herself single, and contemplating her future.
"I started to get very anxious about maybe not having kids, not being a mum, maybe not having family," she said.
A few years later, after much deliberation, she decided to take the plunge, and looked into having a baby on her own.
"2017 was a bit of a crux year because my last serious relationship broke down and I lost a couple of friends. I just had a massive wobble. I spoke to my mum and dad and said I thought that if I wanted kids I might have to do it on my own and they said they'd be there for me, whatever I wanted."
That was all the motivation Harding needed, and she got the ball rolling by speaking to her GP.
"The most difficult decision is making that initial decision, then, once you're on that path, you're just aiming towards your goal, which is to get a baby."
But it was a long journey. "From referrals and consultations to choosing your donor, buying your sperm, deciding what kind of treatment you want, getting your money organised, and then the treatments, it took a year," Harding explained, "And then there's the time it takes to get pregnant."
The fundraising manager from Musselburgh worked her way through countless donor profiles and, in the end, chose a donor who was a scientist (she also has a science degree).
"He just came through in his profile as having a real enthusiasm for life," she said.
"He was into walking, diving, exploring, travelling, he loved all kinds of food. He seemed really positive.
"The profile is personality testing, family history, medical history. Some people just wrote a couple of sentences but he wrote this amazing letter to any donor-conceived children saying he hoped they had a wonderful life and he was absolutely looking forward to meeting them one day. That sold it for me."
Harding had to remortgage her house to afford the £12,000 treatments. She went through three rounds of IUI (artificial insemination), which uses few drugs, but has a lower chance of success.
"The chances of success with IUI can be as low as 3% or 4%," she said. "And the chance of IVF is more like 35%."
After three unsuccessful IUI attempts, Harding began IVF.
"I had a budget for one round of IVF. I produced four embryos. And I decided to get two transferred at a time. The first time, it didn't succeed and the second time I had two embryos transferred. That was my last chance.
"It's hard, but you just need to keep your eyes on the prize. You have to inject yourself every day and get up at the crack of dawn to get your hormone levels checked. I just relied on the doctors to direct me. And I did exactly what they told me to do.
"It really is a rollercoaster of emotions. There's a lot of anxiety because you don't know if it's going to work or not. One round was manageable. I knew that I wanted to try it and if it didn't work, I was going to just move on with my life and I would be content knowing I had at least given it a shot."
When she eventually got a positive test in 2019, it came as a bit of a shock, but a welcome one.
"It was a bit of a mixed bag because I did a test and it was negative. It was just before Christmas and I went home and started making plans to go travelling and stuff.
"I had decided it wasn't going to work and I needed to refocus my life. But on the 28th, I did a second test and it was positive."
Harding gave birth to Fergus in September 2020 and is loving life as a mum, but admits single parenting is hard.
"He keeps me on my toes and it is tiring doing it all yourself. I don't get to the gym any more and I watch a lot more Mr Tumble than I used to, but it is great."
Harding talks openly with her son about his donor – and the fact that he's from what she calls a modern family.
"One of the things that donor conceived children worry about is not knowing who they're related to. And that's why it's so important for them to grow up knowing who their family is.
"There are no secrets. It's all out in the open, so there's nothing sprung on them when they're older.
"I talk about Fergus' donor in front of him. He has an open donor so Fergus can choose to contact him when he turns 18.
"Fergus has three donor siblings across Europe…a half-sister in Austria, a half-sister in Germany and a half-sister in Switzerland.
"Two of them were born to solo mums like me and one of his little sisters was born to a lesbian couple. So you know he has family, it's just not traditional. It's a modern family.
"He's met one of his little sisters, I found my donor through the European Sperm Bank and one of his other donor children through the ESB Facebook group.
"Fergus's half-sister came over to visit us from Austria for his birthday.
"And we've got a couple of books about family…some families have two mums, some families have two dads and some families just have one mum. He's definitely too young to understand but I'm sure it will help when he's older.
"There have already been questions from my friends' kids. They say 'Does does Fergus have a daddy?' And I say 'No, he doesn't have a daddy. I had Fergus with a donor. Fergus has a granny and granddad, and he has an uncle and auntie and he has mummy and that's who Fergus's family is.'
"I hope that one day I do meet a partner and we could have a blended family but it's not like he's going to be without a family," she said.
Harding's family have proved a huge support, as has the solo mums support group, The Stork and I.
"In a way I've more of a support network than people who are with partners, because they rely on their partner quite a lot," she said.
"There are about 40 women in the group. Some are going through fertility treatments, some are pregnant, some have babies and some have toddlers. We have regular meet ups and a babysitting circle.
"We're all going through or have been through a similar experience. I've made some good friends in this group, but ultimately I think we're all in there because we want our children to know other donor conceived kids. We want our children not think that they're weird or an anomaly.
"Before solo motherhood, women would potentially meet a partner who had children and they would be stepmum to them. Now it's acceptable and it's affordable because women are making decent money. We're owning our own houses. We don't really need a man.
"I suppose as a solo mum you're in a neutral place. We don't have a partner who's rubbish, who's making our life hard but we don't have a great partner who's making our life easy and supportive.
"I know a lot of single mums who are dealing with divorce, and custody and maintenance issues. We've got none of that. We're all just on our own but we've got no negative implication. So we're in a really strong place."
Modern families prompt fears of egg and sperm shortage
Fertility experts have warned of a nationwide shortage of donor eggs and sperm as modern family planning drives up demand.
The Human Fertility and Embryology Authority (HFEA) released statistics last week revealing a rising number of babies born to donor sperm and eggs with more same-sex couples having children and more women considering solo parenting.
There were 4,100 donor-conceived babies born in the UK in 2019 – one in 170 of all births and nearly one in six births using IVF. This compares to 2,500 in the mid-1990s.
In Scotland, the number of IVF treatments cycles have gone up by more than 2,400% for same-sex female couples since 2000 and increased by 37% for solo mothers, according to the HFEA figures.
The Scottish Government launched its first national campaign last year to try to encourage people to become egg and sperm donors, after it emerged just under half of all Scots would consider donating to people who need help to conceive. It is continuing to try to drive up donations again this year.
Sarah Lindores-Williams, Scotland branch coordinator for Fertility Network UK, said Scots patients are now waiting up to three years for a suitable donor on the NHS.
"There are huge waiting lists," Lindores-Williams said. "For sperm donations, it's about 18 months to two years and for eggs it's about three years.
"There's a real shortage and we're hoping the Scottish Government campaign can encourage more donors to come forward."
Egg and sperm donation can involve complex decisions. Choosing to donate eggs involves a medical procedure and is therefore not without some risk. Donors must also be comfortable that any children born could make contact with them after they turn 18, since the law was changed to allow only open donors a few years ago. Donors in the UK are also restricted to donations only being used to create up to 10 families.
Meanwhile, more and more patients are turning to donors to have a baby. Julia Chain, chair of HFEA, said: "Donating eggs or sperm has helped overcome heartache for thousands of people who are not be able to conceive a child. Over time, fertility preservation and treatment techniques have dramatically improved and this, along with changing social attitudes, has led to the birth of over 70,000 donor conceived children since 1991.
"Younger patients typically use donors for medical reasons such as infertility or to prevent passing down genetic diseases. Meanwhile for older patients, using a donor can increase their chance of having a baby; this is because a woman's fertility declines with age, particularly from their mid-30s. A rise in same-sex and single people accessing treatment has also led to more treatment involving donors."
Lindores-Williams said: "Modern families are becoming much more commonplace, with different pathways to parenthood.
"We have seen growth in our support groups for LGBTQ+ communities. And during lockdown we did notice an increase in single women accessing services. In 2019 we created an online support group for women on a solo fertility journey and in 2020 we established an online LGBTQ+ support group. The groups are thriving."
She added: "There's a bit of an urban myth about women leaving it until later in life to think about children because they are career-driven, but that's not what happens in our experience. They've maybe been in relationships without children and don't think about having children until their late-30s when it's harder to conceive. No one sets out to reduce their chances of conception. It's just circumstance."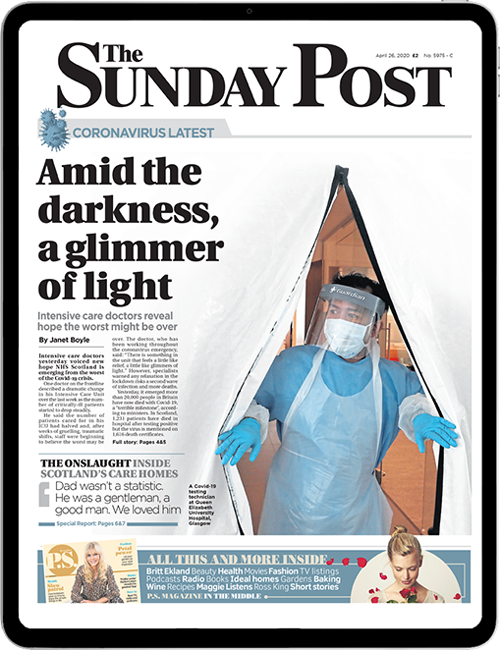 Enjoy the convenience of having The Sunday Post delivered as a digital ePaper straight to your smartphone, tablet or computer.
Subscribe for only £5.49 a month and enjoy all the benefits of the printed paper as a digital replica.
Subscribe