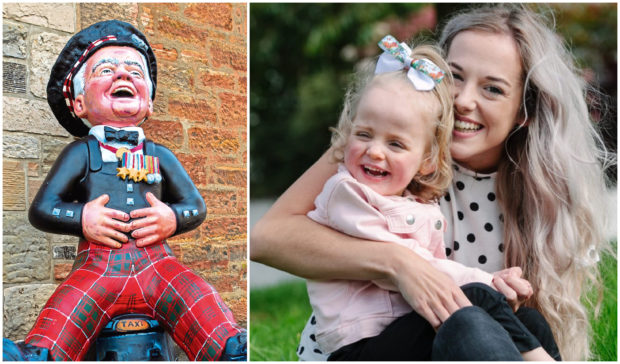 Last summer can seem an awful long time ago and an awful lot has happened since.
But, as we inch in and out of ­lockdown, memories of Oor Wullie's Big Bucket Trail are reminding fans of a time, just 12 months ago, when we wandered the streets of Scotland's towns and cities searching for Scotland's favourite son.
Everyone from Nicola Sturgeon and The Proclaimers to an army of children and their footsore parents enjoyed the nationwide art trail hailing The Sunday Post icon, visiting his 200 specially designed statues and raise a ­staggering £1.3 million to help Scotland's sick children.
Victoria Buchanan, from Edinburgh Children's Hospital Charity, said: "We can't quite believe it has been a whole year since Oor Wullie's Big Bucket Trail – a phenomenally successful fundraiser that captured the hearts of the Scottish people."
Kirsten Sinclair, chief operating officer of Glasgow Children's Hospital Charity, said: "Funds raised through the trail have been vital in supporting our life-changing projects at Glasgow's Royal Hospital for Children and Neonatal Units."
Paula Cormack, director of fundraising at The ARCHIE Foundation, said: "The Bucket Trail was a massive fundraiser and has enabled us to do so much over the last year to support babies, children and their families."
Exactly a year after the trail ended and the Wullies disappeared from our streets to be auctioned for the charities supporting Scotland's children's hospitals, we catch up with some of the artists, kids and sculptures to find out how.
---
Clara is one of a kind. She writes her own rules
It was a day her parents thought they would never see when little Clara Healy took her first steps. And they could barely hold her for crying.
That was last year during Oor Wullie's Big Walk and the youngster, who was born 16 weeks premature, walked over the finish line, holding mum Sophie and dad Corey's hands for support.
A year on and she starts her day running into nursery without a second glance back to her proud parents. "We cannot believe the difference in Clara," Sophie said. "She has worked so hard and is now walking on her own. She's just incredible, absolutely amazing."
Miracle baby Clara was born four months early in March 2017, weighing 1lb 3oz. She was delivered by emergency caesarean after Sophie's waters broke at 23 weeks and she contracted septicaemia.
Clara was so tiny her skin was translucent, her eyes were fused shut and her lungs were the size of Sophie's fingernail.
A high risk of infection meant it was three weeks before Sophie could hold her baby – and six months before she could come home from hospital.
Clara was diagnosed with chronic lung disease and was kept on a ventilator for five months. At six weeks old, though, her lungs collapsed and her parents were told to prepare for the worst. But the tot, who recently celebrated her third birthday, pulled through.
"Clara is one of a kind," Sophie said. "Her determination is nothing short of inspiring."
In July, the little fighter clocked up 24 miles for Lap The Map, a fundraiser launched by Glasgow Children's Hospital Charity and Edinburgh Hospital Children's Charity following the Bucket Trail's success. Teams raised vital cash by walking or running 6,200 miles – the length of Scotland's coastline and border.
"Clara had to shield for the first part of lockdown but as soon as we were allowed out, she loved nothing more than our daily walk," said Sophie. "She walked about two miles a day and raised £3,250 for GCHC. We were delighted to be able to give so much back."
The money, just like that raised by OWBBT, will help other children like Clara and their families.
---
Oor Wullie moved into our sunroom. He's like part of the family now
After 14 years in and out of hospital with her son, artist Lorna Radbourne decided her statue should be a family affair.
"Matthew was born with a birth defect and needed corrective surgery," Lorna explained. "He had an operation when he was two so spent two weeks on the ward, then was back at the hospital on and off until he was 16 for check-ups or more surgery.
"It became a familiar place, like a second home. It wasn't a nice time, particularly for Matthew.
"The staff were amazing, of course, but it's quite frightening having big operations as a child, and for parents having to see a child so small go through that.
"But the charity did everything they could to put us all at ease. I still remember the clown doctors coming on to the ward. Once they brought a dog in to see Matthew, I'm sure it was pet therapy to help the children feel calm."
Lorna has always been a huge champion of Glasgow Children's Hospital Charity, so was keen to get involved as soon as she heard about the trail.
"A friend saw a post on social media and told me about it – and straight away I knew I wanted to paint one of the sculptures," said the talented artist.
Lorna's statue, Soaring, was inspired by her time spent at the hospital. Her bird-focused design expresses that feeling of taking off and being free – something children long for, particularly when spending long periods in hospital or facing personal challenges.
"I decided to put 21 birds on to signify each year of Matthew's life – and to include Scottish birds from different habitats, from wetlands and sea and coastal birds to birds of prey," she said. "There's everything from a magpie and a robin to a golden eagle."
Lorna, who works with stained glass and watercolours, features British native birds in her work so is amazing at painting them. But for the sculpture, she decided it would work best as a family affair.
The 54-year-old, who lives in Dunning, Perthshire, brought the statue home – and asked Matthew and his sister Fiona to get involved.
"The Oor Wullie moved into the sun room and became part of the family while we painted him," she laughed. "I remember trying to cover him up with plants when friends came round as we didn't want people to see the design until it was finished.
"Matthew did the boots, and Fiona painted the little swallows in Wullie's pocket."
Then the statue went on display as part of the nationwide fundraiser. "We were sad when he left to go out on the trail, but it was lovely so many people came to see it – and it was sold for £4,400 which was great. The charity helped us so much, we are so grateful we can do something to help other families."
---
Legacy of Tom's kindness will endure
His friendly face became as synonymous with Edinburgh as the capital's famous castle.
And since the war veteran-turned charity collector Tom Gilzean passed away aged 99 last November, there has been something missing in the city.
However, that will soon change with a new statue of Tom finished and ready to grace the streets in his memory.
Tom was regularly seen with his collecting tin and trademark tartan trousers on Princes Street and the Royal Mile.
He passed away in veterans' hospital Erskine House following a series of small strokes.
Mr Gilzean was honoured with an Oor Wullie statue in his image, as part of the Bucket Trail. But he was outbid when the statue went up for auction. However, a local taxi firm stepped in to commission another sculpture – and now it's ready and waiting to be placed in the city.
Tom's son, Douglas, said: "It is so nice to know dad's legacy will live on in the streets of Edinburgh.
"Dad was so well known and so loved, the city would be a strange place without him."
Douglas, of Livingston, added: "At the funeral, we just couldn't believe the amount of people who came to pay their respects. We didn't realise just how much people thought of him. We knew he was doing collections every day but just took it for granted.
"He started collecting when mum died in 2000, so he did it for about 19 years. It gave him a new lease of life.
"It started as such a small thing. We didn't realise just how much it meant to people until he started being put forward for awards.
"Dad loved it. In fact, he lived for collecting. All he cared about was collecting for the charities. It really was his whole life."
Artist Chris Rutterford, who made both Tom statues, as well as a small replica for the family which they donated to the Royal Hospital for Sick Kids, Edinburgh, said: "Tom is a local legend and it was important that he – and his kind soul – live on in Edinburgh."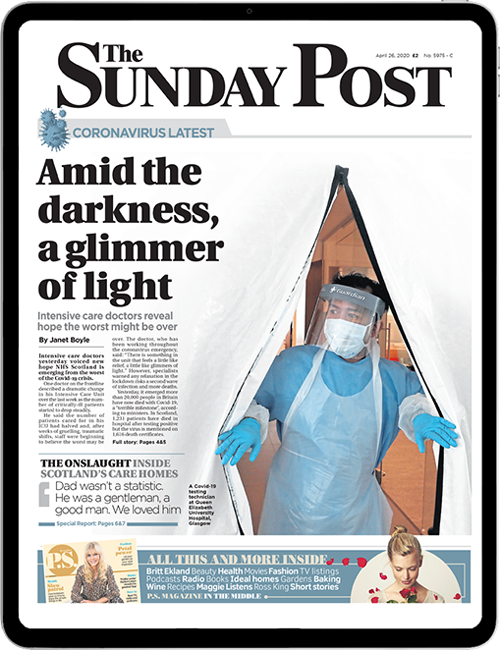 Enjoy the convenience of having The Sunday Post delivered as a digital ePaper straight to your smartphone, tablet or computer.
Subscribe for only £5.49 a month and enjoy all the benefits of the printed paper as a digital replica.
Subscribe