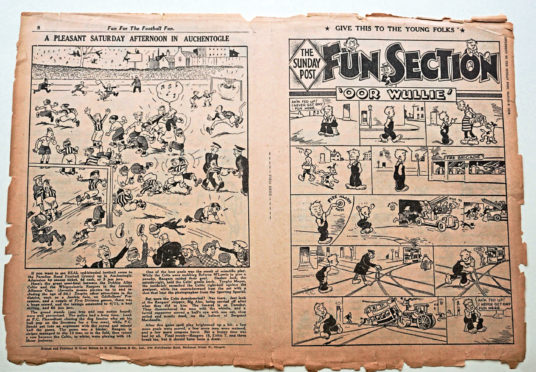 The pages may be a little yellowed, the ink slightly faded and his hair a little less spiky, but the mischievous schoolboy making a mayhem-inspiring debut on March 8, 1936 is still Oor Wullie, Your Wullie, A'body's Wullie.
The Sunday Post icon and Scotland's favourite son first appeared – along with the country's most famous family, The Broons – 84 years ago and was created by writer RD Low and artist Dudley D Watkins. They debuted in an eight-page Fun Section on March 8, 1936 and have never left, entertaining generations of Scots.
An original copy of the hallowed pages lay deep in the vaults of DC Thomson archives as the years took its toll on the fading newsprint. Now, thanks to the painstaking work of book conservator Emma Fraser the pages have been returned to their former glory.
Oor Wullie, from the town of Auchenshoogle, looks good for being 84 years young. However, Emma admits the quality of the original Fun Section needed some attention.
"Considering the age and given it has probably been handled a bit over the years, it was not in a bad condition," she said from her studio in Dundee, where she runs her conservation business, The Book & Paper Studio.
"It was damaged around the edges and discoloured due to acidity in the paper. Over time, its chemical structure breaks down, causing it to turn yellow and become brittle."
Emma, who has spent 20 years preserving ancient books, papers and manuscripts as a book and archive conservator, worked carefully to clean, stabilise and de-acidify the pages and tidy up the ragged edges. The Fun Section supplement is spread across the front and back of two large sheets of paper, originally attached along the top edge.
The entire conservation process took around 12 hours of hands-on work plus additional time for long processes such as water baths and air-drying.
Emma says the process began with cleaning the pages with a blown latex sponge and brushing away existing residue. Next was a test with water and ethanol to confirm the printing inks were stable and wouldn't run when bathed in water.
She explained: "I then bathed the pages in warm water for 30 minutes, and repeated this process three times. Every time, the water becomes clearer as any soluble degradation products are washed out."
The pages were then pressed and left to air-dry. To counteract the effects of increased acidity and oxidisation, and future-proof the Fun Section, Emma brushed the pages with a de-acidifying solution of calcium bicarbonate and methyl cellulose. The latter is used as a glaze, or "size" to protect paper fibres from absorbing water or oil.
Emma also repaired tears and missing sections of the pages' ragged edges using handmade Japanese paper, which she later toned to match the original.
"I used Japanese paper as it has very long and thin fibres that are still very strong," added Emma. "I pasted this over the tears and used a medium-weight paper to fill in the bigger gaps. I then toned the paper with acrylic paint and coloured pencils to match the original."
The pull-out supplement included comic strips, puzzles, jokes and fun trivia – packed with characters, observations and humour.
On the first page, Oor Wullie's inaugural comic strip sees him sitting on his trusty bucket, desperately trying to devise a way to entertain himself. Inevitably, hijinks ensue. These include a rogue dog running off with a string of sausages and a tram collision after Wullie tampers with the tracks.
Meanwhile, The Broons of Glebe Street attempt to take a dignified family portrait but things descend into chaos with a less than favourable, but highly appropriate, final result.
Some of the older projects Emma has worked on include a note transcribed in the 13th Century and a number of original manuscripts by Robert Burns, including letters and poems such as The Farewell and Auld Lang Syne. However, conserving such an iconic piece of Dundee history has been a joy for Emma, who has fond memories of Oor Wullie.
"I grew up in South Africa but my parents were from Ayr so I'd always get an Oor Wullie annual, and that makes this project special for me. It's also nice to be working on local history, created here in Dundee," said Emma, who has worked on conserving numerous DC Thomson titles, including a recent conservation of the first front page of the Evening Telegraph from March 13, 1877.
Emma says her job is not to restore books, manuscripts and newsprint which would otherwise lose its character and history. Instead, her aim is to preserve the pages for decades to come.
"There's a difference between restoration and conservation," observes Emma. "Restoration makes things look like new, whereas conservation is more about securing it for the future, using sympathetic materials and repairs that blend into the original and processes that can be reversed. Remove or alter too much and you take away from the object's history, something you can never replace.
"It sounds corny but I like fixing things. Taking something that looked a bit sad and making it physically and chemically enhanced and more durable. The Fun Section looks much happier now than it did and should remain in a good condition for at least another 84 years if not longer."
Gordon Tait, DC Thomson heritage brands editor, said: "Until these recently restored pages, I had never seen the original Fun Section in its entirety. How amazing to think of the very first appearance of Scotland's favourite son and the happy family that makes every family happy, and how they would endure for so long.
"Mind you, these are not the first Sunday Post pages to take a bath. Granpaw Broon always likes to read his paper in the tub on bath night, which just happens to be Sunday. Do you think he'll recognise his family in next week's edition?"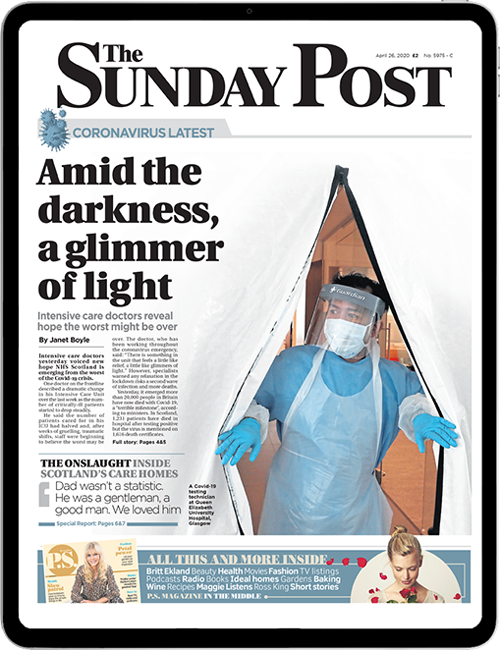 Enjoy the convenience of having The Sunday Post delivered as a digital ePaper straight to your smartphone, tablet or computer.
Subscribe for only £5.49 a month and enjoy all the benefits of the printed paper as a digital replica.
Subscribe