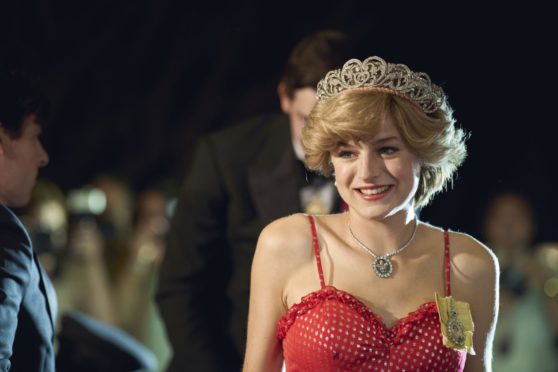 A complete unknown, plucked from obscurity and thrust into the spotlight, her life changing forever as a result.
It's not lost on Emma Corrin that this is as much a fitting description for her own situation as it is for the character she plays in her breakthrough role.
Emma's life is about to be transformed, with millions of people around the world tuning in to the new series of The Crown, where she portrays the young Princess Diana.
The fourth season of Netflix's drama about the inner workings of the royal family during the reign of Queen Elizabeth launches today and covers the period from the late '70s, when Prince Charles, next in line to the throne, was still unmarried at 30, causing consternation within the Royal household. His too-good-to-be-true fairytale wedding with Lady Diana Spencer, a shy nursery school teacher 14 years his junior, proved to be exactly that, the cracks in their fragile marriage revealing themselves almost immediately.
Emma, a 24-year-old actor with just a handful of credits on her CV, is preparing for her anonymity to come to an end, with early reviews from the critics describing her turn as the People's Princess "a tour-de-force".
"I'm excited," she smiled. "I know my life is changing a lot but it's manageable – although it wouldn't be if I didn't have lovely people around me.
"It was certainly a huge amount of pressure when I got the part. I felt huge responsibility. People like Diana, Charles and The Queen are icons in a way that makes them incredibly untouchable and kind of unknowable.
"As an actor, to be asked to portray them is really daunting. You are constantly looking for a foothold into the character you are playing, something to relate to or empathise with. It can be very difficult.
"It was really only when I got the script I realised this is a fictional character I am playing – I'm playing The Crown's version of Diana."
Emma, daughter of a businessman and speech therapist, attended an independent school for girls in Surrey before graduating from Cambridge University. She appeared in an episode of ITV drama Grantchester, a handful of episodes of US series Pennywise and had a small role in British movie Misbehaviour, about the feminist attack on the 1970 Miss World competition, before she was chosen to play Diana.
Emma was working a part-time job when her agent called to tell her she had an off-camera script read-through for The Crown, to assist producers who were auditioning actors to play Camilla. Emma would read Diana's lines and, while her agent told her it wasn't an audition, the young actress turned up for the job as if it was, devouring books and articles on the princess in preparation.
Her diligence paid off, as producers spotted her potential and invited her back to audition for the Diana role, competing alongside hundreds of others. When she was later told she had been cast, her reaction was "just disbelief. I stood there speechless for quite a long time."
Emma wasn't even two years old when Diana, just 36, died in 1997, so she has no memory of the princess but has always felt a connection to her because her own mother looks very similar to Diana – so much so that passers-by in the street would do a double take when they walked past.
"So I grew up incredibly fond of this woman, as were most of the British public," Emma said. "My mum was very affected by the tragedy of someone who was so generous with their love being taken so suddenly and unfairly."
With the weight of expectation placed on her shoulders, how did Emma approach playing the iconic figure?
"Just by getting into her spirit," she continued. "She had such an amazing soul. I think that is what everyone loved about her. I had such an incredible research team helping me and it was amazing to dig deeper, finding out and separating the speculation from the truth, as much as you can find it.
"I recently met someone who worked with her very closely. He said she used to send him the filthiest birthday cards. He used to say, 'Darling, where did you find these?' and she would say, 'I know people…' I think that's brilliant."
Emma also met with Diana's former private secretary Patrick Jephson to learn about the real woman behind the public image, and pored over the Channel 4 documentary, Diana: In Her Own Words, to perfect the intonations and inflections of her voice.
But it was the physical transformation that was most startling to Emma.
"It was mad! I was sitting in front of a mirror with a picture of her behind me for reference, and I remember tilting my head in the same way she did and everyone going 'Ooh!' I just loved going in every day and finding a new incredible costume in my trailer.
"I loved all the looks. There were three different wigs and I loved them all. I liked the first one a lot because I love younger Diana and her sense of fun."
Diana was known to be a good dancer, famously hitting the dance floor with John Travolta, but this didn't come quite as easy for Emma, who had to prepare for a dance scene with Josh O'Connor, who plays Prince Charles.
"It's been a running joke throughout my life that I can't dance, because I have very long limbs, therefore I'm uncoordinated," Emma smiled. "But we did a lot of training and I loved it. It just felt so very much that she was able to express herself."
In the second episode, The Balmoral Test, Diana's week-long initiation into the royal family at The Queen's Aberdeenshire castle is examined.
"It was a nightmare, but I think she knew what she was in for," offered Emma. "I think she was one of those people who knew how to use her charm, so I think she actually quite enjoyed it."
Another part of Diana's private life laid bare in the series is her battle with bulimia. Prince Harry is reported to be upset about its inclusion, but Emma feels it was an issue that had to have a light shone upon it.
"When I got the scripts and saw they were going to include it, I was very happy because I wanted to make sure it was properly addressed and not just alluded to," Emma said. "Diana spoke very candidly about it. She was very ahead of her time in that way.
"She made it clear it was a central part of what she was going through at that moment. These days you can't get away with just hinting at something – it should be represented fully.
"We found a lot of forums online where people who have suffered from bulimia and are suffering from bulimia talk about their experiences. That was incredibly useful.
"We read a lot of books, including Three Women by Lisa Taddeo. There is a character in that who suffers from bulimia and there is a two-page description of her at a meal, with everything she is thinking and feeling surrounding her impulses. We worked a lot with that as a springboard for Diana's mental state."
---
The Crown series four, streaming from today on Netflix.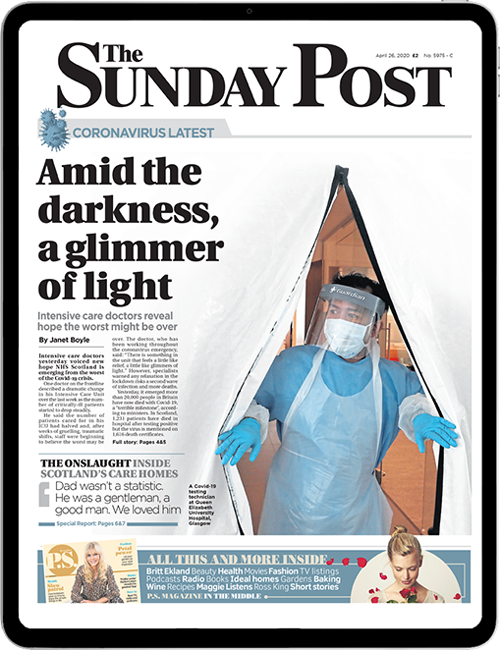 Enjoy the convenience of having The Sunday Post delivered as a digital ePaper straight to your smartphone, tablet or computer.
Subscribe for only £5.49 a month and enjoy all the benefits of the printed paper as a digital replica.
Subscribe